February 2nd, 2017 by Rocket IT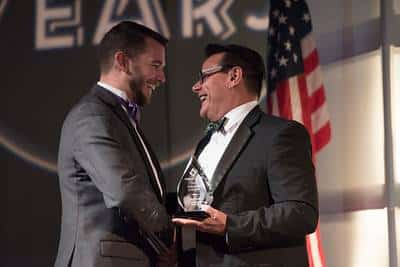 DULUTH, GA – The Gwinnett Chamber of Commerce will recognize Ryan Bonilla as the 2016 Ambassador of the Year at their 69th Annual Dinner on February 3rd, 2017. The distinction is awarded to the Gwinnett Chamber Ambassador who goes above and beyond to mentor new and existing Chamber members, serve at events, and act as liaison to the Gwinnett community.
Gwinnett Chamber Ambassadors are volunteers who act as an extension of Chamber staff by acclimating new members and serving as mentors to fellow members. The Ambassadors make it possible for the Chamber to offer many of its programs and services through the time and work they donate.
"Our Ambassadors play a pivotal role in allowing the Gwinnett Chamber to be able to execute on our programs and events.  Ryan Bonilla has been a champion of the Gwinnett Chamber for several years, and his leadership as an Ambassador and Mentor to our Gwinnett Chamber members is irreplaceable," said Vince DeSilva, the Gwinnett Chamber's Senior Vice President of Member Services. "It's important to note that Ryan's peer Ambassadors and Members of the Gwinnett Chamber have chosen him for this distinct honor and we collectively at the Chamber celebrate Ryan Bonilla as 2016 Ambassador of the Year."
Ryan Bonilla serves as Business Development Manager at Rocket IT and has helped Rocket IT experience unprecedented growth, giving the local company national recognition on the Inc 5000 list and CRN Fast Growth 150 list. In addition to serving as a Gwinnett Chamber Ambassador, Ryan is the 2017 Board Chair for the Gwinnett Young Professionals, mentors a STEM class at Central Gwinnett High School, and has supported Children's Healthcare of Atlanta's operations here in Gwinnett for years, starting with their Community Advisory Board and now through the Executives 4 Children's program, where he has raised over $150,000 for CHOA in Gwinnett.
Photo courtesy of the Gwinnett Chamber of Commerce.
###