February 19th, 2015 by Rocket IT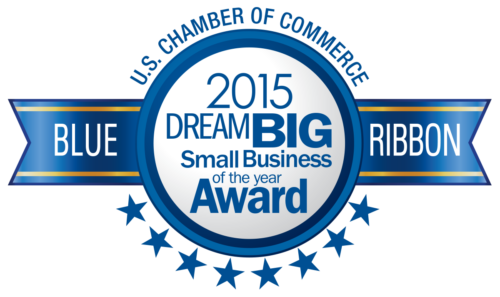 DULUTH, GA— The U.S. Chamber of Commerce selected Rocket IT as one of their 100 Blue Ribbon Small Business Award® winners from a record number of applicants this past week from communities across the nation. This accolade recognizes companies for their success, innovation, and contributions to their communities. Rocket IT is one of only four companies to be chosen from the state of Georgia for this award.
"The driving force behind Rocket IT is a deep desire to help people thrive. For us, that means that we strive for the highest possible good of our employees and their families, our clients and their employees, and for our community," said Matt Hyatt, Rocket IT's Founder and CEO. "We don't expect anything in return, but we are truly honored to be named one of the top 100 small businesses in America by the U.S. Chamber of Commerce."
As a Blue Ribbon Small Business Award winner, Rocket IT is also eligible for the Community Excellence Award, which recognizes one small business that has earned its community's high esteem. This award goes to the small business whose community feels the company has excelled in giving back and being involved locally. Communities can vote for the winner through public online voting between February 19th and March 4th.
"Rocket IT, as a result of its highly respected leadership and staff, continues to be impactful by going above and beyond in business, innovation, service and community support," said Stephanie Sokenis, Gwinnett Chamber of Commerce's Director of Small Business. "Their dedication to all, coupled with their widely recognized superior level of business ethics, has earned them the highest level of respect among both personal and professional peers."
A complete list of 2015's Blue Ribbon Small Business Award® winners is available online here.
Rocket IT provides IT strategy and support to help local businesses thrive. Rocket IT's unique three-pronged approach includes services built around the people instead of the technology, real strategic foresight – not just break/fix hindsight, and a better way to ensure trust and accountability. They give small business the capabilities of a full IT department, with a 98% client satisfaction rate and a 20-year track record of helping people thrive.
###