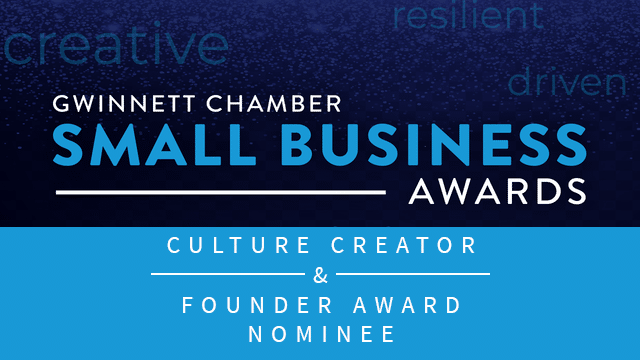 Gwinnett County (METRO ATLANTA) GA – For the second consecutive year, Rocket IT's passion for human connection, innovation, stewardship, and positive work culture have landed the organization two nominations for the Gwinnett Chamber Small Business Awards. Through this ongoing series, the efforts of businesses that dare to start, sustain, and succeed in the community that supports them are celebrated. Recognized as an industry leader, Rocket IT has been nominated for both the Culture Creator and Founder award categories by its peers.
"As our team embraces new business operations, we've continued to innovate; finding exciting ways to remain connected with internal teams and the community we serve," said Rocket IT Community Relationship Coordinator, Colleen Frangos. "We are grateful for our partnership with the Gwinnett Chamber of Commerce and thrilled to participate alongside many other terrific organizations in the Small Business Awards program."
Along with honoring finalists in the Culture Creator and Founder categories, designations will be given in the following areas.
Community Contributor Award
Emerging Entrepreneur Award
Launch Award
Minority-Owned/Woman-Owned Small Business Award
Pivot Pro Award
Small Business Award
Support System Award
"At the Gwinnett Chamber, we believe small business is big business," said Nick Masino, President & CEO, Gwinnett Chamber and Partnership Gwinnett. "We understand that entrepreneurs are the engines of our economy and we are excited to celebrate their contributions."
The awards ceremony will be held Friday, November 20 from 11 a.m. to 1:30 p.m., at the Infinite Energy Forum. For more information, visit GwinnettChamber.org/Small-Business-Awards.
Rocket IT has become the IT partner of choice for Gwinnett County organizations, providing the strategy, security, and support they need to thrive. By providing a client's leadership team with the strategic foresight necessary to align technology investment with business goals, they can work toward a shared vision, which increases efficiency, decreases risk, and increases revenue. Rocket IT is the recipient of multiple awards, such as Partnership Gwinnett's Innovation Award and a spot on the Inc 5000.
###
MEDIA CONTACT
Chris Swinson | 770.441.2520 ext. 732 | cswinson@rocketit.com
GWINNETT CHAMBER PROGRAM CONTACT
Cally D'Angelo | 678.957.4958 | CDAngelo@GwinnettChamber.org