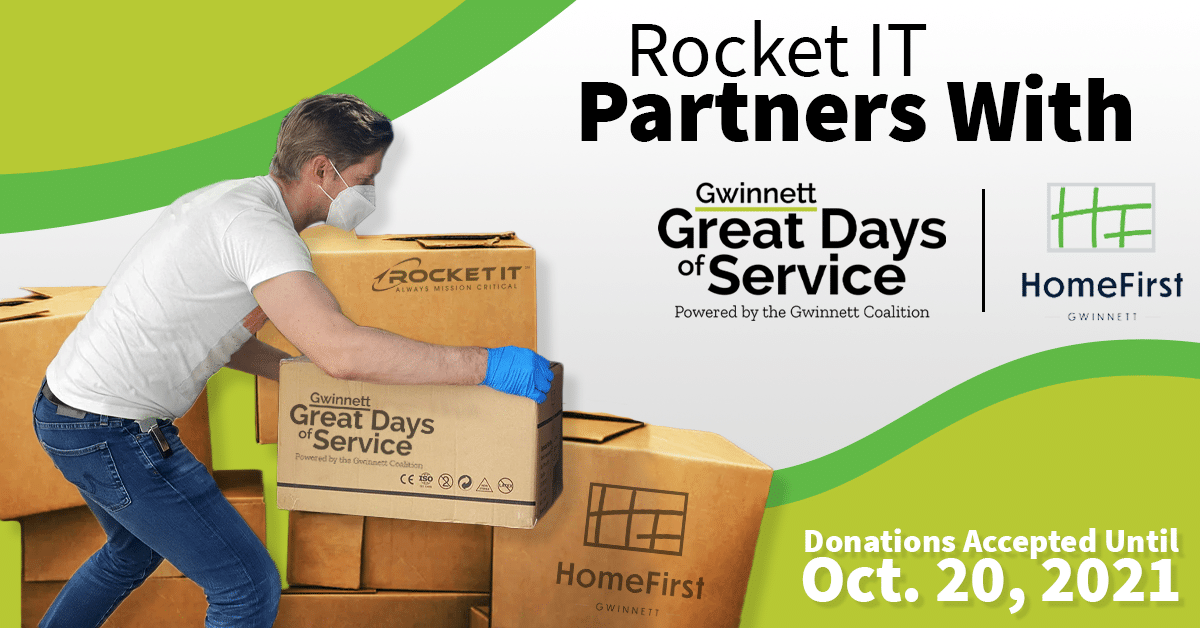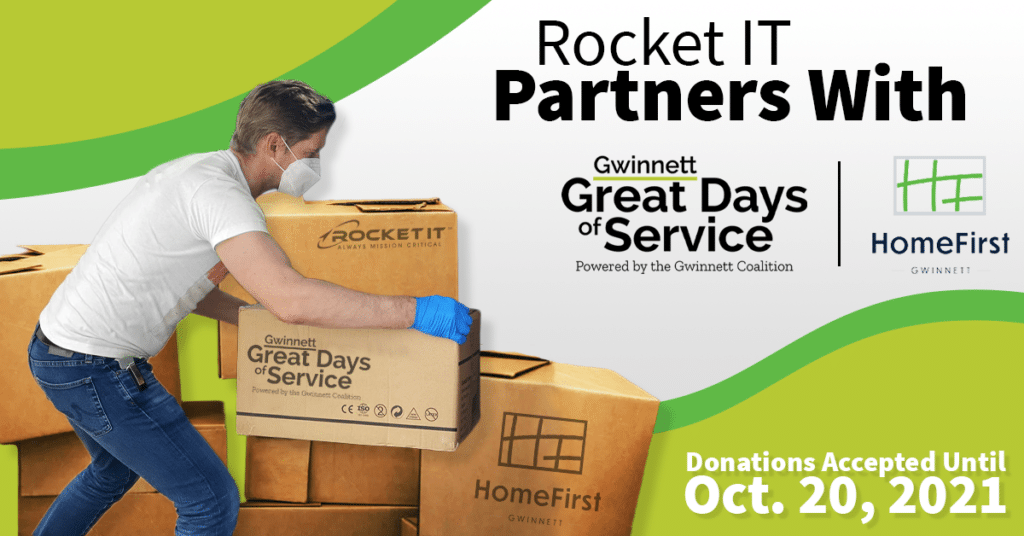 Rocket IT Partners With Gwinnett Great Days of Service & HomeFirst Gwinnett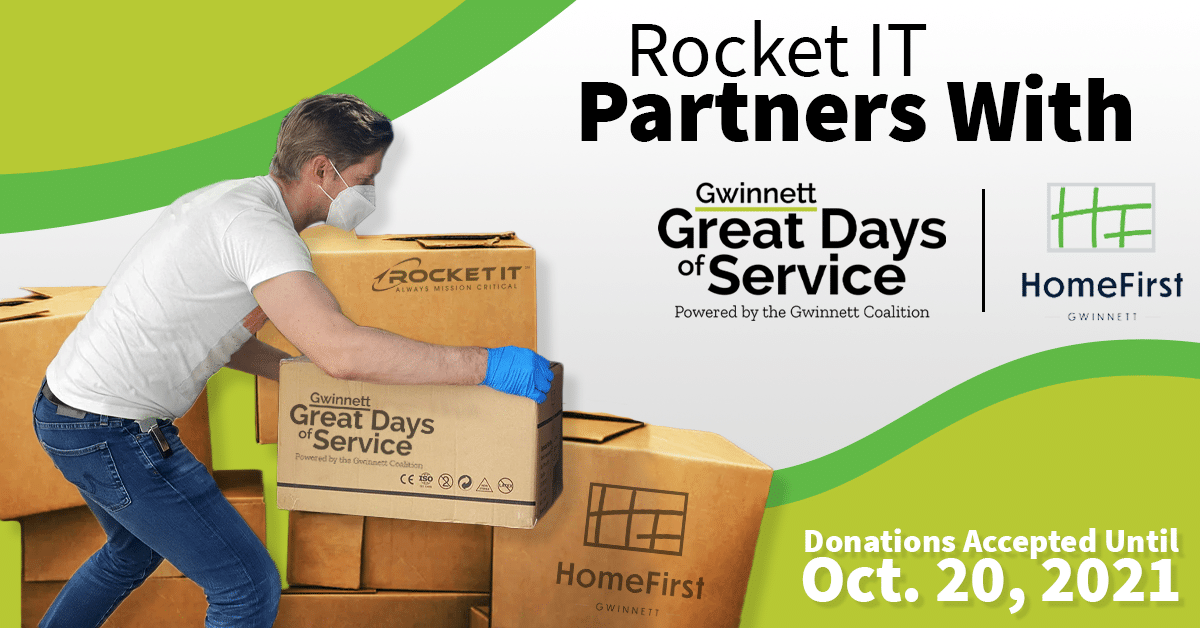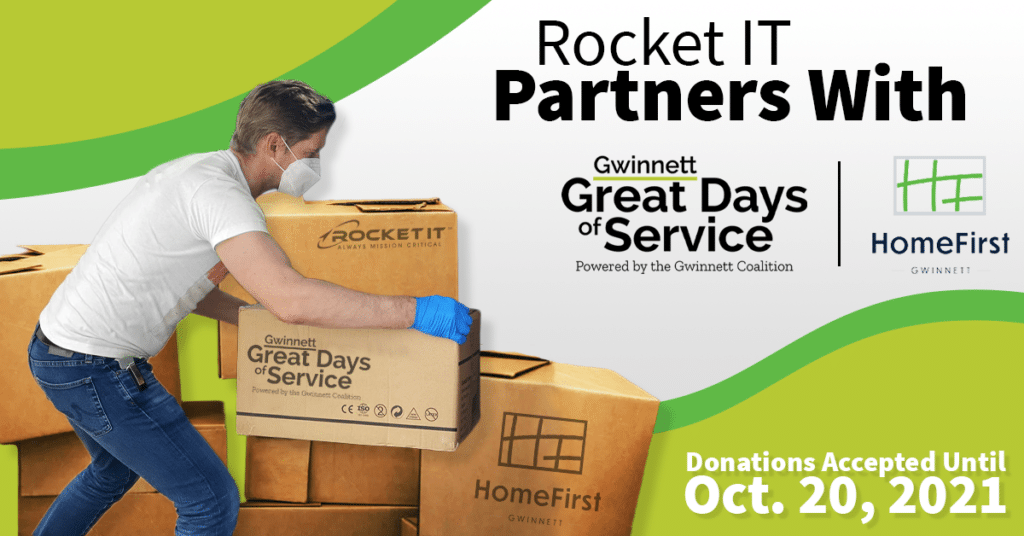 Gwinnett County (METRO ATLANTA) GA – While 2020 was a year that both challenged the success of nonprofit organizations and displaced many residents across the metro Atlanta area, 2021 has continued to serve as a time to rebuild. Through Gwinnett Great Days of Service on October 22, Rocket IT is partnering with community members to provide HomeFirst Gwinnett with donations to assist in its mission to end homelessness.
"When the initial phases of the pandemic hit, HomeFirst Gwinnett quickly rose to the occasion and opened its doors in a time of great uncertainty," said Rocket IT Marketing Professional, Chris Swinson. "This decision was admirable, to say the least, and Rocket IT is humbled by the opportunity to work with HomeFirst Gwinnett's passionate group of leaders."
Gwinnett Great Days of Service seeks to address the county's most critical needs, such as homelessness, hunger, education, and more. Through the organization's annual event, businesses are connected with local nonprofits that are actively working to create positive changes in Gwinnett County.
This year, Rocket IT has partnered with HomeFirst Gwinnett, a nonprofit that offers direct links to food services, mental health care, medical care, substance abuse treatment, jobs, hotel vouchers, transitional housing, and long-term housing programs. In addition to the contributions of Rocket IT, the organization is opening its doors to serve as a drop-off point for community members and businesses interested in donating goods to support HomeFirst Gwinnett. In turn, Rocket IT is actively collecting the following items:
Bottled Water
Gallon-size freezer bags
Individually packaged snacks
Liquid laundry detergent
Juice boxes
To ensure contributions are counted and delivered, items may be dropped off at Rocket IT's office, located at 3360 Martin Farm Road, Suite 300, Suwanee, GA 30024, no later than 5 PM on October 20. For further details regarding this event, please call Rocket IT at 770.441.2520.
Rocket IT is the IT partner of choice for Gwinnett County and North Fulton organizations, providing the strategy, security, and support they need to thrive. By providing a client's leadership team with the strategic foresight necessary to align technology investment with business goals, they can work toward a shared vision, which increases efficiency, decreases risk, and increases revenue. Rocket IT is the recipient of multiple awards, such as Partnership Gwinnett's Innovation Award and a spot on the Inc 5000.
###
MEDIA CONTACT
Chris Swinson | 770.441.2520 x732 | cswinson@rocketit.com
PROGRAM CONTACT
Gwinnett Great Days of Service | 470.799.0535 | gdos@gwinnettcoalition.org