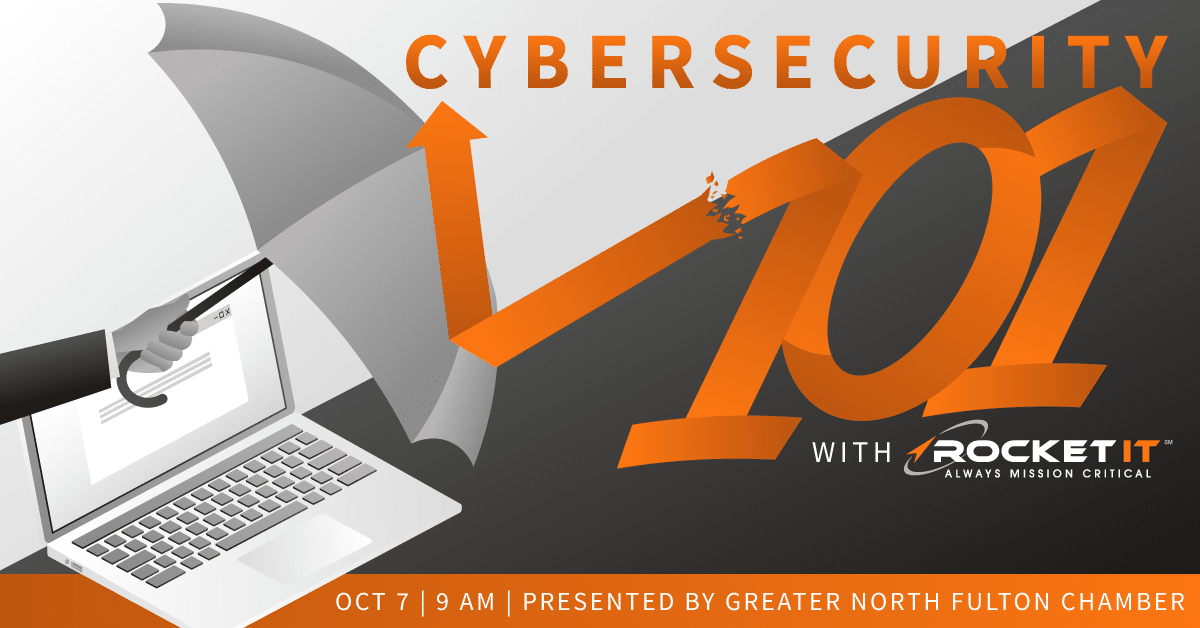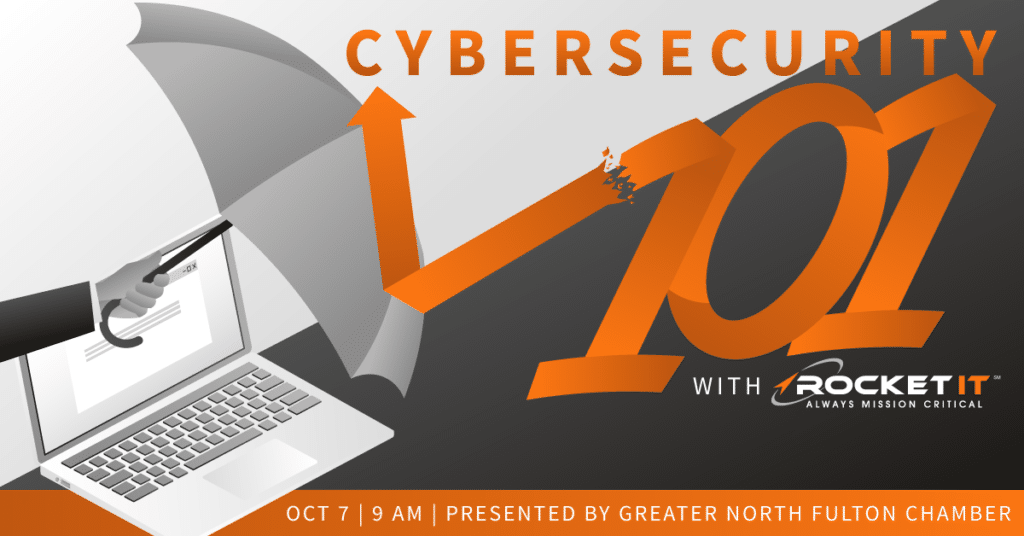 Cybersecurity 101 | Small Business Success Series | Greater North Fulton Chamber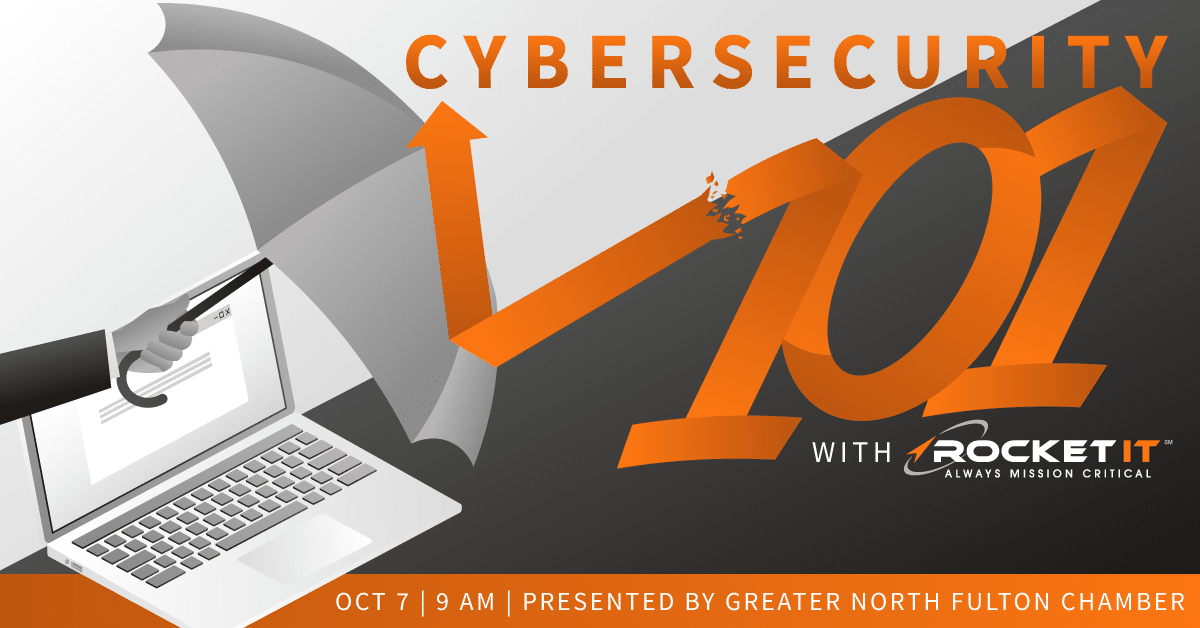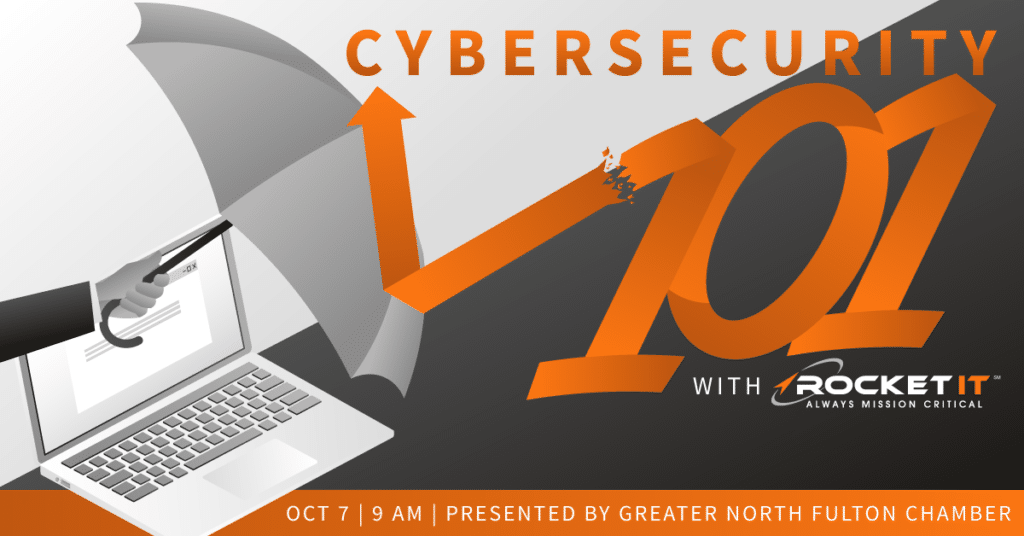 Gwinnett County (METRO ATLANTA) GA – While proactive cybersecurity solutions were once a luxury, an influx of devastating attacks have now made them a necessity when conducting business. On October 7, Rocket IT joins the Greater North Fulton Chamber's Cybersecurity 101 panel to provide business leaders with a breakdown of current security trends and the most important tools to consider when decreasing the many risks associated with modern hacks.
"Years ago, most cyber-criminal groups agreed that large businesses provided the greatest ROI from a successful attack," said Rocket IT VP of Services, Eric Henderson. "But now, as many small businesses house valuable data online, why waste time and resources attempting to hit one large business when millions of small businesses can be infiltrated at a fraction of the cost?"
In 2021, no organization is too small to be the target of hackers. In fact, small businesses make up 43 percent of all reported cyber-attacks. For business leaders that have yet to deploy security and insurance-based solutions, they must be ready to bear the downtime, revenue loss, and reputational damage that most attacks present.
Upon attending this panel with the Greater North Fulton Chamber, not only will guests receive expert advice from industry leaders in cybersecurity and cyber law, they'll develop a new sense of accountability for their organization's sensitive data.
Topics for this panel include:
The current state of cybersecurity
Modern security threats and proven solutions
Legal considerations for data protection
This Small Business Success Series panel will take place from 9 AM to 10:30 AM at the Greater North Fulton Chamber's headquarters in Alpharetta, GA. Registration for this event is completely free and those interested can reserve their seat by clicking here.
Rocket IT is the IT partner of choice for Gwinnett County and North Fulton organizations, providing the strategy, security, and support they need to thrive. By providing a client's leadership team with the strategic foresight necessary to align technology investment with business goals, they can work toward a shared vision, which increases efficiency, decreases risk, and increases revenue. Rocket IT is the recipient of multiple awards, such as Partnership Gwinnett's Innovation Award and a spot on the Inc 5000.
###
Event Contact
Kendra Plotkin | (678) 397-0554 | kplotkin@gnfcc.com
MEDIA CONTACT
Chris Swinson | 770.441.2520 x732 | cswinson@rocketit.com