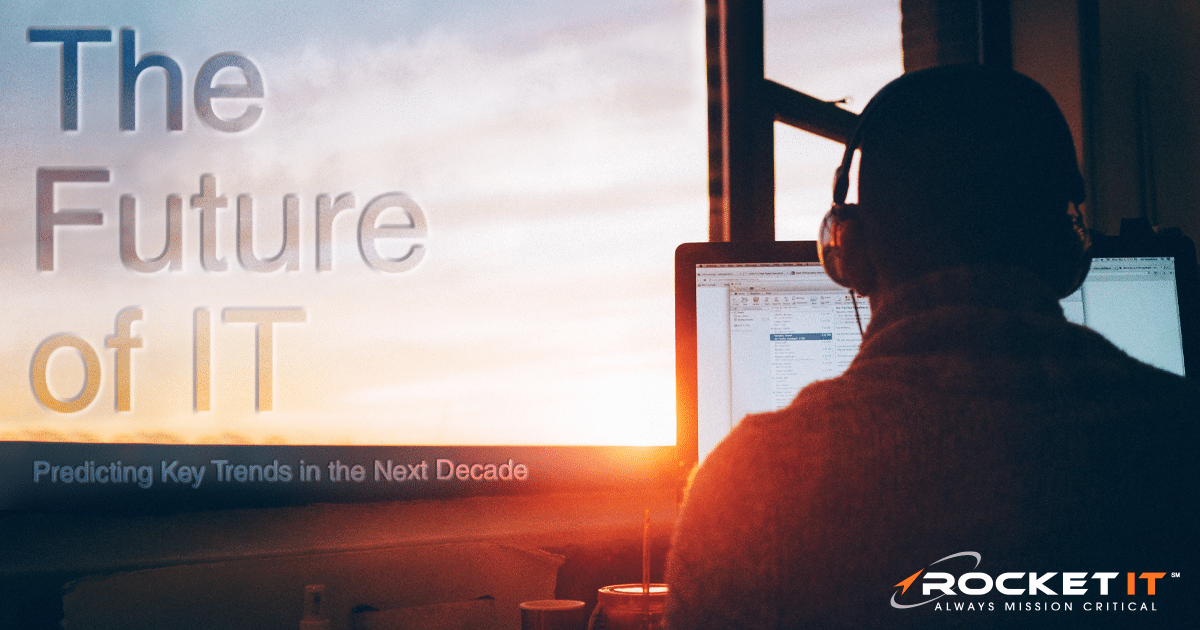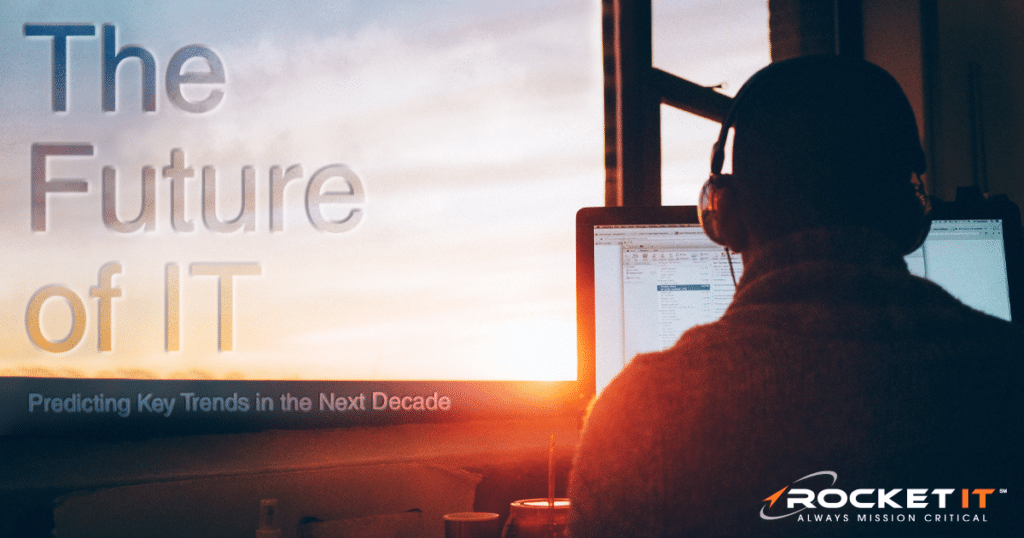 The Future of IT: Predicting Key Trends in the Next Decade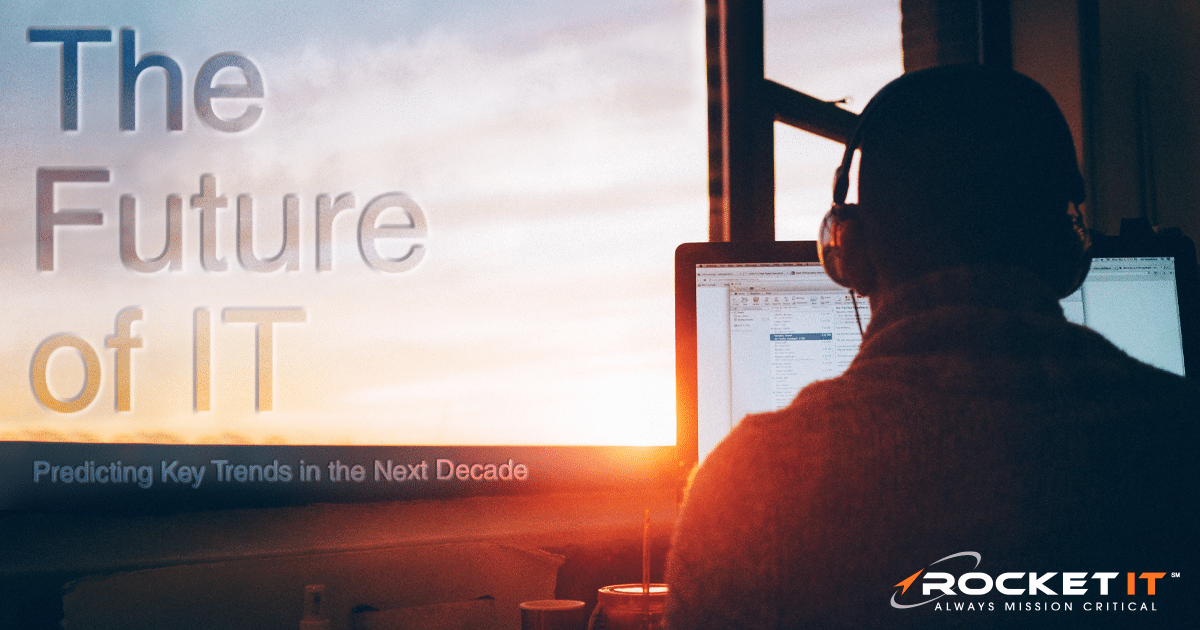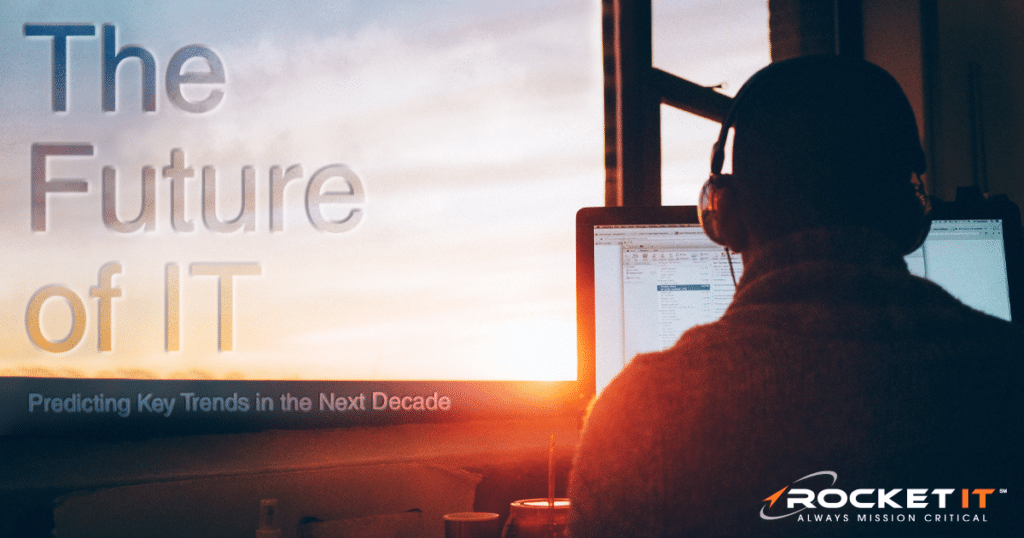 Seeing as the world has recently experienced what feels like 10 years of innovation in just three
months, it's safe to say that technology is advancing faster than ever before.
And with experts projecting that this progress shows no signs of slowing down, it's easy to
become overwhelmed when deciding which technology trend to follow and what IT
advancements to deploy to maintain a modern work environment.
That said, here are a few of the trends that are the most likely to drive the future of IT services
over the next decade.
An Increased Use of Process Automation
It's estimated that half of today's common work activities will become automated over the
coming few years—all thanks to an increase in the use and sophistication of solutions like
process automation.
Process automation, also sometimes referred to as robotic process automation or RPA, will
automate many routine and repetitive manual tasks such as:
processing data
interpreting applications
answering emails or text messages
RPA technology will empower organizations to tackle everyday, repetitive operations, freeing up
valuable time that could instead be spent on new innovations. As the capacity evolves for what
process automation can handle, organizations will find new ways to increase their efficiency and
take on more complex challenges.
The Era of Artificial Intelligence (AI): Exponential Intelligence
AI-enabled technologies have been on the minds of many organizations and that interest will
only continue to rise over the next decade.
Today, artificial intelligence is already being used as a tool used to generate and create content
in a way that mimics human behavior.
We've already seen AI technologies entering our workplaces with tools like ChatGPT and other
similar natural language processing solutions. But in the next ten years, AI will likely have a
deeper impact.
The Growing Sophistication of Edge Computing
Edge computing is all about making data and resources more accessible in remote locations. In
turn, your technology can process and act on data quickly, regardless of where you are.
How will we see the expansion of edge computing impact our operations in the near future?
Better cybersecurity and fewer issues with privacy and compliance. Additionally, edge computing will limit ripple effects that often stem from cybersecurity attacks as the impact can be localized.
Faster speeds and reduced latency—which will increase the capabilities of innovations that rely on extremely quick computing, like autonomous vehicles.
Lowered costs to store and use large datasets, therefore decreasing the cost of bandwidth.
Over the next decade, it's likely organizations will continue to find new ways to leverage the
convenience and speed of edge computing.
The Expansion of Cloud Computing
Today, 60 percent of the world's corporate data is stored in the cloud—and global cloud
infrastructure spending is anticipated to climb to $118 billion by 2025.
That said, organizations of all sizes are already saying goodbye to local servers to transition to
the cloud, and this trend isn't stopping anytime soon.
But it's not just the use of cloud computing that's growing. This technology is also redefining
what's possible. Of course, edge computing is one example of this, but fog computing is
another. Fog computing refers to powering every function to the network edge to make
computing unbelievably fast.
Between edge computing, fog computing, and third-party cloud computing, we will only see
further advancements in how cloud computing will serve our processes.
IT As the Next "as-a-Service" Model
We've already witnessed service models, like Infrastructure-as-a-Service, Software-as-a-
Service, and Platform-as-a-Service, take shape. But in the next decade, IT is poised to be the
next as-a-Service model to take off.
Why is this?
It has to do with the speed of innovation that's happening. When innovation takes off the way it
is now, and a "perpetual-learning culture" reigns supreme, IT has to play a very different role.
It's hard for traditional in-house IT teams to handle this kind of change as they work to manage
the entire tech infrastructure. Instead, IT partnerships will become a necessity for organizations
that wish adopt new industry standards and deploy them in a way that's simple and accessible
for their teams.
Stay Current with Rocket IT
Rocket IT's Ideal IT solution is designed to easily integrate into an organization's existing
infrastructure, ensuring companies are able to keep current with emerging technologies and IT
trends.
In turn, organizations use Ideal IT to align their IT strategy with future goals, embrace modern
cybersecurity measures, and offer proactive support to limit downtime.
Ready to learn more? Request a consultation today!