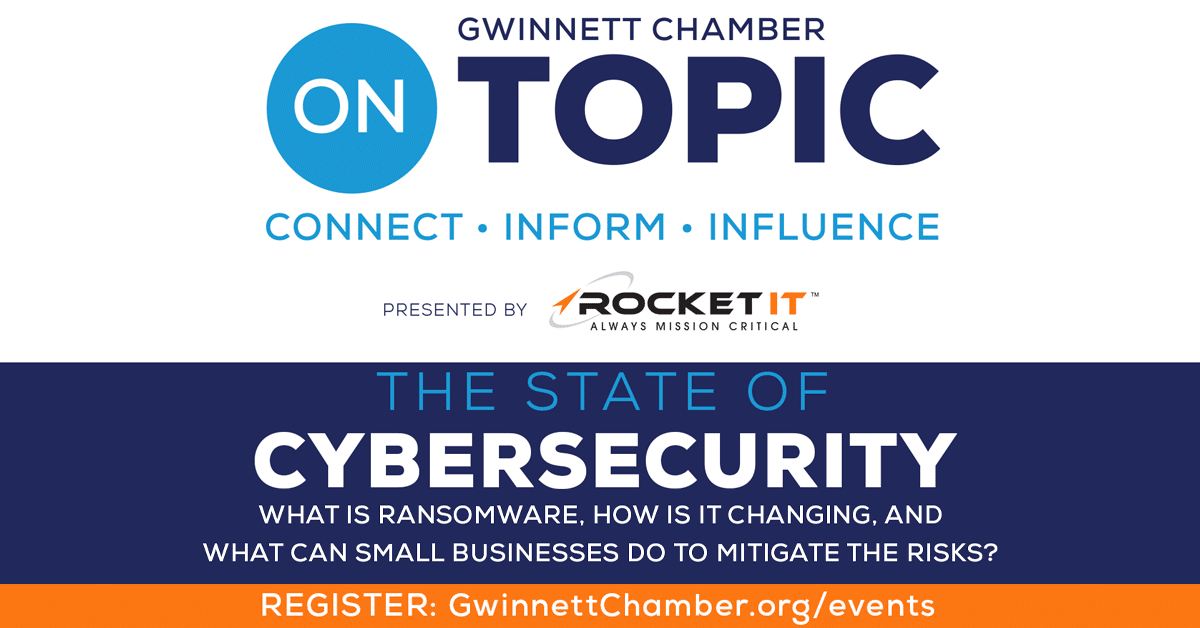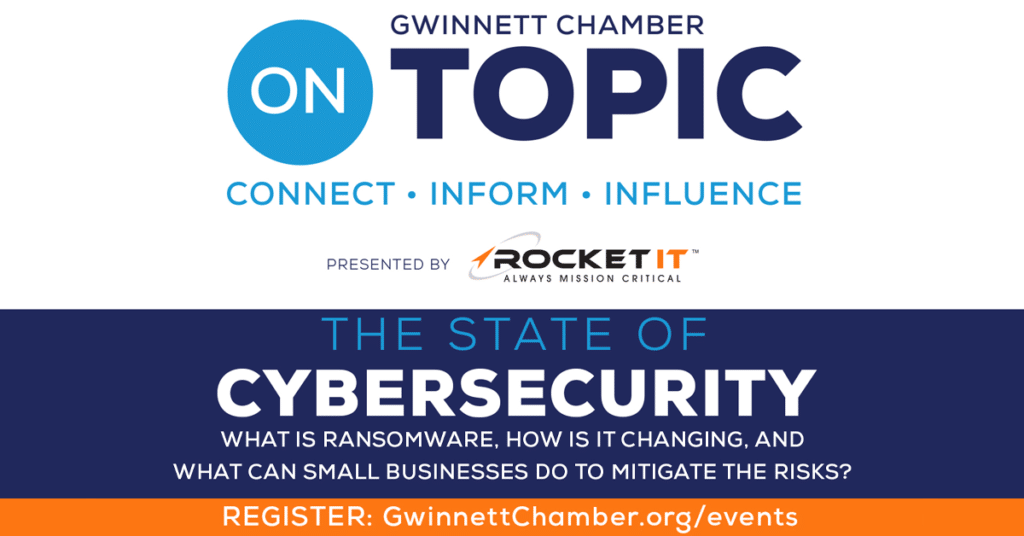 State of Cybersecurity | What is Ransomware?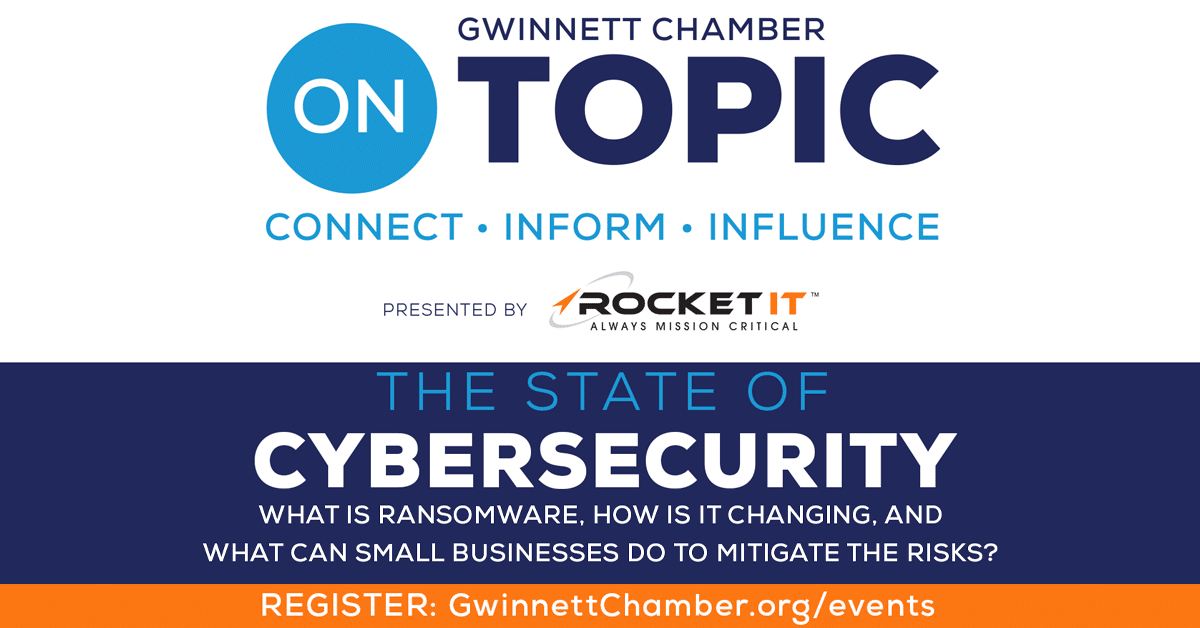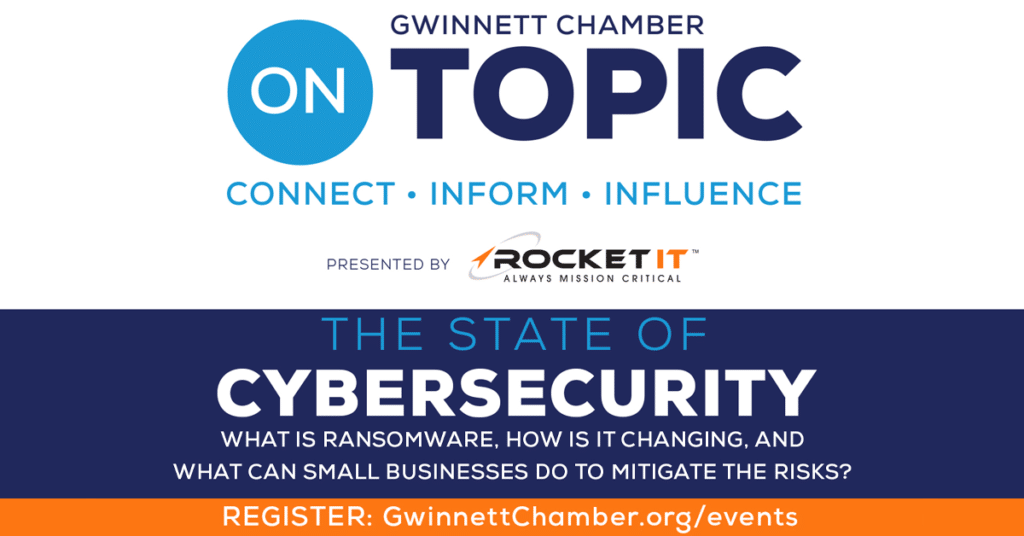 Gwinnett County (METRO ATLANTA) GA – What is ransomware, how is it changing, and what can small businesses do to mitigate the risks? On August 18, Rocket IT and the Gwinnett Chamber of Commerce are teaming up to provide On Topic attendees with a deep-dive into some of 2021's most notorious hacks to date.
"Massive cyber-based attacks have become an all too regular narrative in today's media," said Rocket IT VP of Technology, Eric Henderson. "And while many of these victims are spending millions of dollars on technology annually to protect their digital assets, human error remains the number one cause of these breaches."
It is estimated that cybercrimes accounted for $945 billion dollars of lost revenue in 2020. And although there are many methods of hacking that attributed to this astounding number, evolving ransomware attacks undoubtedly wreaked the most havoc on unsuspecting businesses.
Upon attending On Topic with the Gwinnett Chamber, guests will not only receive an update on the current state of cybersecurity, they will also leave with the foundation to decrease risk, increase efficiency, increase revenue, and build a culture of security for their workplace.
Topics for this luncheon will relate to recent events such as:
Colonial Pipeline's week-long shutdown
JBS's $11 million ransom attack
Kaseya's involvement in the largest ransomware attack to date
Registration for August's On Topic is now open to the public, with both virtual and in-person attendance available. Tickets for in-person seating at this event begin at $55 for Gwinnett Chamber members and include lunch for each guest. To register for this event, click here.
Rocket IT is the IT partner of choice for Gwinnett County and North Fulton organizations, providing the strategy, security, and support they need to thrive. By providing a client's leadership team with the strategic foresight necessary to align technology investment with business goals, they can work toward a shared vision, which increases efficiency, decreases risk, and increases revenue. Rocket IT is the recipient of multiple awards, such as Partnership Gwinnett's Innovation Award and a spot on the Inc 5000.
###
MEDIA CONTACT
Chris Swinson | 770.441.2520 x732 | cswinson@rocketit.com
PROGRAM CONTACT
Alicia Krogh | 770.232.8809 | akrogh@gwinnettchamber.org