May 11th, 2017 by Rocket IT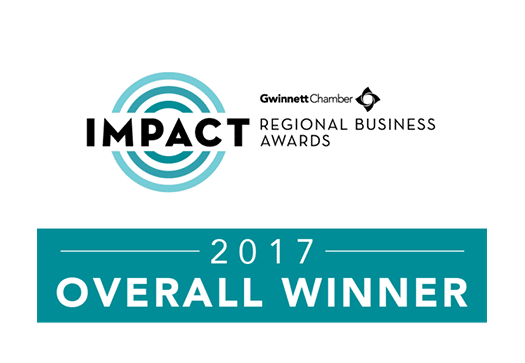 Duluth, GA – The Gwinnett Chamber recently recognized Rocket IT as the Overall Winner and as the leading organization in the Information Technology Category at the IMPACT Regional Business Awards, presented by Contemporary Marketing Group.
"There's one word I have for being recognized with this award, and that's 'grateful,'" says Matt Hyatt, Rocket IT Founder and CEO. "I am extremely grateful for the support and recognition of our clients, our partners, and our community. This is a huge honor, and thank you to everyone for recognizing our efforts to change the way people think about outsourced IT."
Held on May 10 at the Infinite Energy Forum, the program pays tribute to premier organizations in top industries that are driving economic development and job creation, while enhancing our quality of life. From more than 500 nominations, 125 finalist companies, across nine industry categories were recognized.
"The winners of the IMPACT Awards represent the creativity, determination, and engagement of our business community," said Dr. Dan Kaufman, president & CEO of the Gwinnett Chamber. "These risk-takers and innovators are the ones laying the foundation for a bright future of opportunity that we all enjoy."
Rocket IT is the IT partner of choice for Gwinnett County organizations, providing both the strategy and support they need to thrive. By providing a client's leadership team with the strategic foresight necessary for them to align technology investment with business goals, they can work from a shared vision, which increases efficiency, decreases risk, and increases revenue. Rocket IT is the recipient of multiple awards, such as Partnership Gwinnett's Innovation Award and a spot on the Inc 5000.
For more information, visit IMPACTBusinessAwards.com.
###
MEDIA CONTACT
Jacque McFadden | 770.441.2520 ext. 781 | jmcfadden@rocketit.com
PROGRAM CONTACT
Cally D'Angelo | 678.957.4958 | CDAngelo@GwinnettChamber.org