January 6th, 2017 by Rocket IT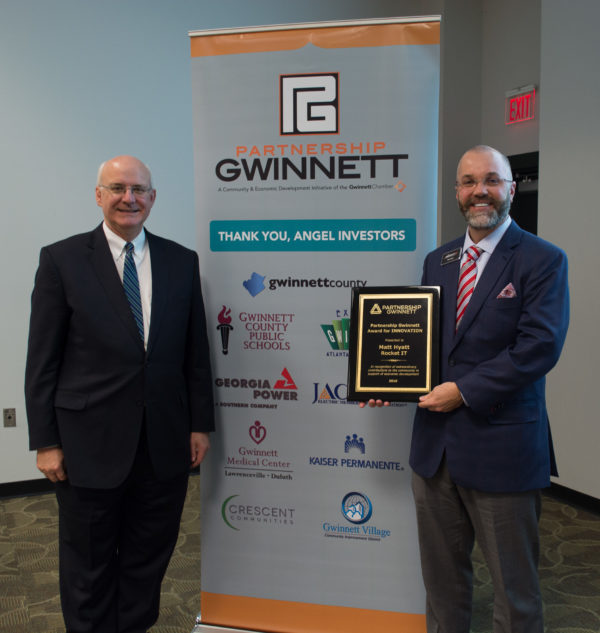 DULUTH, GA – On December 16th, 2016, Partnership Gwinnett awarded the Innovation Award to Rocket IT Founder Matt Hyatt at their Annual Summit. This distinction recognizes an individual for their visionary leadership, breaking down of barriers between IT and the community, and use of technology innovation as a major driver of success.
Partnership Gwinnett is a public-private initiative dedicated to bringing new jobs and capital investment to Gwinnett County, Georgia. Since 2006, Partnership Gwinnett has worked with its local partners to attract and retain jobs, cultivate capital investment, support educational institutions, foster workforce development, and contribute to the exceptional quality of life found in Gwinnett.
Each year, Partnership Gwinnett culminates its Annual Summit with an awards ceremony. Awards are presented to one leader and one company in the categories of Imagination, Innovation and Influence to honor local efforts supporting transformative concepts, community leadership, and economic progress in the County.
"Rocket IT has thrived even more than usual over the past three years due to visionary thinking and innovation cultivated through Matt's leadership," said Ryan Bonilla, Rocket IT Business Development Manager. "As a result, we are providing Gwinnett organizations strategic foresight that wasn't previously available to them."
As the Founder and CEO, Matt Hyatt has built Rocket IT into the IT partner of choice for Gwinnett County organizations. Through Matt's innovative leadership and encouragement of ingenuity, Rocket IT has earned a place on the Inc. 5000 and GRN Fast Growth 150 lists in addition to being recognized with the US Chamber of Commerce Blue Ribbon Small Business Award, Georgia Trend Magazine's Best Place to Work Award, and Gwinnett Chamber of Commerce's Pinnacle Small Business Award.
###