July 13th, 2016 by Rocket IT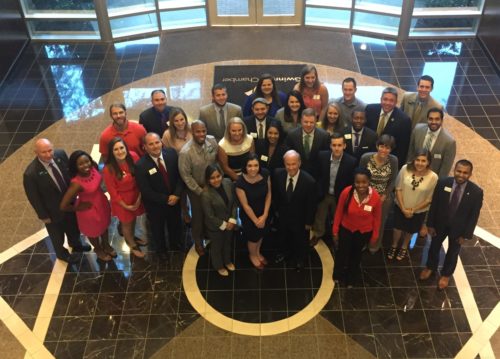 YP Leadership Institute helps shape the local leaders of the future.
(GWINNETT METRO ATLANTA NEWS) – July 13 – Gwinnett Young Professionals is pleased to announce its latest Leadership Institute class, which kicked off Tuesday, July 12. The Gwinnett Young Professionals Leadership Institute is designed to be an interactive exploration of personal leadership development. Active learning on the part of each individual is an essential component of this valuable experience and it involves more than just attending the Leadership Institute – it also requires participants to engage in critical reflection of readings and discussions, formulate individual perspectives on the issues raised in the Institute and actively participate in the exchange of ideas with other young professionals.
"By 2020, millennials will comprise 50 percent of the United States workforce," said Sean George, manager of membership services at the Gwinnett Chamber and Gwinnett Young Professionals program manager. "To accommodate this workforce shift, the Leadership Institute was created."
In partnership with Georgia Gwinnett College as well as supporting partner Porter Keadle Moore, the program features monthly gatherings and lectures at various locations around Gwinnett County and will conclude with a commencement ceremony in December.
"Gwinnett Young Professionals Leadership Institute was a very well planned and insightful six-month experience," said Tabitha Spillers, Finance Manager with Precision Planning, Inc., and Spring 2016 graduate. "Through open dialogue of leadership theories, I learned how to effectively apply my skills to grow as a leader and manager. I am thankful for the new friendships and business connections gained, whom I can continue to learn from and lean on throughout my career."
To register or for more information, visit gwinnettyoungprofessionals.com.
The Fall 2016 Gwinnett Young Professionals Leadership Institute class:
Instructor: Dr. Jim Fatzinger, Georgia Gwinnett College
Amanda Fischer, Georgia Gwinnett College
Anna Diez, Mitsubishi Electric Classic
Atiya Crockett, Georgia Gwinnett College
Bo Mann, Smith & Howard
Cally D'Angelo, Gwinnett Chamber
Casey Mashburn, Rhodes, Young, Black, & Duncan
Evan Pohl, Forge-Rx & CrossFit Winder
Fariha Hassan, AdEdge Water Technologies
Isabella Kissoon, Quantum National Bank
Jacque McFadden, Rocket IT
Jake Pond, AdEdge Water Technologies
Jay Patel, Emory HealthCare
Jeneeve Cooke, Republic Services, Inc.
Katrina Sharpe, Infinite Energy Center
Kent Snyder, Precision Planning, Inc.
Liz Kesler, MD Logic, Inc.
Madison Navarro, City of Sugar Hill
Mark Zielinski, GDP Technologies
Michelle Juda, Infinite Energy Center
Nadine Creutz-Adams, Porter Keadle Moore
Richard Cavagnaro, AdEdge Water Technologies
Skip Hulsey, Keller Williams Realty Atlanta Partners
Torrez Wilson, Georgia Gwinnett College
Trey Beasley, Marlow's Tavern
Will Corbin, City of Duluth
###
PROGRAM CONTACT
Sean George | 678.584.2252 | sgeorge@gwinnettchamber.org
MEDIA CONTACTS
Traci Strom | 678.584.2267 | traci@gwinnettchamber.org
Stephanie Hannum | 678.584.2266 | shannum@gwinnettchamber.org
This press release was originally posted on the Gwinnett Chamber website.