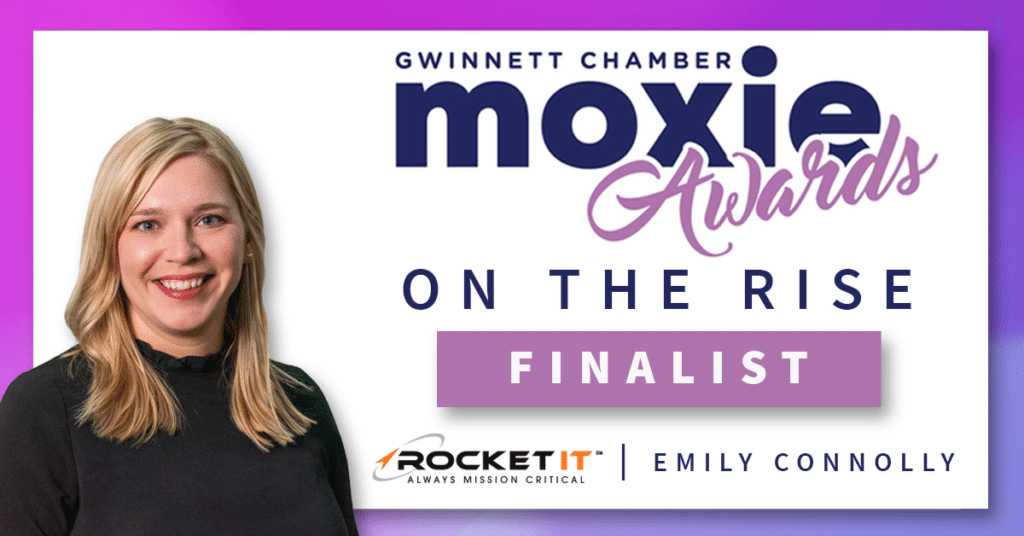 Emily Connolly Finalist for Gwinnett Chamber Moxie Awards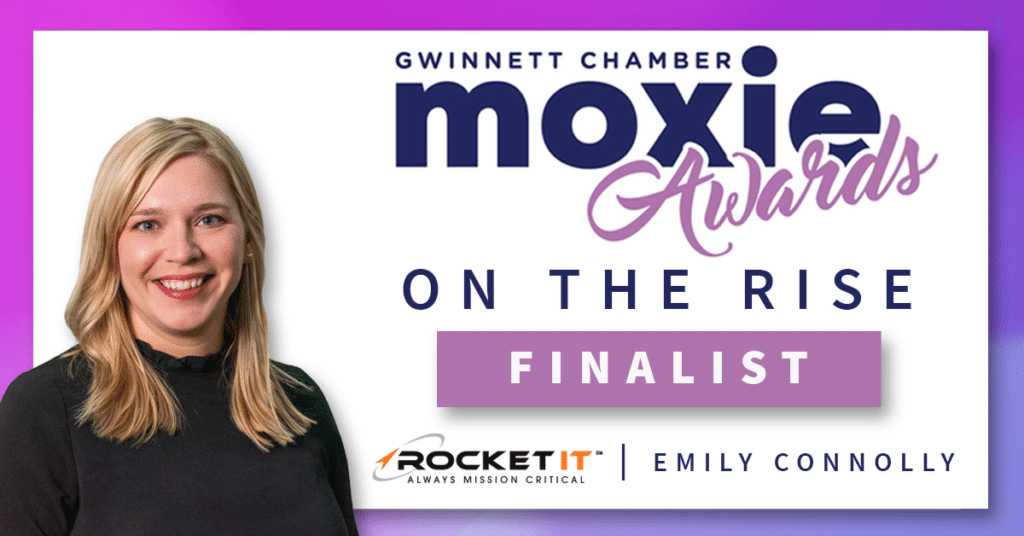 Gwinnett County (METRO ATLANTA) GA – The Gwinnett Chamber of Commerce's Moxie Awards offer an opportunity to celebrate women who are making notable impacts in the Gwinnett community and beyond.
Recognized as an area leader, Rocket IT Professional Services Manager, Emily Connolly has been selected as a finalist for the program's 'On the Rise' award category.  
"Coordinating the onboarding of new businesses and executing technology projects requires a leader that is detail focused and committed to excellent client communication," said Rocket IT Chief of Staff, Abbey Johnson. "Over the last four and a half years, Emily's ability to connect with customers and address their technology concerns has allowed her to move up quickly, and now with her most recent promotion to Professional Services Manager, I look forward to seeing her build upon her continued success."
The Gwinnett Chamber's Moxie Awards seek to honor influential women who are trailblazers in a male-dominated field, Gwinnett County champions, emerging leaders, professionals who are at the peak of their career and those who are generous with their time, talent, or resources.
Along with the On the Rise Award, designations will also be given for the following categories:
Enlightened Employer
Greater Good Award
Influence Award
Outstanding Organization Award
Moxie Award
Pay It Forward Award
"We are fortunate to have such a standout network of women in Gwinnett," said Alicia Krogh, Gwinnett Chamber Senior Vice President of Executive Engagement and Programs. "This program gives the Gwinnett Chamber an opportunity to thank and pay tribute to those who do so much for our community."
The Moxie Award program will begin with a powerhouse panel and conclude with the distinction of award finalists on August 27 at the Gas South Convention Center from 10 a.m. to 1 p.m. For more information, visit gwinnettchamber.org/moxie-awards.
###
MEDIA CONTACT
Chris Swinson | 770.441.2520 ext. 732 | cswinson@rocketit.com
PROGRAM CONTACT
Alicia Krogh | 770.232.8809 | akrogh@gwinnettchamber.org