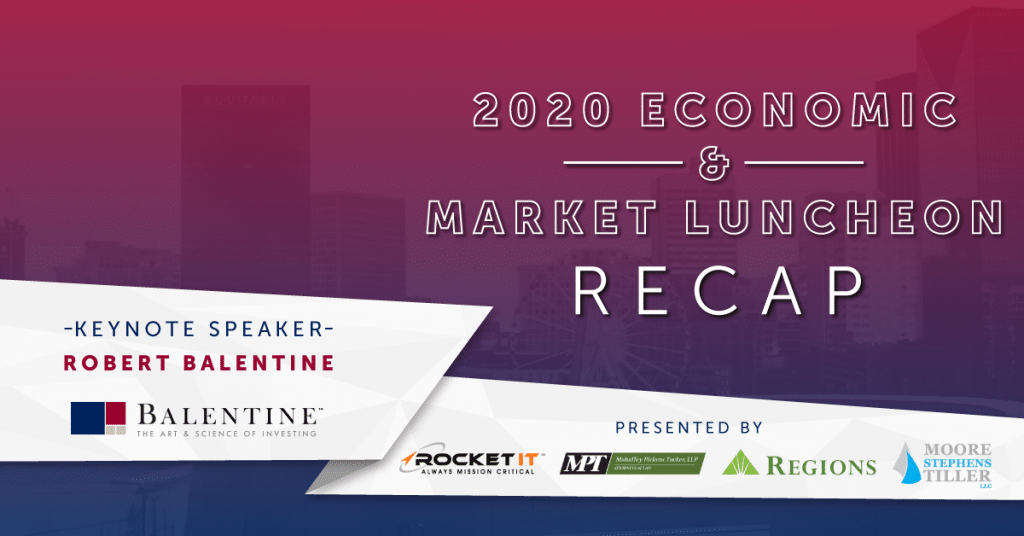 2020 Economic and Market Outlook Event Recap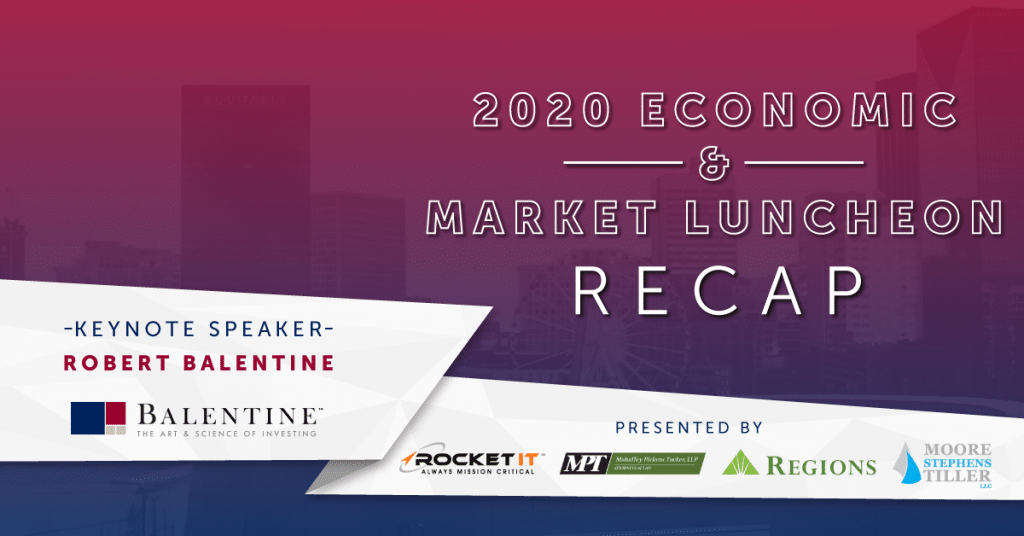 Gwinnett County (METRO ATLANTA) GA – In tandem with Mahaffey Pickens Tucker, Moore Stephens Tiller, and Regions Bank, Rocket IT hosted its first Economic and Market Outlook luncheon of the year on January 28, 2020 at the 1818 Club in Duluth, GA.
With Robert Balentine, Chairman of the Atlanta-based investment group, Balentine, serving as the keynote speaker for this event, guests were enlightened with helpful insight into wealth management for the new decade.
"In addition to providing local financial leaders with an opportunity to connect and build relationships with one another, the purpose of this event is to ensure our community is aware of potential opportunities and head winds our economy is facing in 2020 and the impact to Metro Atlanta and our nation as a whole," said Moore Stephens Tiller Associates Member, Daniel Sosebee III, CPA.
Beginning as a passionate entrepreneur, Balentine has a background in building, buying and selling businesses. Now, with over 40 years of economic advising and management experience under his belt, Balentine is looking to share his understanding of today's ever-changing markets with financial planners and investors across the United States.
Leading up to Balentine's keynote speech, attendees were greeted with a networking opportunity and lunch to meet with like-minded individuals in the Metro Atlanta area. While this event was limited to guests invited by Rocket IT and its accompanying sponsors, those who wish to attend a future event can submit a request to Daniel Sosebee at 770.236.9015, or by emailing dsosebee@mstiller.com.
Through community enriching events, such as this, Rocket IT has become the IT partner of choice for Gwinnett County organizations; providing the strategy, security and support they need to thrive. By providing a client's leadership team with the strategic foresight necessary for them to align technology investment and business goals, they can work from a shared vision, which increases efficiency, decreases risk, and increases revenue. Rocket IT is the recipient of multiple awards, such as Partnership Gwinnett's Innovation Award and a spot on the Inc 5000.
###
Media Contact
Chris Swinson | 770.441.2520 ext. 732 | cswinson@rocketit.com
Moore Stephens Tiller Contact
Daniel Sosebee III, CPA | 770.236.9015 | dsosebee@mstiller.com