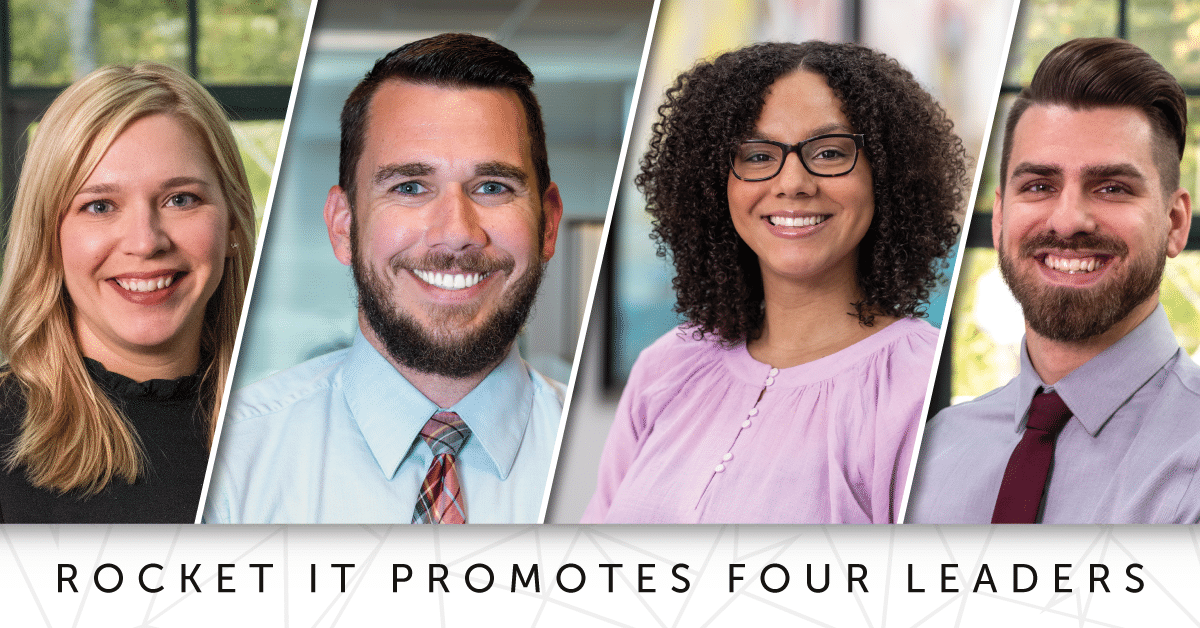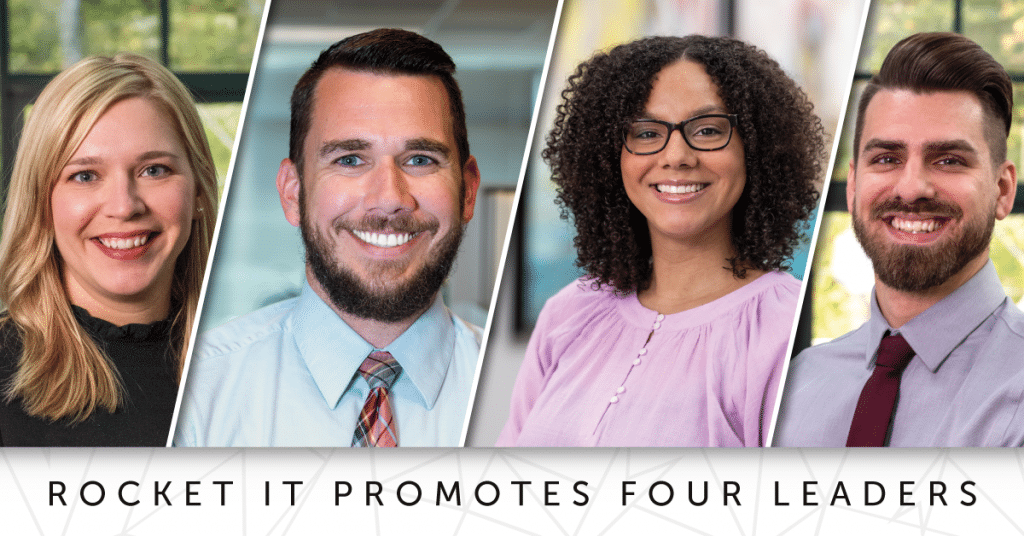 Gwinnett County (METRO ATLANTA) GA – Information technology company, Rocket IT, recently announced the promotion of four leaders across three internal departments on March 1, 2020. This announcement comes as a response to Rocket IT's continued growth within the IT industry and the increasing technology needs of the organization's customers.
"Whenever given the opportunity, Rocket IT actively looks to promote from within the organization," said Rocket IT Founder and CEO, Matt Hyatt. "Not only does this allow long-time team members to further develop their skillsets, it ensures that our team is fully capable of understanding the technology needs and infrastructures of the businesses we serve."
Bria Soyele, former Account Manager, and Patrick Richardt, former Senior Systems Engineer, have now been promoted to Co-Managers of Rocket IT's Service Team. Both Soyele and Richardt quickly rose throughout Rocket IT's ranks, with Soyele originally joining as an Office Administrator in 2017, and Richardt enlisting as an Inside Support Specialist in 2014. "Bria and Patrick have both demonstrated that they understand the bigger picture of why Rocket IT exists; to help people thrive," said Rocket IT Chief of Staff, Abbey Johnson. "They are both problem solving go-getters, and are well liked and respected by the entire team; so this transition made perfect sense." In their new roles, Soyele and Richardt are responsible for developing and overseeing the strategic foresight, security initiatives, and proactive support that Rocket IT delivers to customers daily.
Bria Soyele | Service Team Co-Manager
Patrick Richardt | Service Team Co-Manager
Ryan Bonilla, former VP of Services, has now shifted to VP of Sales where he will be responsible for the revenue growth and financial performance of Rocket IT's growing Sales Department. Having previously served as Rocket IT's Sales Professional in 2012 and the company's Business Development Manager in 2015, Bonilla is no stranger to expanding the organization's financial success. "After a year and a half of turning inward to build the internal operations and handle the service management of Rocket IT, I am thrilled that we have found two rising leaders to take on that task so I can get back to the responsibility of growing Rocket IT," said Bonilla.
While Bonilla has held a position in Rocket IT's Leadership team for some time, Soyele and Richardt will join in the ranks, alongside Rocket IT's Project Manager, Emily Connolly. Joining Rocket IT in 2017, Connolly previously served as the organization's Project Coordinator before moving into her leadership position. In her current role as Project Manager, Connolly is responsible for managing the deployment and implementation of client-based projects; ensuring customers receive technology that scales alongside their business' growth. "Over the last few years, I've had the pleasure of overseeing Emily's initiatives within Rocket IT's Project Team," said Rocket IT VP of Technology, Eric Henderson. "During that time, I've witnessed her ability to connect with customers and address their technology concerns; so it's exciting to now have her bring that insight to the leadership table on a routine basis."
By investing in its team members, Rocket IT has become the IT partner of choice for Gwinnett County organizations; providing the strategy, security, and support they need to thrive. By providing a client's leadership team with the strategic foresight necessary for them to align technology investment with business goals, they can work from a shared vision, which increases efficiency, decreases risk, and increases revenue. Rocket IT is the recipient of multiple awards, such as Partnership Gwinnett's Innovation Award and a spot on the Inc 5000.
###
MEDIA CONTACT
Chris Swinson | 770.441.2520 ext. 732 | cswinson@rocketit.com