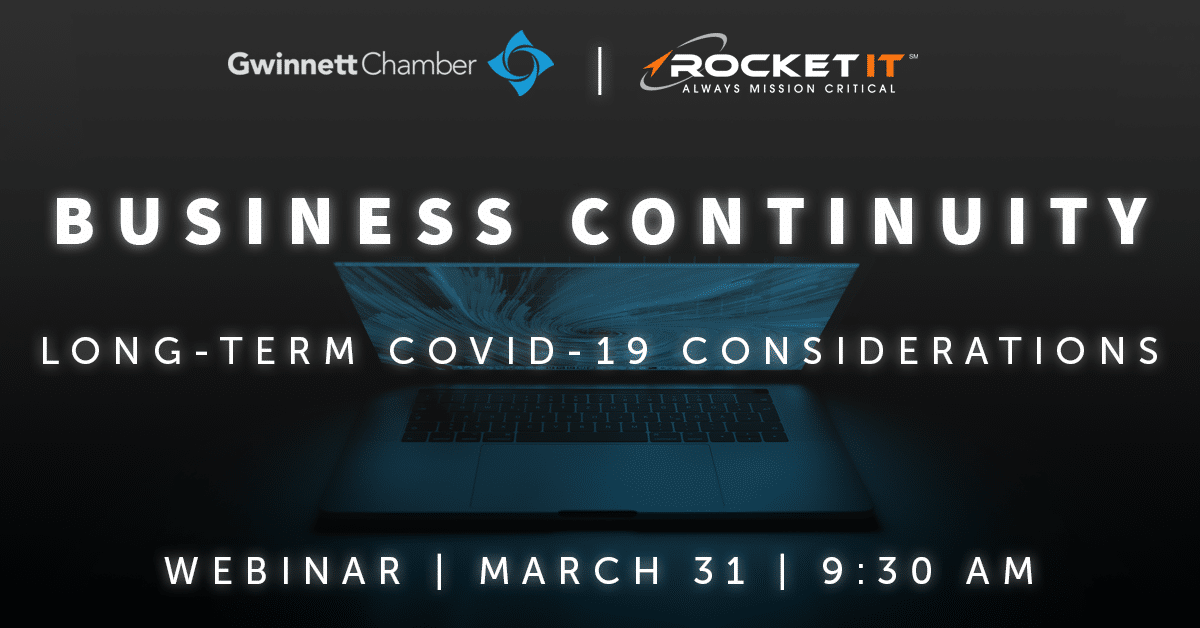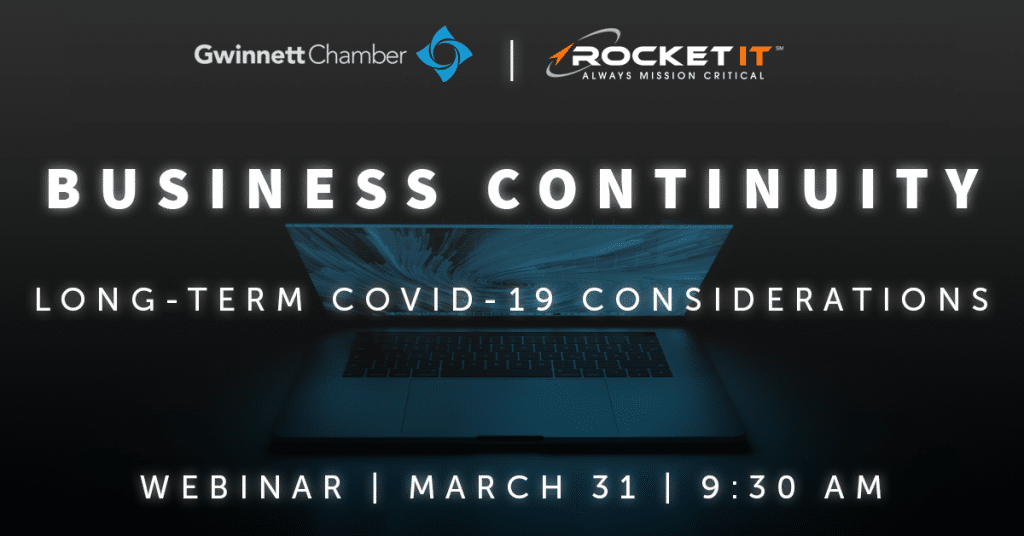 Rocket IT Hosts Webinar to Address Long-Term COVID-19 Considerations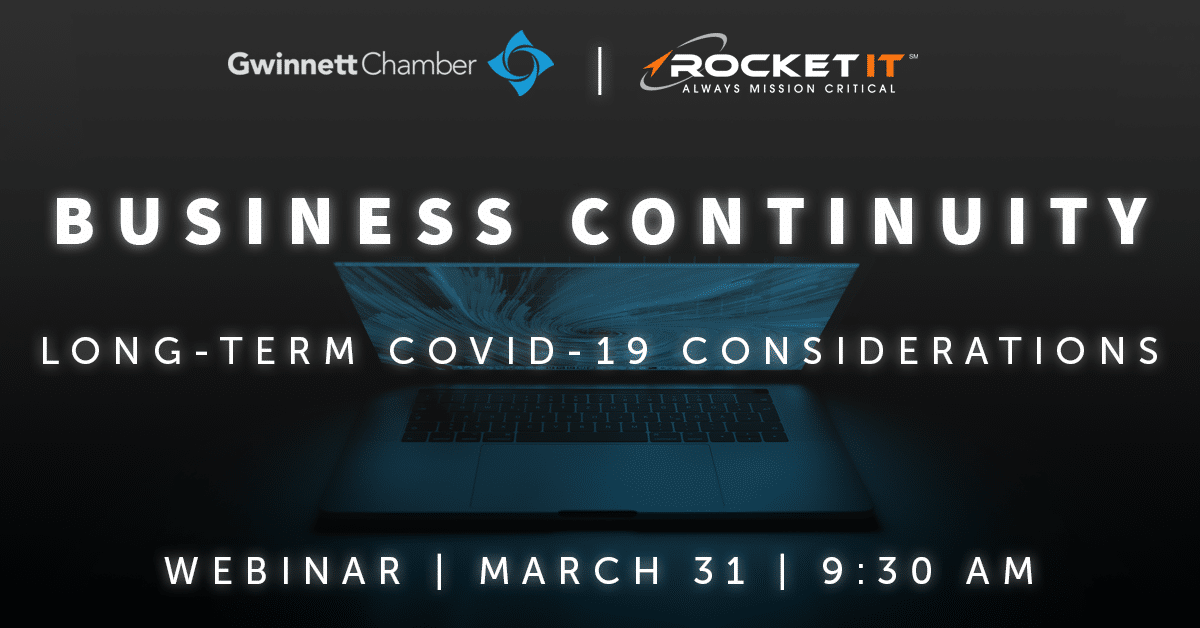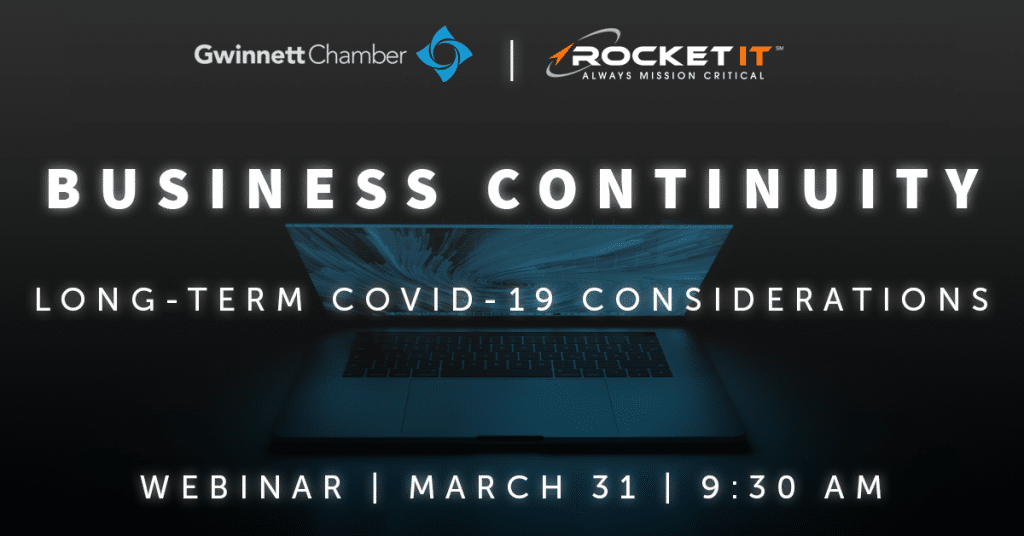 Gwinnett County (METRO ATLANTA) GA – As COVID-19 continues to compromise the health of many individuals, organizations in Gwinnett County and around the world have already begun to adapt to a new normal of conducting business. But through this sudden and disruptive change, how can organizations ensure they're making wise technology decisions?
On Tuesday, March 31st, Rocket IT's VP of Technology, Eric Henderson will host a webinar with the Gwinnett Chamber of Commerce; helping audience members ensure that technology remains a healthy part of their operations.
"A business is only as strong as the community that surrounds it," said Henderson. "Ultimately, I hope to help leaders navigate through this challenging time and give them the insight needed to balance high business productivity with safety concerns during the pandemic."
Through this webinar, attendees can expect to leave with a better understanding of their next steps, and in turn, feel confident in their business' productivity and security through its rapid transition.
After a review of what should have been considered short-term, Henderson will highlight areas of concern that should be addressed for long-term success in a remote working environment. A special focus will be placed on limiting security risks while managing a business in a disruptive state.
During this presentation, a live chat will be provided; giving viewers an opportunity to have their technical questions addressed in real time. Additionally, should attendees have a question prior to the event, Rocket IT invites you to submit questions in advance to marketing@rocketit.com.
This event will begin promptly at 9:30 AM on March 31st. While this webinar is free for Gwinnett Chamber members and $10 for non-Chamber members, registration is required for all attendees prior to the event. To reserve your spot, click the button below.


Through initiatives, such as this, Rocket IT has become the IT partner of choice for Gwinnett County organizations; providing the strategy, security, and support they need to thrive. By providing a client's leadership team with the strategic foresight necessary to align technology investment with business goals, they can work toward a shared vision, which increases efficiency, decreases risk, and increases revenue. Rocket IT is the recipient of multiple awards, such as Partnership Gwinnett's Innovation Award and a spot on the Inc 5000.
###
MEDIA CONTACT
Chris Swinson | 770.441.2520 ext. 732 | cswinson@rocketit.com
PROGRAM CONTACT
Lina Teitelbaum | 678.584.2252 | lteitelbaum@gwinnettchamber.org