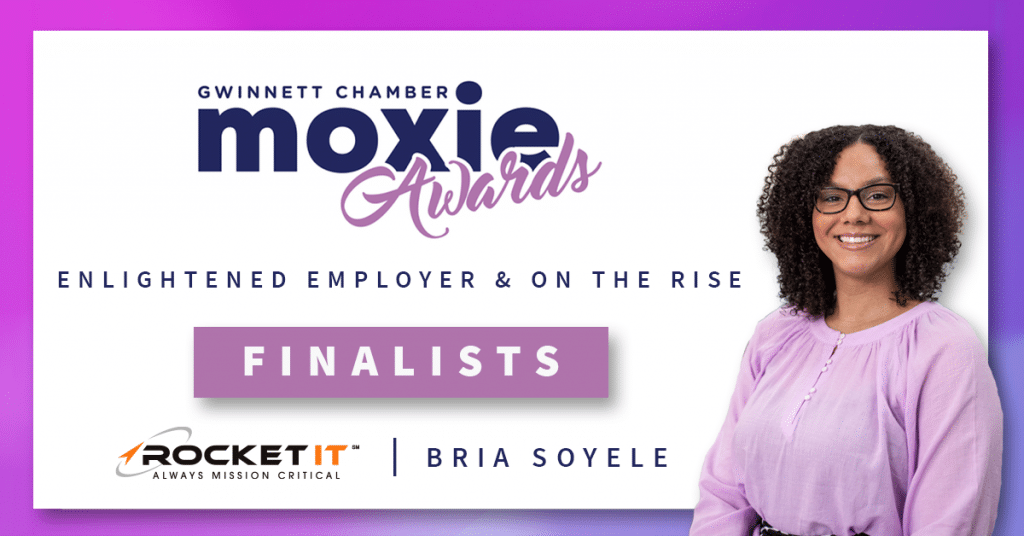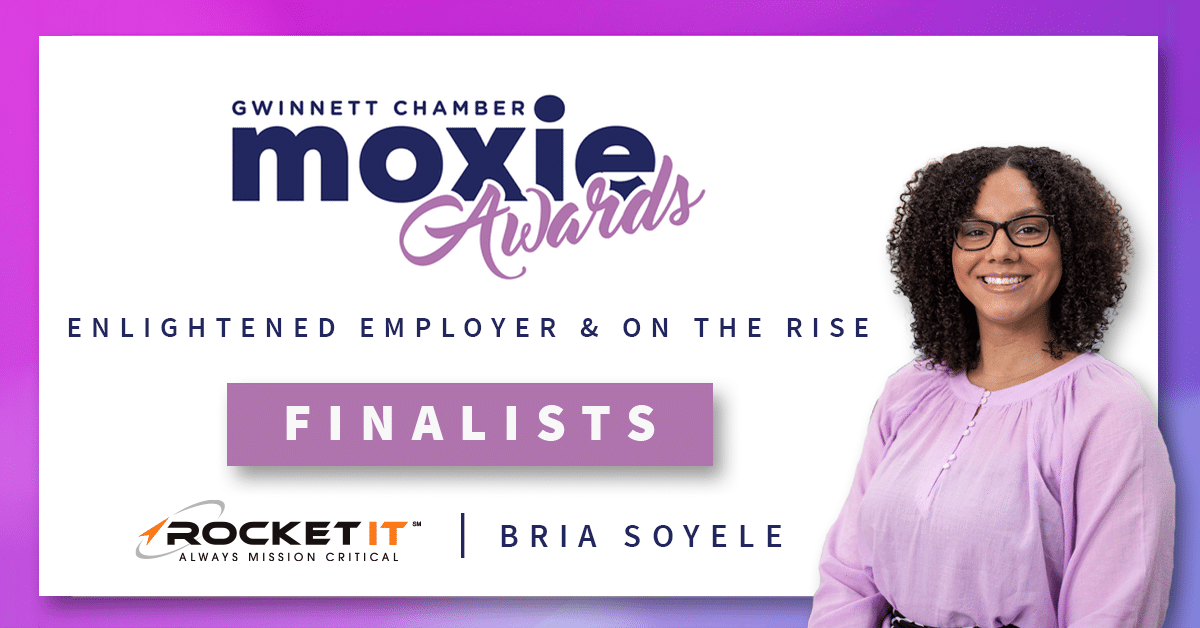 Bria Soyele and Rocket IT Finalists for Moxie Awards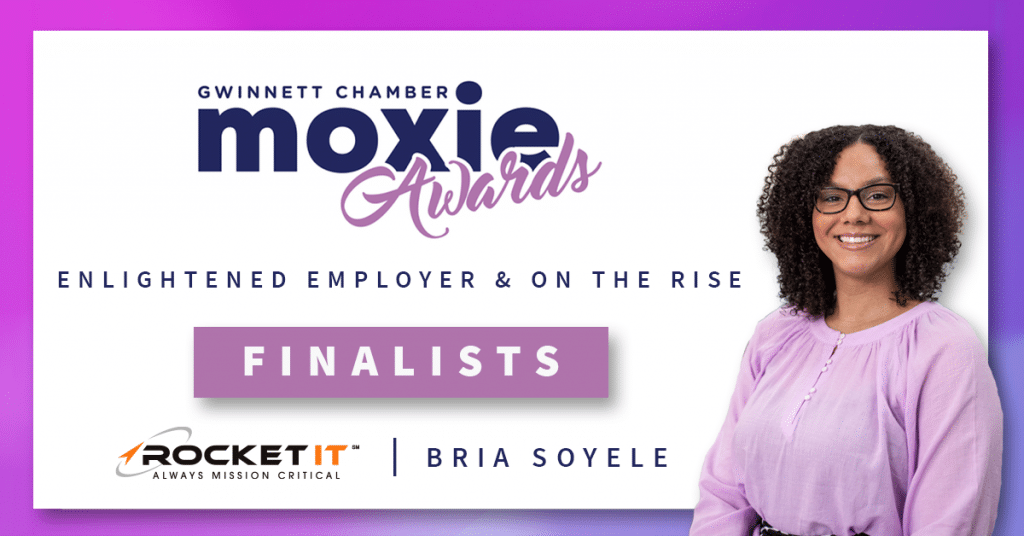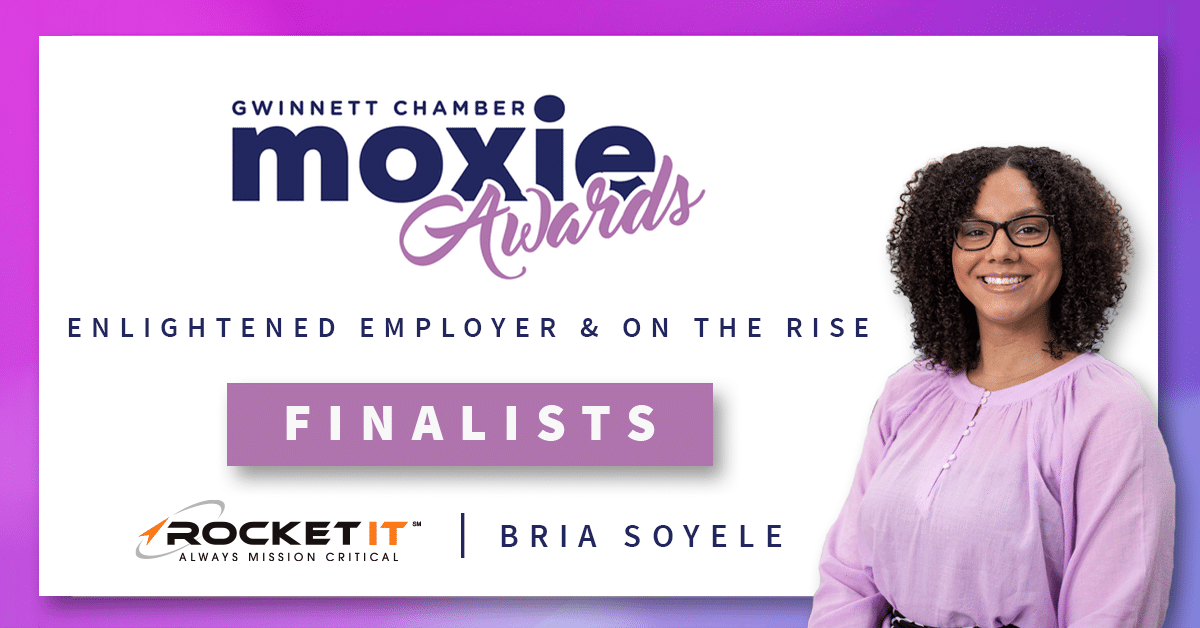 Gwinnett County (METRO ATLANTA) GA – The Gwinnett Chamber of Commerce's third annual Moxie Awards offer an opportunity to celebrate women who are making notable impacts in the Gwinnett community and beyond. 
Recognized as area leaders, both Rocket IT and Rocket IT Service Manager, Bria Soyele are final contenders for the following award categories: 'Enlightened Employer' and 'On the Rise'.   
"Rocket IT exists to help people thrive, and that begins with our team," said Rocket IT Chief of Staff, Abbey Johnson. "From implementing annual training budgets for each individual to the organization's book buy-back program, Rocket IT provides every team member with an equal opportunity to become an impactful leader. Although Bria has only been with Rocket IT for a little over three years, she has taken full advantage of these initiatives; moving from the Office Administrator role to Service Manager in that time.  As well as landing herself a spot on the  leadership team." 
Through the Gwinnett Chamber's Moxie Awards, forward-thinking organizations that embody a workplace culture of diversity and women empowerment are highlighted. In turn, young professionals from these organizations are selected, based upon their passion for innovation, stewardship, and seeing others succeed. 
Along with the Enlightened Employer and On the Rise Awards, designations will also be given for the following categories: 
Greater Good Award

 

Influence Award

 

Outstanding Organization Award

 

Moxie Award

 

Pay It Forward Award

 
"We are fortunate to have such a standout network of women in Gwinnett," said Alicia Krogh, Gwinnett Chamber Senior Vice President of Executive Engagement and Programs. "This program gives the Gwinnett Chamber an opportunity to thank and pay tribute to those who do so much for our community." 
The Moxie Award program will begin with a powerhouse panel and conclude with the distinction of award finalists on August 28 at the Infinite Energy Forum from 10 a.m. to 1 p.m. For more information, visit https://www.gwinnettchamber.org/moxie-awards/. 
### 
MEDIA CONTACT 
Chris Swinson | 770.441.2520 ext. 732 | cswinson@rocketit.com  
PROGRAM CONTACT 
Lina Teitelbaum | 678.584.2252 | lina@gwinnettchamber.org