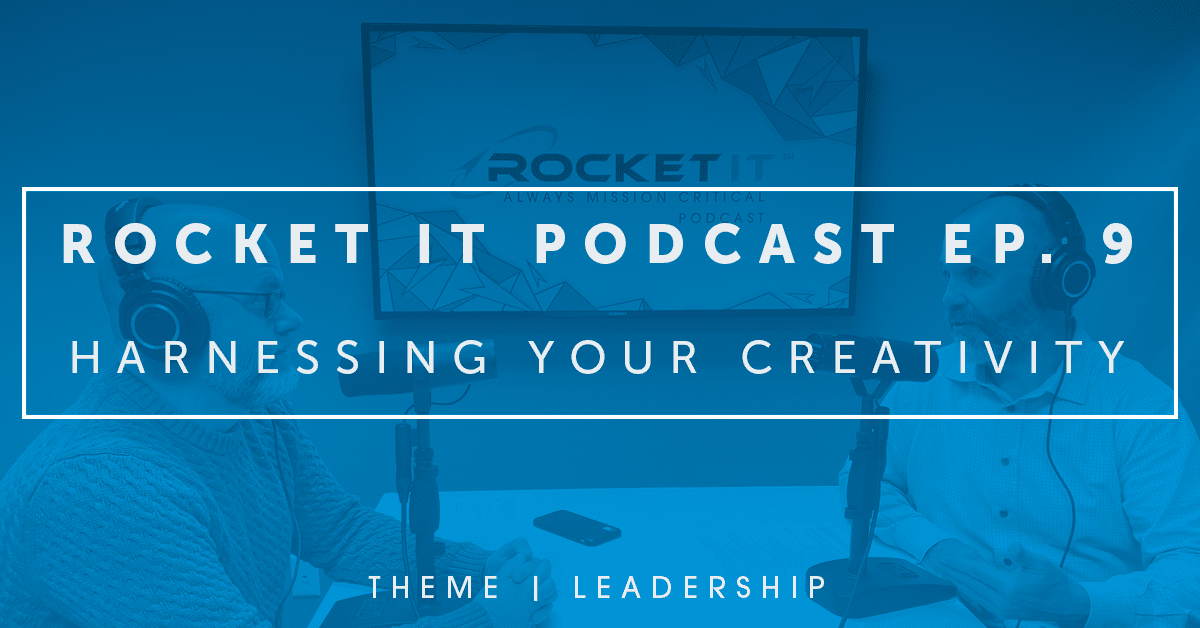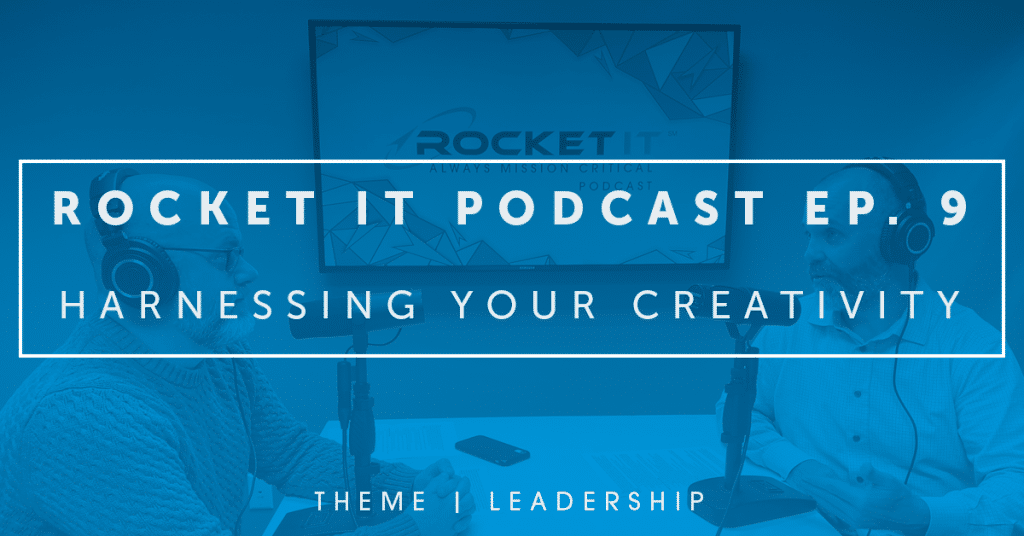 Rocket IT Business Podcast | Demming Bass | Harnessing Your Creativity | Ep 9
In this episode of the Rocket IT Podcast, we sit down with the man that Google recently named one of "The Most Interesting Trainers in the World". Through his work in both the nonprofit and for-profit sectors, Demming Bass has helped thousands of organizations develop winning marketing strategies for their brands. Demming is an entrepreneur with a passion for teaching, leading him to serve as an educational speaker for Google's "Grow with Google" initiative. He's also an accomplished artist, songwriter, father, and an innovative mixologist.
In This Episode, You'll Hear More About
Finding a passion to drive the pursuit of a career
The impact of developing clear key performance indicators
What to expect when moving from employee to business owner
How to get the most out of a team without facing burnout
The benefit of accepting change and how to make the most of the hand your dealt
The importance of striving for a "movie-worthy" life
The elements of a good story
How to avoid being a pushy salesman
How to grab customers with impactful messaging
How to develop a reputable brand and train a team to cohesively portray it
The affect of finding hobbies that coexist with a work role
How to communicate through creative outlets
Demming Bass Contact Information
demming@newmarketingmakeover.com
Resources Mentioned
A Million Miles in a Thousand Years
Like What You Heard? Give Us Some Feedback!
Host: Matt Hyatt
Guest: Demming Bass
Show Notes
Matt Hyatt (00:00):
Greetings and welcome to the ninth episode of the Rocket IT Podcast. I'm your host Matt Hyatt. And today I'm sitting with a man that Google recently named "One of the most interesting trainers in the world".
Intro Music (00:27):
[music playing]
Matt Hyatt (00:30):
Through his work in both the nonprofit and for profit sectors, Demming Bass has helped thousands of organizations develop winning marketing strategies for their brands. Demming is an entrepreneur with a passion for teaching, leading him to serve as an educational speaker for Google's Grow with Google Initiative. He's also an accomplished artists, songwriter, father, and a great friend to me personally, I like to call Demming the world's most interesting man. Demming, welcome to the show.
Demming Bass (00:57):
Thank you. Good to be here.
Matt Hyatt (01:00):
So Demming and I, we've known each other for quite a long time. We're good friends and uh, uh, you know, I feel like if you lived closer, we could be really close friends. That's true. But you are traveling all over the world these days and kind of hard to catch. And so you've made the Trek up here to, uh, Suwanee Georgia to join us and I appreciate you being here. Thank you. So let's dive right in. Let's do a little bit of a background ok because you and I met in the Chamber world when we met. Uh, I was a member of our local chamber of commerce, the Gwinnett Chamber of Commerce. And you were there and in leadership capacity, you actually helped recruit me to the Chamber. Do you remember that?
Demming Bass (01:39):
I do. I remember you were one of the members that like to complain a lot and that's, that's how it started. Feedback is a gift.
Matt Hyatt (01:48):
Actually, you know what, there's probably some truth to that. I think you're actually telling the truth. I was complaining about something.
Demming Bass (01:54):
Complaining about a program, right. And how we can make it better. And you had actually really good ideas. Oh good. So we went to lunch at the 1818 Club and I took all your ideas and I took them back and well, made it better.
Matt Hyatt (02:07):
And yeah, absolutely. Also say and left the organization. And those ideas are still on the table. That's right. Actually I do remember you. Yeah. Implementing some of those ideas. So give me a little bit of background. Where are you from? Okay. Did you, you came from the chamber world when I met you, but yeah, but I think you actually had some experience prior to that on the journey.
Demming Bass (02:25):
Oh yeah. So I'm a North Carolina guy, born and raised in Charlotte and went to NC State, big Wolfpack fan. Nice up there in Raleigh and spent the first 18 years in the chamber of commerce world as a chamber executive. Wow. So get my start up in Cary, North Carolina and then with Raleigh. And then when you met me I had moved down to Gwinnett County, so I've been doing it, I guess at that point it's been about, gosh, eight or nine years, 10 years?
Matt Hyatt (02:51):
Yeah. And so what, what brought you to Georgia?
Demming Bass (02:55):
So a girl, so it, the girl I was dating at the time and as it got more serious, we decided to, Hey, I was at a better position to move here. So I ended up moving here.
Matt Hyatt (03:07):
She wanted to be in Georgia, you want to be North Carolina. So you compromised and moved to Georgia.
Demming Bass (03:11):
Well she was already in Georgia, so she was calling the shots.
Matt Hyatt (03:13):
Yeah. Okay. Gotcha. Well I'm glad you made it here because we'd never, our paths might not across exactly the case. So you work with the Chamber and you continued with the Chamber even even after that, right. You left the Gwinnett Chamber.
Demming Bass (03:27):
Yep. Yep. So I was with, I was in Gwinnett for about five years, 2005, 2010 and then was recruited over to the neighboring, uh, competing Chamber, Cobb, uh, where I was the Chief Operating Officer over there for another three years after that.
Matt Hyatt (03:43):
Awesome. Yep. So you've seem like the, from the time that I've known, you sort of have a heart for the nonprofit world. Yes. But also it seems like you've got a heart for organizations that have broad reach. Can you tell me a little bit about, about that when I made, because you've had experience with all kinds of big businesses, small businesses, nonprofit organizations, probably schools and everything else. I mean, is that the draw for you?
Demming Bass (04:09):
I would say yes. I mean, I think the big thing is working for organizations or working and helping organizations that have a big impact, uh, both with their employees or the community. So that's one of the things I loved about my chamber days. Uh, you know, one of the biggest, uh, benefits of when you work for our chamber is that you are actually working with people and also creating new ideas and programs and initiatives that are going to have a lasting impact and say you're able to see when you put something together, you're able to see tangibly the jobs that are created, the businesses that are moving into the area.
Demming Bass (04:43):
You're able to see, uh, entrepreneurs that, that, you know, come out with just an idea and you help them through those early phases, the struggling phases, and you're with them all along. And the next thing you know, like you, uh, then they're on the Board and I think you Chaired, did you chair the Chamber?
Matt Hyatt (05:00):
Not yet. Some day.
Demming Bass (05:02):
On it. Like, I don't have time for that anymore, too big, but, but it's, it's so it's, it's great to develop those relationships like ours and uh, and yeah, again, education, working with education, working with the school systems, the colleges, and then even the businesses that I've had, uh, honor to work with like Constant Contact and Google these big high tech brands where they've ever since they were founded, um, there's been that sense of, Hey, it's not just about turning a profit, but it's about helping to make the world a better place and being there, whether it's Constant Contact and helping small businesses be successful and with Google, helping to make the world a little smaller place and helping people find what it is and make their lives easier in some way.
Demming Bass (05:49):
And then even the program we're doing now Grow with Google where you know, you're, you're going out into the community for free and helping businesses be successful, help job seekers find the jobs that they love, helping educators and introduce skills into the classroom and helping the students have those digital skills that they need to be successful. So every step along the way, it's, it's just been great to be a part of those organizations.
Matt Hyatt (06:14):
Yeah. Well, let's talk about that transition from the Chamber world and then you did, you left to Constant Contact. What did you do with Constantly Contact?
Demming Bass (06:22):
So Constant Contact essentially recruited me to be what was called a Regional Development Director, which is essentially the Marketing Director at the time for about three States when I started. And by the time I left six States, so essentially the Southeast. And so our go to market strategy back then was to go out into the communities all over those six States and to help small business owners be better marketers by learning how to be more effective in their email marketing to help grow their company.
Demming Bass (06:52):
Uh, so we did that and also had to manage a team of what we call it, authorized local experts. So I had to go out and work with and find really successful, uh, advertising agencies, marketing agencies, web design companies that really know their stuff, to also be able to go out and help educate, uh, the small business owners.
Matt Hyatt (07:10):
So I feel like almost everybody knows what Constant Contact it is, but what that product is, that is an email marketing platform, right?
Demming Bass (07:17):
That's right. That's right. Constant Contact was, and I'm pretty sure still is the largest email marketing platform out there, right? Uh, definitely in the United States if not the world. Uh, they'd been around ever since the start of the internet pretty much in the 1990s.
Matt Hyatt (07:33):
So that probably was an interesting transition for you though because all this time you've been working from within the Chamber and you helping all these organizations that are looking to grow their businesses and get more exposure through the Chambers of Commerce and now you're actually participating, uh, on the other side of the equation. Right. You're, you're actually coming to the chamber events, you're networking with other businesses. I'm sure you're speaking a lot of those events. How was that transition for you.
Demming Bass (08:01):
It was, well, the biggest challenge to that was going from a, job where you were going to a building every day and you were in a building working with other people to that job. I was working remotely here based out of Atlanta where our headquarters is in Boston, right outside of Boston, Massachusetts. And I'm re, I'm managing a team, but it's all remote. And so that was interesting is having to be disciplined enough to make that transition. And also the biggest struggle was to not feel guilty about not working all the time. Like, you know, it's, it was interesting and that plays into the other big switch, which was going from a nonprofit to a for profit public company, big brand, everything is driven quarterly. You have quarterly bonuses. And so, you know, you were looking at, and one of the lessons I learned out of that was to focus on what are the most important things to do, which I tied it back to my bonuses like anybody would. That's probably anytime, anytime I was asked to do stuff, I was like, well, how does this, does this tie in with my, my goals, my KPIs for the quarter? Uh, so I love that because you had these very clear KPIs versus when you're in the chamber, everything is kind of a murky. Yeah. Yeah. And so you don't have that. So, but what would happen is I would hit my goals early on, halfway through the quarter. Wow. And then I didn't want to do too much more because another lesson in life is don't go every year goals too much cause the next quarter,
Matt Hyatt (09:35):
Unless you work at Rocket IT and then it's exceed goals every quarter, 5% after month.
Demming Bass (09:41):
I think 5% ever goal is manageable. Cause then if you go way over goal then the next quarter, that's going to be your goal. Now let's buy, my strategy was slow, steady growth rather than hockey stick growth.
Matt Hyatt (09:53):
Okay. All right. So, so that was a, that's interesting. We're going to talk about that a little bit a little bit because you know, I'm only half kidding here. Yeah. That was through the lens of employee. Yes. Today you're wearing the hat of employer. Yep. And so I bet you, um, maybe your perspective as well as, as a solopreneur or an entrepreneur.
Demming Bass (10:16):
I would say yes and no. Okay. Uh, because as I say that, you have to remember that I always exceeded goal. So I always achieve. And an overachieved what they asked me to do. Right. And kept it, in fact, my organization, my team, when we started, there were 24 teams in the country and my team was 22nd out of 24 in terms of performance.
Demming Bass (10:41):
And by the time in three, three, four years later, we were number two about to knock off number one. Wow. So I say that. Yeah, I'm kind of joking about that, but I didn't have to manage that and then take time off and relax it. Now on the other side of that, I've learned how to manage to get the most out of people. Uh, and to understand, you know, okay, this is how we're going to incentivize you to be successful and just make sure you have that good steady growth without burning them out.
Matt Hyatt (11:11):
Yeah, absolutely. That's awesome. So what happened next? You left, you left Constant Contact at some point. Yeah. So then what happened?
Demming Bass (11:19):
Well, so Constant Contact was going great and then we all got laid off. Oh, well that was in Las Vegas. Oh friends. So, um, so yeah, we were acquired by a company called Endurance International. And like with a lot of acquisitions, they came in and they started making cuts all over the place. So was, it wasn't quite a surprise. You could see people going right and left, right and left. And then finally they pulled the trigger. And um, but like everything in life, you know, a lot of times it's those worst moments that you end up learning the most or, or forces you into doing things you maybe weren't comfortable doing. But that's where change and growth happens. And so I remember of course we had a pretty good severance and I was always a Dave Ramsey guy, debt free and all that. So I remember I had time to figure out what do I want to do next and do I want to get back into the corporate world? Do I want to get back into the chamber world or do I want to do my own thing?
Demming Bass (12:14):
And one of my ALE's out of Alabama was talking to me and he said, uh, he had been laid off from years ago from his advertising company. And then he grew what was essentially the largest web design company in Alabama. Really successful. But it started when he was like some, somebody gave him this advice, they said, write down a list of who you want to work for. And I like write down if I was going to go back to work for somebody. I wrote down, I think number one was Zac Brown Band, right. Number two was Donald Miller who was the CEO of StoryBrand. And I had seen him, uh, about eight months earlier at a big, uh, women's entrepreneurial conference. I was checking it out for Constant Contact cause we might sponsor it and that's, I had never heard of him.
Matt Hyatt (13:01):
Why else would you be at a women's conference?
Demming Bass (13:03):
Except yes, there's, there could be reasons here, but uh, yeah, so I'm there checking out and then I, I never heard of Don and I heard his keynote and I was like, this is the best marketing presentation I ever heard. Really. I started out following his podcast and learning more about him. So I had Donald Miller down as number two, but he's based in Nashville and I looked it up and that's when I found out they had a StoryBrand Guide Program where you could be an official guide for the program but run your own firm. And that sort of led one thing led to another and I decided, you know, this is the one time I can really jump off and try to do my own thing. I think it's the right time. And said Zach Brown hadn't called and Zach Brown, I didn't even get around as a skipped to Zach and went straight to Don's. And then maybe I'll come back to Zach another time.
Matt Hyatt (13:55):
But before we get too far away from that I want to actually want to touch on Donald Miller just a little bit because I'm also a fan. Yeah. I learned about him. I read one of his books and honestly I don't even remember the name of that book, but the second book that I read, the first one was great. I read the second one and I think it was "A Million Miles and a Thousand Years". Is that right? And sort of the premise of that book was, Hey, he's written this fantastic book that was super successful and they come out and they're going to do a basically a documentary or a movie about him. And he started looking at his life and realizing, Oh my gosh, I'm not sure I have a movie worthy life. And so it was, the story was about how he turned around and decided what would he need to do to start living a life worth filming, right. Writing a movie, which is a fascinating way to think about things. But I loved that book. We were actually, the family was doing a family trip. We listened to it on audible. So the kids, my wife and I, we all heard it and I've been a fan ever since. But yeah, that's awesome.
Demming Bass (14:54):
Well so worry an awesome brand. What's interesting, and you don't know this, but so when I was trying to make that decision at the same time, kind of crazy how this happens, I had just come back from a best friends trip where my friend was reading "Love Does" by Bob Goff. The other one. That's another one I went and got "Love Does" by Bob Goff. Cause Donald Miller did the preface for that. And then I got "A Million Miles and a Thousand Years" cause I had never, I knew had the business side. I didn't know any of his books. He had them before. So those two books were the books that I was reading when I was trying to decide if I wanted to start my own company. And so "A Million Miles and a Thousand Years" actually pushed me over the edge. Cause it's sitting there talking about, you know, creating this life that's like a movie, like life, creating these moments, you know, and being okay with the uh, the fear and the really bad moments and remembering this part of every movie and you gotta go through that, have that tension.
Demming Bass (15:48):
And so I'm like, this is the tension. Right. And I remember, you know, to be a guide, it wasn't cheap. It cost a lot, you know, pretty, pretty substantial. Wasn't just sign up and start working out. It was a lot. It was a lot of money. And so, you know, I pulled all that out and savings and I could see all my mortgage payments and everything. I had like that cut my runway back like three months. I'm just like, if there are entrepreneurs out there, they all know they've had this feeling and uh, but I was like, but that's part of the thing, right? It's like the whole adage of, uh, you know, when you about to take the shores, you've got to burn the ships and then there's no turning back. And I was like, well, if I'm going to be serious about this, I really need to invest in myself. You know, if I'm, I'm the only one that's going to believe in myself, so I'm going to be able to do that. And so, uh, so yeah, between, uh, Bob Goff and Donald Miller, those books were what pushed me into, into business for myself.
Matt Hyatt (16:40):
So see, no, it's funny that you said that because I had forgotten that's where that is the book. I was thinking there was another Donald Miller book, but it was actually the same book. Okay. "Love Does" read the preface. I had heard of him. I think he's actually mentioned later in the book, if I remember correctly in "Love Does" a, I might be wrong about that, but I remember that's where I'd heard the name and then when I saw the book "A Million Miles and a Thousand Years", I made the connection. And anyway, both fantastic books, great authors. It's really cool that you're working with him. Uh, and you know what, uh, you know, again, jumping back just a little bit. Yeah, you ask, asked me what I was doing before I started Rocket IT. Go ahead, ask me what I was doing.
Demming Bass (17:20):
Okay. Tee me up. What were you doing you doing before Rocket IT?
Matt Hyatt (17:26):
Thank you. I'm glad you asked. Well, funny thing is I was laid off. I was working, I was looking at working for a little company, building computers and was laid off and that was the thing. It's, it's, it's like you said, burning the ships, you know? Yeah. There's no turning back. They're not going to take me back. They've already laid me off time, time to start the business. I think that is often the catalyst.
Demming Bass (17:48):
In StoryBrand when we're working with companies and we create what's called a brand script, the seven universal elements of story. That's part of the story is in almost every movie or big story you have, you have the, the climax is usually what we call the call to action and our marketing part of that. But it's where the hero is forced in to doing something and it's called an instigating event, has to force them into doing something because they would never do it on their own. Right. And if you think about your own life, that's the human condition as we never make really big changes until we're forced, like we get laid off, we get forced or somebody dies or the doctor says, Hey this, you know, and it finally forces us to do it.
Matt Hyatt (18:30):
Fascinating. So what, tell me a little bit about what you do with StoryBrand. What's a typical day look like for you when you're doing stuff with a StoryBrand? So I know you're doing other things, but for that specific silo, what does that look like?
Demming Bass (18:43):
Yeah. So as the StoryBrand certified guy to do a couple things, one as I travel around the country and I delivered the StoryBrand keynote, so the same presentation and I was like, Oh, it's the best presentation ever. You get to do it. I go around and I deliver that at conferences and chambers. And then I coach a lot of the, uh, companies, uh, that are coming to me. I coach and I also do the work, which is basically with StoryBrand. We focus on the messaging, uh, and trying to help most people's messaging, the words they use, how they talk about their company or the way their website is written and the content and all their marketing pieces.
Demming Bass (19:21):
90% of the time, nobody ever pays attention to any of it. And there's science behind it because our brains are hardwired not to pay attention to anybody's marketing message. So we're all getting it wrong. In fact, when I heard the presentation, I started my career as a marketing branding guy. That first time I heard Don, I'm like, I like, I've been doing it wrong all time. Right? And so what we do is we go into a company and we help them create marketing messages that will actually capture people's attention, have them leaning in the whole time, and actually have them take the call to action that we want to take. And it starts there because so many people jump into websites and they jump into collateral on social media and campaigns. But it all starts with the messaging and what you say rather than how you say it or the platforms of the vehicles you use.
Demming Bass (20:07):
So we can come in, we do marketing strategy sessions and we, we create what's called a brand script, which is the comes your filter for everything else that you do. And then from there we'll go in and we'll create or update or, or, um, make their websites better. And we do email marketing campaigns and we do marketing collateral for them as well. And a lot of times I've, because I, because I do so much, like you said, this isn't the only thing that I do a lot of times now I'll partner with other StoryBrand guides to actually do a lot of the work where they're there. They specialize in certain areas. But a lot of times I'm coming in, I'm at the very beginning and through the whole process, but I'm there coaching them or creating through the marketing strategy session, the brand script that, that tees up everything else.
Matt Hyatt (20:55):
So let's talk about some of those other things that you're focused on. Yep. So I wanna I want to make sure that we cover, you know, I told folks already, I think you're one of the most interesting guys out there. You've done a lot of stuff should end up promising. Well, right? Yeah. Well the world's most interesting guy in the framework of Matt Hyatt. So how does that help find my desk? It's like very small, swollen, so small. And this room really. So, uh, let's, let's talk about a couple things that I think are kind of fun. You and I had a lunch a while back and I was telling you about my hobby of day drinking and you said, Hey, actually I've invented a drink. Yes, yes. I'm only partially kidding about my hobby. Right? Your day drinking is like one drink on it. Right?
Matt Hyatt (21:42):
Right. That's all it takes. Right? Yeah. But, but tell me, you invented a drink. How in the world did that happen?
Demming Bass (21:48):
So I've invented a couple, but the one that started at all is the one that I think most known by bartenders near and far is a, it's called the Demmingway. Of course Demming and Hemingway, right? I created it in the Virgin islands and Red Hook, which if you've ever been to St. Thomas, Red Hook is where you take the ferry over to St. John. And it was at a bar there called Duffy's Love Shack.
Demming Bass (22:19):
And uh, it is basically a, it's a vodka like Malibu rum and cranberry juice, uh, with lime. And then, uh, to make it unique is, uh, you put a pinch of jerk seasoning on top, ah, at the very end. So when you first tilt it, have that first sip, you smell the aroma of the islands, and then the jerk seasoning sinks down. It makes it a little salty, a little spicy.
Matt Hyatt (22:46):
That's pretty good. So I am curious, I've never invented a drink. How does this work? You're sitting there, you're having a drink. He said, you know what, that's pretty good. But I think there's other ingredients.
Demming Bass (22:57):
I remember I was, it all starts with talking to the bartender and I remember she was a Marine. Oh. Cause she had a 21 bullets tattooed around her arm. That's how we started the conversation. And, and then, uh, we just, I started talking about making, making my own drink. And, um, the course, everybody has vodka cranberry, but nobody, I don't think there's been one where you toss in the Malibu rum to do that sort of coconut smell and flavor and then the jerk seasoning. And so, and then I've created some over the years and usually it's at different cities with different bartenders involved. And then we use the local sort of ingredients with their name for, so I did one in Kentucky in Louisville called the Kentucky Bluebird and it was bourbon based. And then I did one in Montreal called the, I don't even remember now, Montreal maple leaf or something and it was some liqour from Montreal. So yeah, that's how I got started.
Matt Hyatt (23:55):
Hey, you never know, there might be a bar down somewhere in the islands. It's still serving the Demmingway.
Demming Bass (24:00):
So Duffy's Love Shack. They said they were going to put it on the menu. I haven't seen it. You need to go back down there. Yeah. Although this is funny, I was in Indianapolis, I met and ended up hanging out at, it was an international economic development conference and I ended up hanging out with this gentleman who was part of the US Virgin Islands economic development corporation. And as we got to talking, you know, dreadlocks and everything, and I could tell you at his lions, I could tell you it was Rastafari. And I think he was impressed that I knew about the Rastafari people and their religion and the culture. So we ended up going to the bar and drinking that night and, and making the Demmingway. Well, it turns out his name is Positive. That's his real name. Really Positive is his first name. Are you sure he's the correct? Yes. Yeah. Good. I liked about, cause then he started speaking to say Commissioner of Agriculture for the US Virgin Islands.
Matt Hyatt (24:51):
Really?
Demming Bass (24:51):
And uh, yeah. And like a seven term Senator and all this stuff and say, know positive. They said like really big wig. Right? Yeah. And uh, and he, you, so I lobbied for, do you think there's a way you could get this, uh, official drink of the Virgin islands, but I have them on tape. I'll show you after endorsing, but we'll see. That's just the beginning of my lobbying efforts. But yes. Positive Nelson.
Matt Hyatt (25:15):
l love it. Alright. So that, I find that fascinating. But you know what, in addition to coming up with these incredible concoctions all around the world, uh, an accomplished artist also, in fact, uh, I think somewhere I have, you did one of your art pieces of art.
Demming Bass (25:34):
Yeah. It was probably in the attic. It might be might the garage. Yeah. It's around something that's where it will be valuable. Right. Especially when I die. It'll be more, want to save it. Yeah. Yeah. Uh, so yeah, it is so weird to be called an artist cause that is still not view myself. It's more of a, you know, it was always, to me it was always a hobby. Um, but I did sell some, but yeah, I grew up, I just always had a, like a natural talent from when I was really young and I loved the draw and I would spend hours drawing and it was always known as the artist guy in high school. And I got a partial scholarship to Savannah college of art and design, but I was never artsy. So, um, and then I sort of took a break from that for years. And then I think it was 2003 or four was home for Christmas and I started drawing again and I'm like, you're pretty good.
Demming Bass (26:24):
You probably got like, how come you don't ever do anything like that? So that was the same year get I've mentioned, I went to NC state and they had their first 11 win season and then they upset Notre Dame in the Gatorball. So I took a class on colored pencil realism. Oh. And I did a colored pencil painting of that game and ended up selling it. It was old school too. I had to pay for my 1000 limited edition prints upfront and like hoping I can make this back cause it wasn't cheap. Right. And then, um, and then sold them online and through the balls that they did the Wolfpack club and, and made my money back and made a little bit of a profit. Then I moved to Georgia and nobody cares about the girl I was with at the time. Big Georgia fan. So I had never done oils and so, you know, one Christmas I did an oil painting of Uga, I'm like, ah, that looks pretty good and it's a lot faster.
Demming Bass (27:22):
It took me three months to do a colored pencil. Oh wow. It took me about three hours to do Uga and oils and so then people saw it then they wanted to buy it. So I started selling a bunch of that artwork down here for a while. So yeah.
Matt Hyatt (27:35):
Yeah. And songwriter?
Demming Bass (27:37):
And so songwriting and other thing, I stumbled into it through the chamber world. I met a chamber executive at an event and you know how it is he talking to people and you find out? Well before she was a chamber executive, she was a staff songwriter in Nashville and I mentioned that I'd worked for Warner Brothers and had written some songs. Keep in mind, I was like 1994 when me and Faith Hill were thing pre Tim McGraw. Uh, that's another story. And so I said, well can I send you my songs and you tell me what you think?
Demming Bass (28:10):
And she was like, well, okay. But they, you know, if they're bad I'm going to tell you they're bad and if you don't hurt your feelings, this is what I did. I was like, Oh I'm good. Cause I'm sure she was going to be like, they're terrible it's a good thing you went to the chamber world and I found them and I sent them and she ended up, uh, she was like, these are great. Why did you ever stop writing? And I said, I tell you what, if you can teach me the craft, I would love to write a lullaby for my daughters. And so that was the whole point. And then as we developed the, uh, the friendship and the relationship, it turns out her whole family are hit song writers and producers in high school. And she and I started co-writing and then I started writing.
Demming Bass (28:46):
I was in the zone writing like a song a week. So I have a catalog of about 60 songs, but then I never did anything with it cause I'm not, I'm not in Nashville. It's like an artist. I don't really consider myself a song writer. You can kind of play the guitar a little bit. And uh, said then a couple of years ago I joined the National Songwriters Association. And of course you did stuff like that. And I, and I pitched one of my songs, "Carolina Blue" to Curb Music Group and, uh, and I remember he, he went on and on about how great the song was, but then he didn't take it. I was like, Oh, I got it. It's like, he's like, yeah, I remember distinctly he said, this is a great song. James Taylor influence is amazing and this one of the best hooks I've ever heard, but it's slower so it's not going to be a hit.
Demming Bass (29:35):
It would make a great cut on a Kenny Chesney album, but since it won't be a hit, it's not going to do anything for you. I'm going to pass, but song. And I remember thinking, I'll take it, cut it. He just goes, I could just it. And so, but he must have said something to the association because they get all the industry, all the feedback and they, he must have said something, said they selected it as their top 40, one of their top 40 songs for the fall of 2017. And so the next week, wow. After that I submitted another song and uh, and they picked it and it was a song called "St Somewhere" that they did pitch to Kenny Chesney. Really? And, um, that I haven't heard, I don't think Kenny's picked it yet. Right. So we're still working on that.
Matt Hyatt (30:19):
There's still time. Yeah. That's awesome. I love it. Yep.
Demming Bass (30:24):
I got all these songs out of here. I don't know what I'm going to do with them.
Matt Hyatt (30:26):
Well, you know what, I actually did not know that about you. So I learned something new. Yep. Here we go. Alright, so let's talk more about business and entrepreneurship because we've made the leap now it sounds like that really started with stuff you're doing with Donald Miller StoryBrand, but it's expanded beyond that. Yeah. And so tell me, you touched on Google a little bit, but let's talk about that. How, how did that happen?
Demming Bass (30:48):
Yeah, so it's, it's funny how things work out, right? You create your business, you go out on the ledge, you believe in yourself, you take the risk, and then if you plan, and if you, I mean, I think then just things started happening, right? And at the same time that I launched that in the summer of, this was two years ago, so summer of 2017 Google around that time found out that constant contact had let go all of these regional development directors at the same time that they wanted to grow their new brand new program called grow with Google.
Demming Bass (31:20):
So they needed basically professional speakers that are, you know, can go out and educate businesses, says exactly what we did. So they picked a handful of us and it was just like, uh, if you seen that movie, "The Internship", we did the interviews, with the Google Hangouts in fact I had to learn how to use Google Hangouts right first before I went on my interview. Uh, and uh, and then, and then they, they, they brought on a handful of us to start doing that. So that all started at the same time I was getting my first customers with StoryBrand. And so that continues to this day. And I do about, I do about three or four, sometimes more, but I try to limit it to about three or four a month, um, conferences around the country. And, uh, it is a lot. It is not, but it's a lot of, I was in Raleigh yesterday, Lake Forest Jam, we're doing an event up there and then at the same time, all that was going on back when I was first starting.
Demming Bass (32:16):
A friend of mine who runs one of the leading capital campaign management firms where what I used to do with the chamber, we would go in and raise millions of dollars for chambers and economic development organizations. Uh, he asked me if I ever wanted to help out part time in Atlanta. And of course this is early, right when I'm starting, I was like, well, I'll take whatever you got. And then of nothing happened with that and I never heard anything. And then meanwhile I'm getting customers and I'm doing Google. And then that's when he calls and he says, Hey, I've got, got a project in Cherokee County up here, would you like to help? And I was like, I'll try it out. And it was a friend of mine that runs that too. Uh, so that's the other thing that I do, um, is I'll go around the country and I'll help, uh, chambers and economic development organizations raise money.
Demming Bass (33:03):
So I'm in Seattle now every other week, uh, with the new, uh, brand new regional organization called the Greater Seattle Partner. So we're raising $14 million, uh, for a three year program. And normally I wouldn't do that cause I've got my daughters, you know, half the time with my, but I was like, this is too good of an opportunity. It's only 10 months of that to pass up being in Seattle. And then the board, it's working with literally, I'm in meetings with the president of Microsoft and the heads of Amazon and all the companies I didn't even know were headquartered, you know, Microsoft Nordstrom, Costco. Warehouser. Yeah. So it's been, it's been a lot of fun.
Matt Hyatt (33:44):
Very cool. So a three pronged business really. You got, you're still doing the StoryBrand, you've got the Google, and then you're doing this consulting work with, uh, with the chambers of commerce, which was just awesome. Uh, well, you know what, uh, I am super impressed with what you've accomplished in a short amount of time because I remember, you know, remember we talked about what you were planning to do and uh, and a lot of that, a lot of exactly what you said you were interested in doing just two or three years ago has come to pass. Congratulations. Thank you. Yeah, that's really cool. Let's talk about kids for just a minute. So you do have two beautiful girls. Uh, how old are they?
Demming Bass (34:21):
They are 10. Okay. So the cool thing about my daughters, so Ashley and Reagan, uh, we have the same birthday too.
Matt Hyatt (34:28):
Really? Yeah. That's pretty cool. Yeah, they are amazing. Amazing. So one of the things, the reason I want to bring them up and talk, you talk about your relationship with your girls is that again, following along with you on Instagram and watch them where you're going and just talking with you. I think you're a very experiential father for sure. You take your girls and you guys do stuff, you know, and you go places. I think you're interested in history. Yeah. All three of you seem to be, where does that come from? Is that the way you were raised or is that just sort of a, something that uh, that is part of, of who you are or how did, how did that happen that you became such an experiential father to your kids?
Demming Bass (35:07):
Uh, well I had, I definitely had great parents that were always there for me. We didn't grow up with a lot of money, so we didn't, we weren't able to do a lot of trips. For me I think it was a intentional choice that I wanted to create memories that would last a lifetime, right. That they would remember. And then it kind of weaving in learning opportunities for them. You know, part of it as a single dad is you only have them for a certain amount of time. So I think it actually made me a better father because when you only have them for three or four days at a time, then you are focused. You know, we are not watching TV, we're not on devices, but I also know I drop them off. It's like, well now I got three or four days and and, right, right.
Demming Bass (35:52):
So it's not sustainable. But I do think it is. So we're just really focused and really close. And those three or four days just to catch up on exactly. Recharge. I do. And, and you know, they love it and I can see how it had an impact on them. And I think that's the, especially it can be moms and dads, but especially for dads, is to create the sense of adventure and to push them out of their comfort zone. And so one of the things we started doing years ago, there's a great book called the "Daring Book for Girls", also one called the "Dangerous Book for Boys", right? So we would do a Daring Book of Girls weekend. It's always around the spring break time. And we would go up to Lake Lanier with the book and we would pick out three or four or five things that we would do.
Demming Bass (36:35):
And so, you know, that's where they first got their first Swiss army pocketknives and I'm trying to teach him how to open it and close it without cutting themselves and how to widdle and the first camping trip on the first hiking trip and how to build scotch Irish and building Carnes everywhere and explain what that is. So, you know, those are the types of moments that, um, you can tell is gonna sort of live on long after me for sure.
Matt Hyatt (37:01):
So you mentioned the Irish thing, I think I do remember seeing Scottish, mostly Scot Irish. I only heard half of what you said, but I saw some pictures. You're wearing kilts. Where were you? Where, where, where does one wear.
Demming Bass (37:18):
Anywhere they want. I've even wore them to black tie formals. I used to wear them to chamber events all the time. Uh, so we are part, my dad, uh, was a big founder of the Loch Norman Highland Games in Charlotte. Really? Wow. And we are, we have several clans that we're associated with, but our main one is clan Henderson. Okay. From the sort of middle high part of Scotland place called Glencoe. In fact, they were massacred along with the McDonald's by the Campbell's. So we still, whenever I see a Campbell worried, but if you've ever watched "Game of Thrones", the red wedding was modeled after that massacre. So, um, well history lesson there, but the Henderson's, so that what you saw most recently was the Stone Mountain Highland games. And so we get a one or two and especially Ashley loves it. Reagan, she's the girly girl. She likes doing girly girl stuff. Ashley loves it. So we go out there and these games, Highland games is where you getting your kilts and bagpipes and all the Scottish games and border collies and all of that. So she, she loves it. So that was our latest, latest Trek with Highland games.
Matt Hyatt (38:33):
That is hilarious. Yeah. So let's do a lightning round. Let's tell us three businesses running. They're going great. yes, thunder, is that what that is? Uh, but uh, tell us, is there another business in store? Is there going to be a fourth?
Demming Bass (38:51):
That's the problem, right? So, you know, it's funny, as you start growing your business, then you start figuring out, okay, how can I make money without working this hard? Right? You're working pretty hard right now, especially with all that travel. But it's also like you have to find a need. And so one of the things that I've seen working with over 15,000 small business owners every day, especially small, small business owners, is thinking about an online course. Not like there needs to be another online course out there, but the one of the needs that I've seen is that so many of the courses are when people are trying to figure out marketing on their own. It's way over their head or it's too complicated or it's too much, especially for small business centers, that's just not their area of expertise.
Demming Bass (39:36):
So I was thinking of creating a marketing that literally leads them step by step, uh, with a couple of things in mind. One based on research, uh, what has the most, what's going to make the most impact? But what's something you can do in less than 15 to 30 minutes at a time? Great. And what's something that's affordable. And then on top of all of that, because I still know how these small businesses are, cause I was one of them, they're still not gonna do anything unless you give them like a template. They're not writers, they're not copywriters. So then giving them templates that literally they can drop in and plug and play right to do all of that. So I'm thinking about that right now. I love it. Got to put all that together and figure it out.
Matt Hyatt (40:16):
You know, there, there is a huge need for those things and I think that that's a great business model because you're looking at it potentially a passive income source if you create it once and it sells over and over again, uh, that's a pretty great way to, to make money without having to do the work over and over. Uh, but you know, my parents ran a retail store for, for a long, long time and they are not technologists. They're not marketing people. They're not website developers and they needed help. But the, you're right, the hurdle was so high to sit down. Imagine what needs to be done. Find somebody that can either help them or learn how to do it yourself. And that just, it was just too much. And so it never happened.
Demming Bass (40:59):
Yeah. That's what happens all the time. And I learned it in Google and Constant Contact they would come, people would come to my workshops and then I would come back six months later, they would come to my workshops again. I'm like, have you done anything to hit send Or, I know, and I'm like, well, you can't. Nothing's going to happen until you actually do something. You can learn all you want and take all the notes you want, but you got to do something. And that's really what this is about is after I leave from Google or a workshop that they have the tools to be able to actually go and actually do something and see the results. So I think that's a great idea. Thank you.
Matt Hyatt (41:33):
So I know you are an avid reader. You listen to a podcast, I presume? Yes. Tell us any favorite books, favorite podcasts, but what should we be listening to or reading?
Demming Bass (41:44):
I like the Rocket IT Always mission critical podcasts. That's pretty awesome. I just learned about it today.
Matt Hyatt (41:50):
Yeah, well especially that one episode number nine. Number nine has to be pretty great.
Demming Bass (41:54):
Yeah, I would definitely recommend, we talked about, Donald Miller has a great one called "Building a StoryBrand" podcast. Fantastic. Probably the best one out there. And I listened to a lot, uh, books. I do like to read a lot, so I'm reading, God, this sounds like the Donald Miller episode, but it just happens to be. This just happened right now I'm reading one of his books going back called "Scary Clues". Oh. Uh, which is really good kind of about relationships with he and his when he met his wife and everything, uh, as, but I usually have like three or four going on at the same time. So, um, Michael Hyatt's "Free to Focus". Yup.
Demming Bass (42:29):
Uh, sometimes I get emails from him and I'm like, Oh, it's Matt. That's Mike. Oh, darn. It was Michael. Uh, and then, uh, for fun, uh, actually, uh, "The Man with the Golden Gun" by Ian Fleming. The original Bond novel. Yeah. Nice. In the middle of that, I started following and studying James Bond a couple of years ago after staying down at Flemings Estate in Jamaica.
Matt Hyatt (42:55):
Wow. Great. Yeah. Love it. Alright, tell us how can we reach you?
Demming Bass (43:00):
Sure. So the company I have is called New Marketing Makeover, so you can go to newmarketingmakeover.com. My contact information's there. You can email me at Demming, D E M M I N G, @newmarketingmakeover.com. And you can even call me if you want. Really? Yeah. Dare you.
Demming Bass (43:19):
How many is it? 50 fifty thousand sixty thousand people that 50 or 60 yeah, I'm going to just test it. (678) 414-4508.
Matt Hyatt (43:29):
Okay. Awesome. Terrific. Demming. Uh, this has been awesome. It's been a real pleasure hearing about your background and what you do. Uh, is there anything I missed?
Demming Bass (43:41):
I can't think of any. I mean, I would just say I've got to say not because you invited me to be on the podcast, but I'm just really honored to be on the podcast and I'm really honored to know you because, uh, sincerely, uh, because you are definitely one of the great leaders that I've always admired and looked up to and it's just great to see kind of where you've come and where you're going with this, especially your plans.
Matt Hyatt (44:02):
Well, thank you for reading that script that I wrote for you. You, you did it perfectly now. I appreciate it very much. You're a good friend. I appreciate you. On that note, I believe it's time to wrap up our time together. Demming for myself and our listeners, thank you for joining us today to our listeners. Thank you for tuning in to the Rocket IT podcast. We hope you found today's episode both enlightening and inspiring. Finally a quick plug for Rocket IT. We work with businesses, nonprofits, and municipalities in the areas of IT Support, information security and strategic planning to learn more about Rocket IT and how we can help you leverage your organization's technology investment, keeping you ahead of the competition, visit rocketit.com so do you have any questions about today's discussion? Email us at podcast@rocketit.com or catch us on any of our social media channels. Thank you.