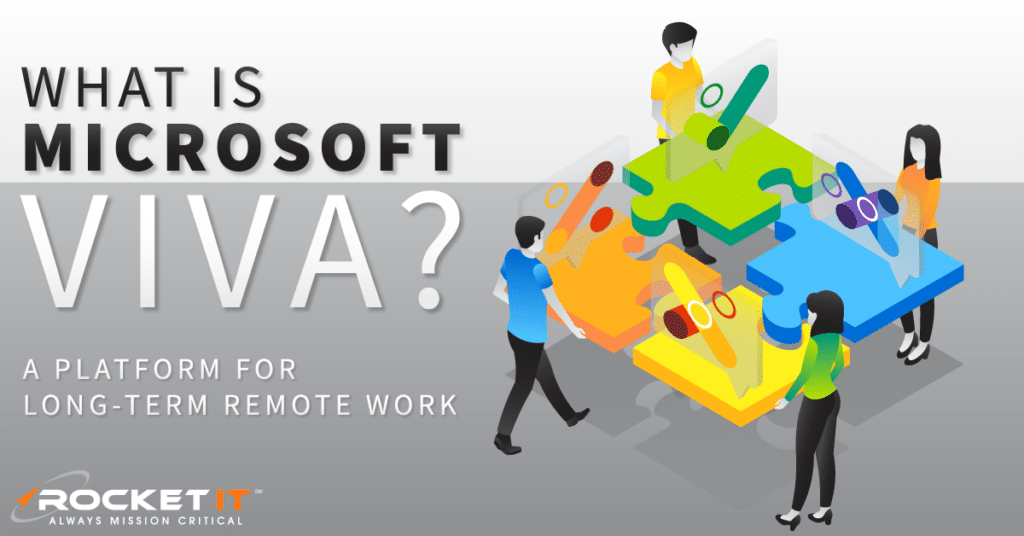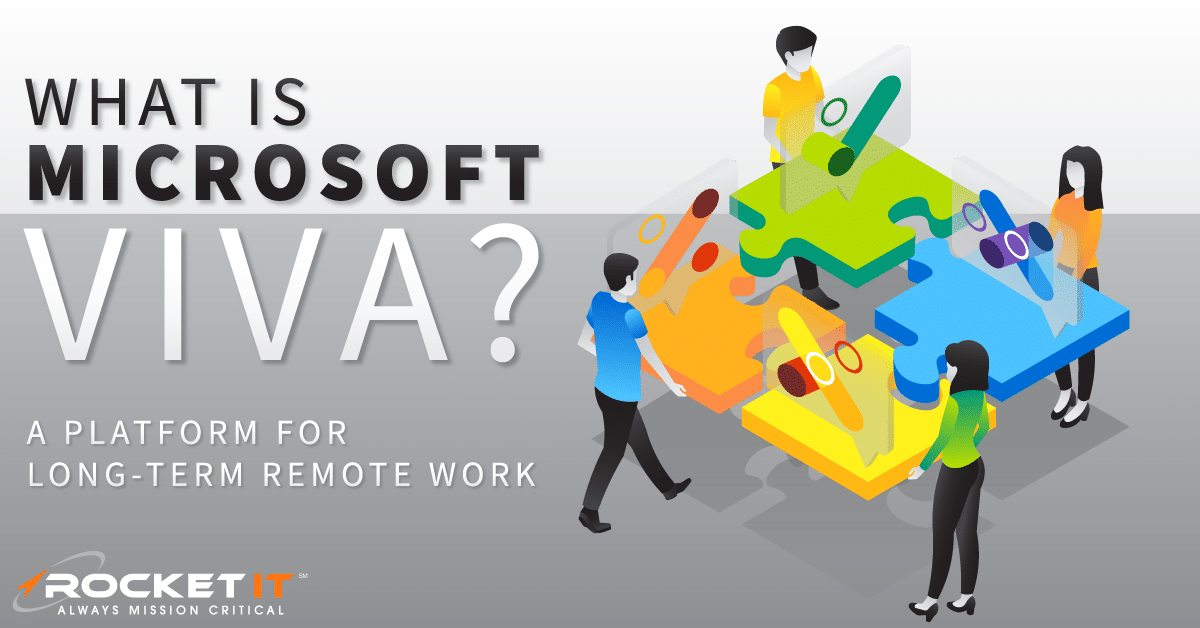 What Is Microsoft Viva? | A Platform for Long-Term Remote Work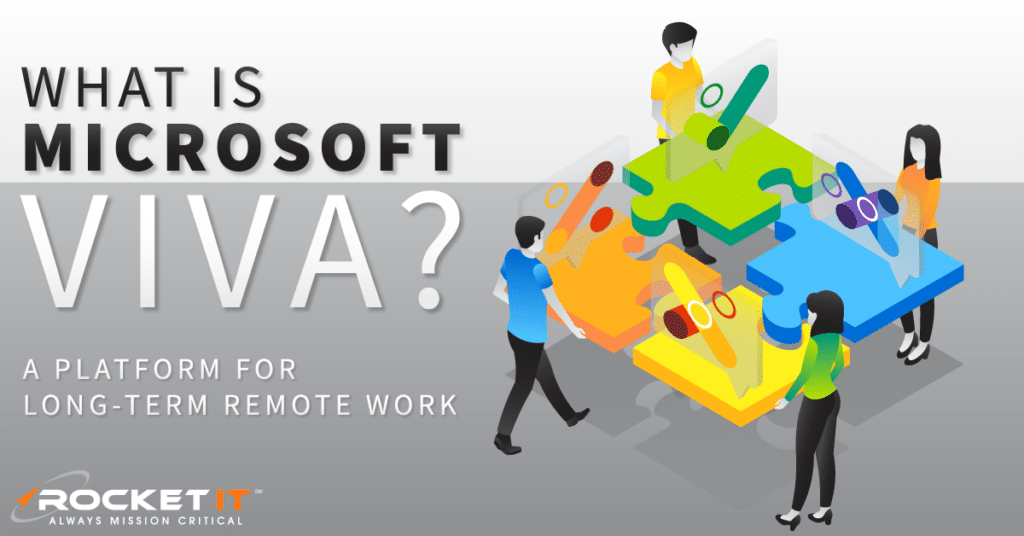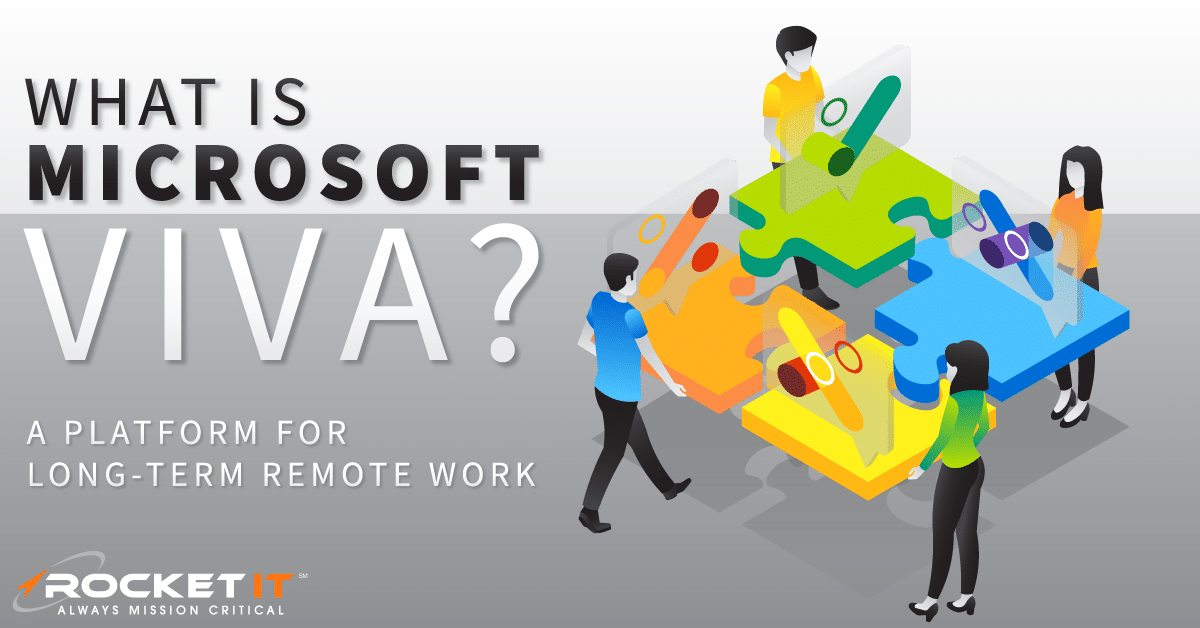 Nearly a year ago, the initial phases of the 2020 pandemic struck; forcing many businesses to make the unexpected shift to remote operations. And although the sudden change left some individuals clamoring to resume work in a formal office space, the ongoing nature of the pandemic has made remote work feel commonplace.
But while working from home offers a sense of flexibility in our lives, it also presents a series of challenging tasks. To remedy the issues associated with prolonged remote operations, Microsoft has launched a new platform, known as Microsoft Viva, that promises a new way to maintain culture, connect employees, and promote creativity in a digital environment.
What Is Microsoft Viva?
Rather than being an app or a service, Microsoft Viva is a platform designed to help businesses adjust to long-term remote operations. To accomplish this, the platform focuses on four modules to offer organizations a central location to promote productivity, innovation, and connectivity. But before elaborating on each of these hubs, it's important to note that Microsoft Teams is necessary to access Microsoft Viva. For more information on Microsoft Teams, Rocket IT has a full breakdown of the platform here and encourages you to complete a Roadmap Assessment for assistance in launching Microsoft Teams company wide.
Microsoft Viva Modules
Microsoft Viva Connections
To get an idea of what Microsoft Viva has to offer, let's first take a look at its Connections module. Within this section of the platform, Microsoft offers individuals a centralized location for all internal communications. Think of this module as an intranet where important resources an be stored, such as company policies, handbooks, information on personal benefits, and other information .
Because highly engaged employees are 12 times less likely to leave a company that their uninformed counterparts, Microsoft Viva's Connections module also serves as an internal social media feed to keep everyone informed and engaged. Here, individuals can share company news, create resource groups, share innovative ideas, and create collaborative communities. For leaders within an organization, the Connections tab offers a platform to share custom video messages, host live video content, and boost critical messages so that the entire company can stay on the same page.
Essentially, Microsoft's goal with Viva's Connection feature is to offer teams an easy way to discover information needed to actively participate in conversations. While Microsoft Viva currently allows individuals to create custom dashboards with personalized views of communities, announcements, and conversations on desktop devices, similar features will expand to mobile devices in the summer of 2021.
Microsoft Viva Insights
For those readers that are familiar with Microsoft MyAnalytics, it's likely that you've had some experience with Microsoft's Insight feature. Like in MyAnalytics, Microsoft's inclusion of its Insights feature in Viva allows individuals to view outstanding tasks, track email open rates, book time to focus on projects, catch up on email, set lunch times, and more.
Along with offering individuals tools to better manage the use of personal time, Microsoft Insights also affords managers with information to monitor work patterns of their teams. While the data here is rich with content that can greatly help mangers better serve their teams, keep in mind that data is aggregated to ensure employee privacy remains in place.
Microsoft Viva Topics
Finding it difficult to track down internal company information? While the Connections module offers some baseline measures to delve into internal communications, Microsoft Viva Topics uses artificial intelligence to automatically identify, process, and organize content. Upon scanning internal content stored in apps like Microsoft Office, Teams, and SharePoint, Microsoft Viva's Topics function generates cards with files that are closely related.
Using these cards, the platform then automatically builds topic pages to aggregate related definitions, content, and conversations. Using these pages as a foundation, an organization's managers can then go in and fine-tune information to best fit their team's needs.
Once completed, Microsoft Viva's Topic pages can be made searchable by all team members and can even be shared across other Microsoft 365 applications. It is important to note that Viva's Topic feature is only accessible on accounts with one of Microsoft's business licensing plans. For more information of Microsoft 365 licensing, check out Rocket IT's recent breakdown of plans to find one that best suits your business needs.
Microsoft Viva Learning
Last, but certainly not least, Microsoft Viva's fourth module that the company plans to launch later in 2021 is known as Viva Learning. 94% of employees say they would stay at a company longer if it invested in their learning, Microsoft Viva's Learning feature aims to bring educational resources into employee work flows to provide effortless innovation.
In this module, individuals will be able to access training materials and courses that are completely free of cost. To aggregate this information, Microsoft plans to pull content from LinkedIn Learning, Microsoft Learn, third-party providers, and even offers businesses with a means to import custom training modules. While all individuals within an organization will be able to view this content, managers will be able to actively assign courses to team members when the feature launches later this year. Once assigned, managers can then see the status of assigned assessments and track completions.
What's Next for Microsoft Viva?
Although Microsoft Viva partially launched in February of 2021, some of the platforms biggest and most innovative feature have yet to go live. That said, if you're already a Microsoft 365 customer, it's likely that you already have access to a preview of the platform and can begin testing its integration with Microsoft Teams.
While many organizations may have plans to return to on-site operations in the near future, it's likely that we've already entered a time in which hybrid business will become commonplace. In turn, platforms, such as Microsoft Viva, will remain crucial to preserving communication, culture, and productivity.
But deploying and maintaining the technologies needed to create a seamless environment between in-person and virtual staff requires a team that understands your business's unique needs. To see if your organization is eligible for Rocket IT's Remote Workforce Roadmap, click the button below and take the first steps towards creating an actionable plan for the "new normal".