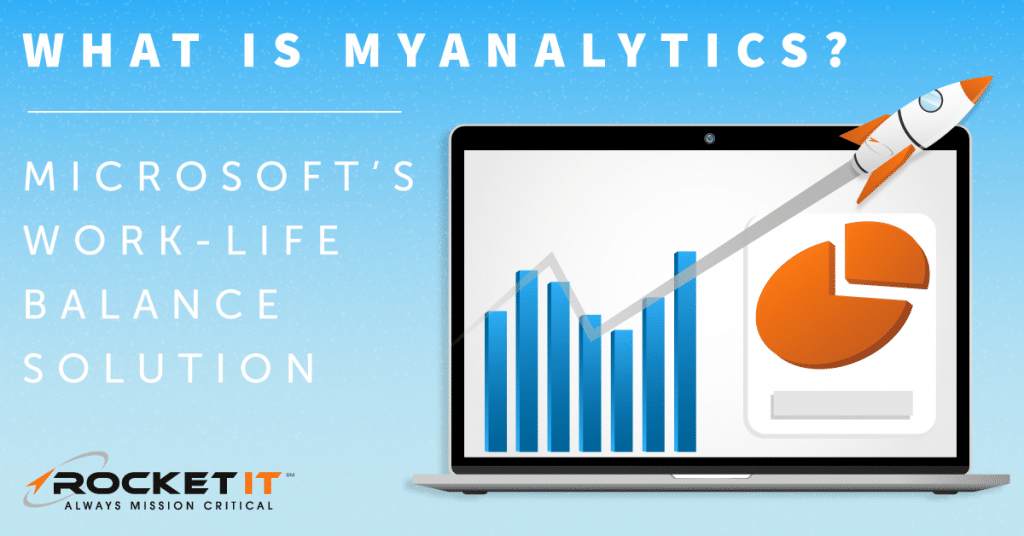 What is MyAnalytics? | Microsoft's Work-Life Balance Solution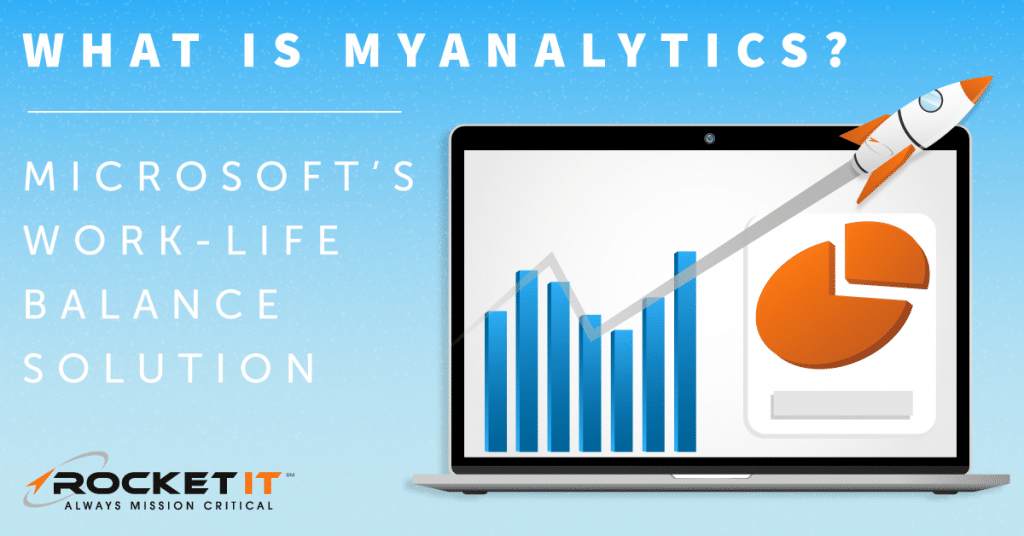 As many individuals continue to work from home, the fine line that once defined a proper work-life balance has blurred and the risk of burnout is all too real for many people.
Understanding this threat, Microsoft's newest update to its MyAnalytics product provides hard-working team members with more tools to reclaim control of their schedules.
What Is MyAnalytics?
Microsoft's MyAnalytics is an application designed to improve focus, efficiency, and wellbeing in the digital workplace. The tool is powered by artificial intelligence (AI) which provides an experience that allows you to track the time you spend using different systems each day, allowing you to audit where you're losing time throughout the week. 
Being from Microsoft, it's only natural that the MyAnalytics platform relies heavily on Microsoft's suite of products. In particular, MyAnalytics autonomously draws information from an individual's Outlook, Skype for Business, Microsoft Teams, OneDrive and SharePoint use. With the data collected from these services, MyAnalytics then generates a personalized dashboard of insights, specific to the needs of the Microsoft user.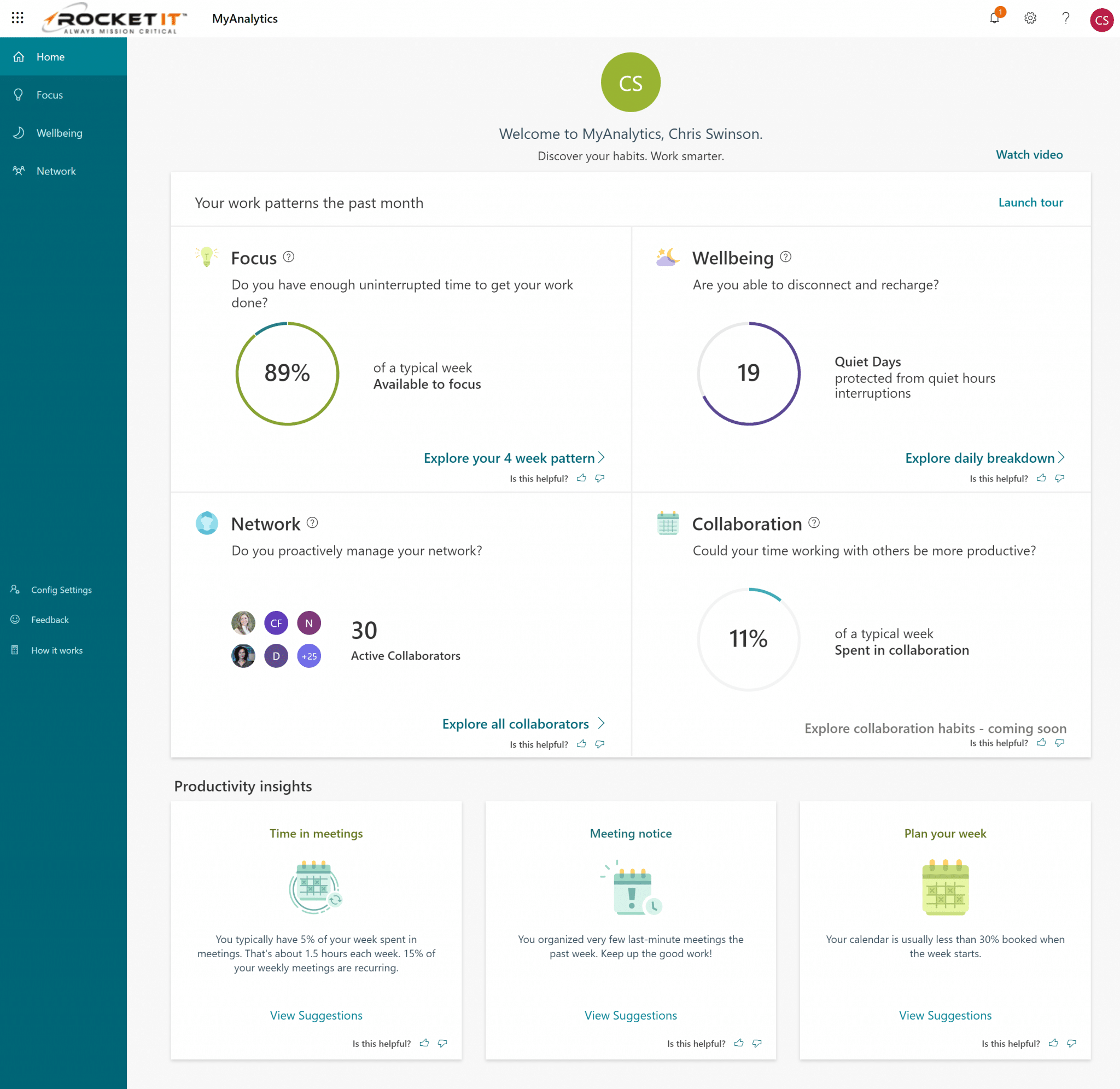 User Privacy
Now, before we go any further, let's take a moment to address the elephant in the room: user privacy. It's no secret, with data breaches occurring on a regular basis, information security is key in today's digital landscape. Because of this, Microsoft has been transparent in how it collects, uses and stores information using the MyAnalytics application. Simply put, the data collected is not personally identifiable and is stored within the individual's Exchange Online mailbox without any tracking software running in the background. As a result, only that user has access to the data, and all information is protected by the same level of security that safeguards the Microsoft account itself. In return, Microsoft has ensured users that the only way this information can be shared, is if the user purposefully shares it him or herself.
Access to Insightful Functions
Let's take a look at how an individual can gain access to that impactful data that Microsoft has captured. To access MyAnalytics insights, a user must first have an Office 365 E5, E3, E1, Business Premium or Business Essential plan tied to their account. To check if your current license supports MyAnalytics, visit https://www.office.com/, click your account icon in the top-right corner of the window and select my account. From the web-page that opens, click view subscriptions to see if MyAnalytics appears under your license information. If you do not see MyAnalytics listed, Rocket IT encourages you to speak to your IT team about upgrading your Office 365 account.



If your license supports MyAnalytics, navigate to https://myanalytics.microsoft.com/ to view your personalized dashboard. Upon entrance, users are directed to a central home screen, where they can quickly view general insight from the past month pertaining to four categories: focus, wellbeing, network, and collaboration. Using the menu presented on the left side of the window, Individuals can then navigate deeper into three of these four categories.
To give an idea of how each of these metrics contributes to the creation of a harmonious balance between work and relaxation, let's briefly review some key functions of each.
Focus Features
Focus features improve concentration by setting aside valuable focus time for your top-priority work. They help individuals better understand if they've been properly balancing individual work alongside collaborative work, while also highlighting  distractions that may regularly occur. In return, the aim of this feature is to help individuals reduce the occurrence of events that contribute to lost concentration, such as emails or unproductive meetings.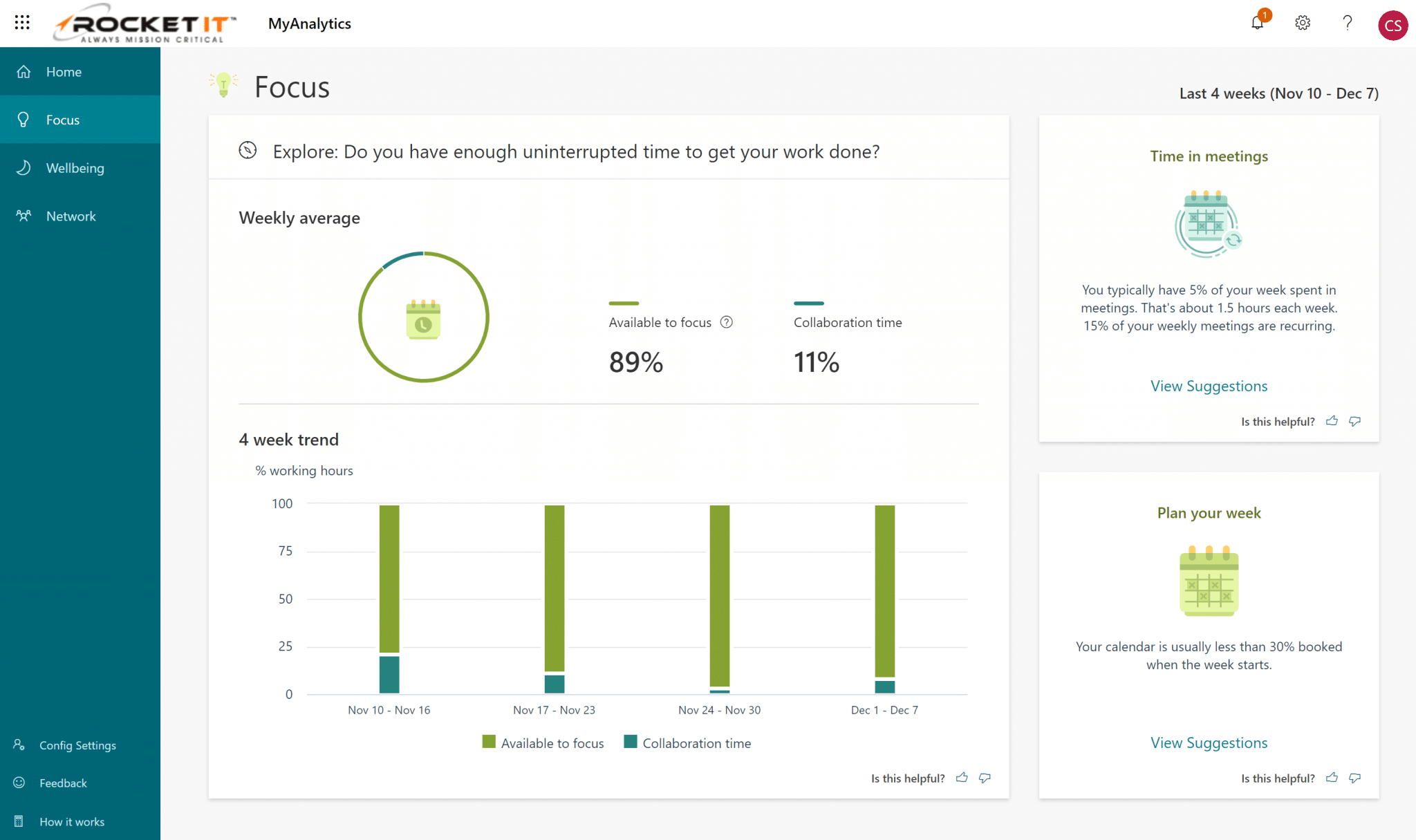 Furthermore, for those users with an E5 license tied to their account, MyAnalytics' is able to autonomously plan and schedule daily focus times. By reviewing a user's calendar two weeks in advance, MyAnalytics can automatically block out an hour of time each day over the course of a month, giving the individual some much needed time to work on more challenging projects. During this scheduled time, MyAnalytics activates focus mode; meaning that Skype and Teams are silenced and only those emails marked urgent appear as notifications. Alternatively, for those who would like a little more control of when focus mode is activated, MyAnalytics can be programmed to simply send email reminders each week. In turn, recipients can then use those suggested days and times to book focus times by their own accord.


To enable this feature, navigate to the Focus page of the MyAnalytics dashboard. Here, users with an E5 license can click the "Get Started" button, located at the top of the page. Once selected, users can then choose if they'd rather have MyAnalytics automatically book focus time, or if they'd simply like email reminders; as mentioned above.
Wellbeing Features
While the focus features of MyAnalytics addresses work productivity, the platform's wellbeing function helps users create moments of rest and relaxation throughout the week. By navigating to the wellbeing page of the MyAnalytics dashboard, users can select the option to configure general working hours for both weekdays and weekends. MyAnalytics will then track those hours outside of normal work operations; pinpointing the key causes of disruption. In return, this function assists individuals in disconnecting from work; alleviating stress and reducing the chance of burnout.


Network Features
The Network page of MyAnalytics provides individuals with a breakdown of how exactly they're spending their collaborative efforts. For example, users can track the total time spent contacting individuals over the past week, analyze the time spent in meetings with colleagues or clients, and review both the read and response data of their email communications. By utilizing the important people feature, MyAnalytics will track your communications and remind you of unread emails and tasks, making sure nothing slips through the cracks.  From these insights, an individual could strengthen relationships with key contacts, highlight top collaborators within their network, and improve upon their communication tactics. 


Collaboration Features
The Collaborations page of MyAnalytics helps individuals reflect on how effective they were in their meetings, emails, chats, and calls. Your weekly average shows the percentage of collaboration you engaged in during your week, as well as the methods used. MyAnalytics allows you to analyze your meeting habits by tracking the total number of meetings scheduled, number of overlapped meetings, and even how many emails or chat messages you sent during your meetings. Finally, you're able to track how many chats, calls, and emails you've read and sent.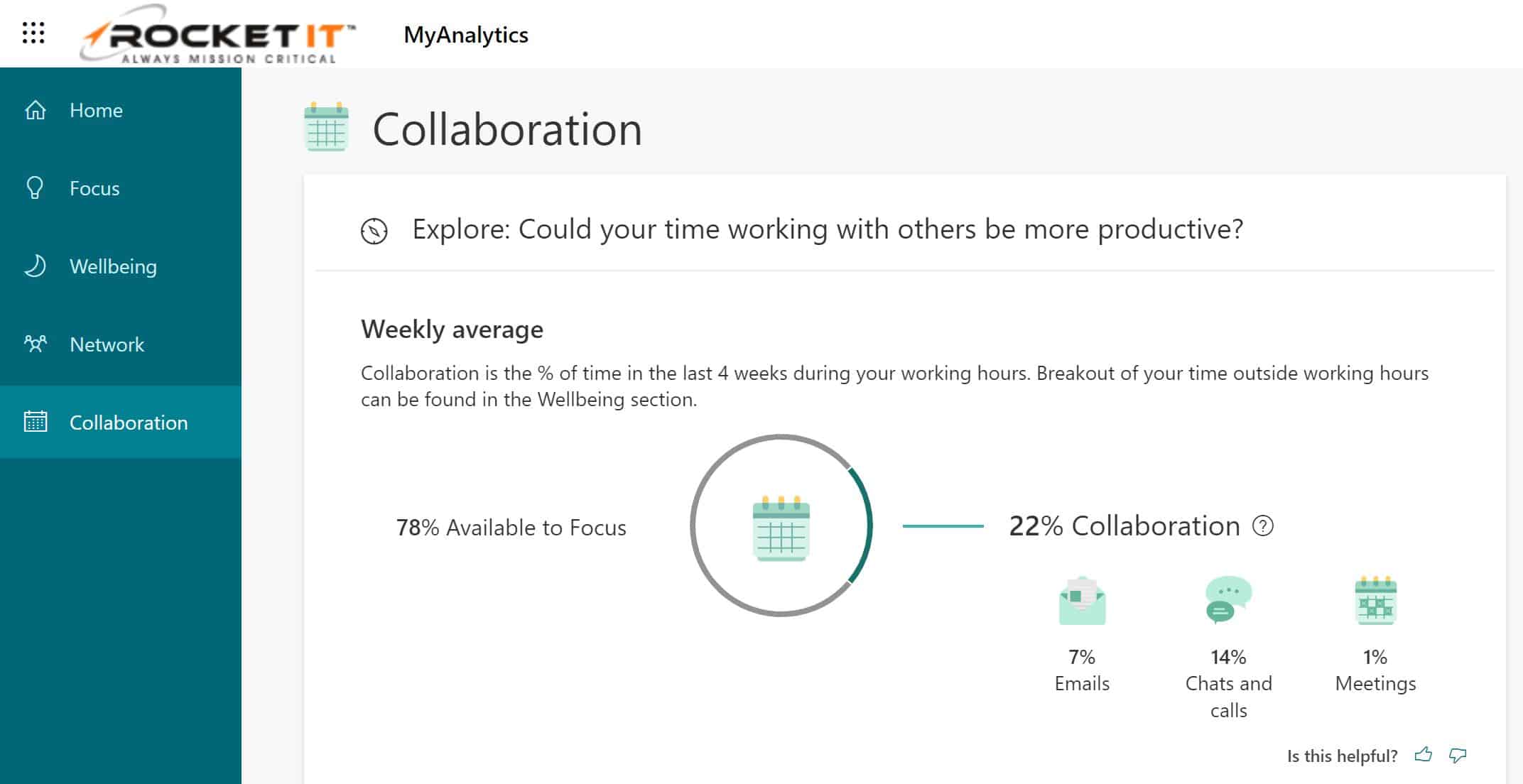 Insightful Connecti
ons
Outlook Insights is an add-in that works within your Outlook account to make completing action items, following up, and managing your time easier. For example, it tracks how many recipients have interacted with your emails or documents. The read rate, which is based on Outlook's determination that an email has been marked as read and SharePoint's determination that a link has been opened, is displayed as a range instead of a percentage to maintain a level of anonymity, effectively minimizing the risk of team members being singled out based on their individual actions. To maintain privacy, these features are only available for emails and documents sent to five or more people. 

Insightful Teams
Through an Insights add-in with Microsoft Teams, MyAnalytics brings many of these features directly into Teams so you can quickly check in socially with your teammates.  To install Insights within Microsoft Teams, navigate to the team you'd like to add Insights and select the plus icon at the top of the window to add a new tab. From the options displayed, select Insights and click add. If you're unable to see the Insights app feature, it's likely that you'll need to speak with your Microsoft 365 administrator to have the feature applied. 
For managers, Microsoft Teams has become an integral part of group communication so it's important to have a centralized hub for employees to take a mental break, check in with coworkers, and quickly see their action items. There's also a section specifically for Manager and Organizational Insights, allowing leaders to easily see the evolution of work, evaluate team morale and risk of burnout, and identify where change can have the greatest impact.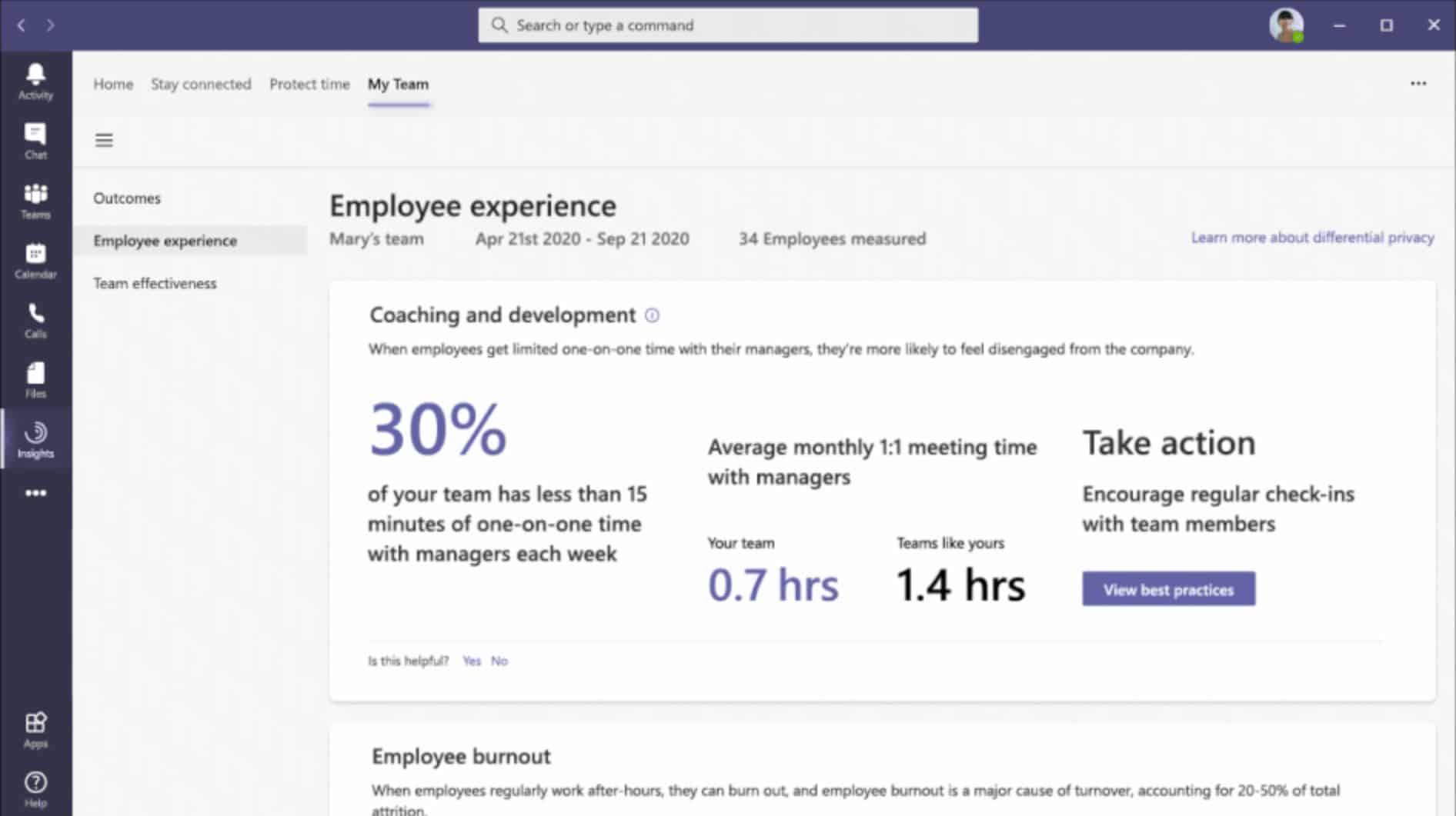 The Insights tab holds five sections: Home, Stay connected, Protect time, My Team, and My Organization. Home provides a snapshot of the day while Stay Connected makes it easy to schedule time with your team members and focus time with yourself. My Team, which is only available for managers, shows outcomes, employee experience, and team effectiveness in easy to digest graphs and percentages. My Organization gives a bird's eye view of a company including its meeting culture, innovation, employee engagement, and much more. These features give managers the necessary tools to ensure the team and organization stays on the same page. To read more information about other Team features, click here.
Microsoft has continued to release new features for MyAnalytics on a monthly basis and plans to maintain a similar routine for years to come. Therefore, if you haven't done so already, now is a great opportunity to explore this helpful platform before it inevitably expands throughout 2021. 
MyAnalytics assists in maintaining balance between standard work-related tasks and communicating amongst your team. To ensure your business has the correct Microsoft licensing and integration to maximize the platform's full potential, Rocket IT encourages you to click the button below to learn how you can deploy MyAnalytics company wide.