July 29th, 2016 by Rocket IT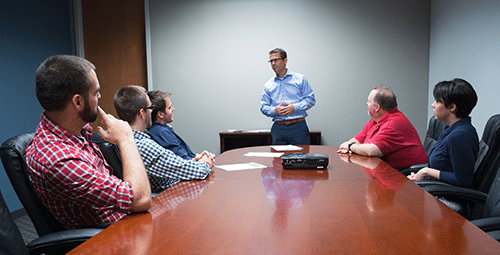 Have you ever wondered why you do the things that you do? Have you ever wondered why you respond the way you do?  Have you ever wondered why your spouse or kids are the way that they are? Have you ever wondered why you get along with some people at work and have a hard time communicating with others? Have you ever walked around with food in your teeth only to get to the end of the day and no one told you?
If you answered yes to any of these questions, then maybe it is time to get the answers. At least to most of them, if not the last one. You might be on your own with that one.
Two years ago, I went through a year-long training called the GiANT Worldwide Executive Core. The purpose of this training is to develop leaders worth following. They instilled in me that the more you know yourself, the more you can lead yourself.  This training allowed me to connect with other leaders from other companies walking along this journey of introspection and answering the question of "what is it like to be on the other side of me?"
This journey was an incredible experience for me, and I use the knowledge and tools on a daily basis. There was no way that I could not bring this back to my team.
If you think about it, we are all evangelists. An evangelist is a person who is an advocate for something. How many friends have told you a story about a Yeti cooler, how they put ice in it, and 3 years later, it was still there?  You may have heard about essentials oils – there are many who advocate for its benefits. I just recently purchased a Hobie Kayak, and I have told everybody how this is the best kayak ever made.
We really talk about the products and things we love. If I read a book that is life changing, I tell others to read it.  That is why I started a Core group at Rocket IT.
The information and tools in this program are priceless.  So what does this group look like? I first looked throughout the organization and determined who could make the most impact and who are the next leaders. Once the group was established, we agreed to meet twice a month for year going through the same training that I went through with GiANT Worldwide Executive Core. We all agreed that whatever was said in the group would stay in the group and that we would all fight for each other's highest good.
We have completed 6 sessions so far. I am really enjoying the talks and feel that we have grown closer together as a team and are changing the culture of Rocket IT.
---
About the Author – 
Steve Hopkins is a Support Professional and Team Lead at Rocket IT. Steve and his wife are growing their family through adoption. They have already adopted two sons. 
Have you found that you need the expertise of a Chief Information Officer to help you make strategic decisions on how to leverage technology to meet your unique business goals, but aren't ready to commit to hiring a full-time executive to fill that need? Learn about our virtual CIO services.