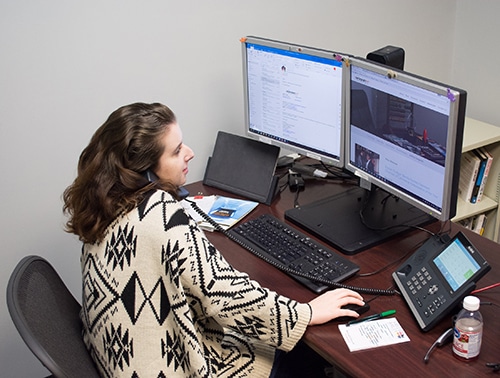 Like many offices today, Rocket IT's headquarters has an open floor plan. This is fantastic for collaboration, accessibility to leadership, and anyone who suffers from FOMO (Fear Of Missing Out), but it can create a deficiency in quiet spaces to work.
We posted previously about ways employees can focus in and block out distractions in an open office setting, but what can you do as an employer to help?
One way we mitigate this issue is by creating dedicated quiet spaces in our office that anyone can use.
While our main floor plan is open, we do have a few individual offices throughout our space. Several of these offices are taken by members of our leadership team who deal with sensitive information and have weekly one-on-ones with their direct reports where they require privacy. But a few of these offices aren't occupied by anyone. But that doesn't mean they're unused.
Instead of doling out all the available offices, we decided to make these available for use to everyone on the team.
These rooms are equipped with monitors, docking stations, phones, and everything else our team needs to pick up their work from where they left off at their own desk. Anyone can book time in one using its resource mailbox, and they can view the office's availability within the resource calendars in Outlook. This method provides a more streamlined, standardized, and auditable way for these rooms to be utilized.


How exactly do these reservable work spaces help Rocket IT employees thrive?
Each office has a melting pot of eclectic personalities. You have your extraverts who think out loud as they work through new solutions, introverts who prefer white noise over small talk, and those of both personality types who sometimes need a break from background noise or who require privacy for a client phone call.
Creating a space for anyone in your office to reserve some time can diffuse some of that workplace tension that occurs from many different personalities in the same open floor plan.
If your team has expressed a need for some quiet time to get work done, this floating office could be your solution. When the open space becomes too distracting (which can happen in an office where projectiles have been known to fly on occasion) or someone needs a quiet place where they know they won't be interrupted during a webinar or a conference call, they can go into one of these offices and have everything they need to continue working seamlessly right there at their fingertips.
Interested in seeing how these spaces work for yourself? Come join us on February 23rd from 4:30 PM to 7:30 PM for our ribbon cutting event! RSVP to jmcfadden@rocketit.com.
---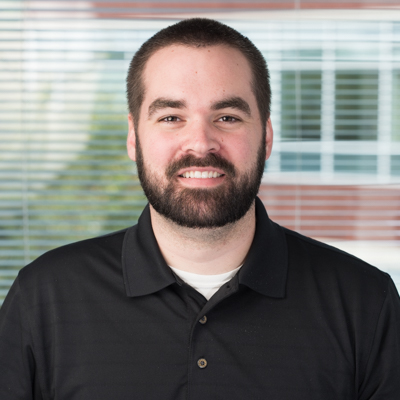 About the Author-
 Michael Bearchell lives with his wife and three children in Gwinnett County. He is an Inside Support Technician at Rocket IT and has found out the hard way that it is tough being a New York sports fan in the south.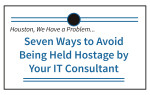 We've all heard stories of wayward IT consultants holding critical company information or other resources for ransom. This is one of the biggest concerns we hear from potential clients. There are several ways you can protect yourself and your business when you outsource your IT. Download our FREE infographic to learn the 7 Ways to Avoid Being Held Hostage by Your IT Consultant here.