September 7th, 2016 by Rocket IT
Does this sound familiar?
Your IT company offers you an agreement that lowers their accountability and increases your exposure. The limited bank of included support hours, trip charges, and a long-term contract protect them, not you.
Some IT companies engage with you in a way designed to serve their best interests, not yours. Learn how to choose an IT company that puts you first by avoiding these top 3 mistakes people make when they outsource IT.
Mistake #1 – They assume too much risk
Many people just want to pay for ad hoc support, thinking that it will save them more money. In reality, this costs them more. Ad hoc support is totally reactive – and many of these issues could be prevented at a lower cost with some proactive care.
Agreeing to a fixed number of hours per month can also put more stress on your company than on your outsourced IT firm. In fact, they count on it. When you go over that time, you pay more. Usually much more. And, when you only buy maintenance, you pay extra when things break.
Mistake #2 – They hire "cheap"
What you pay for is what you get, and when you choose the cheapest option, you usually get the cheapest return. Going with a cheap alternative for IT can end up costing you more down the line in downtime alone. Choosing an IT company based off of the services they offer and how well they'll support you instead of just going with the cheaper option can provide you with a 50% ROI. Don't believe us? Shoot us an email, and we'd be happy to share our math with you!
Let's say you have 50 employees in your company, and your email is down. If you pay your employees on average $45k each, then that downtime costs you $1,300 each hour or $10k per day that your email isn't working (because your employees can't work either).
With an IT company that focuses on proactive service, just a 5% productivity gain from less downtime due to technical issues will save you $135k each year. If you recoil at spending on IT, you need to ask yourself this: do you want to save money on IT or with IT?
When you choose the right IT partner that provides you with an in-depth strategic roadmap to reduce risk, decrease cost, and increase revenue, the numbers look even better.
Mistake #3 – Signing a Long-term Contract
When you sign a long-term contract with an IT company, you're assuming all the risk. If their service doesn't measure up to what you thought you were getting, you're stuck. An IT service like this may look less expensive at first glance, but it can cost you a fortune in productivity when your employees can't work efficiently because of an IT firm that isn't incentivized to keep your business because they know they'll have it for the next two years. And, chances are, it will cost you a fortune in unplanned field service trip fees when they finally do come out to fix things. Don't get locked in an agreement with a company that buries you in hidden fees.
When getting your technology up and running efficiently comes at a high cost from your IT company, employees will often wait until small problems that could have been easily solved (or prevented) become very big problems. When you sign a long-term contract, your outsourced IT is only incentivized to work on break/fix issues… They don't provide the proactive strategy and care your business needs to thrive.
Look for outsourced IT that won't lock you into a long-term service agreement. You should stay with them because you want to, not because you have to.
---
Ryan Bonilla is very active both professionally and personally in the Gwinnett community. He is a Gwinnett Chamber ambassador as well as serving on several committees and boards related to leadership and education. He lives with his wife and two daughters in Sugar Hill, GA.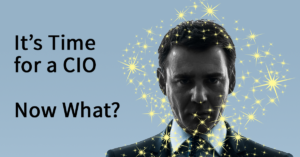 Have you found that you need the expertise of a Chief Information Officer to help you make strategic decisions on how to leverage technology to meet your unique business goals, but aren't ready to commit to hiring a full-time executive to fill that need? Learn about our virtual CIO services.