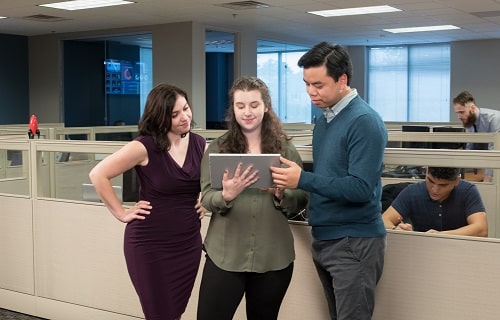 Over the years, Microsoft Office has evolved by leaps and bounds to be more than just a tool for word processing and creating spreadsheets. It's miles away from the desktop version you used in high school with the talking paperclip help feature.
With consistent updates, Microsoft is regularly adding new features to make it the most business-friendly tool. Microsoft 365's recent additions deliver great features that are great enhancements for productivity and collaboration.
Below is the list of our favorite recent updates.
Office 365 Groups
Office 365 Groups is a feature of Office 365 that allows an individual to set a group of people they want to collaborate with and then set up various resources the group will need to share for their collaborative work. The shared resources can include an Outlook inbox, calendar, and library of documents.
When you create a group, it automatically gives members the permissions they need for the tools included, eliminating the need for granting permission manually. By having everything in one location, team members won't spend time searching through files or asking others to share one with them and can use that time to complete their tasks on the project.
One really nice feature of Office 365 Groups is the ability to create public and private groups. The content within a public group can be seen by anyone in your organization and anyone can join the group. If the group is private, only members of the group can see the content within and people that want to join a private group must be approved by the group owner.
Private groups can come in handy when your team is working on projects that contain sensitive information that others in your organization may not have the clearance to work with yet. You can also invite guests from outside of your organization if needed.
Threaded Comments in Excel
Microsoft recently announced the addition of threaded comments in Excel with a goal of improving collaboration on shared documents as well as to give users a more consistent experience across the Microsoft suite.
The feature is very similar to functions found in the G Suite products, allowing team members to communicate with @mentions as multiple people work within the spreadsheets and is an especially nice feature to have if you're working on a project and need to ask a collaborator a question or alert a team member of items needing their review.
Microsoft Planner Integration with SharePoint
Managing team tasks is also becoming easier thanks to another Microsoft 365 improvement that has integrated Planner with SharePoint. This update allows you to add plans directly to a team site in SharePoint, plus gives you the ability to embed Planner boards and other items from your plans in pages and posts in SharePoint. Through this integration, team members can access and interact with the various project tasks while having the necessary resources in a centralized location.
Wrapping Up
These are just three of the great Microsoft 365 features that enhance productivity, but we'd love to know what your favorite features are, too.
Feel free to share with us on Facebook, Twitter, or LinkedIn.
And, if you need some help figuring out how to improve collaboration and productivity for your team, Rocket IT is here for you. Fill out the contact form below and we'll be in touch.