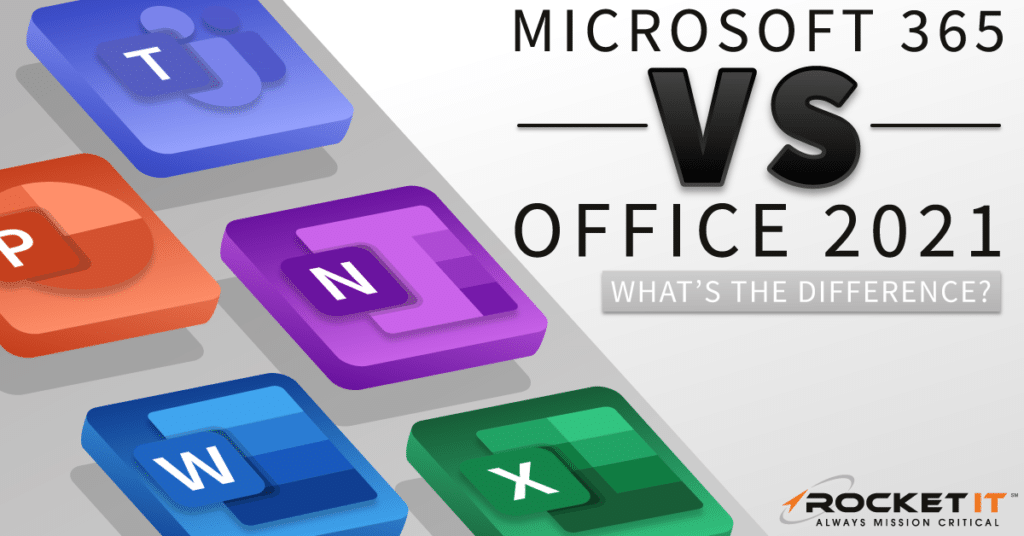 Microsoft 365 VS Office 2021 | What Is the Difference?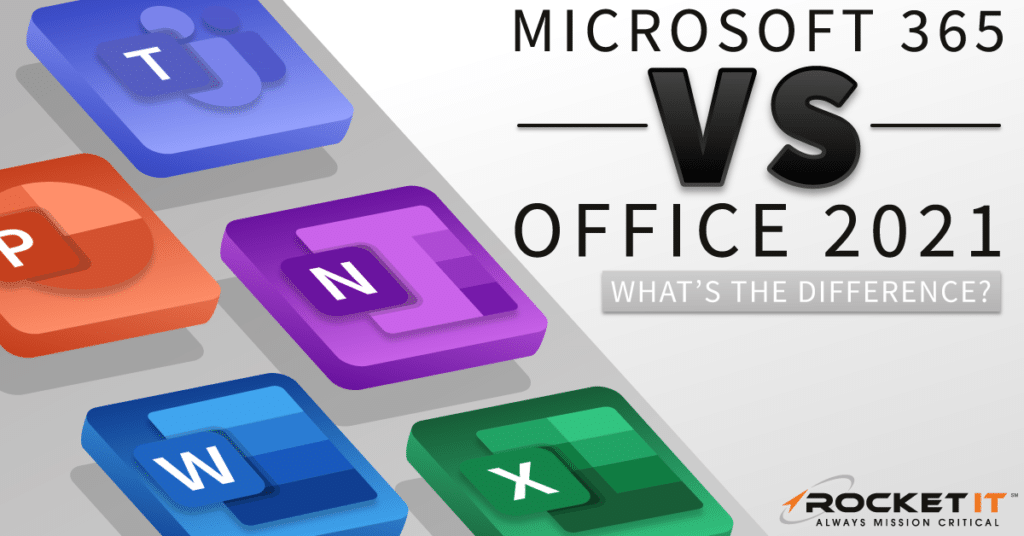 While Office 2021's one-time fee offers a tempting alternative to Microsoft 365's subscription-based service, it's safe to say the new offering is not a replacement for those individuals and businesses in need of collaborative and secure applications. But, with the launch of Office 2021 on October 5, let's explore why Microsoft developed the new bundle and who the company is hoping to help.
What's the Difference Between Microsoft 365 & Office 2021?
In 2011, Microsoft released Office 365; a subscription service that completely revoked the ability to pay a single upfront cost for applications like Word, Excel, and PowerPoint. While, at first, many long-time Office users didn't understand the change, they quickly found that the subscription model allowed Microsoft to offer more frequent updates and online versions of its beloved productivity software.
Fast forward to 2020 and Microsoft unveiled yet another reworking of its Office products and new name for the subscription service – Microsoft 365. Staying true to Microsoft's emphasis on continuous innovation, Microsoft 365 brought cohesion to the company's expansive list of applications and allowed Microsoft to keep its operating system, Office products, management applications, and security features on a unified development path. Most importantly, Microsoft 365 placed collaboration and cloud services at the forefront of development.
When Should I Buy Office 2021?
Although the tech giant has made it clear that Microsoft 365 remains the optimal choice for most businesses and consumers, October 5 marked the launch of Office 2021. Rather than relying on a subscription that funds access to new features, security updates, and cloud storage, Office 2021 can be purchased for a one-time upfront cost. Needless to say, the decision to trade innovation, security, and collaboration for a lower price tag shouldn't come lightly. In turn, Microsoft does a good job outlining use cases in which Office 2021 can most effectively be applied.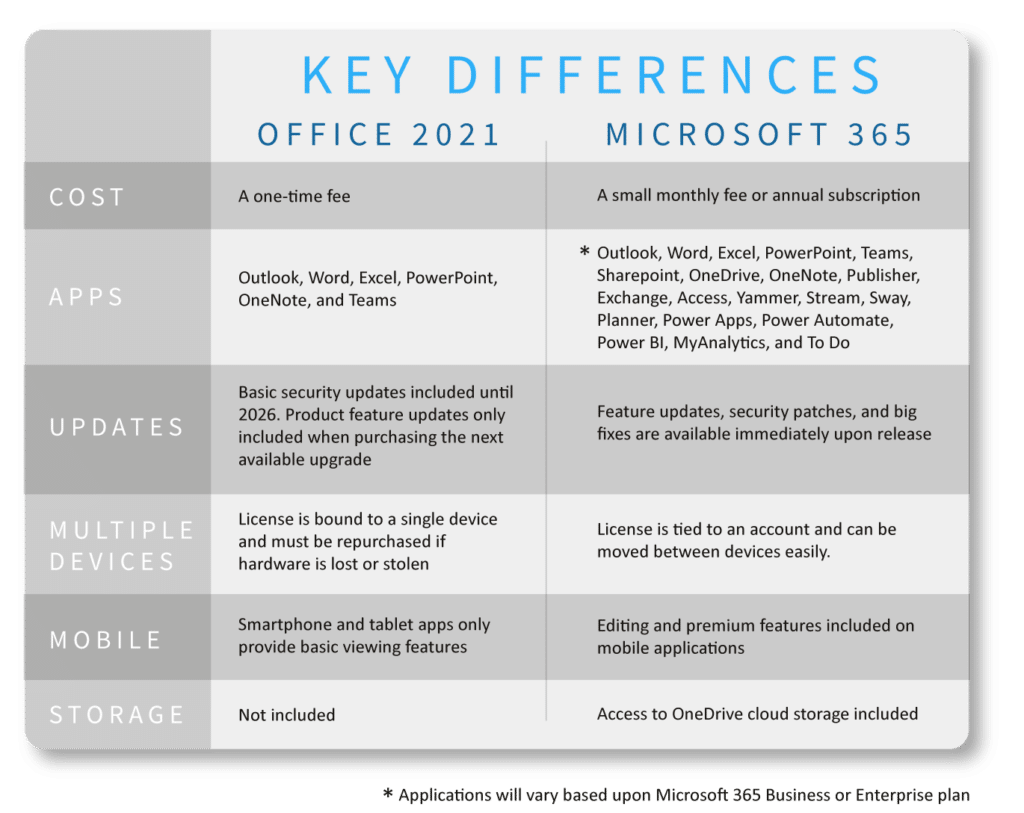 Office 2021 for Businesses
To support all segments of the population, Office 2021 comes in two variations: one for commercial use and another for personal. In regards to businesses, Office Long Term Servicing Channel offers to help in niche scenarios where devices can't accept frequent feature updates or can't connect to the internet. For example, think of a manufacturing business, where many Windows-based devices are on the floor and disconnected from the internet. In this use case, Office 2021 could potentially provide the individuals that use these devices with the applications to complete simple tasks. Fortunately, for businesses that need this solution, Microsoft ensures Office LTSC can be deployed using the same tools as Microsoft 365.
Office 2021 for Home and Student
On the other hand, the Home and Student editions of Office 2021 offer more practical solutions for those individuals not in search of business-grade software. While cloud features, online storage, and security updates remain absent from the bundle, the personal editions of Office 2021 provide basic access to popular apps, like Word, Excel, PowerPoint, OneNote, and Teams.
Regardless of the version your considering, if you choose to purchase Office 2021, keep in mind that Office 2021 licenses are bound to the device, not to the user's account. This means that if you get a new computer, you'll have to purchase another license to continue using Office 2021. While this initially might not seem like a huge deal, the real drawback comes from the inability to use key features of Office mobile applications. Alternatively, Microsoft 365 licenses allow individuals to easily sign in and out of accounts on multiple devices, including smartphones and tablets.
Finally, while Microsoft has confirmed that it will support Office 2021 for five years, once that support ends, a lack of security updates could potentially place your data in harm's way. If you opt to purchase Office 2021, it will become increasingly important pay for each upgrade as it becomes available.
Office 2021 – Final Verdict
For those individuals that need access to Microsoft's suite of Office applications on a personal level, Office 2021 offers a viable solution at a discount price. However, for businesses seeking to reduce technical costs, attention should be shifted elsewhere. By forgoing the cloud-based Microsoft 365 subscription, users give up the ability to collaborate in real time, receive automatic software updates, benefit from AI-driven automation, and protect their networks.
In turn, Microsoft has advised against deploying Office 2021 across entire organizations and suggests looking at one of its many business or enterprise plans. For help selecting and launching the Microsoft 365 plan that best fits your organization's needs, check out the key features of each bundle below or give Rocket IT a call at 770.441.2520 for further assistance.
Toggle between Business and Enterpise plans using the buttons below

---
Toggle between Business & Enterprise plans.

---
Tap a row and swipe left to learn more.