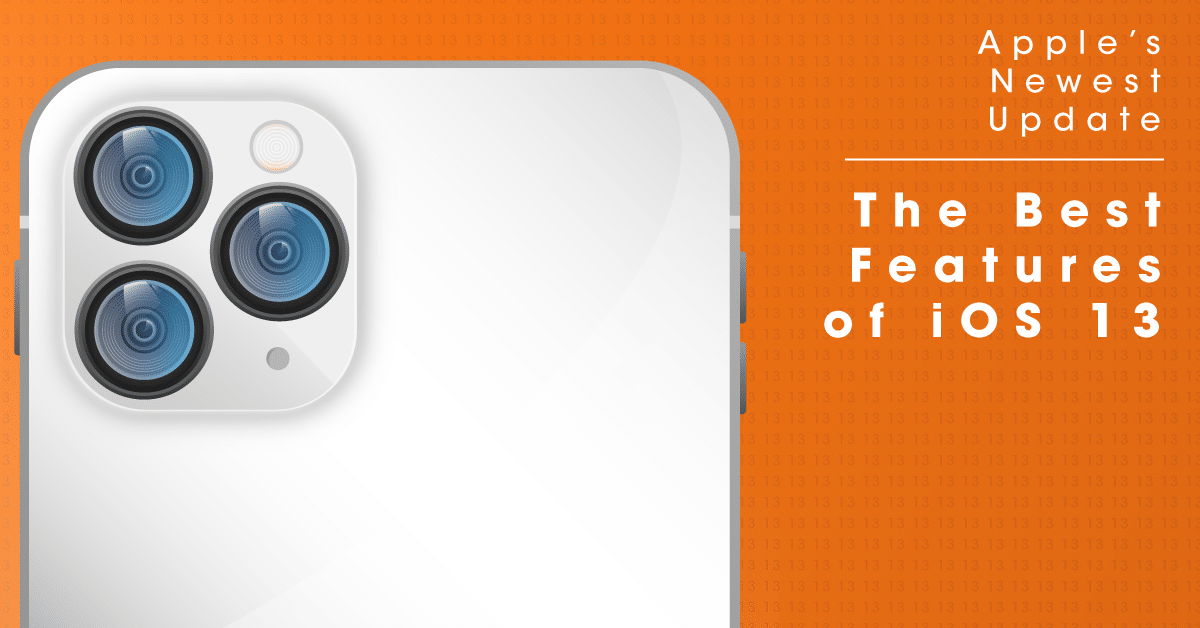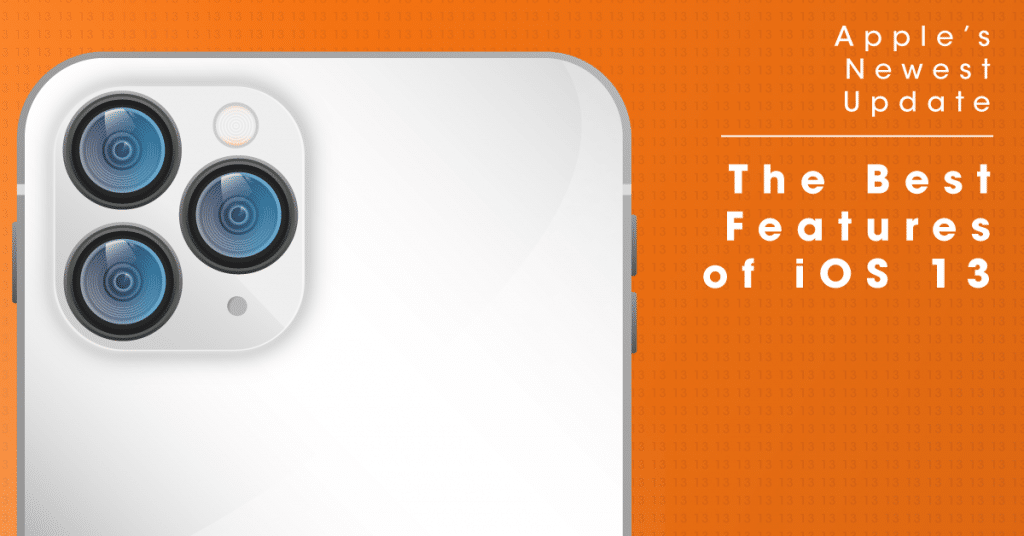 Apple's Newest Update | The Best Features of iOS 13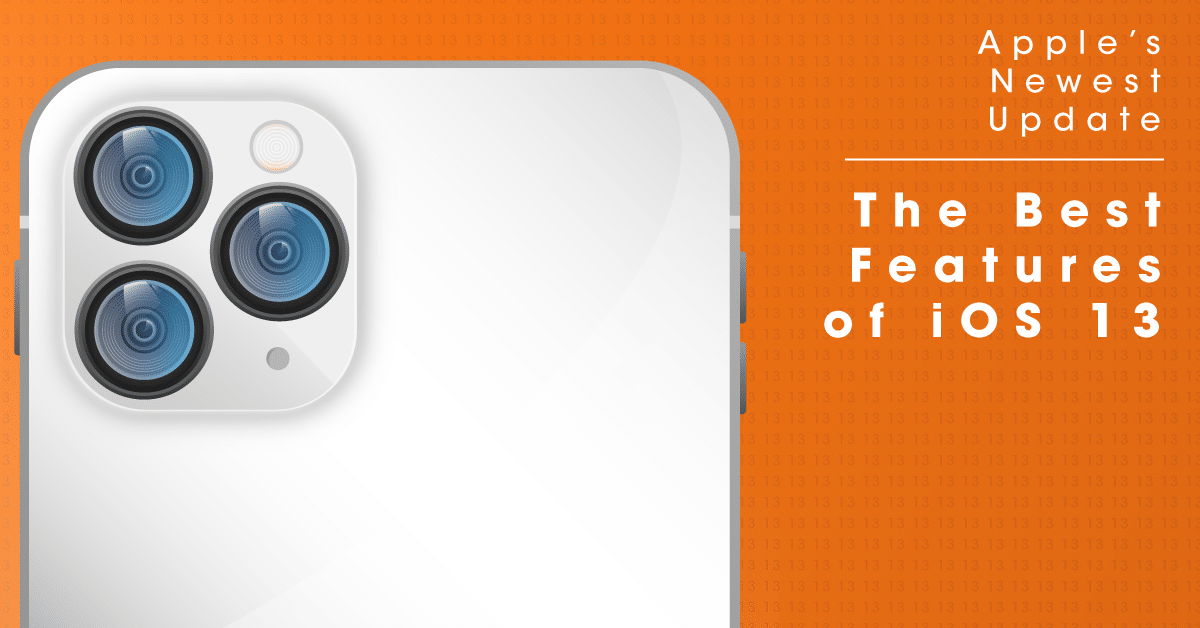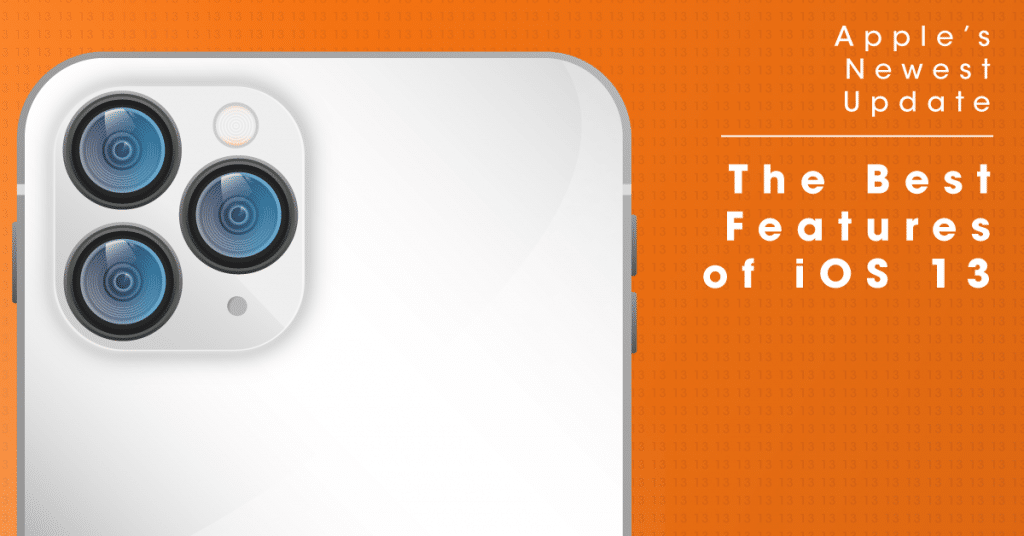 While the recent launch of the iPhone 11, 11 Pro and 11 Pro Max has the technology community abuzz, upgrading to one of these new devices isn't the only way to reap the benefits of Apple's cutting-edge smartphone features. 
iOS 13, the most recent installment of Apple's mobile operating system, is not restricted to the company's current line of flagship devices. Beginning September 19, owners of iPhone models dating back to the 6s can download this software update – and with it, gain access to a plethora of new features and upgraded security measures. 
How to Prepare for iOS 13
But before embarking on this mission to install Apple's brand new iOS, it remains important to first discuss the preemptive steps needed to ensure a device is ready for the installation process. 
Check Device Compatibility
As mentioned, iOS 13 is supported on a variety of older Apple devices. That said, it's compatibility is limited to devices released in 2015 and beyond. To determine if a previous iPhone model is capable of running iOS 13, navigate to the settings app of the device. Scroll down and select "General" from the list of menu items. After selecting the "About" option, the model of the iPhone will be displayed.  
Currently, iOS 13 is supported on the following list of devices:
iPhone 11, 11 Pro, and 11 Pro Max

iPhone X, Xr, Xs, and Xs Max

iPhone 8 and 8 Plus

iPhone 7 and 7 Plus

iPhone 6s and 6s Plus

iPhone SE

iPhone Touch – 7th Generation
If you don't see your device's model name on the list above, it may be time to consider an upgrade. Because older devices will not be receiving this update, Apple's development team is no longer responsible for supporting these machines. Not only does this mean there's a chance that newer applications will not work with these devices, it more importantly means that users will not be receiving a regular flow of updates to address security risks and bugs.
Make Room
Along with checking the model of the device, users planning to update to iOS 13 should also review the storage space on their iPhone. iOS 13 is a huge update, filled with a long list of amazing new features. Because of this, the installation process requires around 3GB of free space. To check how much free memory an iPhone has on board, navigate to the settings app. From here, tap "General" and scroll down to "iPhone Storage". For owners without enough space on their phones, Apple will provide some space-saving recommendations on screen. Furthermore, storing photos and messages in iCloud can significantly increase in the amount of available space.  
Backup the Device
While storing photos and messages in iCloud frees up space on iPhones, it also ensure these items are forever accessible, even should the user's device be stolen, lost, or become corrupted. On that note, while Apple is well-known for quality hardware and software, this isn't to say that users installing iOS 13 won't experience a bug that wipes the content of their device. Again, although this chance is slim, it's best to stay prepared. Therefore, it would behoove all iPhone owners to proactively backup their devices before installing Apple's new mobile operating system. Fortunately, Apple provides two simple ways to complete this process. 
Launching in late 2011, iCloud is Apple's answer to cloud storage. Using this service, iPhone users can upload content to Apple's servers, creating a secure backup of the device's information. Although each iPhone user is granted 5GB of free space, this isn't very much by today's standards. As a result, users may find it beneficial to upgrade storage space to 50GB for an extra 99 cents per month. Nevertheless, users that opt to go this route can backup their device by navigating to the settings application and taping their name. After selecting iCloud from the menu, users can then select the apps they'd like to backup from the provided list. Once selected, scroll down and turn on "iCloud Backup" and tap "Back Up Now".

Alternatively, for those not wishing to backup their iPhone's information via the cloud, Apple does offer a physical storage option. Using iTunes, an iPhone owner can connect their device to a computer using USB and store the content of their phone directly on the hard drive of their computer. To complete this process, connect the phone and open iTunes. From here, select the device and its summary from the menu in the left sidebar. Then click the encrypt iPhone backup option and set a passcode. Finally, click backup and the rest of the process should complete itself. 
Connect to Wi-Fi and Charge the Device
As previously mentioned, iOS 13 is a 3GB update, meaning it's going to take quite a lot of time and power to complete the installation. Because of this, iOS 13 can only be downloaded when the device is attached to a stable Wi-Fi connection. Furthermore, to ensure the devices doesn't die mid-update and run the risk of corrupting the phone's data, it's highly suggested to charge the iPhone via it's lightning port. 
New Features
With the preliminary preparation out of the way, let's get into some of the new and unique features of iOS 13. 
Dark Mode
Simply put, dark mode alters the typical bright white display users have come to know from Apple devices. Along with producing less strain on eyes, dark mode makes on screen content easier to view in low light situations. While this feature can be enabled through the "Display and Brightness" option in the phone's settings application, adding to the feature to the iPhone's Control Center allows users to quickly enable dark mode by swiping up at any time. In addition to simply enabling and disabling the feature at any time, dark mode can also be scheduled to turn on at certain times of the day. While in the "Display and Brightness" panel, navigate to the "Appearance" section and toggle the automatic setting. Under "Options", users are given the ability to set a custom schedule of when light and dark modes should be enabled.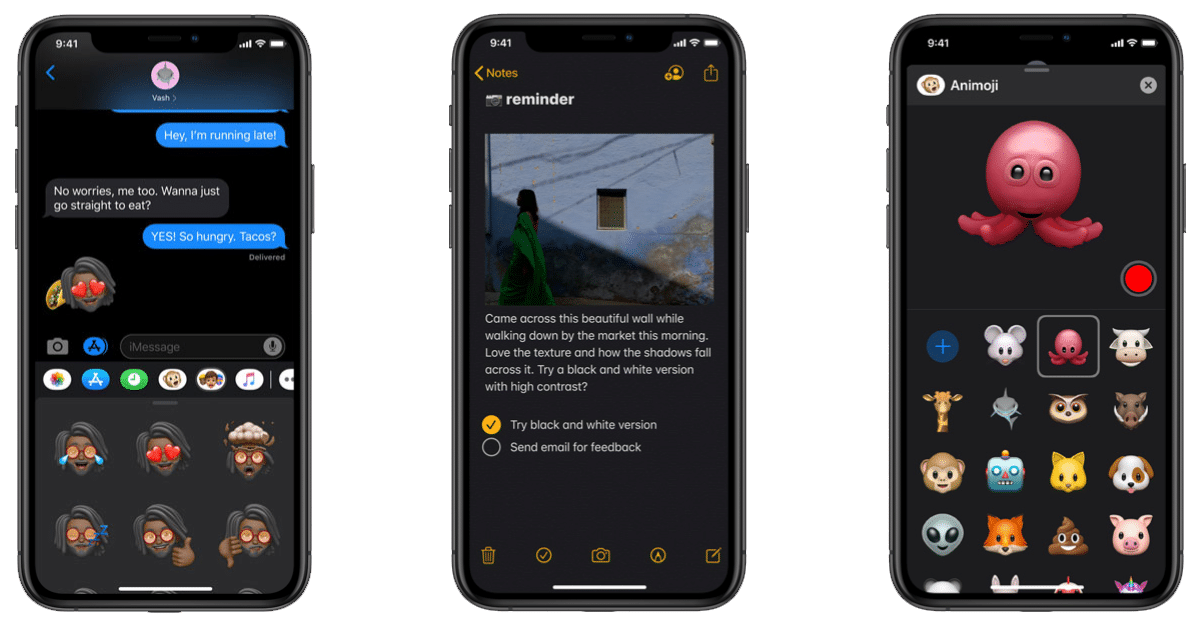 Reorganized Reminders App
The newly revamped reminders app in iOS 13 provides users are some serious organizational powers. In particular, Apple has implemented what it calls "Smart Lists" inside of the reminders app. This feature is automatically enabled upon updating to the new operating system, and allows users to filter reminders based on flagged importance, list category and more. Additionally, Apple has taken the liberty to include a new quick toolbar inside of reminders, giving users the opportunity to quickly locate reminders, edit dates or locations and insert supplemental content: such as photos, documents or links.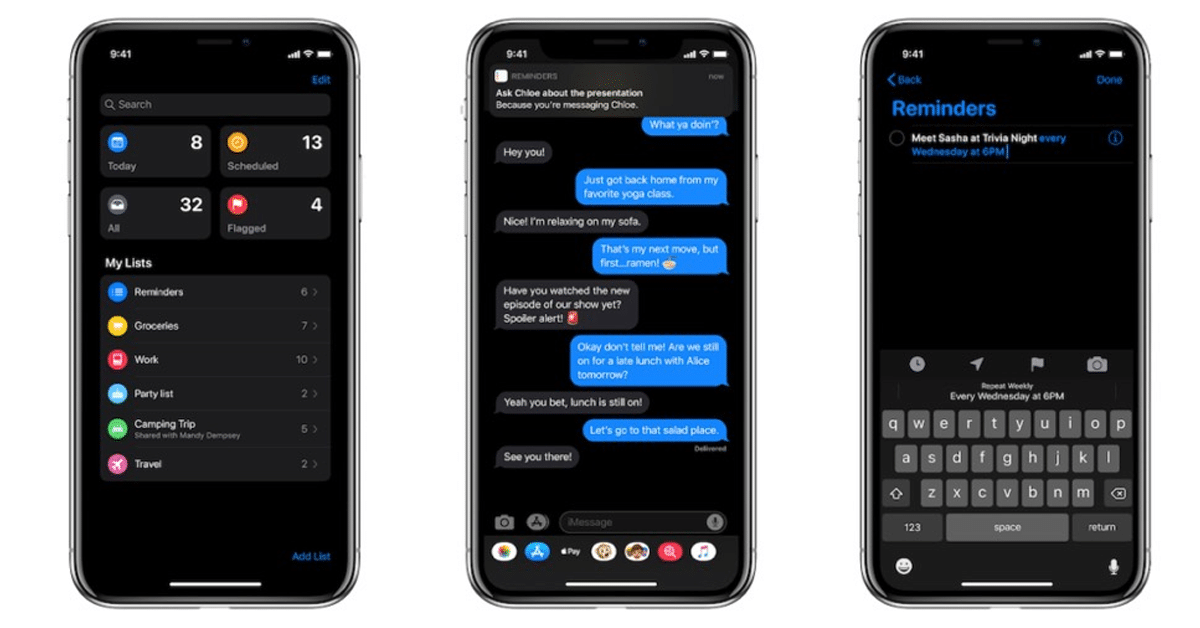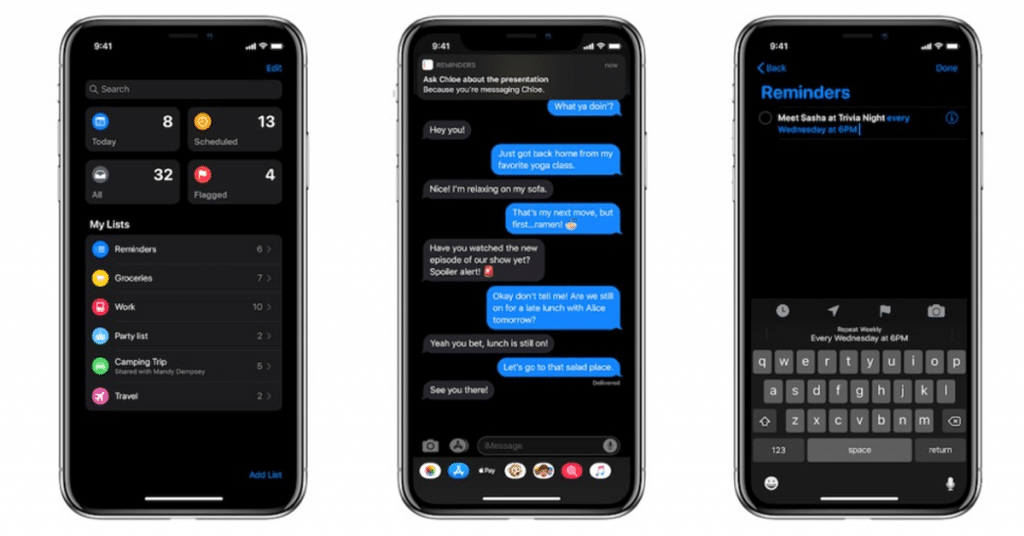 Overhauled Apple Maps
Of all the new iOS 13 features, Apple maps has by far seen the greatest improvements. Quite literally, Apple developers rebuilt the maps app from the ground up for the launch of its new operating system. When browsing the application, users are now given far more details about landmarks, roads, parks, buildings and more. But why stop there? In iOS 13, Apple has pulled out all the stops and included a street-view esque experience natively into the maps app. Using this feature, travelers can get a 360 degree view of locations they plan to visit. Alongside these updates, Apple has also given users the ability to share their estimated time of arrival through the map app. After selecting a destination, swipe up from the bottom of the screen. In this menu, select "Share ETA" and send the time to the desired contact.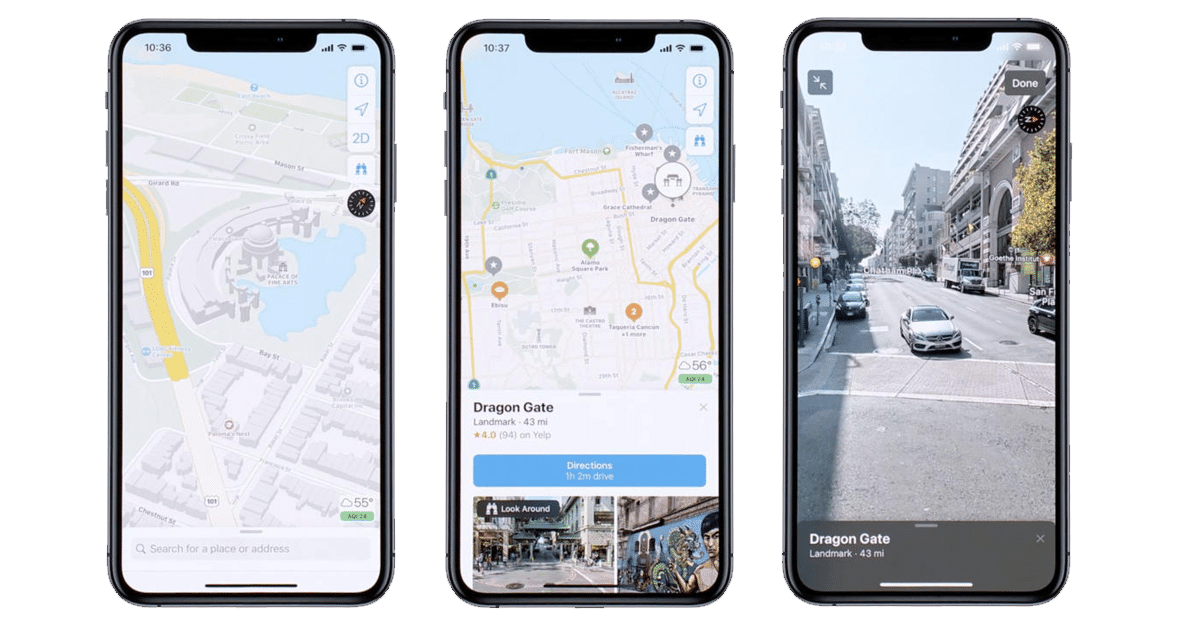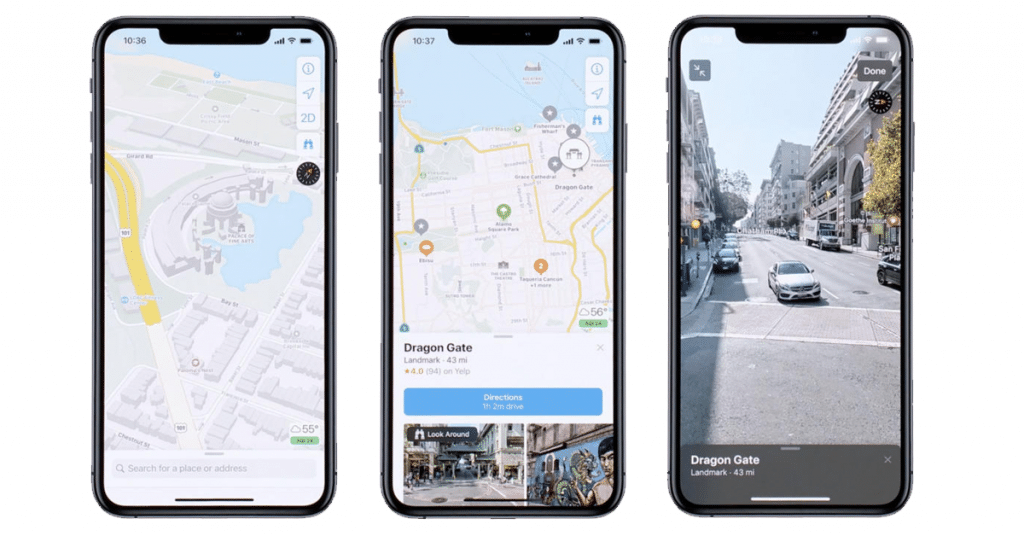 Finding Your Offline iPhone
Although Apple's Find My iPhone feature was released back in 2010, technology has come a long way in almost a decade. If a user happens to misplace their phone, Apple's newly titled "Find My" app can potentially locate the phone, even when it's unable to connect to Wi-Fi or a cellular network. That said, it's important to note that the success of this feature is dependent upon the helpfulness of other iPhone users. After the unfortunate iPhone owner reports that their phone has been lost on icloud.com, the Find My app gets to work. Using Bluetooth technology, lost iPhones are able to send notifications to nearby iPhone users. In return, the user who finds the phone can then share the device's location to the original owner.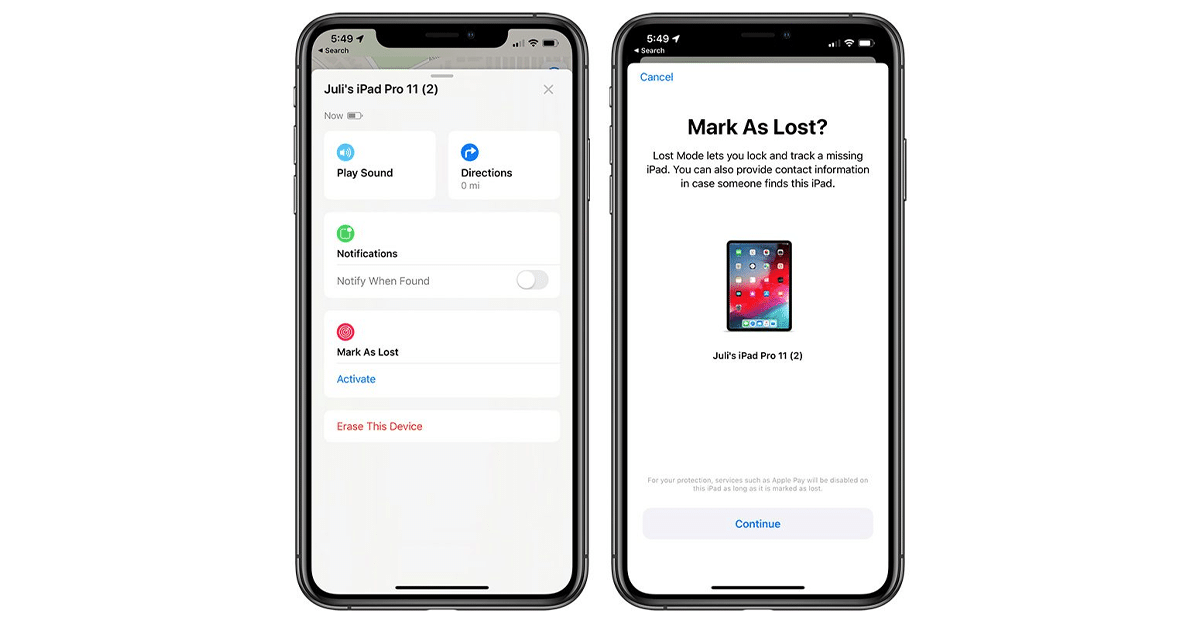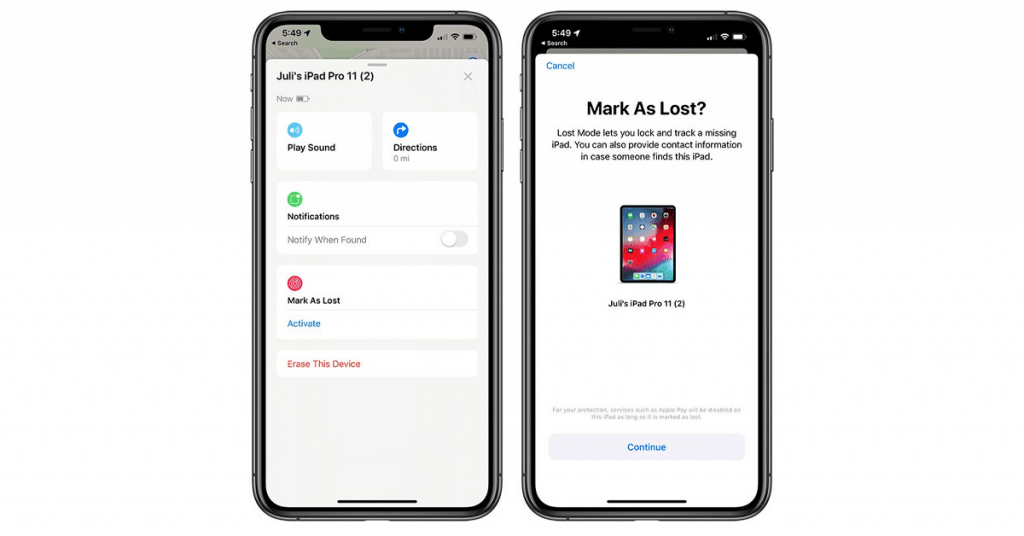 Updates to Photography and Videography
In regards to mobile devices, video editing can be somewhat limited – but Apple is looking to change that with this update. By giving iOS 13 users the ability to non-destructively edit videos natively in the photos app, content creators can apply filters, rotate whole videos and auto enhance videos – all while keeping the original content intact. On that same note, not only have changes been made to the way videos are edited, but new effects have also been added to still photography production. In particular, iOS 13's high-key mono filter takes a standard photo, separates the subject from the background, whitewashes the image, and creates a stunning black and white photo. To access this feature, open the Camera app in portrait mode. Then, slide the Portrait Lighting and aim the camera at the subject. Once the phone detects the individual's face, the filter will be placed into effect.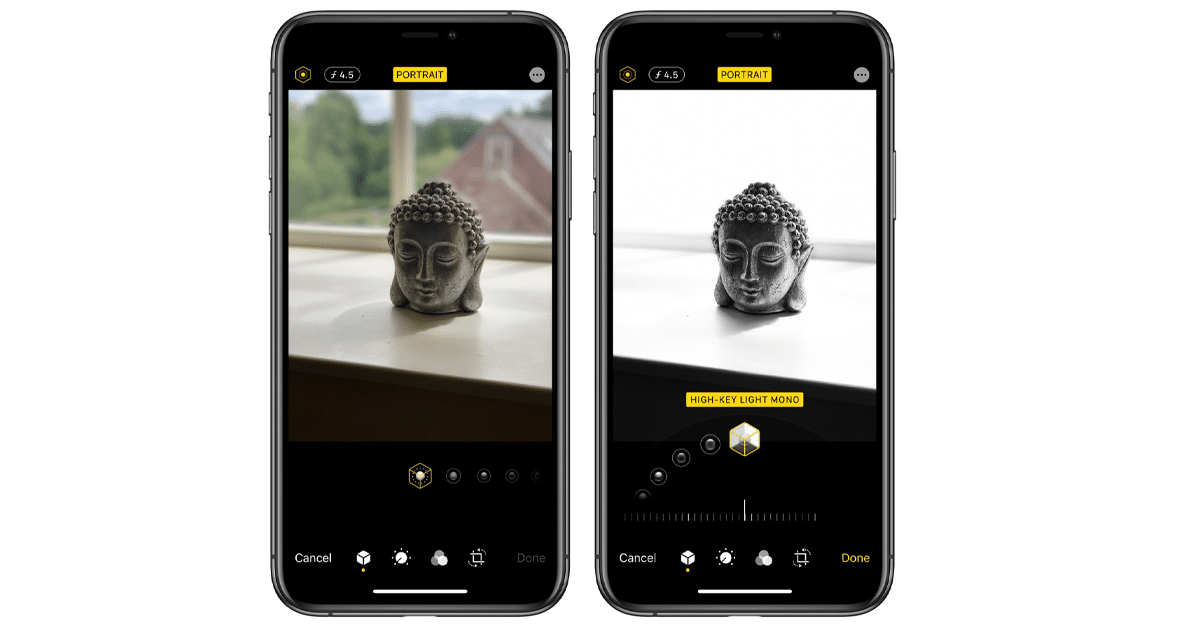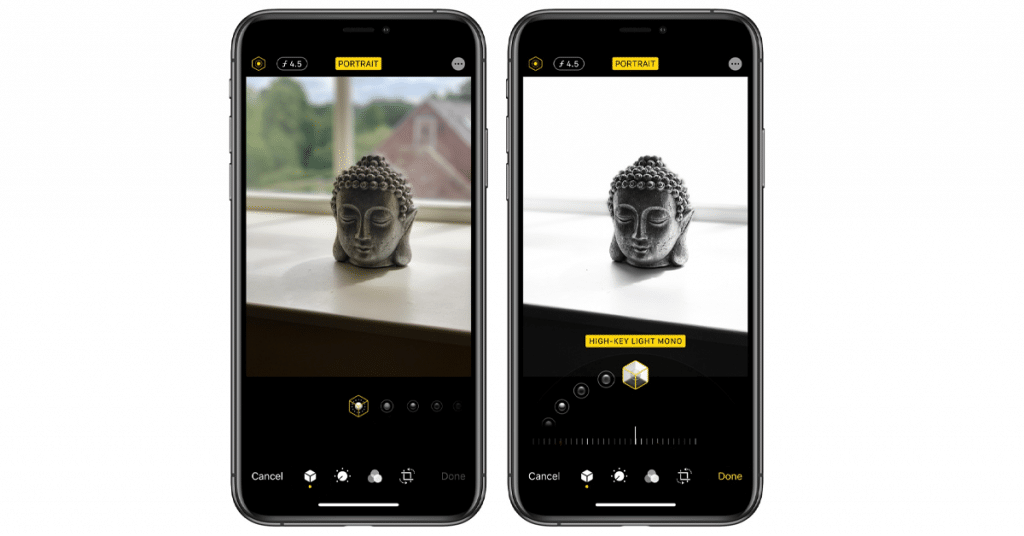 Xbox One and Playstation 4 Controller Support
Having offered Apple Music, Apple News Plus and Apple TV Plus in the past, it was only a matter of time before Apple launched a new subscription-based service to target the video game industry. Launching alongside iOS 13, Apple Arcade offers users over 100 exclusive games for $10 a month. While this is interesting for many reasons we will not get into, one positive note is that Apple's push towards mobile gaming means that iOS 13 fully supports the use of third-party bluetooth controllers. While Apple Arcade promises that a majority of its games will support both Xbox One and Playstation 4 controllers, it's up to other mobile game developers to do the same. That said, Epic Games, the developer behind the Fortnite phenomena, has already jumped on board and gives players the ability to use these controllers in-game. Pairing one of these devices is simple. Navigate to the iPhone's bluetooth settings, place the controller in pairing mode, select the controller from the list of devices and it's good to go.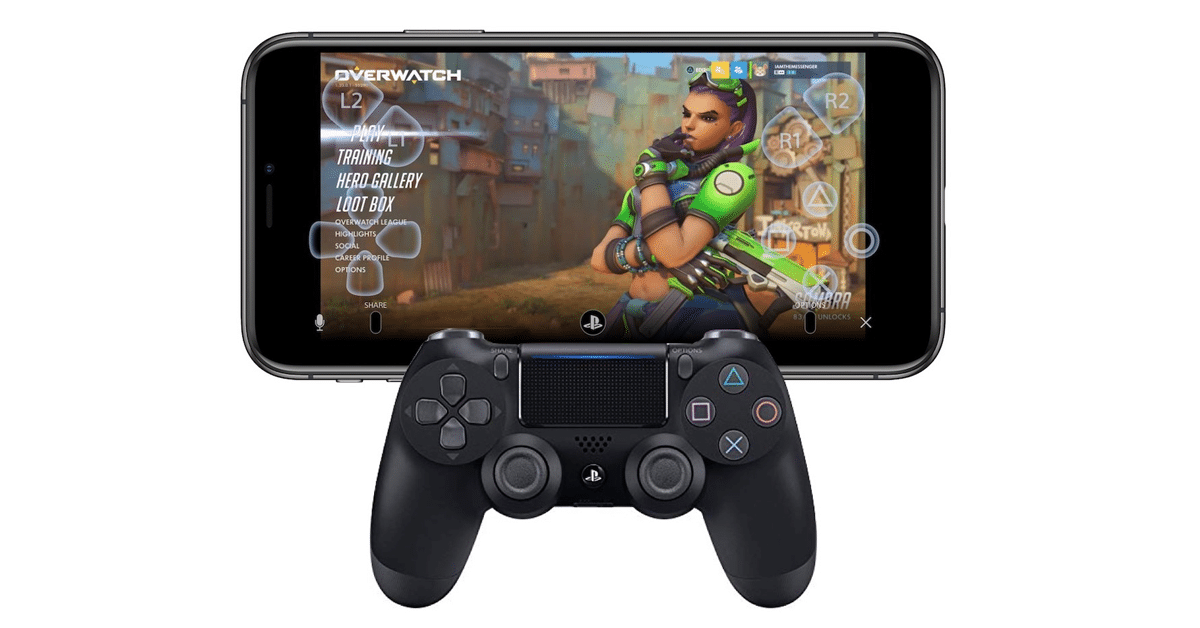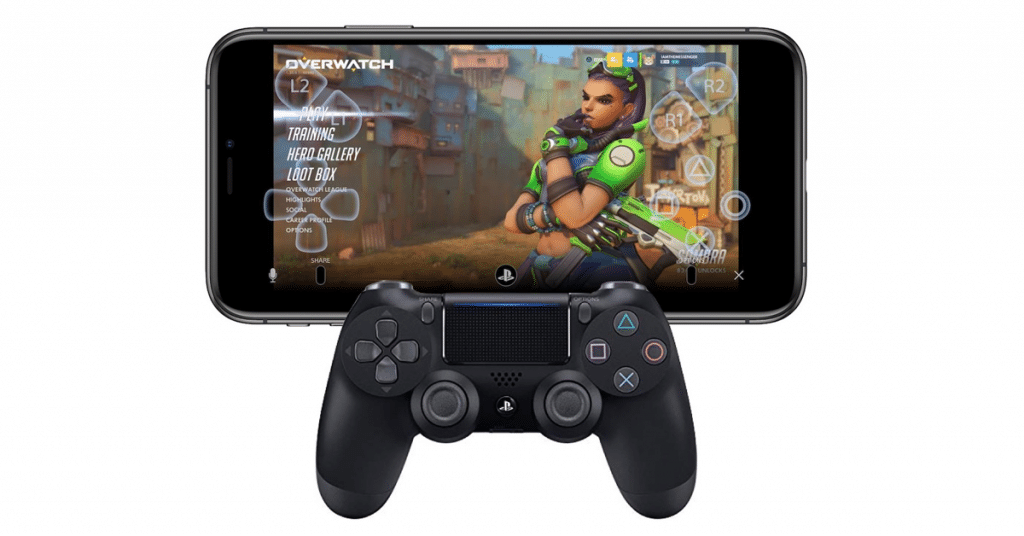 iMessage Contact Info
Apple is looking to make the sharing of contact information far more easier with the launch of iOS 13. Instead of manually entering another iPhone user's information in the contacts of a phone, iMessage now allows owners to link their contact information to the app. As a result, when one iMessage user sends a text to another, the recipient's iPhone automatically enters the sender's information. That said, users can choose to leave this information blank, should they not want their profile shared.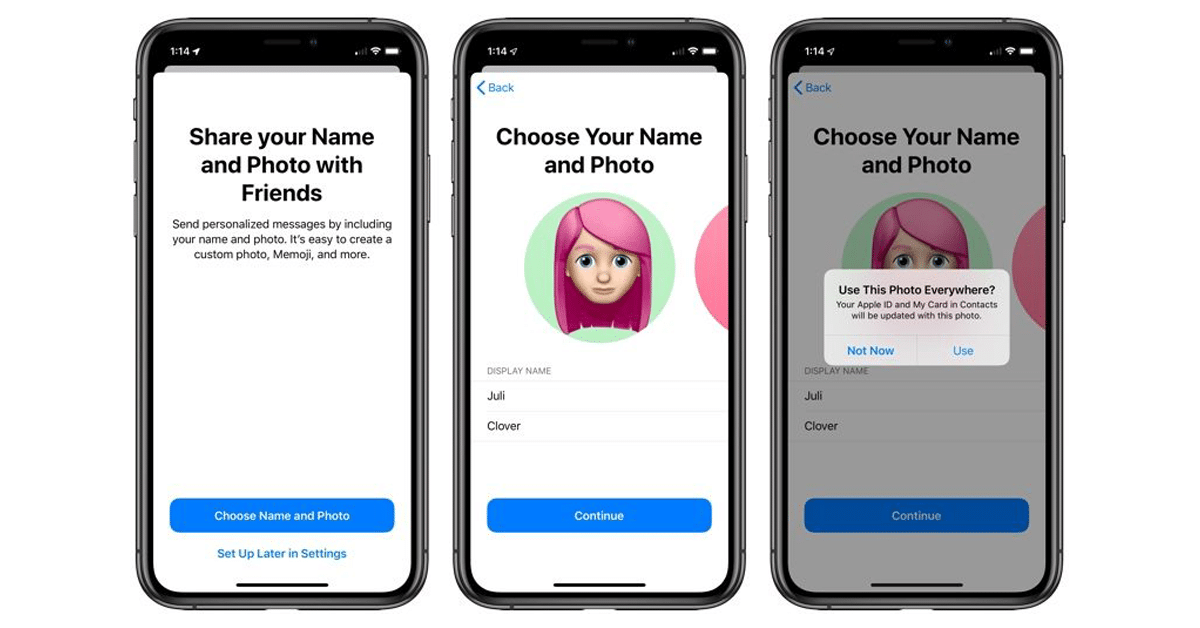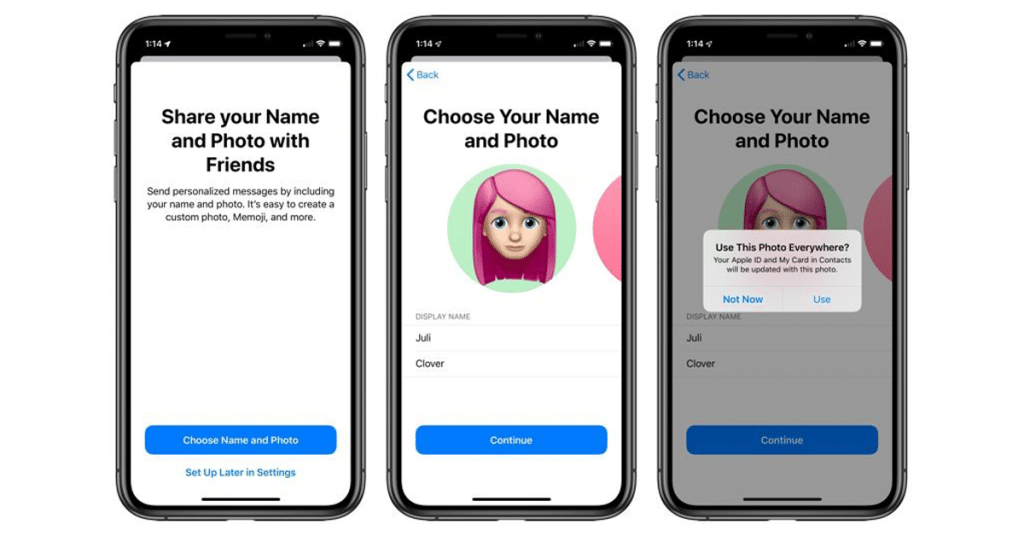 Type by Swiping
Although there are third-party applications that allow users to type messages by swiping across the keyboard, as opposed to lifting a finger to select each individual key, iOS 13 introduces this function natively to iPhone for the first time. While using this feature is dependant upon what feels most comfortable, swiping to type tends to be just slightly faster.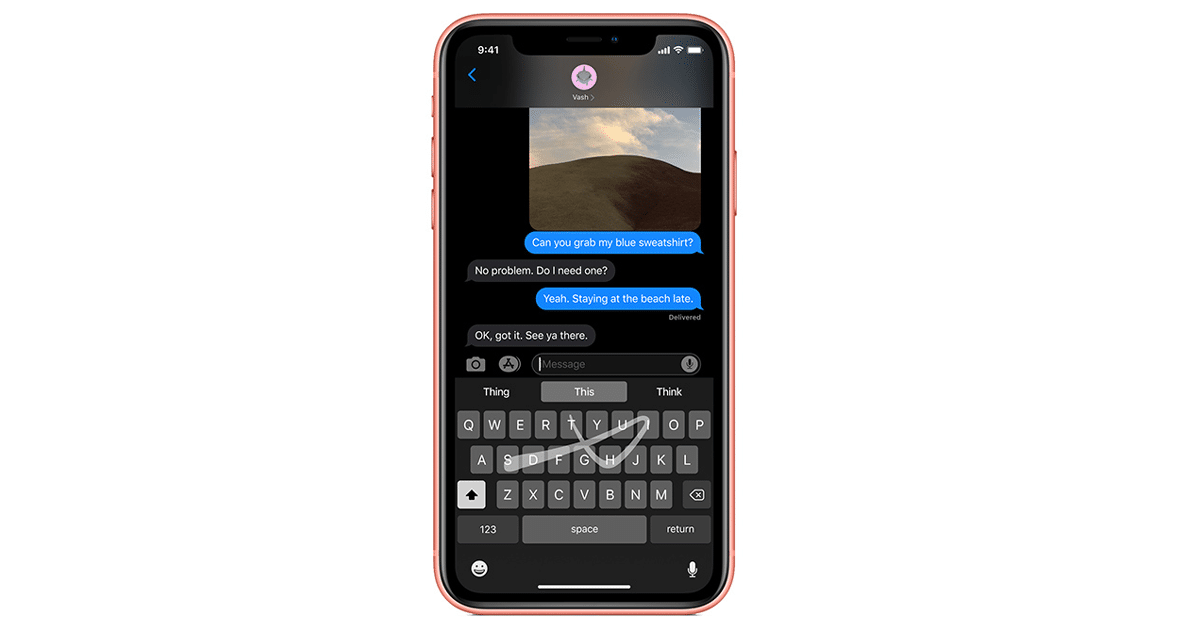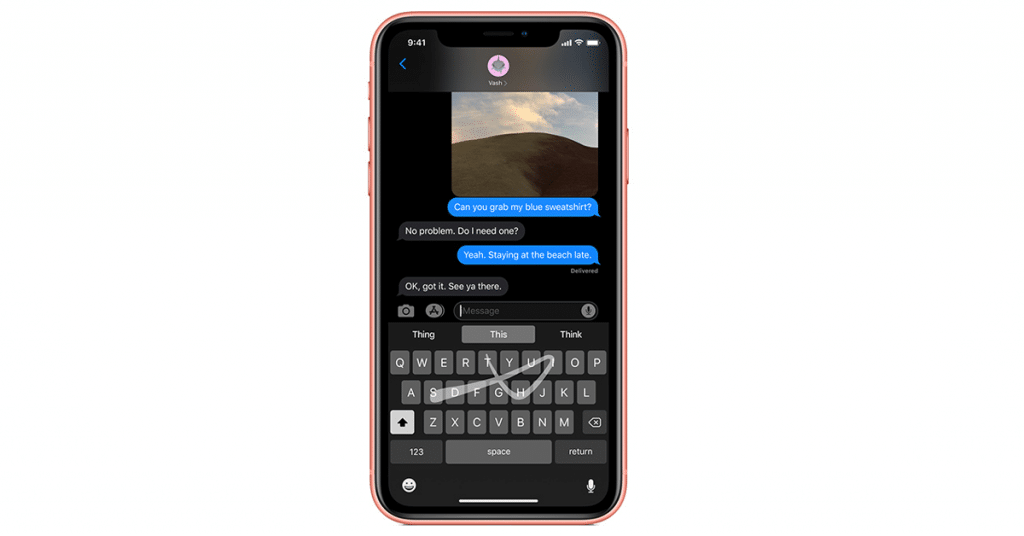 Mute Email Threads
For users that have overly active email channels, iOS 13 offers the ability to mute specific email threads, while still retaining the ability to receive messages from others. To enable this feature launch the Mail app, swipe left over the email thread that needs to be silenced, tap more, and select "Mute" from the prompt window.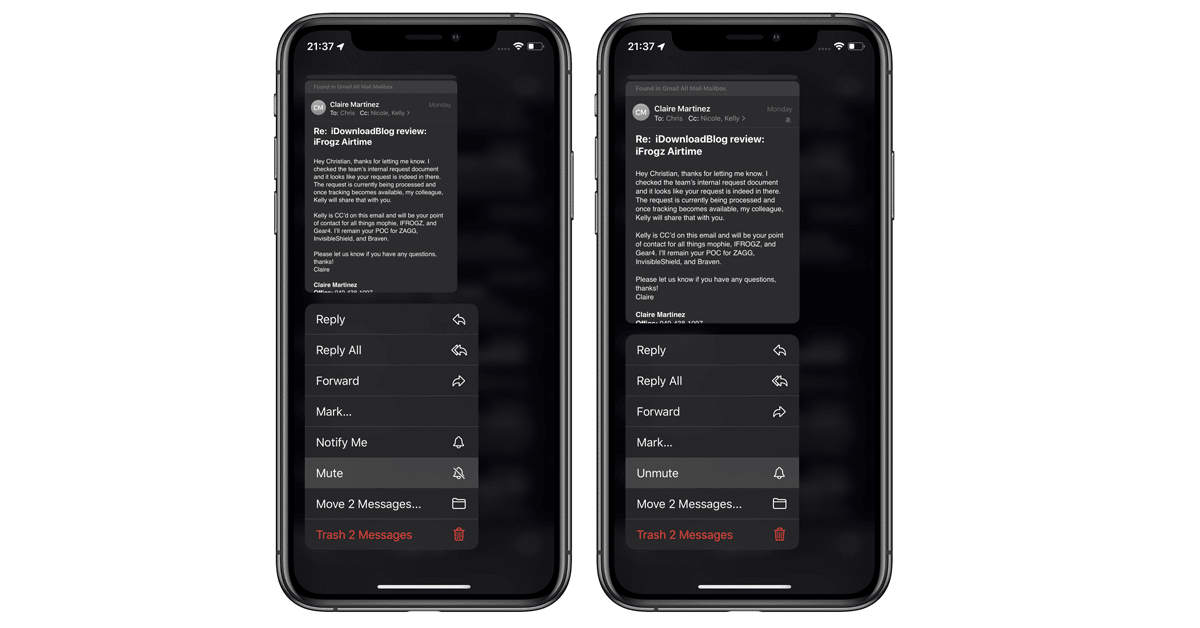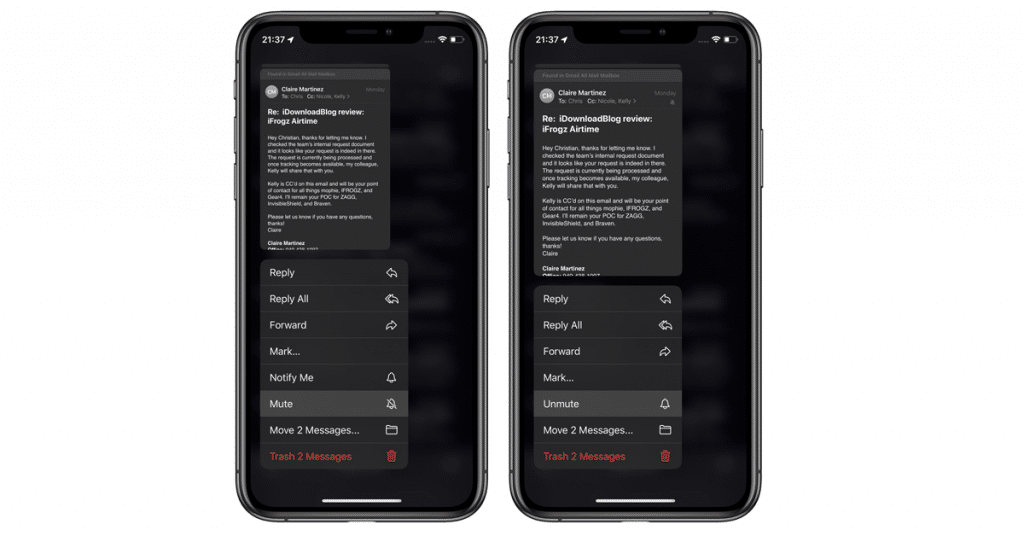 Silence Unknown Calls and Verify Call Legitimacy
Spam not only affects email inboxes, it also plays a toll the receipt of standard phone calls. Now, with robocall companies acquiring cell phone numbers through shady practices, it's important that smartphone owners use technology to their advantage. In iOS 13, users can opt to enable two new features to silence unknown calls and verify the legitimacy of those calls that do make it through. While silencing unknown does just what the title describes, automatically sending the caller to voicemail, verifying calls means that the device checks with the carrier to determine if the phone number has been spoofed. To check if a call is legitimate, look for a small check mark next to the caller ID.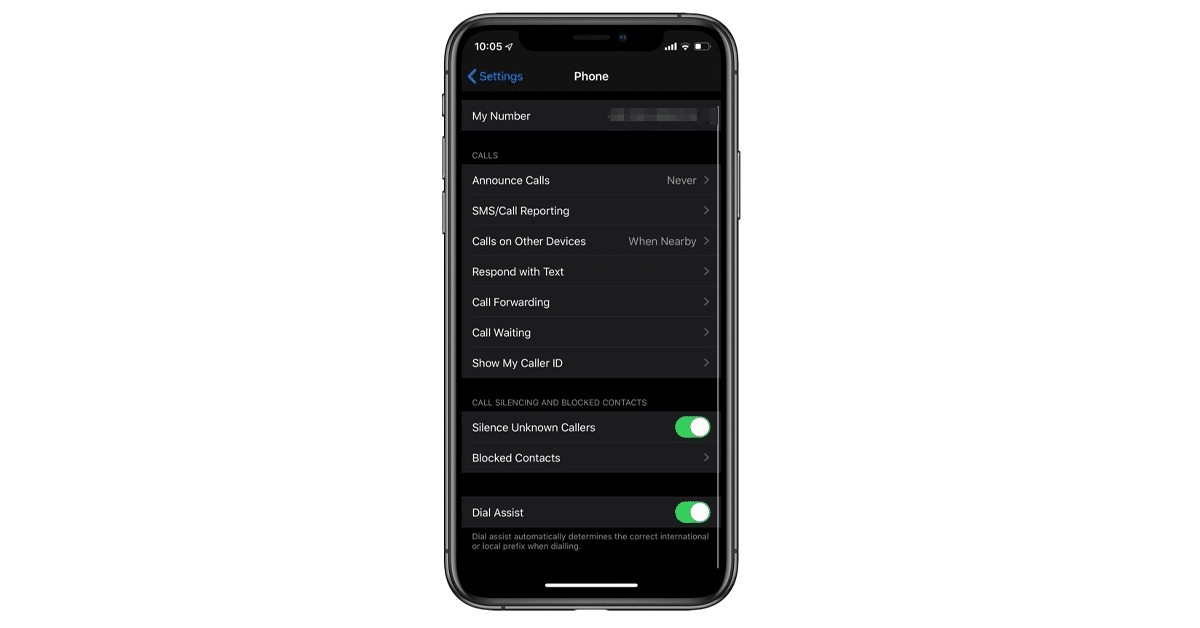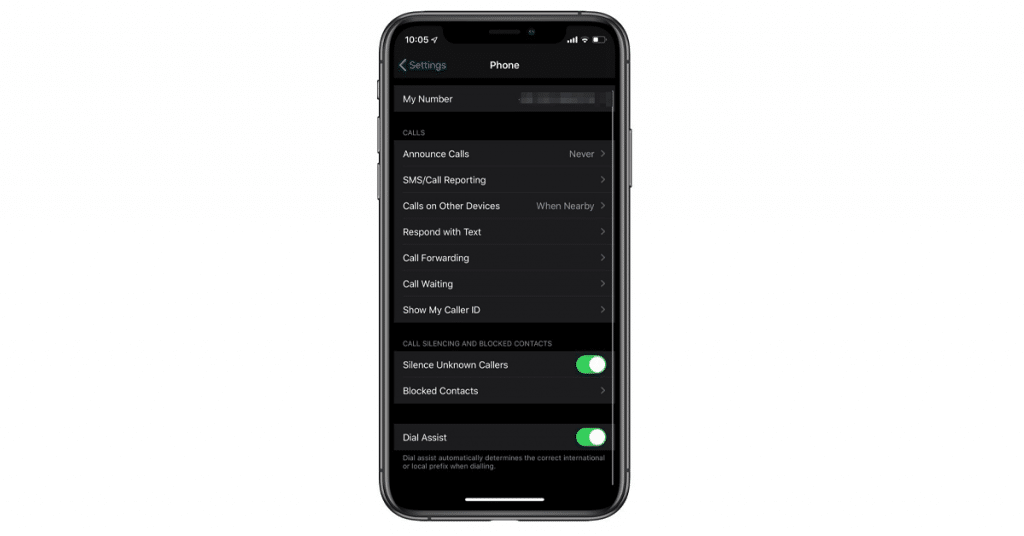 Weak Password Detection
Despite hacking methods becoming more advanced, one simple measure greatly mitigates the chance of an account getting breached – a strong password. In iOS 13, the Safari web browser natively includes a proprietary password checker. In return, when a user attempts to create an account with an easily crackable password, Safari will send a warning notification; suggesting the user try a different string of characters. For a complete guide on strong password characteristics and the impact they can have, check out this blog on passphrases. 
What iOS 13 Means for Security
As one may note from Apple's interest in motivating users to create strong passwords, iOS 13 places a heavy emphasis on the security and privacy of its users. Along with a weak password notification system, iOS 13 offers complete transparency in how both first party and third party applications are using consumer data. After installing most applications, users are prompted to select how often they'd like the app to collect their location information. While, in the past, this selection was limited to "never", "while using this app" or "always", iOS 13 gives users a fourth option. Now, when the app is initially launched, users can opt to have the app only collect their data at that exact instance, and halt all location services after that point. That said, if a user does decide to allow an application to always track their location, Apple will regularly present the user with a notification, showing where the app has tracked them. If the owner is not comfortable with this tracking, the setting can be turned off from this notification.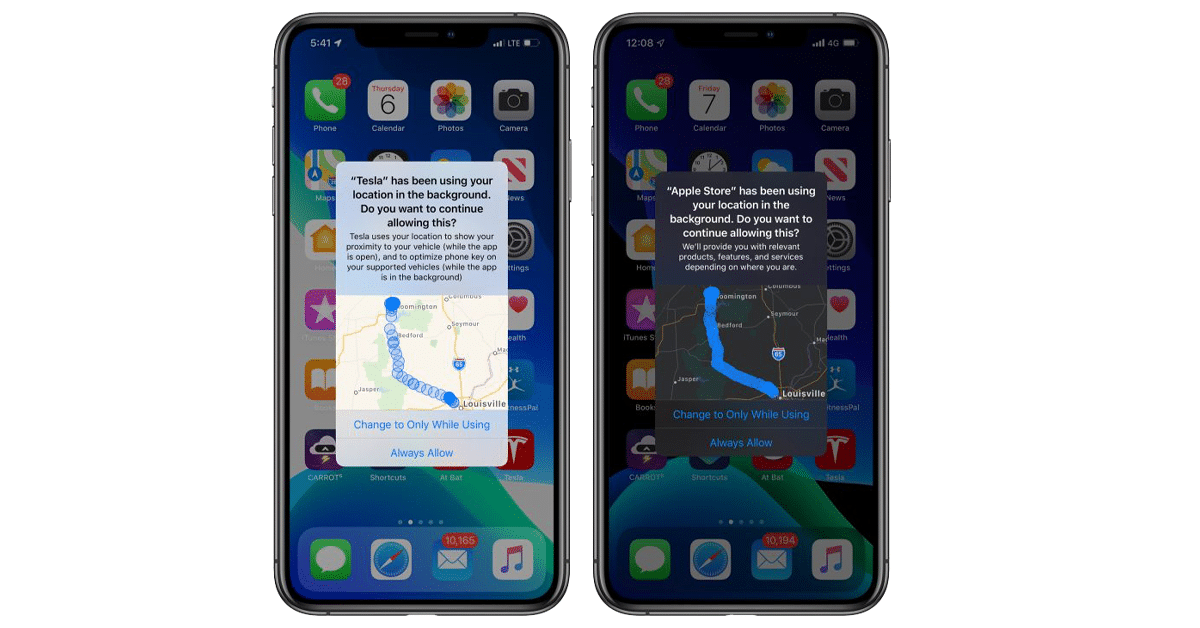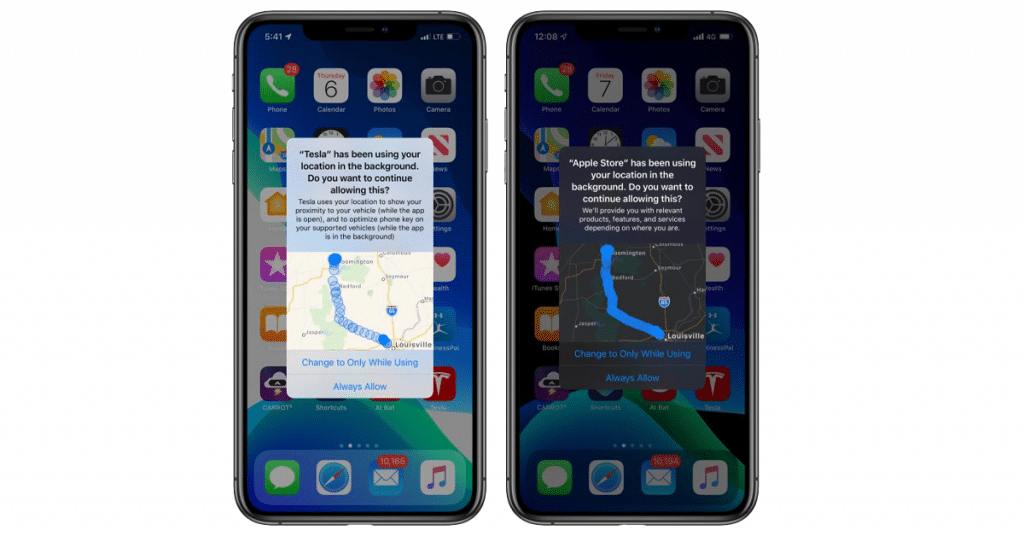 But Apple's focus on privacy doesn't cease there. iOS 13 allows users to sign into both applications and supported websites using their Apple ID. While Facebook and Google have incorporated this feature into sites for some time now, Apple promises that its services offers a significant improvement in security. First and foremost, Apple will not track how you use this feature to sign into accounts. Second, to use this feature a user must have multi factor authentication enabled via either Touch ID or Face ID. While requiring this extra step is a bold request of Apple, multi factor authentication is required to stay secure in today's digital environments. To learn more about multi factor authentication, check out this guide. 
As one may be able to tell, Apple has made it a point to truly listen to the needs of today's technology environment, while also taking consumer input into account. Overall, iOS 13 is a huge leap for Apple in regards to security, content creation and accessibility. And while it may take some time to effectively work out all the quirks of this new operating system, iPhone owners can rest assured that future patches will properly address these issues.