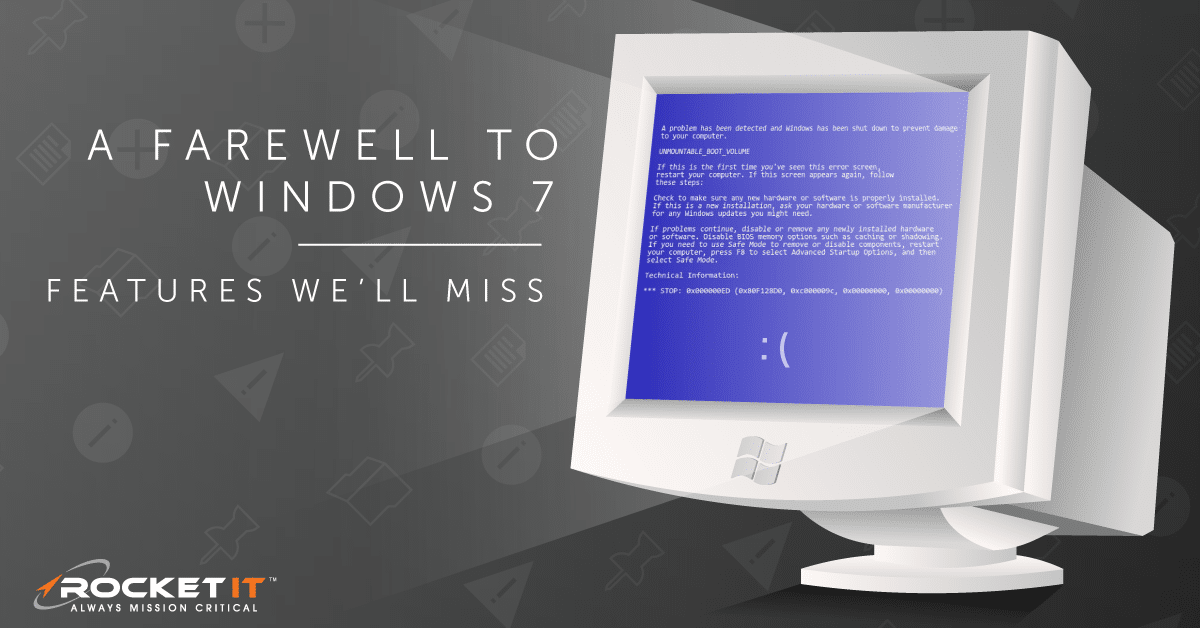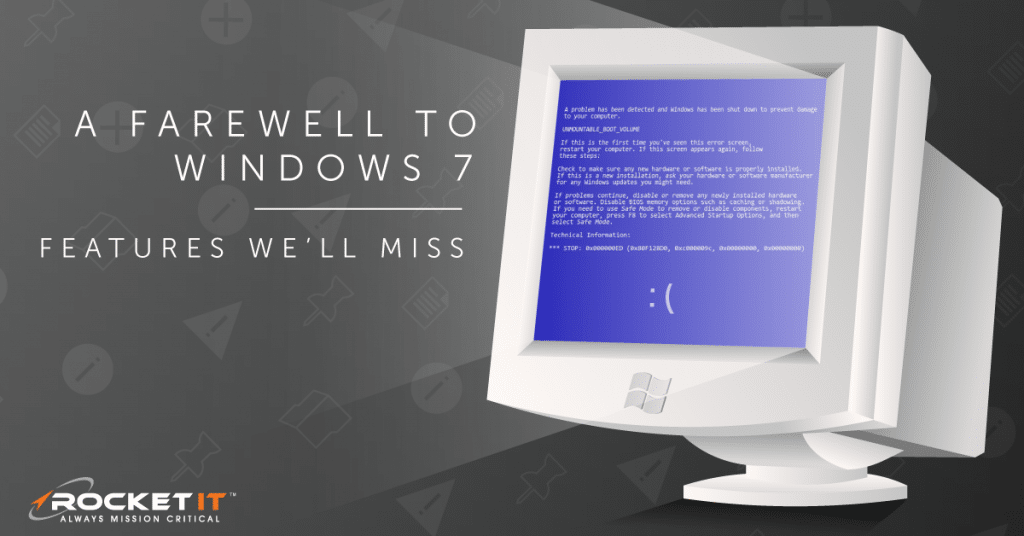 January 14, 2020 will live on in infamy as the date Microsoft ended support for its most widely adopted operating system: Windows 7.
But while the developer has quickly ushered PC users towards a new generation of computing power with Windows 10; it'd be a dishonor to lay this once beloved platform to rest without first admiring the features that were lost in the platform's upgrade.
A Word of Caution
Although the article you are about to read is likely to bring about fond memories of an operating system that harkens back to a simpler time of computing, know that it is high risk to use Windows 7 in its current state. Because Microsoft is no longer providing the decade-old OS with a steady stream of updates, Windows 7 machines will forever be exposed to security vulnerabilities and software bugs. Therefore, individuals should contact an IT professional and make the leap to Windows 10 before looking back on Windows 7 with rose tinted glasses.
Windows 7: How It Came to Be
Now, before reflecting on what made Windows 7 so great, let's first explore why it's had such staying power.
When Windows 7 was released in October of 2009, Windows Vista had only been on the consumer market for three years. In that short time, Microsoft was finding it hard to convince users to make the leap away from Windows XP: Vista's highly acclaimed predecessor. But whereas Vista only offered a few welcomed changes over its XP counterpart, the launch of Windows 7 added significant improvements that revived the seemingly stale OS.
So what ultimately drove the quick acceptance and appreciation for Windows 7? Simply put, PC hardware was rapidly advancing in the early 2000s, and neither XP or Vista were able to take true advantage of these modern machines. When Windows 7 was finally released, those who upgraded their devices were greeted by an OS intentionally built with this new hardware in mind. In turn, not only did this bring about a far more stable user experience (i.e. less crashing), it also allowed for the inclusion of many new features that Windows fans had been clamoring to see.
But whereas Windows 7 appealed to long-time users of the platform, the launch of Windows 8 just three years later sparked a very different reaction across the PC world. Not only did Windows 8 struggle to innovate upon the foundation Windows 7 had built, the technology community perceived the platform as a step backward for Microsoft. Out of the gate, people found the new operating system's user interface to be ugly and difficult to navigate. Additionally, third-party developers, especially those in the video game industry, had difficulty coding applications for the complex software. With all this negativity continuing to circulate, many Windows users decided to forgo the upgrade to Windows 8. In turn, Microsoft was left to support Windows 7 far longer than it expected.
Features We Will Miss
But despite Windows 10 valiantly remediating the concerns that Windows 8 brought about, many of the features we came to know and love with Windows 7 have seemingly vanished. So, before we usher in the reign of Microsoft's newest operating system, let us take a moment to honor the quirks and applications that have been removed to make way for new innovations.
Start Menu
When Windows 8 launched, Microsoft ditched the standardized Start Menu; replacing it with a collage of customizable tiles. Unfortunately, this would quickly become one of the major gripes individuals had with the operating system; due to the difficulty it brought about when searching for settings and applications.
Although the Windows 10 Start Menu still uses these "Live Tiles" to a lesser extent, it teters on a fine line between functionality and design. In particular, pinning an important file or application to the Start Menu creates a new Live Tile. Pin too many applications, and your Start Menu can begin to feel quite cluttered. On the other hand, Windows 7 took a list-based approach to pinning files and applications; keeping the look a tad more minimalistic. While both Start Menus are far from being the worst we've seen in years past, there's something to miss about the simplicity Windows 7 brought about.
Aero Glass
Without knowing, many people might assume the term "Aero Glass" has something to do with of aeronautical engineering. In reality, Aero Glass is a user interface change that came about in Windows 7.
When you open a panel on your Windows 10 enabled PC, have you ever noticed that the border around it is completely opaque? Well, it wasn't always like this. Back in Windows 7, borders around each open panel were semi-transparent; a huge step up from the toy-like design of Windows XP. But Aero Glass was more than just a simple cosmetic change. It introduced new functionality to the platform. And while Windows 10 has done away with the semi-transparent look we grew quite fond of, some of Aero Glass's more impactful features can still be seen in today's OS.
For example, Aero Peek is a function that allows an individual to hover over a taskbar thumbnail to preview an entire windows. Aero Shake gives users the option to click and shake an open window to minimize all other running applications. And finally, Aero Snap gives individuals the ability to drag an open window to the left or right edge of the screen; causing it to fill half the monitor.
Windows Media Center
Although listening to music, watching live TV and streaming content on your PC is something that many of us do every day; imagine having all this media in one centralized location on your Windows-enabled machine. This is the dream that Microsoft hoped to achieve with Windows Media Center. But unfortunately, the development team behind the project broke up in 2009; and the feature inevitably met an early demise with the launch of Windows 10.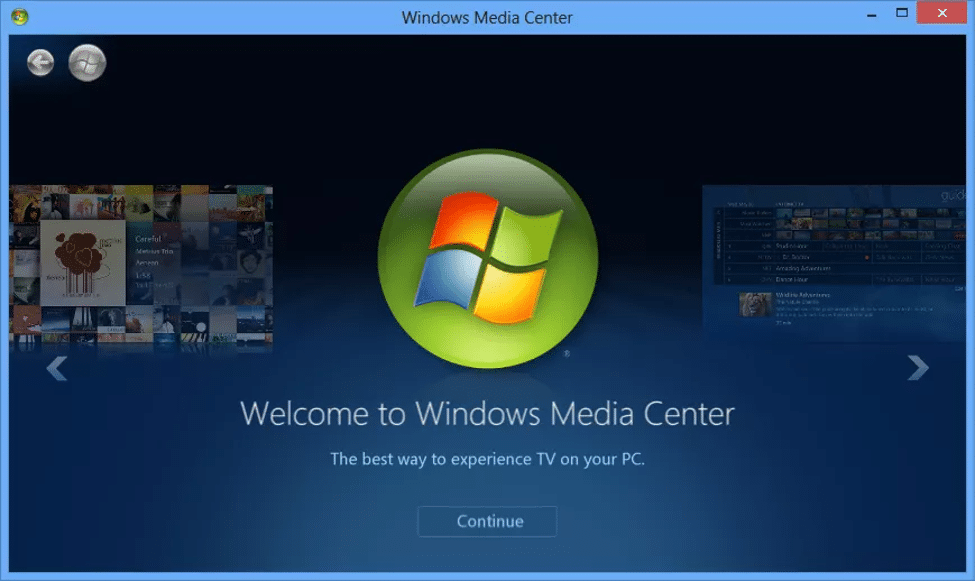 While WMC brought a variety of functionality to Windows 7, equipping a compatible computer with a TV tuner and hooking it up to an HDTV amplified the experience. Without the need to purchase a separate DVR, WMC could record, pause and rewind live TV. Additionally, pairing YouTube, Netflix, and other streaming accounts to WMC allowed individuals to search through a variety of content; without ever leaving the app and breaking the streamlined experience.
Desktop Gadgets
Now that the aforementioned Live Tiles have been reintroduced in Windows 10, individuals can quickly open the Start Menu to view weather, social media updates and more. But before Microsoft introduced Live Tiles to PC users, Windows 7 had a notable feature named Desktop Gadgets. This was essentially a series of widgets that users could drag and drop anywhere on their desktop.
While, yes, the information these Desktop Gadgets delivered is comparable to that of today's Live Tiles, Desktop Gadgets were slightly faster to use. Instead of scrolling through a plethora of pinned applications to find timely information, Desktop Gadgets could check the weather, monitor CPU usage, provide traffic updates for commutes, and even display live TV; all from the comfort of a desktop screen.
Although this feature has since been removed in Windows 10, Microsoft's decision to do so is understandable. Not only were the pre-installed Desktop Gadgets of Windows 7 plagued with security vulnerabilities; it was exceptionally easy for hackers to disguise malware as third-party Desktop Gadgets.
What Does the Future Hold?
Despite the nostalgia felt for Windows 7, it's important to remember that Microsoft has big plans for Windows 10. In the past, Microsoft withheld significant features until new versions of the operating system were deployed across its user-base. But now, because of the rapid development in wireless networks, Microsoft is able to disperse large updates without the need to continuously release new versions of its operating system. In turn, the company has made it clear that it is now offering Windows as a "service", rather than a stagnant software.
Since the operating system's launch in 2015, Microsoft has done an excellent job listening to consumer and third-party developer feedback; giving way to a finely tuned Windows experience. So, for those who have yet to make the jump to Windows 10, know that the future is bright. With that said, implementing Windows 10 upgrades on a company-wide scale requires far more technical knowledge than simply upgrading a single computer. To ensure your business's upgrade process runs smoothly and forgoes the chance of data loss, Rocket IT encourages you to give us a call at 770-441-2520.