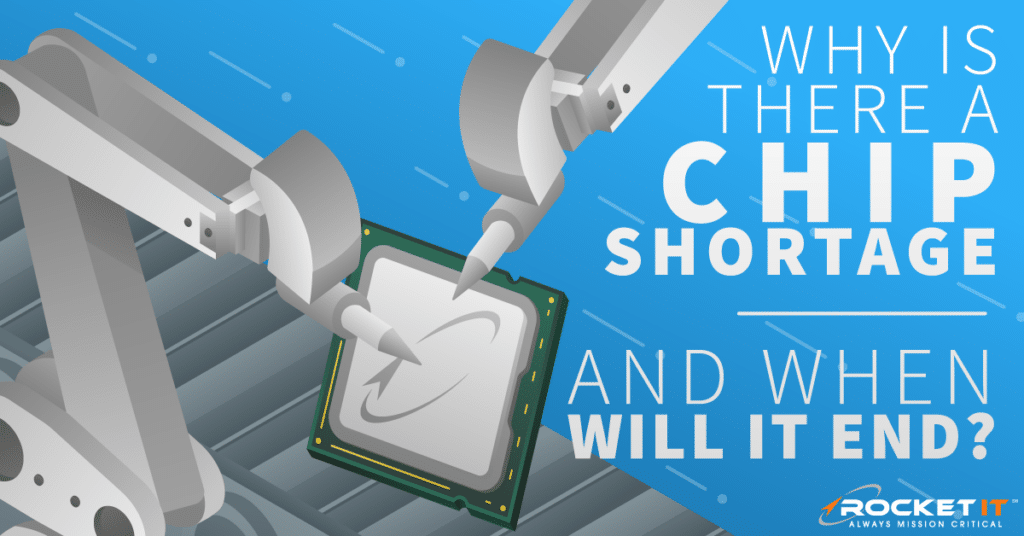 With the holiday season here, businesses are spending leftover budgets and consumers are after hot ticket items. But despite the demand for new technology, a global chip shortage is leaving prospective buyers with nothing but empty store shelves across the United States. Fortunately, Rocket IT is here to help you navigate this crisis and better your chances of acquiring this year's hard to find tech.
Why Is There a Chip Shortage?
Throughout 2021, the word "chip" seems to be quite a buzzword. But what exactly is this component that's been wreaking havoc on the production time of new technology? Chips, also known as semiconductors, are the brains that power nearly every electronic device in your home or office. Despite their requirement in most modern tech, these components are extremely difficult to produce and two companies in East Asia are tasked with making up to 70% of the world's chips.
As the COVID-19 pandemic began, manufacturers in East Asia closed their doors, completely halting chip production for multiple months. But this sudden stop in production didn't decrease the demand for technology. With many businesses shifting to remote operations, people were scrambling to acquire laptops and servers to support teams working from home. Additionally, with lockdowns keeping everyone inside, interest in video streaming devices, video game consoles, and TVs went through the roof.
But despite the ongoing needs and wants of individuals across the United States, chip manufacturers continue to struggle when fulfilling a backlog of order requests. In turn, this has led to lasting supply chain issues that are sure to impact your end of year purchases.
Technology Affected by the Chip Shortage
While the following list is not exhaustive, it's important to remember that any device requiring a chip could be affected by the shortage, making it difficult to find:
Computers & laptops
Monitors
Docking stations
Televisions
Tablets
VR headsets
Servers & switches
Smartphones
Video game consoles
Refrigerators
Washing machines
Cars
Expected Wait on Backordered Tech
For businesses specifically, organizations are facing long wait times for essential items, such as computers, docks, and monitors. Without the help of a third-party vendor, like Rocket IT, and their exclusive partnerships with manufacturers, some wait times are estimated to be as long as 120 days before the product is received.
Alongside the chip shortage, device manufacturers are now struggling to get their hands on other essential parts, like graphics cards (GPUs), circuits, and sensors. In turn, the average wait time for technology components has risen to an astounding 24 to 52 weeks. To put this into perspective, prior to these supply chain issues, the average wait was between four and eight weeks. Not only is this directly impacting the availability businesses tech, even life-saving healthcare devices, like pacemakers, have become incredibly difficult to find.
Why are Tech Prices Higher?
With the ongoing supply chain issues, you can expect to pay more for products, but why? Unfortunately, the increased demand and lack of supply has created the perfect environment for scalpers. Regardless of the tech you're looking to buy, it's likely that scalpers are using automated bots to snatch up the limited supply of products as soon as the manufacturer restocks them online. These scalpers are then listing their purchases on websites, like eBay, for up to three times more than the original retail price.
Fortunately, there are ways to avoid scalpers and ensure you're not drastically overpaying for resold technology. For years, Rocket IT has built partnerships with the leading brands and has priority access to certain products before consumers. When your organization is in a crunch for supplies, working with a trusted IT provider, like Rocket IT, gives you a value-added bonus by saving you time, money, and frustration.
When will the shortage end?
While there's no exact timeline for when the chip shortage will end, many experts suggest that the shortage will continue into 2023. 
More factories are needed to help solve the shortage, but building such a facility costs billions of dollars and usually take multiple years to start producing chips. To begin that process, leading chip manufacturer, Intel and the Department of Defense recently signed a deal to build two new factories in Arizona.
How to Navigate Shipping Delays
In the meantime, it's important for organizations to work with their IT provider to plan early and have patience when ordering inventory. With that said, here are a few basic rules to follow to ensure your team doesn't experience downtime because of supply chain issues.
Meet with your IT department regularly to schedule upgrades in advance.
Develop plans to extend the life of existing technology until new equipment can be received.
Keep an inventory of essential technology like laptops, docking stations, and monitors on hand.
'Tis the season to be jolly
Don't let the chip shortage take the joy out of your holiday celebrations. To receive proper guidance and quickly get the equipment needed to keep your business thriving, contact Rocket IT using the form below, or give our team a call at 770-441-2520.