April 7th, 2016 by Rocket IT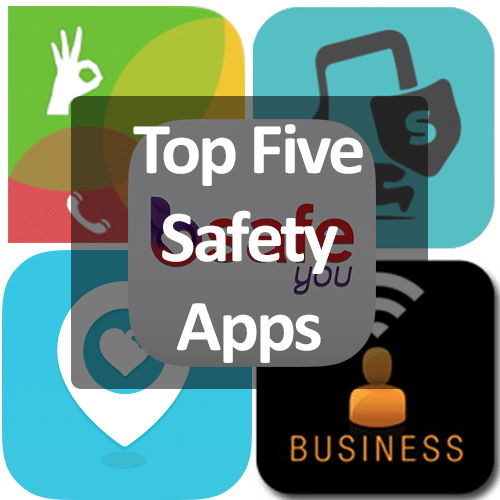 Thanks to mobile apps, we now have virtual personal assistants, virtual fitness trainers, and even virtual bodyguards. In growing live-work-play spaces where the main mode of transport is walking, and the attraction of big cities, personal safety is a growing concern. Proving there really is an app for everything, your phone can now act as a personal security system for you, your significant other, children, or even employees.
In an increasingly saturated market, finding the right personal safety app can be challenging. So we've done the research and picked out our top five personal safety apps.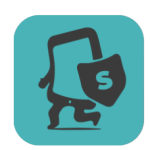 SafeTrek was actually the first safety app I heard about. You use SafeTrek by opening the app and holding your thumb on the safe button when you're entering a situation in which you feel unsafe. Once you release the button, you have a short amount of time to enter your 4-digit PIN to indicate you're safe. If you release the button and do not enter your PIN, then the local police will automatically be notified and given your location.
The great thing about this app is that if someone knocks your phone from your hand or demands you give it to them, you don't have to do anything further to notify someone you're in trouble. And, if you're in a situation where you don't feel safe revealing that you're contacting someone for help, you can do it quickly and discreetly.
Cost: Free for 7 days, $2.99/month, or $29.99/year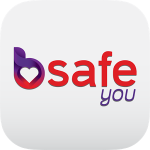 bSafe has some pretty unique and very cool features. Not only do you get unlimited contacts, but you can also add a siren to your personal alert that's activated via an SOS button. When the SOS button is activated, it broadcasts your location to your designated friends AND it starts recording video and voice that are stored securely on the bSafe servers and can be shared with the police.
If you're on your way home from your friends' place at night or traveling alone, you can use the I'm Here feature to check in and let your friends know you arrived safely by sharing your actual location with them. And if you don't check in via the app, they can check in with you to make sure everything's still okay. Jogging on a trail and worried about your check-in times varying? They also have a Follow Me feature in addition to their timer that allows your friends to virtually walk with you via a live GPS trace.
And if you're stuck in an uncomfortable situation, the bSafe app comes with a Fake Call option that helps you get out of awkward moments (please use responsibly).
Cost: There are both free and premium versions of the bSafe app. The Premium version was only available in Norway and Sweden at the time of this publication.

React Mobile has a great free app, but its biggest differentiator is its optional Sidekick Panic Button. The button can clip onto your running gear, your car keys, or your kids' backpacks. This Bluetooth button allows users to quickly send an alert to emergency responders when you're in a dangerous situation and can't reach your phone quickly. You can check out their button in action here.
From the React Mobile app, you have the option to send your live GPS location by sliding the circular control over to Follow Me. From here you can slide it to I'm Fine to let them know you're safe or slide it over to Help Me to request emergency help. Like bSafe's Follow Me feature, React Mobile allows your designated contacts to follow your location in real-time.
Cost: The mobile app is free, but the Sidekick Panic Button is $79.99. React Mobile designates 5% of all sales through their website to Take Back the Night.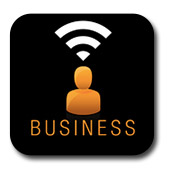 StaySafe actually has two versions of their mobile app, one designed for use by individuals and one for business use. Both versions allow you to choose the PIN to enter when you check in. If you don't enter your PIN when the timer counts down, an alert is sent. You have the option to extend the timer, end it with your pin, or hit the panic button at any time.
StaySafe also comes with a Duress PIN If you enter your Duress PIN instead of your regular PIN, then the tracking session will appear to end, but the app will actually send out an emergency alert behind the scenes instead.
StaySafe Business
StaySafe Business (for iPhone, Android, and Blackberry) tracks the location of solo workers in real-time and helps them check-in after meetings, onsite visits, and other travels. Employers can keep track of their employees' safety via the StaySafe secure online hub. Alerts are sent to the emergency contacts via text and email when employees haven't checked in, allowing you to check their safety. The Business version also keeps a history record on their secure server.
While StaySafe is a UK-based company, their services do extend to the US and other countries.
Cost: The personal version of StaySafe is $6.99. The business version of the app itself is free, but the features like the online hub have an additional cost.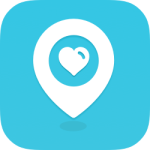 Watch Over Me is the app I would most recommend for travelers. Their Safer Streets feature alerts you when you enter a high-crime area and adds safety ratings to streets using official crime data, social data, and other sources.
When you put your phone in Watch Over Me mode, your emergency alert can be activated with just a shake. Even if your phone is locked, they'll turn on your alarm and video camera in addition to sending an alert to your emergency contacts. Because sometimes danger doesn't give you a moment to unlock your phone and make a call.
Unlike many of the other safety apps, Watch Over Me does not require a data or wireless connection. If you're ever in trouble, Watch Over Me has a Total Safety feature that will send automatic texts to your safety network, so they don't have to be online to protect you. Bonus feature, since Total Safety is a premium feature, you never have to pay extra for these text messages, even if you're roaming overseas, and you don't have to worry about them capping your SMS alerts.
Cost: The Watch Over Me app is free, but the Total Safety features come with an annual subscription of $4.99.
---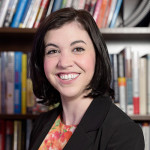 About the Author-

Jacque McFadden is the marketing specialist at Rocket IT. She graduated from Oglethorpe University in Atlanta, and returned to Georgia after spending a year in Austin, TX.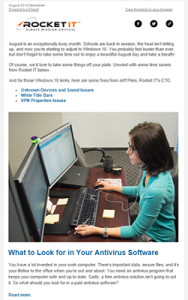 Want technology and leadership content sent directly to your inbox? Subscribe to Rocket IT's monthly newsletter!