Technology provides some amazing tools. We can contact friends and co-workers around the world with a push of a button. We can instantly send and retrieve data that once required trucks to deliver. We can monitor our business or home from nearly anywhere on the planet.
But is there a downside?
One of the most viral videos in the terminology's short history features a woman who walks straight into a fountain in a mall while blissfully texting. Unfortunately for her, a security camera caught the blunder. While the visual is entertaining, it also serves as a metaphor for our businesses. Sometimes we become so engrossed in technology that we plunge our business relationships into the water.
It's great having the ability to create a virtual meeting – using video conferencing to pull in those who otherwise cannot make it to a gathering. It saves time and money. In some cases, a meeting that would otherwise require weeks of advanced notice to hold in person needs only mere hours or even minutes virtually.
But we forget what's lost when we begin to put all meetings together with mobile devices and laptop screens. Nothing can replace face-to-face time. The cold feel of technology can be damaging in the workplace, especially with clients. We live in an age where people use text messages to announce major business decisions, client deals and even marriage proposals.
The art of a friendly hand shake, direct eye contact and even a little one-on-one personal advice is vanishing. But clients feel the difference between the companies that reach out to them via technology and those who connect the old fashioned way. It's nearly impossible to appreciate a person who sends an email as much as you would someone who drops by the office with a smile. An emoticon grin just isn't the same.
Technology is our livelihood. We love to see it make our jobs quicker and our connections easier. Our goal at Rocket IT is to make your technology so smooth and transparent that you barely notice it's there. But real human relationships require more than what technology alone can offer. Nothing is as powerful as a personal connection.
---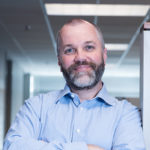 About the Author-
Matt Hyatt is the Founder and CEO of Rocket IT, the IT department for all kinds of organizations around Gwinnett. His award-winning firm provides both the strategy and support needed to help businesses thrive.
Matt currently serves on the Executive Board of the Gwinnett County Chamber of Commerce as the Vice Chair of Entrepreneurship & Small Business, is an active supporter of Gwinnett County Public Schools, and is a member of several peer groups (like Entrepreneurs' Organization) in addition to cofounding two of his own. In 2014, Matt was awarded the Pinnacle Small Business Person of the Year. 
Outside of work, Matt enjoys spending time with his wife, Maureen, and their two teenage children pursuing their shared passions for photography, travel, and food. He also regularly runs with a team in ultra-long distance relay races.