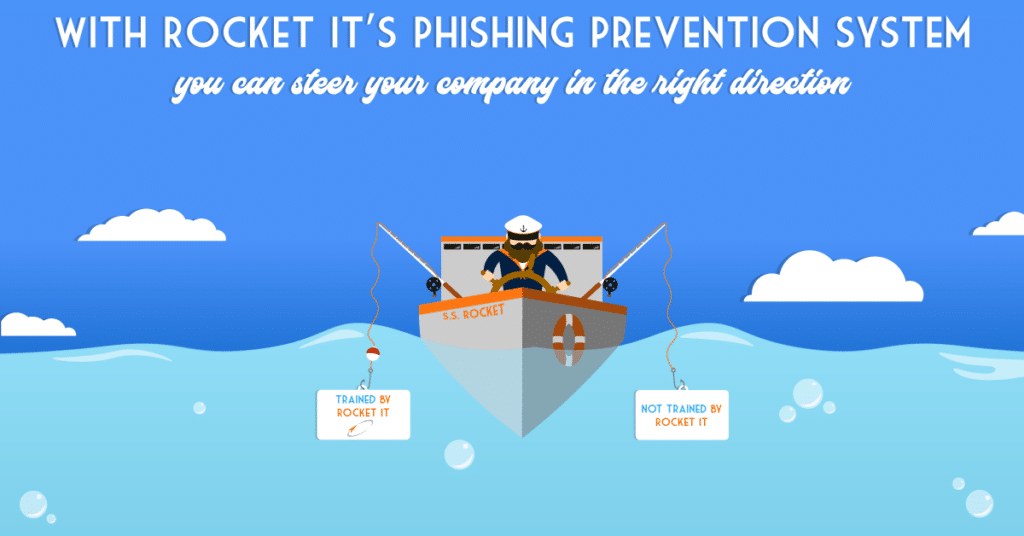 The Threat of Phishing is Real – Proact With A Rocket IT System Test!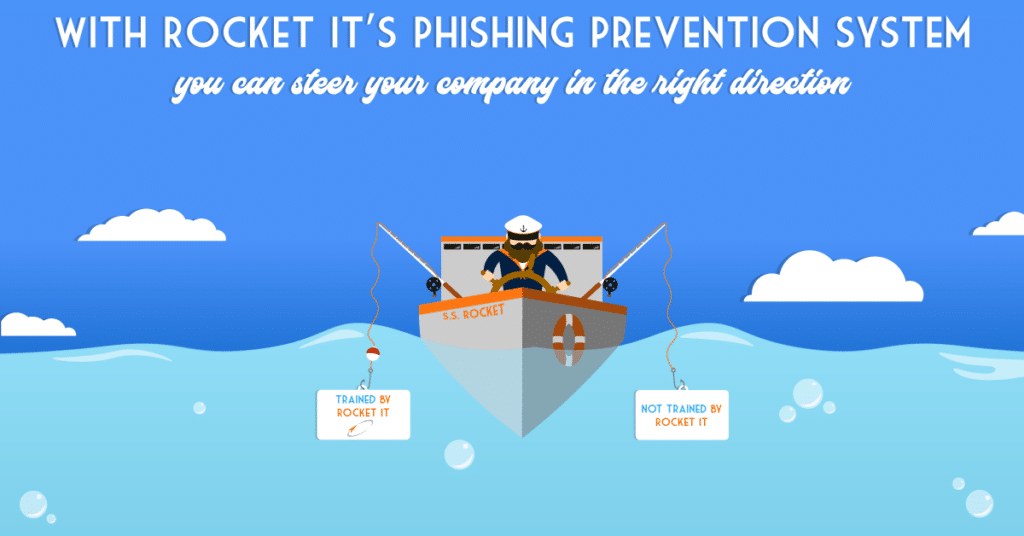 What Is Phishing (In Layman's Terms)?
By now, you've heard how major international organizations, local businesses and cities, and even your business associates have been hit by downtime, exorbitant costs, and data due to advanced phishing techniques.
At Rocket IT, it is a goal to cast a brighter light on phishing, and the negative impact it can have on a business and its assets.
If you're facing an issue today as the result of a phishing attack, or you want to trial Rocket IT's phishing prevention system, give us a call at 770-441-2520 to speak with one of our helpful and knowledgeable technicians.
So, What Is Phishing?
Phishing is a confidence scam, usually over email, where an attacker pretends to be a reputable authority and uses this authority to steal passwords, personal info, bank account information, or credit card numbers.  Additionally, it is can also be used to deliver dangerous viruses and other harmful software that could potentially lock all files on a network.
For most people, phishing is clicking a link you shouldn't, initiating an attack, and unknowingly sharing critical information when you think your connection is secure. The infographic, seen below, breaks down the different measures hackers can take to infiltrate your organization's network.  It's serious business and we highly recommend steering away from apathy on the subject.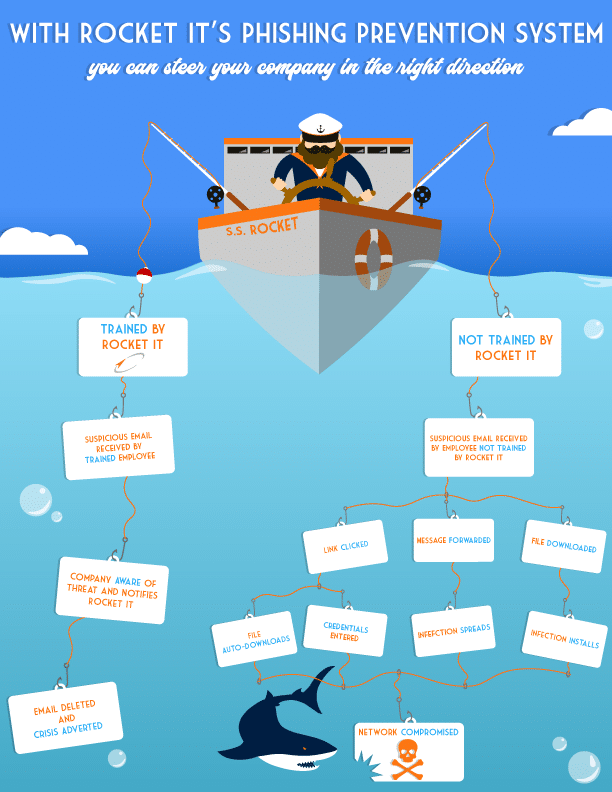 Why Should You Care?
How About Lost Revenue, Cyber Attacks, Private Data Breaches, & Reputation Trashing?
The risk of phishing is hidden – because the user believes they are responding to a legitimate email, often not realizing it was an attack until hours, days, or even weeks after the event.
As the sophistication and frequency of these attacks continue to evolve, unprepared businesses become easy targets, giving hackers access to a plethora of confidential information.
What's The Expected Rise In Occurrence?
Upon evaluating data from previous years, the shear number of phishing attempts our clients receive has continued to rise. By the end of 2017, an average user was receiving 16 phishing emails per month.  Additionally, in a study conducted by Wombat Security, 76% of organizations say they were impacted by phishing attacks in 2017.
A Phishing Horror Story Of A Business Who Quickly Became A Rocket IT Customer
Rocket IT isn't one to spread unnecessary fear, uncertainty, and doubt – but we regularly hear from exposed Atlanta small businesses, hours or days after a successful phishing attack on their organization.
Recently, Rocket IT rescued a company that was hit with an attack, leaving the infrastructure of its network completely encrypted. Because time is of the essence, we rushed in, restoring the organization's files, and had them back to normal business operations within 18 hours. That said, rectifying the problem is only a solution if it is capable of preventing the next attack.
Two weeks after we resolved the first phishing meltdown, the same person clicked *another* phishing email, once again locking the victim out of their files.
While Rocket IT values the opportunity to effectively resolve the affected organization's situation, the high cost of these attacks signify the importance of implementing precautionary security measures.
Breach Notification, Loss of Data, Loss of Work Time, & Unexpected Expenses
The fallout of these attacks can be extreme. The following problems develop regularly:
Loss of work time of a week (

or more

).

Loss of data and files.

Loss of customer relationship / eroding customer trust.

Expensive remediation and security projects.

Major stress and unnecessary emotional burdens.
When it comes down to it, phishing attacks can be harrowing. While, in a perfect world these events would cease to exist, Rocket IT believes the most effective response is to embrace this reality, set up systems and training to prevent it, and establish a recovery plan.
Is There Any Hope?
Fortunately, the IT industry is not sitting on its collective laurels – a massive amount of time and money has been invested into researching the most effective methods of preventing these attacks. Through these innovations, Rocket IT has meticulously refined its systems, tools and techniques, giving clients effective means to prevent security breaches.
In the upcoming weeks, Rocket IT will be regularly publishing articles on these initiatives, and the impact each is having on hampering phishing attempts.
Emerging, Affordable Security Platforms (Phishing Testing and Training)
Rocket IT focuses on providing highly actionable preventions, affording clients the opportunity to turn the tide on phishing attacks.
The core problem with phishing emails is many users, particularly less technical users, don't realize when they're being phished.
Rocket IT uses a training platform, that sends out harmless, simulated phishing emails. It then tracks the number of 'clickers', users that fell for the fake trap and clicked the email, allowing our team to effectively prevent future attacks.
For more information on this proprietary process, please visit https://rocketit.com/security-strategy/.
Rocket IT's Intends To Solve This Problem Starting With A Free Phishing Test Trial
Because these looming threats are real, impacting hundreds of organizations each year, Rocket IT welcomes prospective clients to schedule a free trial of our effective phishing prevention and response system.
If interested, please feel free to call 770-441-2520, or visit https://rocketit.com/ for more information.
It'll be your first step in preventing security breaches and building a strong network for business growth.