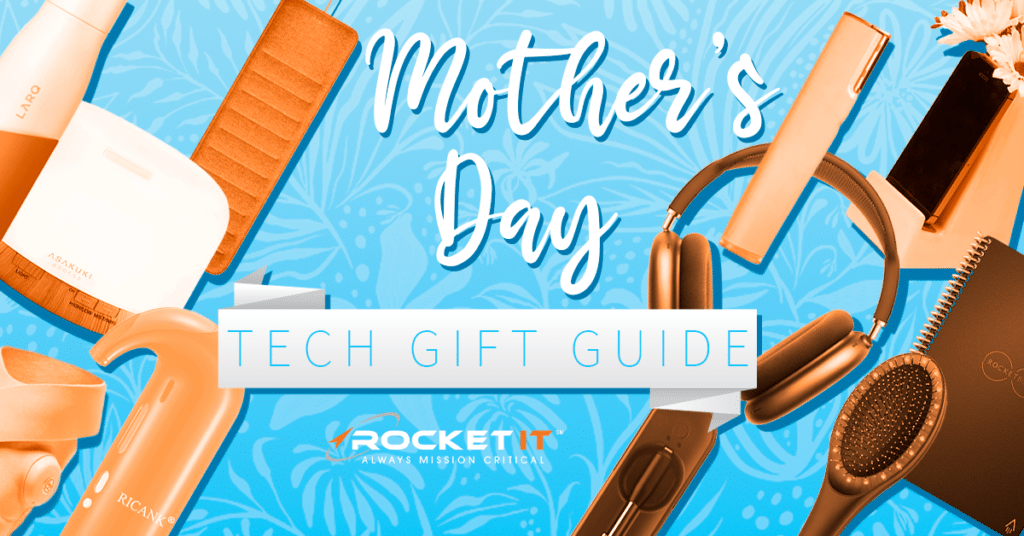 Mother's Day is a time to celebrate the women in our lives and shower them with appreciation for all that they do. But for those out there with modern moms, choosing a tech gift that they'll truly love can be all too difficult.
So, with the special day right around the corner, Rocket IT's Mother's Day Tech Gift Guide is helping last minute shoppers find the perfect gift by highlighting 10 items that balance fun and functionality.
First up, the LARQ Self-Cleaning Water Bottle uses UV-C LED light to kill up to 99.99% of bio-contaminants, bacteria, and viruses in your water and bottle. With the touch of one button, it automatically cleans every two hours to give you access to clean, safe water all day, making it 10,000 times more hygienic than regular reusable bottles. There are two different types of bottles, LARQ Bottle PureVis and LARQ Bottle Movement PureVis, 12 colors to choose from, and a full range of customization options. The LARQ Bottle PureVis is insulated to keep drinks cold for up to 24 hours and hot for up to 12 hours while the LARQ Bottle Movement PureVis is more lightweight for those moms on the go. Regardless of the option you choose, both bottles offer quick charging technology, with one hour of charging lasting nearly an entire month.
Next up, the Dermaflash LUXE Anti-Aging Dermaplaning Exfoliation Device painlessly removes dead skin cells, built-up debris, and peach fuzz to reveal smoother, younger looking skin. It is designed specifically for those moms with delicate facial skin and promises to address dullness, uneven texture, fine lines, wrinkles, and dryness. It also helps skincare products fully absorb after they're applied.
The set includes the device, five Edges, a Preflash Cleanser, and a Postflash Moisturizer to calm the skin after treatment. It is recommended to be used once per week. To start, use the Preflash Cleanser to create a clean base. Best of all, the Dermaflash comes packaged with ingredients that are free from sulfates and parabens, making it perfect for those that tend to have irritated skin from similar products.
For those new mothers out there, the newest generation of the Owlet Smart Sock keeps babies safe while they sleep by tracking their oxygen level and heart rates. Parents receive notifications both from the app and the base station if their baby's condition dips below the preset "safe" zones. This, in turn, reduces anxiety for parents and helps them sleep better.
There are three components of the monitor: the smart sock, the base station, and the smartphone app. The smart sock comes in two sizes to fit babies 5-30 pounds and up to 18 months old. It is BPA and lead free and small enough to fit under footie pajamas. On the other hand, the base station is designed to light up in various colors to signify warnings and help parents quickly tend to babies in need. Once fully paired with a compatible smartphone, the Owlet app shows an array of tracking data, such as total hours slept, number of times the baby woke up, and the quality of sleep received.
The Owlet Smart Sock is quick charging and promises a 16-hour battery life to ensure that the monitor won't fail when you need it most, even if the Wi-Fi connection is disrupted.
Every mom has a hairbrush, but does she have a hairbrush that gives her scalp a spa-quality massage? This Light and Massage Therapy Hairbrush combines LED light to increase blood circulation to hair follicles. In turn, the scalp is able to better absorb vital nutrients to produce thicker, more lustrous hair and mom can get some stress relief by just detangling her hair.
Wine Aerator | Keeping the Good Times Flowing
For a mom that enjoys wine, this electronic aerator pump gives great tasting wine with the simple push of a button. Through the automated aerating process, the wine's taste is enhanced, while wine left in the bottle is preserved to ensure a fresh taste in the future. Most notably, this aerator has a universal fit that works for every wine bottle and has a flexible tube to reach the bottom, so no drop is wasted. Additionally, for those moms looking to bring their aerator to their next wine night, the pump is easily detachable and comes with a portable carry case.
All moms have that special dish that everyone loves. But for recipes that call for perfectly cooked meat, it can be difficult for even the most experienced of chefs. Fortunately, this wireless meat thermometer does away with the guessing game. By connecting the thermometer to a smartphone via Bluetooth, mom can control cooking from up to 150 feet away. Furthermore, built-in timers and alerts regularly check the food and let her know when it's to flip the food, adjust the heat, and let it rest. With preset programs, it's easy to eliminate the guesswork for the correct temperature and time.
The stainless-steel thermometer monitors the internal temperature of meat, not matter how its prepared. And, with a battery life that lasts up to 25 hours, there will be a lot of meals prepared before having to use the magnetic charging station.  
Getting good rest is one thing that most moms wish for. The Withings Sleep Tracking Pad fits is a thin device that slides under a mattress to analyze the quality of sleep received. It tracks heart rate, detects snoring and breathing disturbances, and offers an advanced sleep analysis to help you understand sleeping habits. Through its integration with Amazon Alexa, mom can quickly manage her health and improve her quality of sleep.
There's no denying that everyone causes mom to stress, whether they know it or not. This Smart Wi-Fi Essential Oil Diffuser aims to alleviate that stress by syncing with smartphones, making it easy to choose between the seven LED lights, control the mist mode, and create a schedule to determine when the device should run. It has an estimated run time of up to 16 hours and has a safety feature to automatically turn off if there's not enough water detected. For more hands-free convenience, it works with Amazon Alexa and Google Home.  
Have a mom that's constantly hitting the store to ensure her home is prepped for company? The Rocketbook Smart Reusable Notebook keeps moms organized without wasting unnecessary paper. It is a 36-page notebook that can be used and reused time again by simply wiping it with a damp cloth. Even better, if you need your handwritten notes on the go, you can upload them to popular cloud services such as Google Drive, Dropbox, Evernote, OneNote, Slack, iCloud, email, and more by using the Rocketbook app. That said, keep in mind you'll need couple the Rocketbook with pens, markers, and highlighters that are specifically designed for the device. Finally, with sophisticated AI technology, you're able to search through previously uploaded notes to find the exact topic you're looking for.
For all the moms on the go, Apple has made it easy to run errands, clean the house, and corral the kids by eliminating the wired headphones. AirPods have a universal fit that's comfortable all day and are compatible with all your Apple devices. There are currently three models available for purchase: the AirPod, AirPod Pro, and AirPod Max. Keep in mind, each of the varying models come with a unique set of features, ensuring there's a style for every person. For example, if you're just looking for a pair of good quality wireless earbuds, pick up the classic AirPods. On the other hand, if mom is looking for an in-ear option with active noise cancelation, check out the AirPod Pros. Finally, if music is a major passion of your mom, Apple's new AirPod Max headphones offer a sound quality rivaling that of top-tier hi-fi headphones.
Bedside Smartphone Vase | Keep Mother's Day Flowers Fresh (Bonus Gift)
Last, but certainly not least, Mother's Day wouldn't be complete without flowers. For moms that enjoy fresh flowers, the bloom box combines fun and functionality so mom is greeted with a beautiful bouquet as soon as she checks her phone in the morning. It's the perfect size for any bedside table and doubles as a smartphone charger by threading the cord through the bottom of the handmade vase to keep it hidden amongst the pretty flowers.
If she's the chef of the family, has a newborn, enjoys an active lifestyle, or anything in between, we've included something just for her. Mom will be happy that you thought of her on this special day and, even though Mother's Day is only celebrated once a year, this guide isn't reserved for just one occasion, ensuring mom feels special all year long.