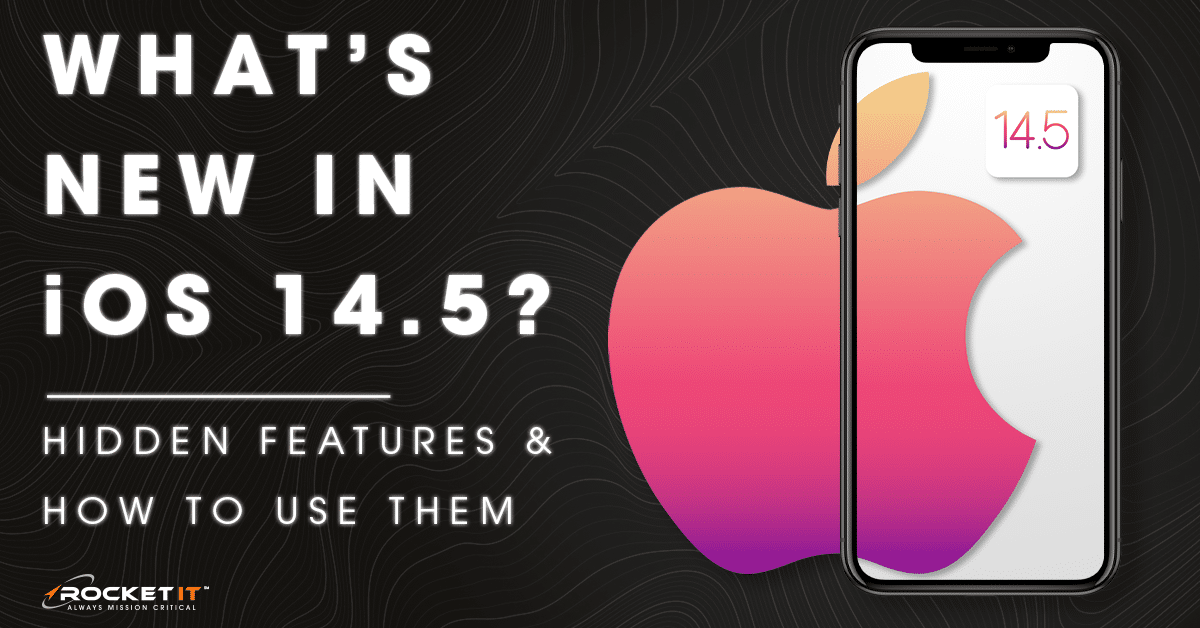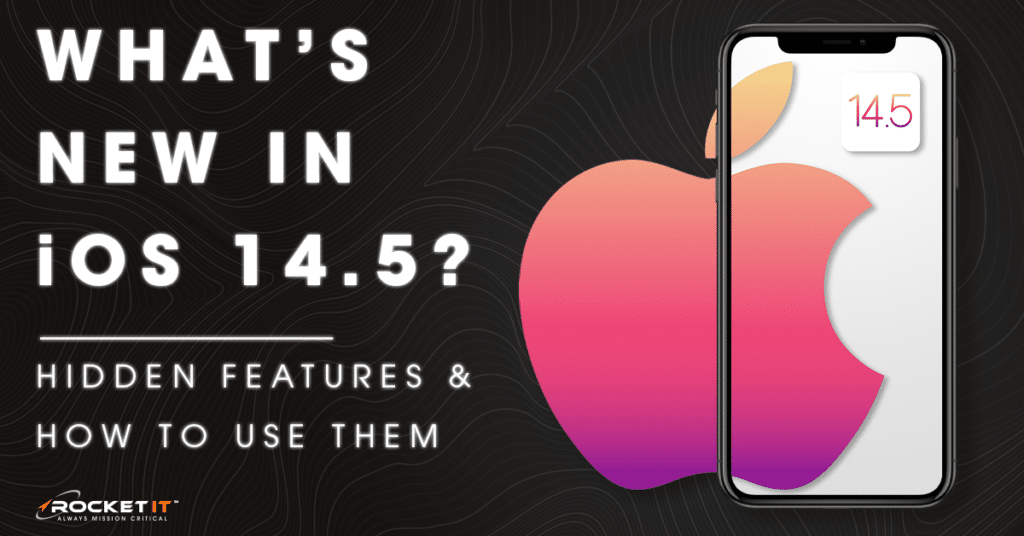 When iOS 14 released back in September of 2020, iPhone owners were eager to explore all the innovations that awaited in the new operating system. But Although iOS 15 may be on the not so distant horizon, Apple's newest iOS 14.5 update is jam-packed with helpful features that shouldn't be overlooked. So, while iPhone fans await the expected launch of iOS 15, here are some of the best iOS 14.5 features to date.
Best Features of iOS 14.5
iPhone Mask Support
With the release of iOS 14.5 and watchOS 7.4, you can unlock your phone with your Apple watch while wearing a mask. The new Unlock with Apple Watch feature in the Face ID & Passcode settings will make it easier to access your phone when out and about. Your paired Apple Watch will automatically be available as an option to turn on the feature.
Once turned on, your watch will act as a secondary authentication method when Face ID can't see your entire face. To use this feature the watch must be on your wrist and unlocked, authorized to unlock your phone, and in close proximity to your phone. A partial Face ID scan of your eyes aids the feature in working but does not work to authorize Apple Pay, App Store Purchases, or Face ID locks in other apps.
Crowdsourced Apple Map Routes
Apple Maps has gotten a revamp with iOS 14.5 to give drivers more accurate traffic data. As drivers travel along your route, they are able to report accidents, hazards, or speed traps in your area in real time.
As more people use the reporting feature, the more accurate and reliable time estimates and traffic stoppages become. To report an incident, click the info button at the top right of the map and click Report an Issue. Select Accident, Hazard, or a Speed Check and add the location, details, and even photos if you choose. This feature is also available for CarPlay.
iPhone Dual-SIM 5G Support
For those who need to keep their business communication separate from their personal communication, iOS 14.5 provides global 5G support for the iPhone 12's Dual-SIM functionality. This feature grants a user two lines of service on a single iPhone to make it easier to call and send messages. The status and signal strength of both carriers are indicated by the icons in the status bar at the top of the screen.
Siri Improvements
IOS 14.5 has given users more preference control over Siri, making the personal assistant that much more handy. Users who use Siri to play music know all about the frustration of having to manually open your streaming service of choice after Siri opens Apple Music by default. Now, there is an option to update your default streaming service. After installing the update, look for an option to choose your preferred audio service after you ask Siri to play something. Siri will learn your preferences and use that service going forward.
To set the default music app, call Siri by pressing the side button or by saying "Hey Siri" and then ask it to "Play music." The first time you do this after the iOS 14.5 update, you'll see a list of available audio options including Apple Music, Spotify, Pandora, and others. Choose the service you'd like to set as your default. Once you accept Siri's prompt to access your music app data, it will begin playing your song request.
Additionally Siri is now able to provide details for incoming calls that include the name of the person who is calling. To turn the feature on, first go into the Settings, click Siri & Search, and make sure "Allow Siri When Locked" is turned on. Then, click Phone, Announce Calls, and select one of the three options. In addition, Siri has made it possible to answer incoming calls hands-free by simply saying "answer" or "decline" when users are wearing AirPods or Beats headphones. Long gone are the days of saying "Hey Siri" to answer a call.
Improved Apple Music
Apple has enhanced the user experience by redesigning some aspects of the Apple Music display. There's a new slide feature to allow a song to be added to the Now Playing queue or the Apple Music Library.
The new "Share Lyrics" feature allows users to send lyrics and song clips to others via iMessage and Instagram Stories. To send a particular lyric, just press and hold to bring up the share options and choose the recipient. Note that this feature isn't available for all songs yet.
Unknown iPhone Tracking Protection
In a way to guard against being unknowingly tracked, iOS 14.5 includes an Item Safety Feature to notify your iPhone if an item tracker such as an AirTag as been placed on your device. You can then disable the tracking device in the Find My app and prevent your location from being shared.
Older iOS 14 Easter Eggs
iPhone Home Screen Widgets
All good things must come to an end. And with iOS 14, iPhone users must say goodbye to the long-standing grid layout from years past. In this new generation of iPhones, Apple is switching things up with widgets for both first-party apps and a variety of third-party developer software.
In the past, widgets were restricted to what Apple called the Today View tab; which can still be accessed by swiping to the far left page in iOS 14. But with the launch of Apple's newest operating system, the company is looking to give iPhone owners far more control over their smartphone's customization features. In turn, widgets can now be dragged and dropped onto any page.
To accomplish this, press and hold any blank space on your iPhone's screen. Clicking the plus icon that appears in the top-left will allow you to select from a few different widgets that come standard with every iPhone; such as one for photos, maps, notes, music, and weather. But that's not all. If you look closely at the first widget presented when opening this menu, you'll notice something called Smart Stack. Dragging this onto your home screen gives owners the ability to quickly rotate through information from multiple apps inside a single widget.
iPhone App Libraries
But widgets aren't the only drag-and-drop feature that received an overhaul in iOS 14. If you've used an iPhone in recent years, chances are you've dragged and dropped apps into folders to help keep things neat and tidy. But what if we told you that you no longer need to do that, and that Apple does all the heavy lifting for you? With iOS 14 comes a new default screen, known as the App Library.
To find it, simply swipe from right to left and go past your last page of apps. On this new page, you'll find that Apple's artificial intelligence has automatically grouped your apps by category. Better yet, for those individuals that find themselves fumbling through pages of installed applications, this page makes it slightly easier to find the app you're looking for. After swiping to the App Library page, tap the search bar at the top and begin typing to quickly select and load any installed application.
iOS Page Hiding
Now, you may be asking yourself, if the App Library feature exists, do I even need to continue using the original grid system at all? While the answer to that question is entirely up to you, if you're a minimalist at heart, you're going to want to rid yourself of cluttered app pages. Fortunately, iOS 14's new page hiding feature does just the trick.
To hide an entire page of apps, tap and hold any blank space on the screen, then select the icons with three dots at the bottom of the page. Uncheck and pages you no longer wish to see and you're good to go. With that in mind, remember that you're going to need at least one page of apps or widgets to serve as a home screen on your device.
iPhone Picture in Picture
For years, iPad owners were able to minimize videos, drag them to the corner of the screen, and continue watching while navigating through other applications. Now, that feature is making its way over to iPhones via iOS 14.
But before getting ahead of ourselves, don't expect this new feature to work with every video application. At the time of this article's writing, Picture in Picture is only available while using Apple's first-party apps; such as Safari, Apple TV, and FaceTime. That said, Apple has provided third-party app developers with the allowance to include Picture in Picture settings within their own applications.
After opening a video in a compatible app, the Picture in Picture icon will display itself in the top-left corner of the screen. Tapping this will minimize and open the video in a new window; allowing you to drag, drop, and resize the video to your liking.
iPhone YouTube 4k
Apple's first-party video services aren't the only apps getting an upgrade in iOS 14. With YouTube content now being consumed more than ever, 4k video streaming has made its way onto the app, and it's safe to say this is a welcome addition to any binge watcher's streaming arsenal.
Simply open the YouTube app, play a video, select the More icon in the upper-right, and change the Quality to 2160p. For those with newer generation iPhones, this should make a vast improvement in video quality on your retina or OLED display. That said, be aware that YouTube 4k streaming is being rolled out in phases, and it may not yet be available on your device.
Apple Message Pinning
Ever find yourself struggling to find an important text conversation after it gets buried with clutter and spam? With iOS 14, those days will soon be far behind you. Using a feature known as Pinning, messages with individuals and groups alike can be pinned to the top of the messaging app. This can be extremely helpful when for those that find themselves contributing to the same conversations on a regular basis.
To pin a message thread, open the Messaging app and swipe from left to right across any conversation to display a yellow pin icon. Tap that icon and your message thread will always appear at the top of the list. As of the time of this article, you can have up to nine conversations pinned to the top of the messaging app.
iOS Compact User Interface
As mentioned before, iOS 14 offers a much needed push towards organization and minimalism on iPhone devices. To accomplish this, many standard notification features have been minimized, as to not interfere with your productivity. Most notably, incoming calls and Siri requests that once took over entire screens now appear in a compact form.
For example, when receiving a call, a slim bar appears at the top of the screen, allowing individuals to silence or answer the call without ever leaving the application they're working within. Likewise, when requesting information Siri, answers are displayed in a similar fashion. While these may appear to be just a couple of minor tweaks, in practice they're quite helpful.
Apple Maps
For individuals seeking out green initiatives that make a positive impact on our environment, iOS 14 seeks to assist in the process. With the recently updated Maps app, individuals that find themselves regularly commuting on bike may be happy to read that Maps now provides cycling directions; with information pertaining to bike lanes, paths, elevation, stairs, and more. On the other hand, for those with electric vehicles, Maps can now track your vehicle's charge and highlight charging station locations on your route.
Apple Translate
While not technically a feature, after downloading iOS 14, you may notice a new Translate app installed on your device.
By pressing the microphone button inside of the app, individuals can have spoken words translated in real time; remedying the need to type everything out. Better yet, there's no need to select an input language before speaking. Apple's automatic language detection can instantly identify and translate 11 different languages by default.
iPhone Privacy
Over the last few years, online privacy and location-based tracking have been key talking points of security discussions. Fortunately, Apple listened and overhauled its privacy features to ensure both you and your data remain secure with iOS 14.
For example, when using an app that requires access to your microphone or camera, a yellow indicator icon will appear right above the cellular service bar icon. Additionally, apps that track an individual's location for information on the surrounding area can now be altered to only share your approximate location, rather than pinpointing your exact location.
To enable this feature, head to the Settings app, select Privacy, and tap Location Services. Next, open the location settings for each app to toggle the Precise Location feature on and off.
The Future of iOS 14 and iOS 15
Although these features only share a glimpse into what iOS 14 and iOS 14.5 have to offer, the future of smartphone technology is looking bright. As Apple continues to release updates to the new operating system as the year continues, Rocket IT will be hot on their heels; offering audiences an in-depth look at what to expect. To remain up-to-date on this trending technology insight and more, sign up for the Rocket IT Newsletter using the form below.