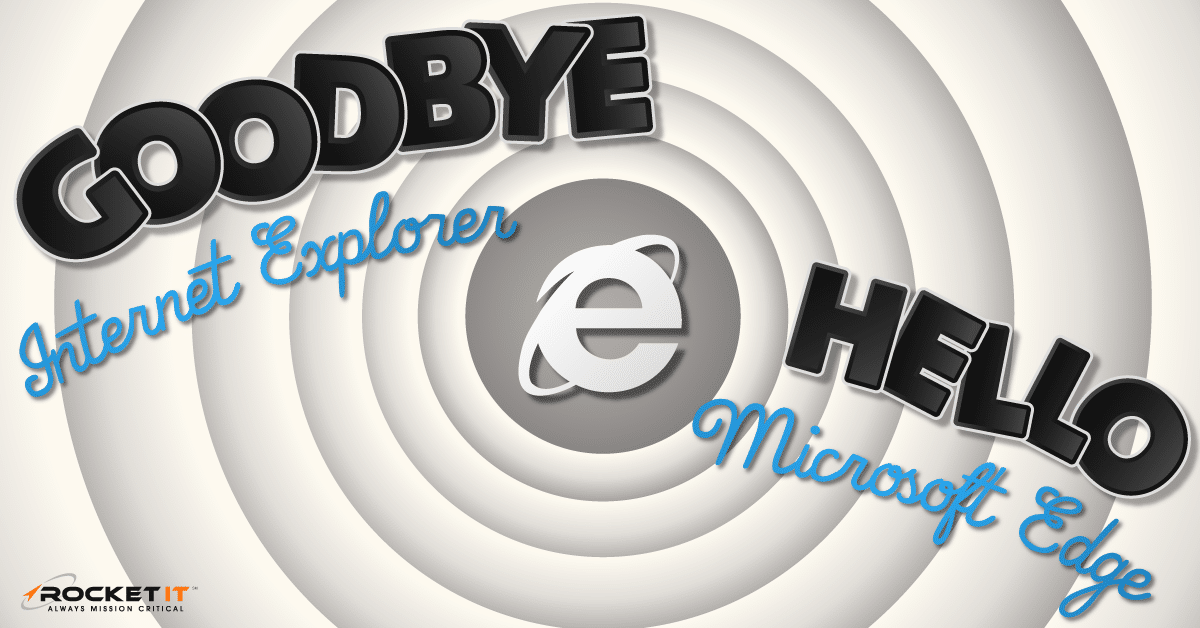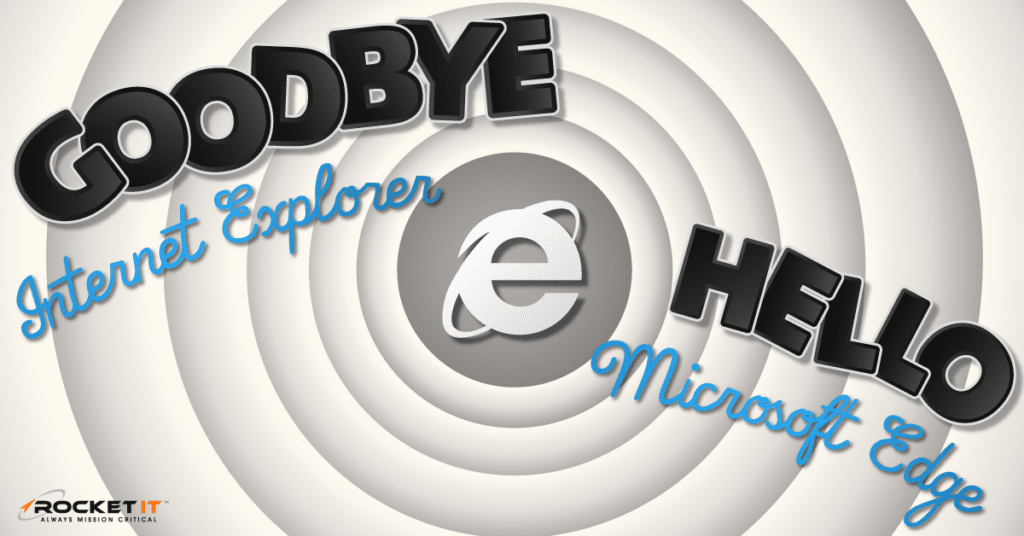 Since its launch in 1995, Microsoft has struggled to convince people to adopt Internet Explorer. So much so that the browser has even found itself to be the joke of many popular online memes. But Microsoft is looking to make big updates in a valiant effort to change the public's opinion of its Internet browsing services.
Beginning November 30, 2020, Microsoft announced that it will start the process to end support for Internet Explorer; shifting its attention to focus wholeheartedly on the new Edge browser.
Currently, Internet Explorer comes preinstalled on most Windows devices, but that won't be true for much longer. With the launch of Windows 10, version 20h2 later this year, new PCs will ship with Edge as the default browser.
What Does the Shift to Microsoft Edge Mean?
Microsoft's plan to end support for Internet Explorer will occur in phases, with the first taking place on November 30, 2020. On that date, the web version of Microsoft Teams will no longer be supported within Internet Explorer. Next, come March 9, 2021, Microsoft announced that it will be ending support for the Legacy version of Microsoft Edge; moving all individuals over to the new Edge app. Finally, on August 17, 2021, the remaining Microsoft 365 apps and services will no longer be supported through Internet Explorer.
While it is not recommended to use Internet Explorer to access Microsoft 365 services after the mentioned dates, Internet Explorer will continue to maintain basic functionality on devices in which it is already installed. That said, if you choose to continue using Internet Explorer after its expiration date, you may find yourself running into some serious issues. Not only will Internet Explorer users no longer receive updates that provide an opportunity to explore new features, Microsoft's Product Development team plans to stop pushing security patches in August of next year. This not only poses a significant risk for the individual user, but also businesses that have not yet made the leap to a newer web browser.
Why Did Microsoft End Internet Explorer?
The eleventh version of Internet Explorer launched in 2013, and since then, the digital landscape has improved quite a bit. Because Microsoft was slow to make changes, individuals sought out different browsers that were able to scale alongside new Internet technologies. This movement ultimately led Google Chrome to aggregate a rather large user-base.
Numbers reported from NetMarketShare show that 70% of individuals prefer using Chrome over other browsers. That said, with the launch of Microsoft's new Edge in January of 2020, it seems as though competition is on the rise. For the first time ever, Edge is the number one competitor to Chrome; overtaking Firefox with 8% of the market share as of the time of this article. 
Is Microsoft Edge the Right Fit for You?
Although Microsoft's new Edge browser appeals to many individuals, it's important to ask yourself a few questions before making it your default choice.
Which browser is currently deployed in your office environment?
When selecting a browser, you need to ensure it complies with your organization's administrative policies and tech stack.
Do you currently require Internet Explorer for some apps to function?
Some businesses use applications that can only be opened within Internet Explorer. Fortunately, the new Edge browser comes with IE Mode, allowing older Internet Explorer apps to be opened without many issues.
What operating system are you using?
Although it is possible to run Microsoft Edge on a Chromebook, these devices are optimized to use the Chrome browser. Alternatively, if you're using one of Apple's many Mac products, it's likely that the Safari browser is a better choice .
Making the Switch to Microsoft Edge
Curious about switching to Microsoft Edge? A few additional items to keep in mind. As mentioned previously, Microsoft Edge is the only logical choice for those that need access to business-critical legacy Internet Explorer applications. Though Microsoft has made it clear that IE Mode won't be valid for Microsoft 365 apps.
Nevertheless, with the launch of Edge, Microsoft has created a browser that is easy to use for IT professionals and is cybersecurity focused. Not only does it allow administrators to set group policies and restrict access to certain internal sites, it also provides those that are signed into their corporate accounts a quick way to search the business's intranet using Edge's search bar. Additionally, when it comes to administrative use, Microsoft has attempted to alleviate some of the stress of converting an entire office to Edge. For businesses that need to simultaneously shift more than 150 individuals over to Edge, Microsoft offers FastTrack with select Microsoft 365 plans.
Although this service is typically bundled with the Microsoft Apps for Enterprise plan, it's important to first check your licensing to make sure. Regardless if your plan included FastTrack or not, Rocket IT is here to assist with the deployment of Microsoft Edge installation on a wide scale.
New Features in Microsoft Edge
Like any new technology, Microsoft Edge is packed full of new features that are fun to explore, but what makes it a viable choice for you? Since January, many members of the Rocket IT team have put Edge to the test to see how it compares with the competition.
Does Edge Use Less RAM?
Right out of the gate, Edge looks quite similar to Chrome; offering a simple user interface to help any individual easily navigate the app. That said, while the two competing services may look nearly identical, we found that Edge uses substantially less RAM that Chrome, and we're not the only ones that have found this to be true. In a test conducted by ComputerWorld, on average, Chrome used 14% more RAM than edge. As a result of using less memory, you can run more tabs without the browser becoming sluggish.
Does Edge Work with Extensions?
Although previous versions of Edge and Internet Explorer lacked many useful apps, the new version of Edge is built using the open source software, Chromium; ensuring that all extensions built for Google Chrome work flawlessly on Edge.
How to Save Web pages as Apps in Edge
Another somewhat hidden feature that we find ourselves using all too frequently is Edge's ability to install web pages as apps. Take, for example, sites that you visit regularly, like Facebook or Twitter. Edge allows you to run them as standalone apps, without needing to open the entire browser. To accomplish this, head over to the site, click the ellipses icon in the top-right, click Apps, and select "Install This Site as an App". You can then pin that app to your Windows 10 Start Menu for easy access.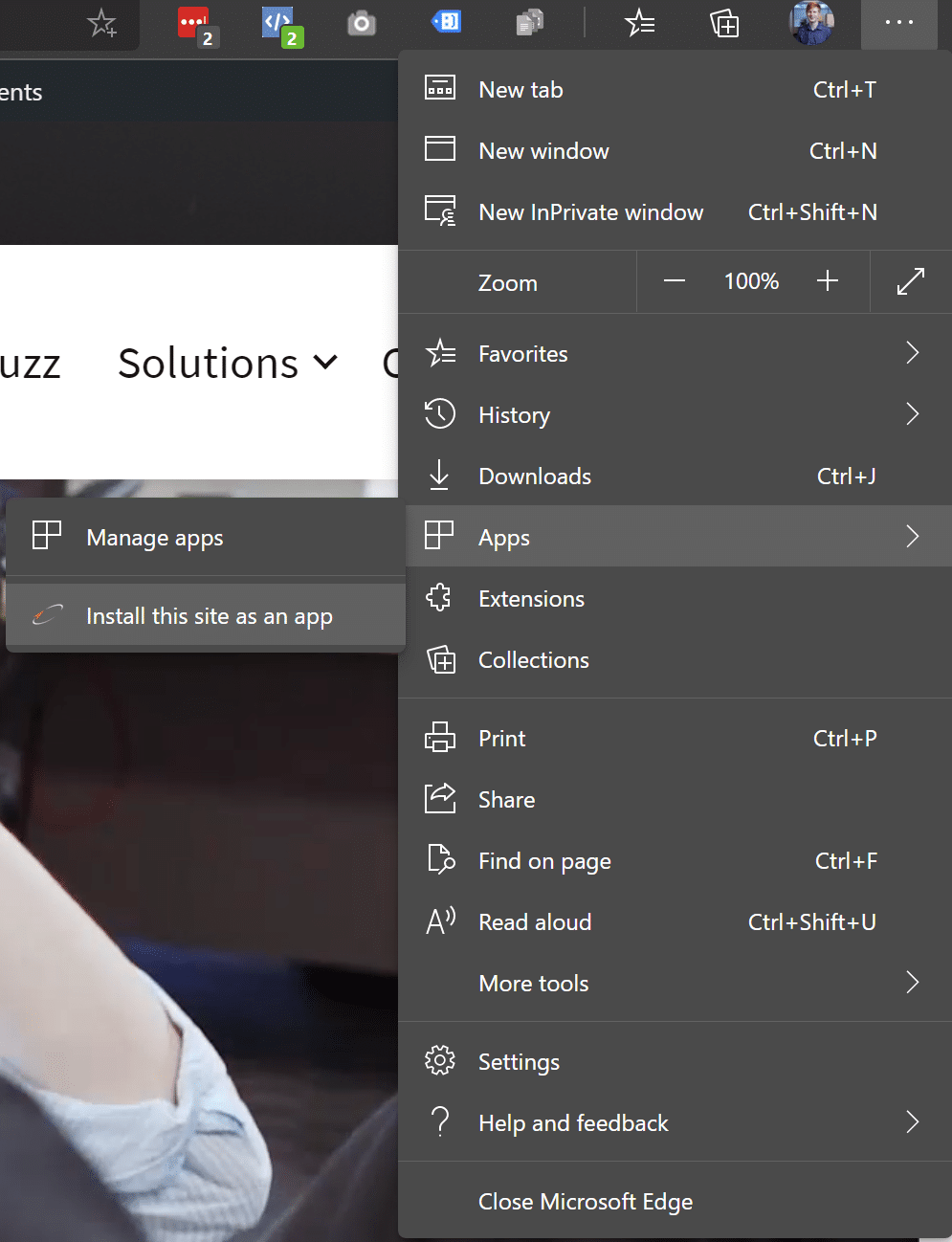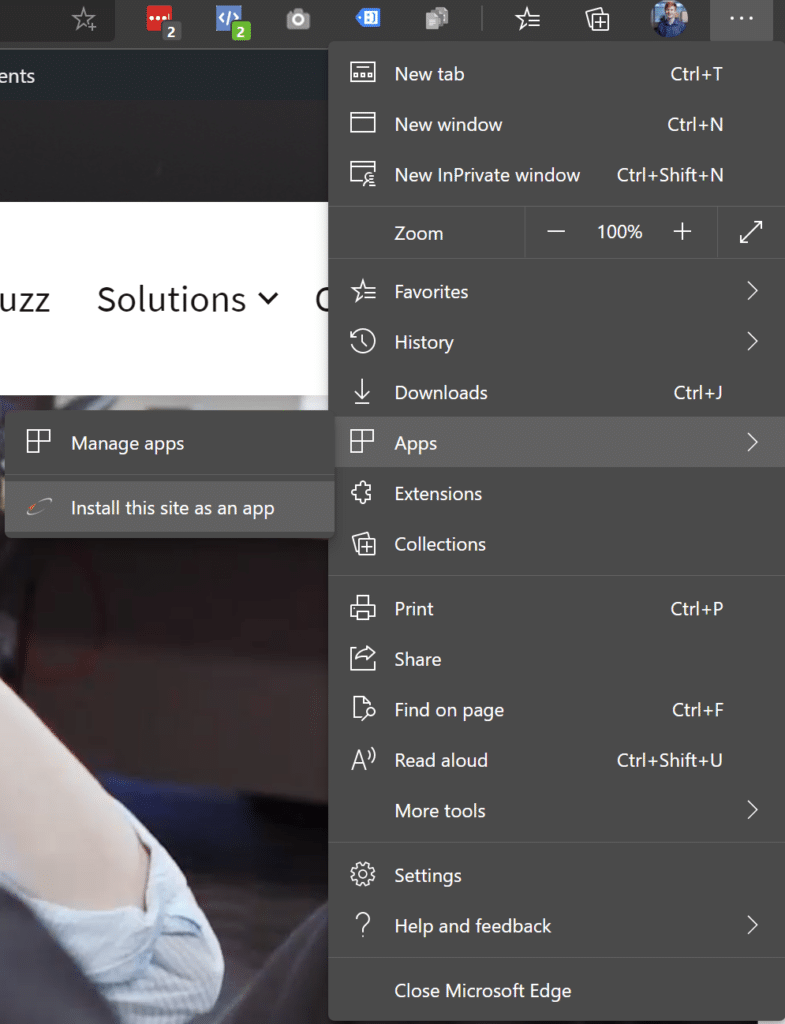 Present Using Edge
But let's say you're looking for something outside of browsing capabilities. If you're an individual that finds yourself giving presentations quite a bit, the new Edge is similar to Chrome; allowing you to stream videos to PCs, tablets, and TVs with Chromecast capabilities.
How to Import Settings to Edge
Despite all these features, persuading people to change their habits is a difficult process; especially when it requires effort. To make the transition as easy as possible, Microsoft allow's new Edge users to import their Chrome data with just a few clicks. For those interested, select the ellipses icon from the top-right of the Edge browser window. From here, select favorites and choose Import. In the menu that opens, click the dropdown and select the browser you'd like to transfer data from. By selecting the checkboxes below, you can specify what type of data you'd like to import; included items such as addresses, payment methods, extensions, cookies, etc.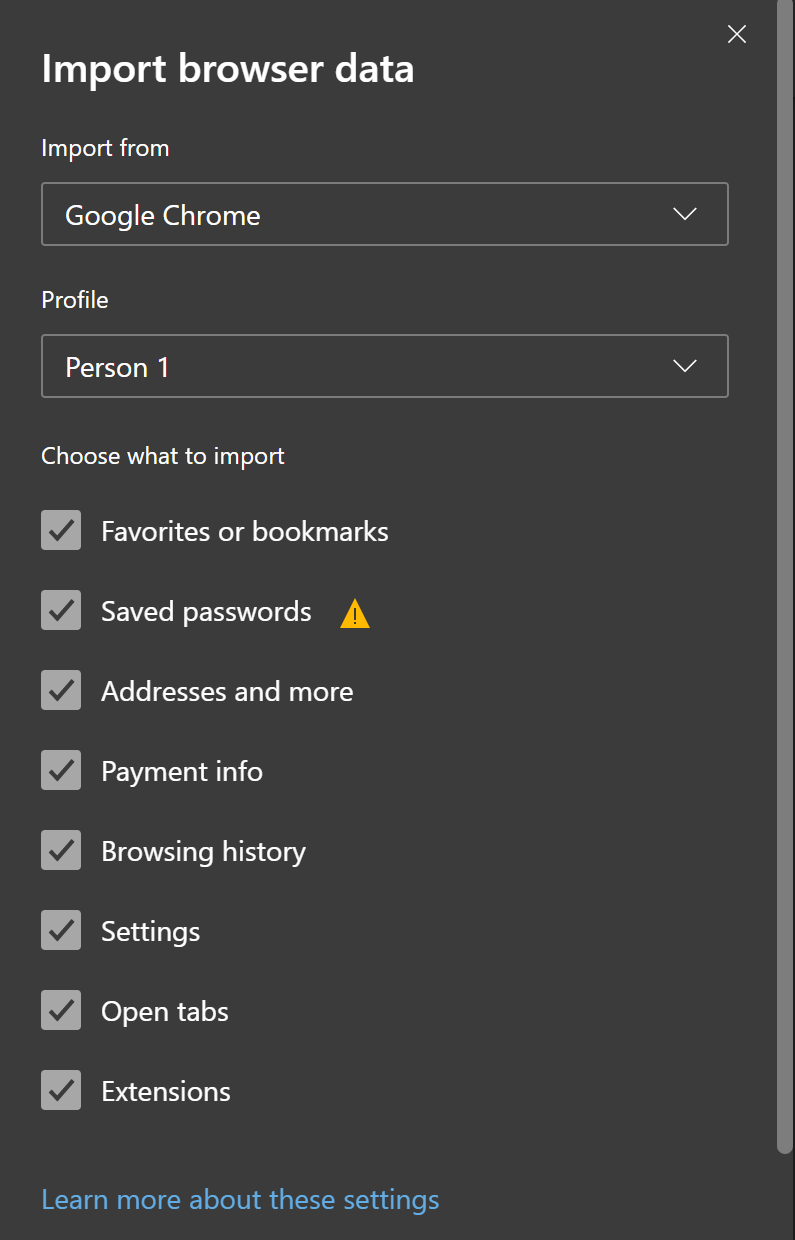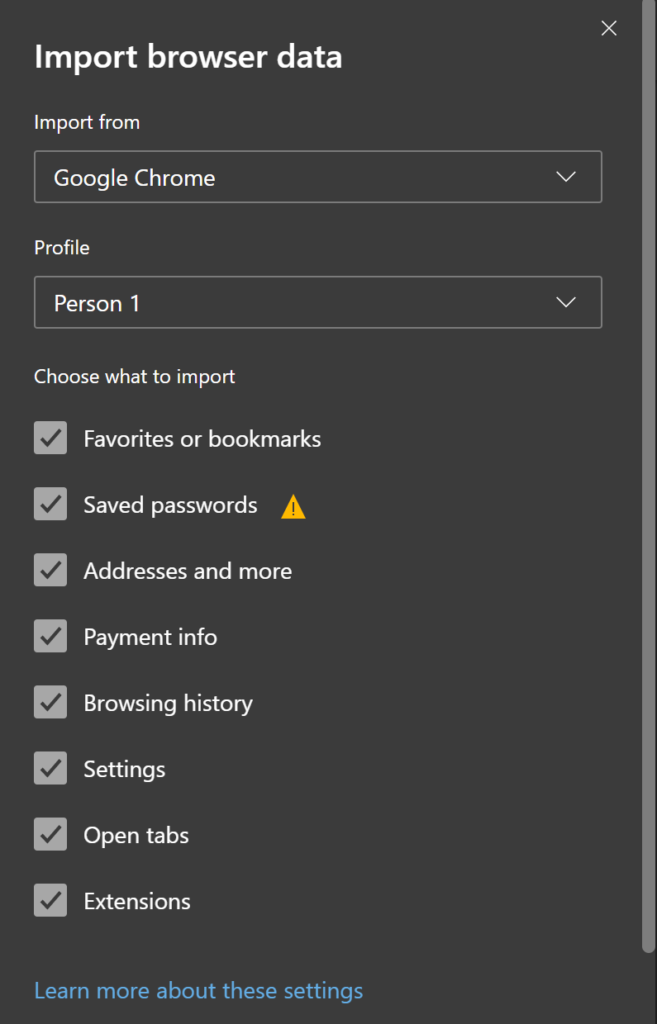 What's the Next Move?
With Internet Explorer going end of life, it's important to set a firm date to have every team member moved over far before next year's deadline.
Depending upon your team size and the resources at hand, migrating everyone may take some time. More importantly, you'll have to determine if you want this done on the individual user's side, or if you want those with admin privileges to assist in the process. Whatever your choice may be, Rocket IT is here to help. To begin the process, submit a message using the form below, or give a member of our team a call at (770) 441-2520.