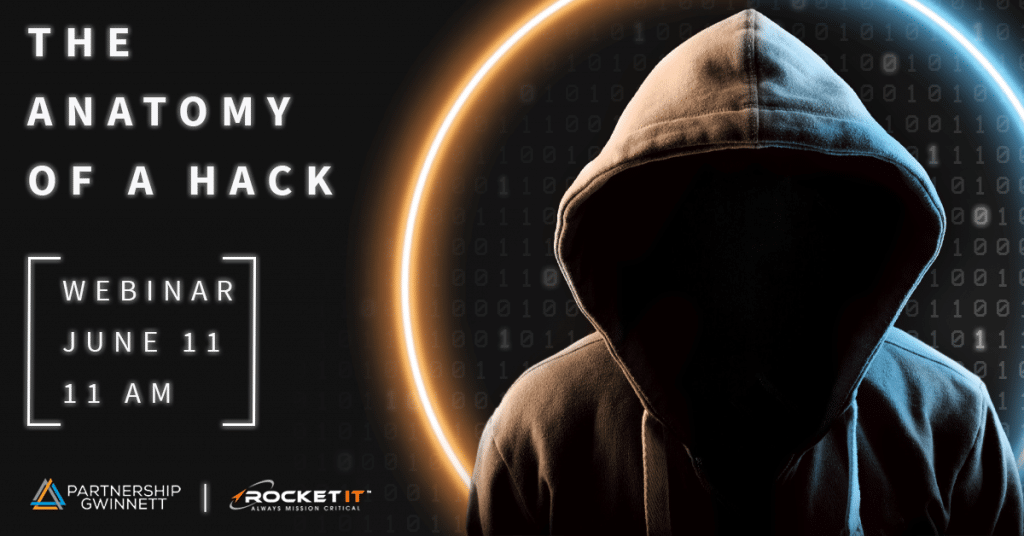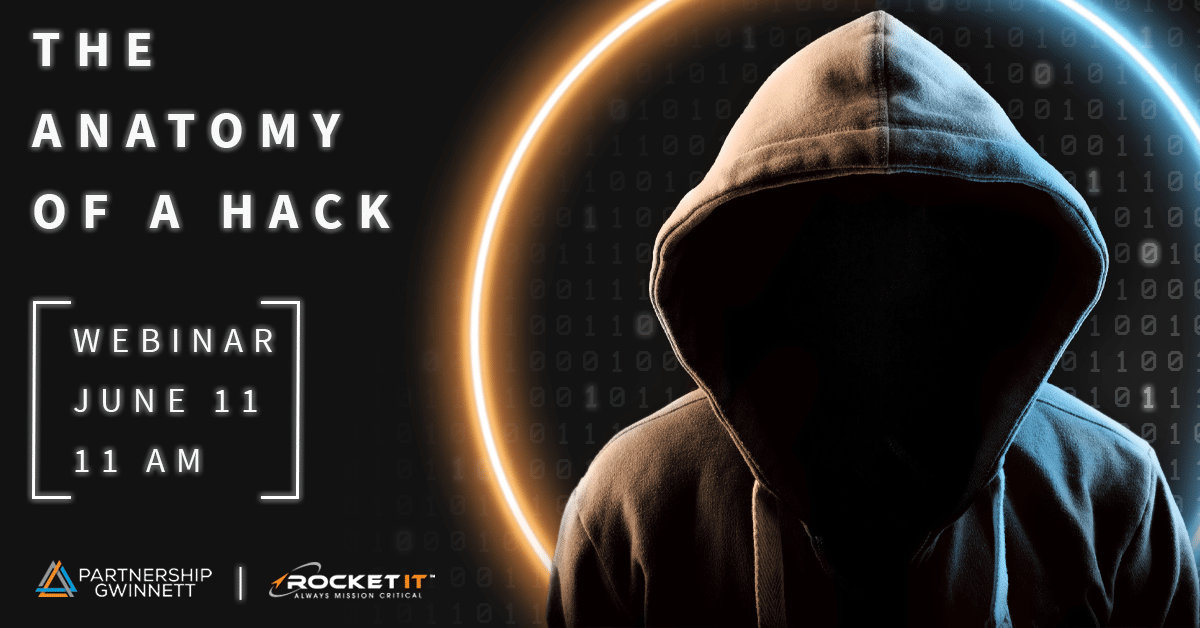 Gwinnett County (Metro Atlanta) GA – As the technology behind successful business operations continues to advance, hacking groups trail close behind with a slew of new and unusual threats. But what's preventing these groups from wreaking havoc on any and every organization at their mercy?
On Thursday, June 11th, Rocket IT's VP of Technology, Eric Henderson presented a webinar with Partnership Gwinnett in which audiences witnessed first-hand the dissection of a real-world attack that hit a Metro Atlanta-based company.
"In 2019, around 1,500 major business data breaches and countless smaller ones occurred in the U.S.," said Henderson. "As organizations continue to modernize their operations, it's crucial that leaders learn from those mistakes and deploy newer innovations to protect their most valuable assets."
Through an interactive discussion, attendees were provided with the expert knowledge needed to pinpoint flaws in the presented organization's prior security plan and leave feeling confident knowing what should've been done to prevent the hacker's malicious intent.
Following a review of how to identify security threats and the basic steps to mitigate the success rate of malware attacks, attendees experienced a deep-dive into some of the cybersecurity measures that many businesses are using to build secure networks for the current environment.
During this presentation, a live chat was provided; giving viewers an opportunity to have their technical questions addressed in real time. Additionally, any questions following the airing of this webinar should be submitted to marketing@rocketit.com

Through initiatives, such as this, Rocket IT has become the IT partner of choice for Gwinnett County organizations, providing the strategy, security, and support they need to thrive. By providing a client's leadership team with the strategic foresight necessary to align technology investment with business goals, they can work toward a shared vision, which increases efficiency, decreases risk, and increases revenue. Rocket IT is the recipient of multiple awards, such as Partnership Gwinnett's Innovation Award and a spot on the Inc 5000.
###
MEDIA CONTACT
Chris Swinson | 770.441.2520 ext. 732 | cswinson@rocketit.com
PROGRAM CONTACT
Lauren Como | 678.672.2567 | lcomo@partnershipgwinnett.org