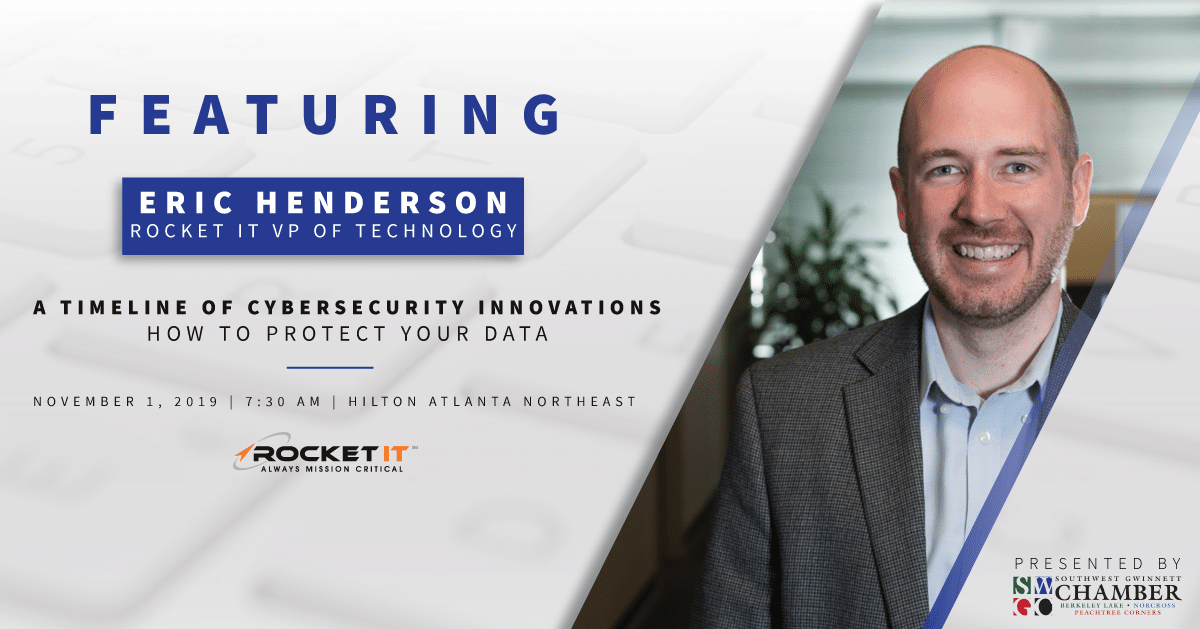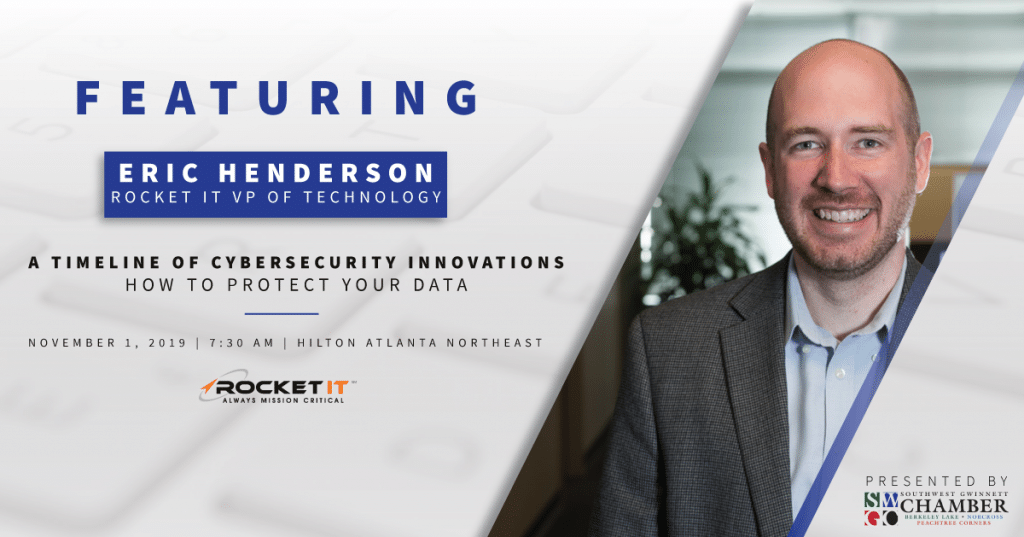 Cybersecurity Speaker Series: Featuring Rocket IT VP of Technology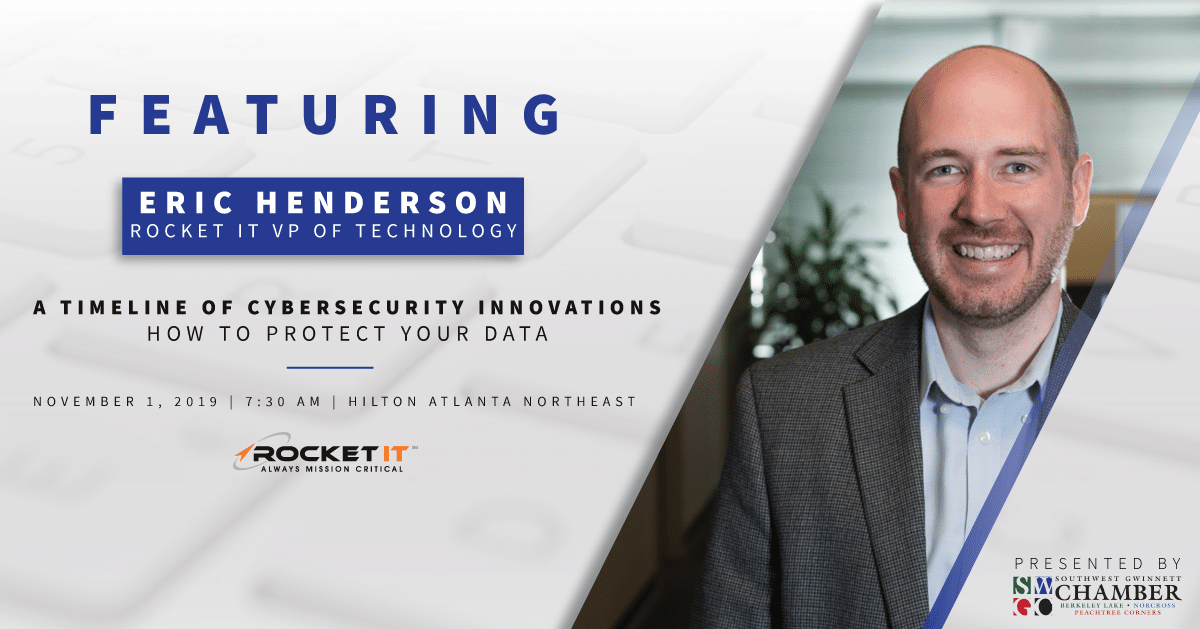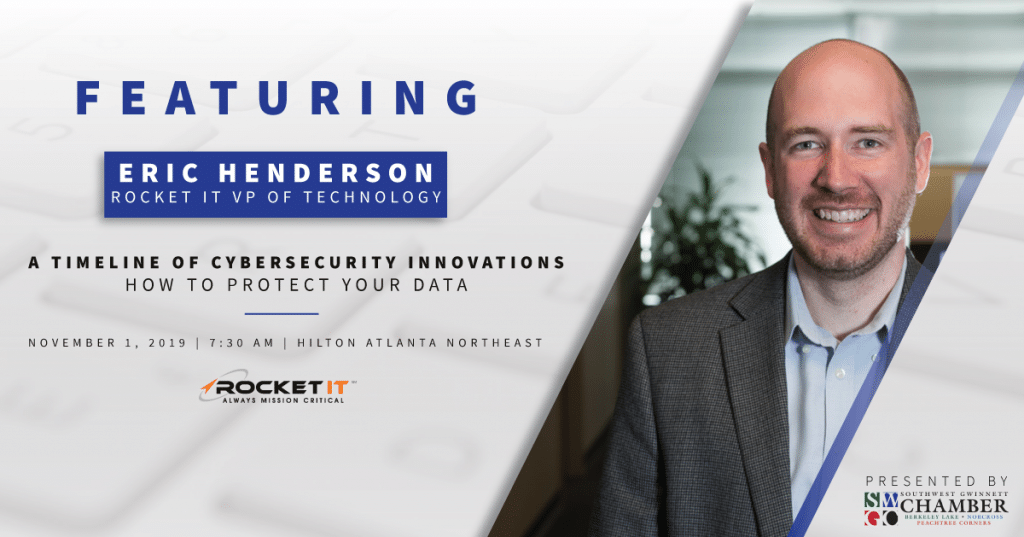 Gwinnett County (METRO ATLANTA) GA – With hacking groups now acquiring significant funds to support their illegal activities, what were once standard cybersecurity practices have become obsolete in recent years.
In an effort to spread awareness about current digital threats and the new measures needed to protect against them, on November 1st, Rocket IT Vice President of Technology, Eric Henderson, will provide Southwest Gwinnett Chamber members with a timeline of security innovation. 
"In the last 10 years, the effort required to execute successful cyber-attacks on businesses has become trivial, and the money to be made is extreme," said Henderson. "As a result, successful cybersecurity has become a moving target, requiring a constant focus and re-evaluation of the right mix of services, training, and processes to keep a network safe."
Having worked with Rocket IT for over 12 years, Henderson has provided countless organizations with a heightened level of strategic foresight. Through his continuous efforts, he has gained first-hand exposure to a variety of IT security trends, allowing him to provide accurate insights into the future of cybersecurity.
With this wealth of knowledge in hand, Henderson manages all functions of Rocket IT's project development team, while also serving as a virtual Chief Information Officer to many of the organization's clients. "Rocket IT's vCIO engagement allows business leaders to feel confident about how and why they invest in technology, and I am thankful to Eric and his team for that," said former Wolerton and Associates CFO, Jeff Adams.
Registration for November's SWGC First Friday Breakfast meeting is now open, with tickets starting at $20 for first time attendees. Guests can plan to arrive at the event's venue at 7:30 AM on Nov. 1 for a 30 minute network session, with the presentation beginning promptly at 8 AM. This month's gathering will take place at the Hilton Atlanta Northeast, located at 5993, Peachtree Industrial Blvd. Peachtree Corners, GA 30092. For more information regarding this speaking engagement, please contact one of the individuals listed below, or visit http://bit.ly/33fJl0h.
Rocket IT is the IT partner of choice for Gwinnett County organizations, providing both the strategy and support they need to thrive. By providing a client's leadership team with the strategic foresight necessary for them to align technology investment and business goals, they can work from a shared vision, which increases efficiency, decreases risk, and increases revenue. Rocket IT is the recipient of multiple awards, such as Partnership Gwinnett's Innovation Award and a spot on the Inc 5000.
###
Media Contact
Chris Swinson | 770.441.2520 ext. 732 | CSwinson@RocketIT.com
Southwest Gwinnett Chamber Contact
Beth Coffey | bcoffey@southwestgwinnettchamber.org