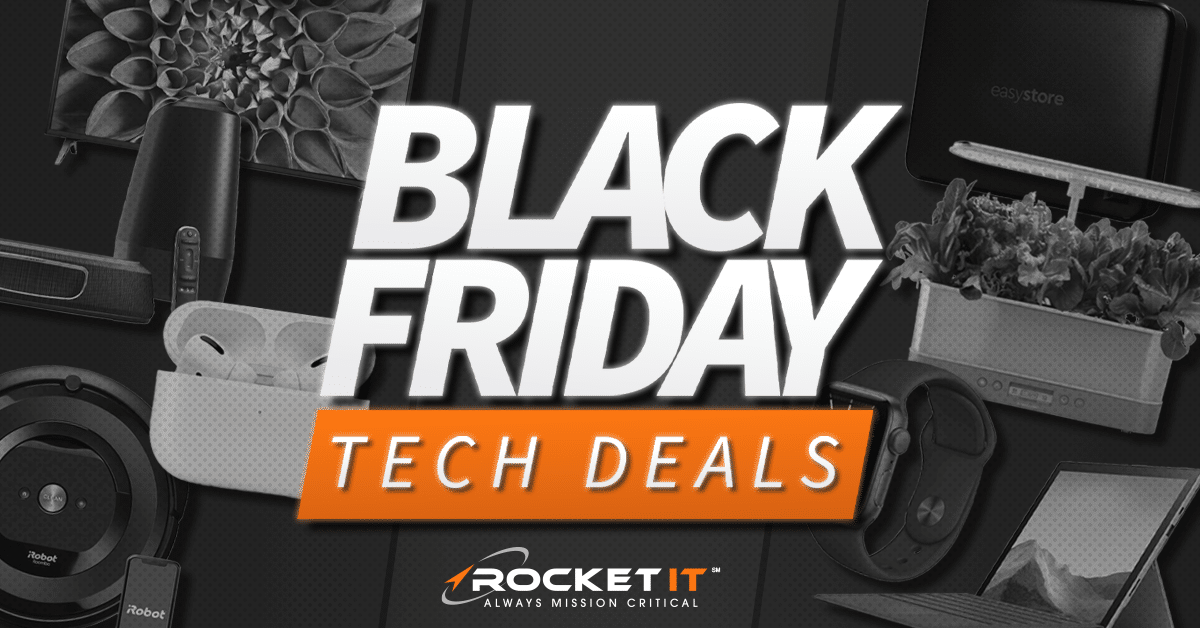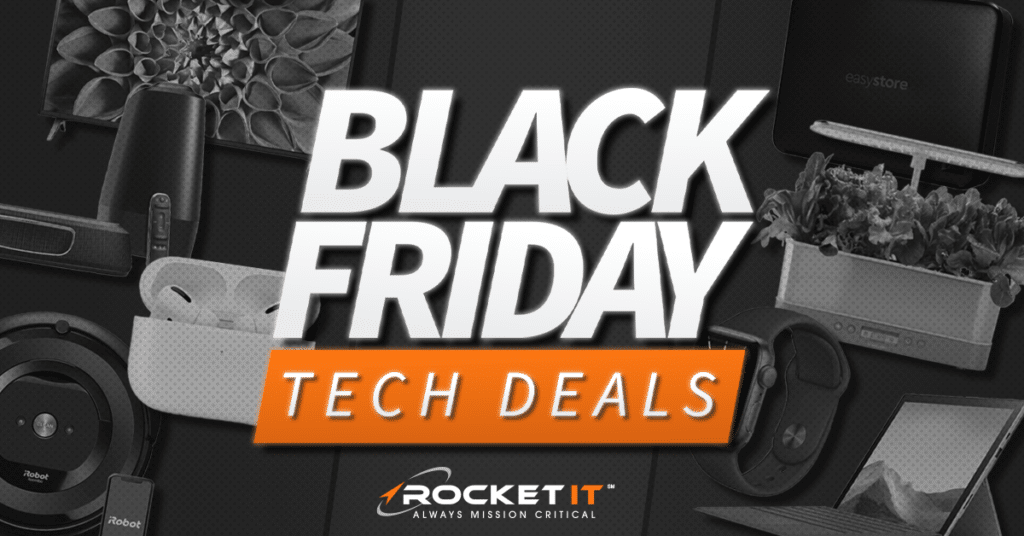 With health precautions limiting Black Friday activities at many brick-and-mortar locations, retailers have been forced to offset in-person crowds with more impressive online sales. And although Target, Best Buy, Amazon, and Walmart have yet to post their "doorbuster" deals, each of these retailers have already begun discounting some of the year's most sought-after tech.
But with so many deals already available and more on the way, which technology should you consider purchasing, and what should you hold out on?
To help you decide, Rocket IT has prepared a 2020 Black Friday buying guide; highlighting the best deals on some of our team's favorite pieces of technology.
Disclaimer: Before diving in, it's important to note that many retailers have stated that prices of discounted items can be altered at any time. Therefore, the savings mentioned in this article may change in the days leading up to Black Friday.
$200 ($49 off)
First up on the list, we have the successor to Apple's widely popular AirPods, the AiPods Pro. Improving upon the prior generation in nearly every way, the AirPod Pros works seamlessly with Apple's ecosystem. Not only does this product offer active noise cancellation, it also features Apple's Transparency Mode; giving owners the ability to mesh their music with the world around them. With microphones picking up outside noises mixing them with the audio being played, weavers can remain more aware of their surroundings when in busy locations.
Speaking of audio mixes, the AirPod Pro comes loaded with Apple's Adaptive EQ feature, which uses sensors to scan your ear canal and automatically tune music to the shape of your ear. Furthermore, while the AirPod Pros are not entirely water-proof, they are sweat resistant and can hold a charge for more than 24 hours, making them a good choice for those with an active lifestyle.
$259 ($20 off)
While on the topic of Apple devices, the brand new Apple Watch SE is also getting a price cut during Black Friday. Although similar in style to the previous Apple Watch Series 3 iteration, the SE model promises two-times faster speeds.
The Apple Watch SE also ditches the older LCD display for an OLED retina, offering crisper images with a slightly larger screen; allowing you to see more information at a quicker glance. That said, it still contains GPS functionality, a swim-proof design, and heart rate sensor for those who are active or like to explore. Furthermore, owners can even customize activity metrics to measure everything from high intensity running to meditative yoga Aside from the activity tracking, the Apple Watch SE still offers the ability to read texts, listen to music, and talk to Siri
$1199 ($200 off)
Despite the wide array of laptops and tablets available on the marketplace, Microsoft's Surface Pro 7 stands out quite easily from the competition. With the additional purchase of the Surface Type Cover, those that purchase the Surface Pro 7 will find new ways to tackle both work and personal projects.
With the Surface Pro 7's kickstand fully expanded and the Type Cover attached, users are greeted with a more traditional laptop experience. By detaching that cover, slightly collapsing the kickstand, and laying the device on its back, artists can find a 15 degree viewing angle; perfect for drawing with Microsoft's Surface Pen. Finally, in the device's standard tablet mode, owners have one of the market's most powerful tablets with Windows 10 and an Intel Core i5 processor on board.
$296 ($53 off)
For years, the Canon Rebel line of cameras have offered a great introductory point for those looking to break into photography or videography. Coupling this DSLR camera with an 18-15mm lens gives artists an opportunity to easily capture a range of high quality photos and full HD videos.
When compared to smartphones, Cannon's 18 megapixel sensor captures more clarity and details than possible with most common smartphones. Additionally, with a maximum ISO of 6400, photographers can easily capture images in low-light settings.
But what makes the T100 truly unique are the new features that have been introduced to the Rebel line with this device. For example, the Scene Intelligent Auto feature helps newcomers learn how to properly frame shots, while Creative Filters, such as soft focus, fish-eye, toy camera, and miniature effects, can help provoke creative inspiration.
$129 ($50 off)
As the weather continues to get colder, moving plants inside becomes a necessity. Fortunately, the AeroGarden Harvest system gives gardeners the ability to grow their favorite vegetables inside.
Better yet, because the AeroGarden does not require soil for plants to grow, there's no worry about cleaning. Simply fill the pot with water, plant food and you're good to go. With this model, up to six different herbs, veggies or flowers can be grown using the company's pre-seeded pods. In turn, the 20 watt LED lamp can be programmed to provide the plants with an adequate amount of light to help them flourish.
Because the inside environment is less harsh than an outdoor garden, Aerogarden promises that plants will grow 5x faster than they would outdoors. Should you have difficulty getting a plant to sprout from one of Aerogardens 70+ plant species, the company offers customers hassle-free exchanges on any potentially faulty seed pods.
$350 ($50 off)
Although this next Black Friday deal highlights the 55 inch model, the entire UN7000 Series of LG TVs are currently marked down; meaning savvy buyers can also find similar deals for the 43", 50", and 65" variations.
Regardless of the size you choose, the 4k display, active HDR, quad-core processor, and TruMotion technology of these TVs ensure that colors are vibrant and quick-paced content is less prone to blurring
Additionally, the UN7000 series TVs come pre-installed with LG's webOS smart platform; giving viewers easy access to streaming apps like Disney Plus, Netflix, and Hulu, without the need for a separate streaming device.
$249 ($50 off)
But perhaps you already have a 55" 4K TV hanging in your living room and you're looking for something to create a theatre-like experience. If that's the case, check out this compact soundbar and subwoofer combo, manufactured by Polk. While it may be small, mounting the MagniFi Mini under your current TV not only saves wall space, it fills the room with the same amount of sound you'd get from any full-sized sound bar.
Along with its surround sound features, the MagniFi Mini contains Polk's exclusive Voice Adjust Technology, letting listeners independently control voice levels to improve sound clarity. Furthermore, for those who enjoy music streaming, this device works with Google Cast, allowing owners to stream music from their phone to the device.
$381 ($68 off)
For those that continue to find themselves working from home, the company that launched one of the most well-reviewed standing desks has its economy model priced low for Black Friday.
Featuring dual motors, Fully's Remi Standing Desk can quickly switch between standing and sitting height, to accommodate your work needs. Coming in either a black or white finish, this model of desk has a table size of 46" x 27", with a capacity to hold 250 lbs. In turn, this should provide more than enough support for typical desktop or Laptop devices.
Should those that decide to purchase a Remi Standing Desk run into any issues, Fully backs its products with a 10-year warranty, covering the device's frame, motor, control box, and switches.
$299 ($80 off)
For those that are too busy to vacuum daily, or if you just hate vacuuming, iRobot's Roomba E5 offers an automated cleaning solution that can be controlled from a smartphone or voice assistant, such as Alexa.
Once a cleaning schedule has been set, the Roomba E5 uses multiple built-in sensors to navigate a home; auto adjusting its brushes to clean both carpet and hard surfaces. As it cleans, the Roomba E5 learns the high-traffic parts of the home, focusing more attention on dirtier areas. Once the Roomba E5 finishes the cleaning process, it automatically returns to its docking station and begins charging for the next session.
$109 ($70 off)
Computers are known to crash and hard drives can become corrupted without warning. As a result, it's important to invest in an external drive that can securely hold a backup of your most important files. While there are many options on the market, this one presented by Western Digital features five terabytes of storage space; making it plenty large for most normal circumstances.
Additionally, with a USB 3.0 interface on board, large files can be transferred from a PC to the backup in seconds. Taking things a step further, Western Digital bundles in an exclusive backup software with this product; giving owners the option to schedule automated backups when the device is connected.
And there you have it; ten of the best Black Friday technology deals for 2020. Because the prices and quantities of many of these items are limited, Rocket IT suggests being quick in making a decision on your purchases. Nevertheless, with major retailers releasing new deals on a weekly basis, it's likely that you may find similar markdowns leading up to Thanksgiving.