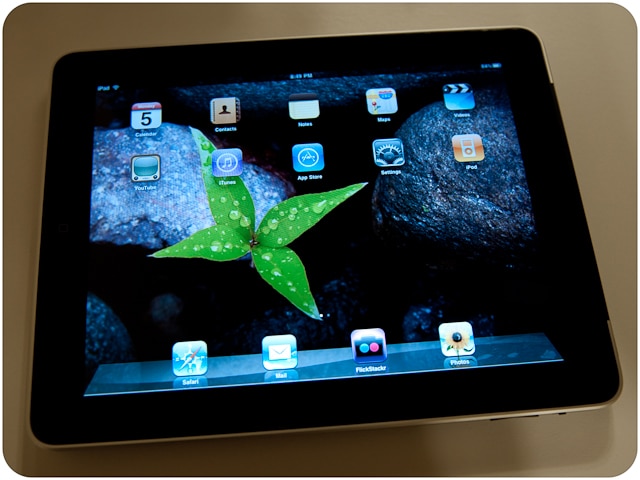 For years I've waited for someone to come out with a great tablet computer. One that can do all the things my notebook computer can do, but in a smaller, lighter package and with a really great touchscreen. Presumably, it would come with a stylus and would recognize my handwriting. It would definitely run Windows and my favorite apps, like Excel, Word, and QuickBooks. It would connect to a real keyboard and mouse, it would work with a real monitor, and it wouldn't cost an arm and a leg. Yes, for all these things, I've been waiting a very long time.
It's no secret that I'm a huge fan of Windows PCs and business apps, but when rumors revealed that Apple had a tablet in the works, I knew I'd have to have one. It might not run Word or Excel, I figured, but it would surely have a beautiful screen and a great design. Besides, I could use a high-tech device for managing my email and calendar, browsing the web, and reading books. Apple's new tablet gadget would be great for all those things, I imagined. And thus began my months-long wait for the Apple iPad.
Last Saturday morning, with my long wait finally behind me, I took the plunge and bought my iPad. Specifically, I bought the 64 GB model with the 3G wireless option (all iPads come with Wi-Fi – the kind of wireless Internet access most of us have in our homes and offices, but some models also support AT&T's 3G wireless network). Basic setup was a cinch. The iPad was up and running within a few minutes of taking it out of the box. From there, things got much more interesting. The following are some of my initial thoughts on the device.
The brilliant screen and the device itself are both gorgeous, as expected. With a long history of developing well-designed products, Apple continues to impress with the physical design of the iPad.
Holding the device in a chair or in bed is not nearly as bad as I thought it would be. I figured it would be uncomfortable to hold the tablet upright for long periods, but in reality, it's no worse than holding a magazine or a small book.
Typing is a bit of a chore. The touch screen is sensitive enough, but one must switch between as many as three different screens to find buttons for all the letters, numbers, and special characters needed for day-to-day computing and password-entering. An optional keyboard is available, but who wants to carry one of those around?
While it will do in a pinch, I don't find the iPad ideal for surfing the web. The iPad's default Safari browser feels clunky compared to Chrome or Firefox, and as somebody who uses a lot of shortcut keys for web browsing, I miss having a real keyboard. Scrolling and zooming with the iPad's gestures (finger movements on the touchscreen) come naturally and work well, however.
Surprisingly, app shopping on iTunes (which is the only way possible to buy iPad apps) is not a great experience on the iPad or on a PC. While it's possible to search for apps by category or keywords, there's no way to sort the results, making it unnecessarily difficult to sort through pages of apps to find the few with the highest ratings, for example. Other options list "featured" and "chart-topping" apps, but those results can't be sorted by category or keyword. The whole process is clunky and I'm very surprised it wasn't perfected with iPhone apps a long time ago.
Some things you might do in a web browser on a regular PC are done differently with specialized apps on the iPad. Favorite sites like YouTube, Flickr, Netflix, and Craigslist seem to work better on the iPad as dedicated apps. My favorite, so far, is FlickrStackr – an app for exploring Flickr photos that seems better than browsing Flickr's website on a regular PC in almost every way.
My particular iPad seems to have trouble keeping track of time. At various points over the past couple days, the iPad's clock has deviated from the real time by as much as 4 or 5 hours. There are numerous accounts of this troublesome behavior on the Internet, but I've yet to find a clear fix. As I write this, however, my iPad is showing the correct time for the first time in 2 days.
The battery life is fantastic, easily powering the iPad all day long through music, movies, and, er, other important testing as it shuffled between my eager kids and me.
I haven't been able to get the iPad to recognize my office Exchange Server, yet. Perhaps it's looking for something special on the server side, but we have other Apple devices in the house that have no problem connecting. As a consumer of the services we offer at Rocket IT, I will be "drinking our own Tang" when I report this issue to our team tomorrow. It will be interesting to get to the bottom of this one!
Photography is a favorite hobby of mine, so I've been very curious about the potential uses of the iPad for photographers. Happily, after two days with the Apple tablet, I can honestly say that I love the potential for photographers. While there aren't many serious photography apps yet, the iPad is a stunningly beautiful vehicle for photographic portfolios. I can imagine professionals reviewing their work with clients, managing cloud-based photo stores, and perhaps even doing some basic editing in the field. For photographers, the iPad may be the next "killer app"!
Ultimately, the iPad is not the tablet computer I've been dreaming about for years. It doesn't include a stylus and it doesn't run Windows, Word, Excel, or QuickBooks – at least not directly. Rather, it's the first very successful launch of a whole new class of mobile devices. While it's clear that the iPad is still new technology with lots of little wrinkles to work out, the portable design, great screen, and novel interface – all backed by a progressive company with loads of money in the bank and legions of loyal fans – will ensure its success at home and with many self-directed professionals. However, only time (and some really good apps) will tell whether larger businesses will embrace the Apple iPad.
Now that I've been using the iPad for another week or so, I have several updates that I'd like to share:
The iPad is growing on me as a business tool. I've taken it on several meetings and used it as a replacement for an original "pad" (of paper) with good success. The no-frills Notes app works pretty well for its intended purpose, and it's easy to forward completed notes as an email after a session of, um, frenzied virtual keyboard tapping.
The Exchange login issue was resolved by completing the "optional" Domain field at the same time as my username and password. When entering my username and password alone, the iPad prompted for a server name and domain name, but it wouldn't work if the fields were completed in that order. By entering the domain name along with the username and password, the iPad immediately recognized my server and it's been working correctly ever since.
Fortunately, my iPad has continued to keep correct time since my original post and I haven't had any more trouble with the clock. It's not clear why it stopped working in the first place, or what caused it to suddenly start working again.
The screen is very reflective, making it very hard to read outdoors while the sun is up. On the plus side, it would probably make a great signal mirror if one required a rescue in the wilderness!
Sena makes a handsome leather folio that works well and looks great.
---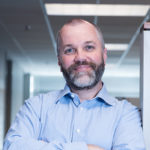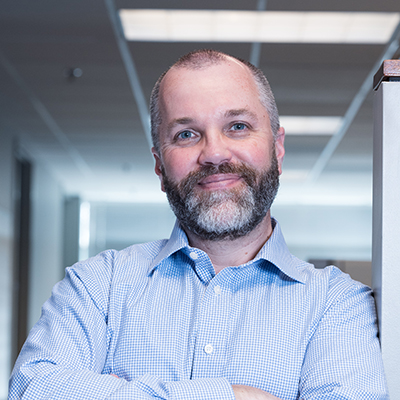 About the Author-
Matt Hyatt is the Founder and CEO of Rocket IT, the IT department for all kinds of organizations around Gwinnett. His award-winning firm provides both the strategy and support needed to help businesses thrive.
Matt currently serves on the Executive Board of the Gwinnett County Chamber of Commerce as the Vice Chair of Entrepreneurship & Small Business, is an active supporter of Gwinnett County Public Schools, and is a member of several peer groups (like Entrepreneurs' Organization) in addition to cofounding two of his own. In 2014, Matt was awarded the Pinnacle Small Business Person of the Year. 
Outside of work, Matt enjoys spending time with his wife, Maureen, and their two teenage children pursuing their shared passions for photography, travel, and food. He also regularly runs with a team in ultra-long distance relay races.