July 22nd, 2015 by Rocket IT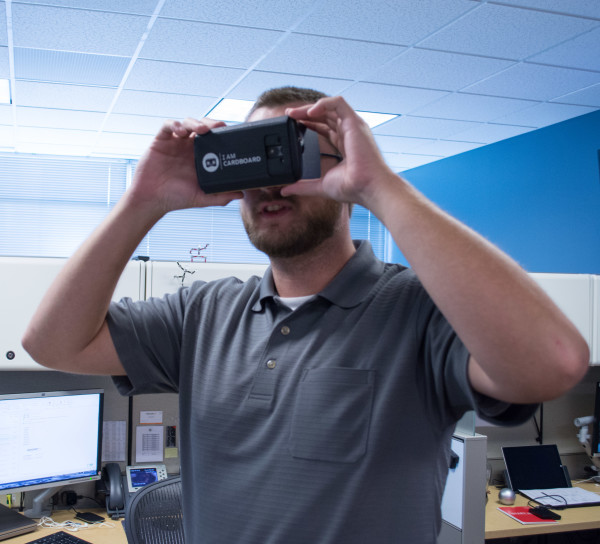 As an IT company, we love tech toys, and we're pretty taken with one right now. A little over a year ago, Google announced Google Cardboard: their virtual reality (VR) platform developed for use with a simple cardboard viewer paired with your smart phone. Google Cardboard was originally designed for use with Android phones, but has since been adapted and expanded for use with Apple iOS as well. Of course, now that it's improved and several (really cool) apps have been released for it, we had to try it out.
This particular cardboard device is from I Am Cardboard, and was relatively easy to set up. Once we got it put together, it was pretty simple to use. Just download the Google Cardboard app, sync your phone up with your cardboard goggles, pick an app, and go. You can also plug in headphones for a more immersive experience.
Of course, several of us were pretty excited to try it (most of whom refused to allow photo evidence of how dorky they think they look using them). I picked two apps for us to experience. If you're already familiar with Google Cardboard, you may have heard of them, as they're pretty popular.
The first, VR Cosmic Roller Coaster, was well received throughout the office. Though short, this app loops for a pretty seamless intergalactic experience. If you're not careful, you could easily spend half an hour exploring the views as you a ride a roller coaster wormhole through space.
The second app, Sisters, was a little different.
Sisters is a far cry from the scenes we explored in the universe and from any of the scenes that come with the original Google Cardboard app. This one was a horror short, and it doesn't loop like Cosmic Roller Coaster does. With graphics a little reminiscent of the kind you'd find in video games circa the early 2000s, I was surprised at how absorbed I became and how real it felt. I actually couldn't finish it. Without giving too much away, I will say that dolls are really creepy even in normal weather. Steven Morgan, Rocket IT Field Support Tech, did finish it, and he assures me it was "really cool" and "pretty creepy."
As an Every Man's Oculus Rift, the Google Cardboard works really well. I can see where it wouldn't be durable over time in the form it is now (it IS made of cardboard, after all), but it's pretty great tech toy for all ages.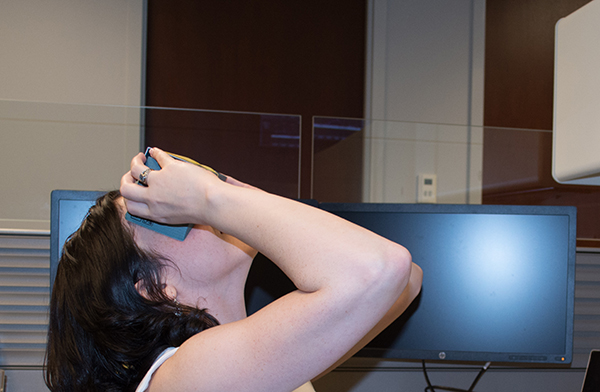 ---
Jacque McFadden is the marketing specialist at Rocket IT. She graduated from Oglethorpe University in Atlanta, and returned to Georgia after spending a year in Austin, TX.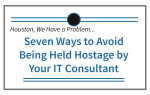 We've all heard stories of wayward IT consultants holding critical company information or other resources for ransom. This is one of the biggest concerns we hear from potential clients. There are several ways you can protect yourself and your business when you outsource your IT. Download our FREE infographic to learn the 7 Ways to Avoid Being Held Hostage by Your IT Consultant here.