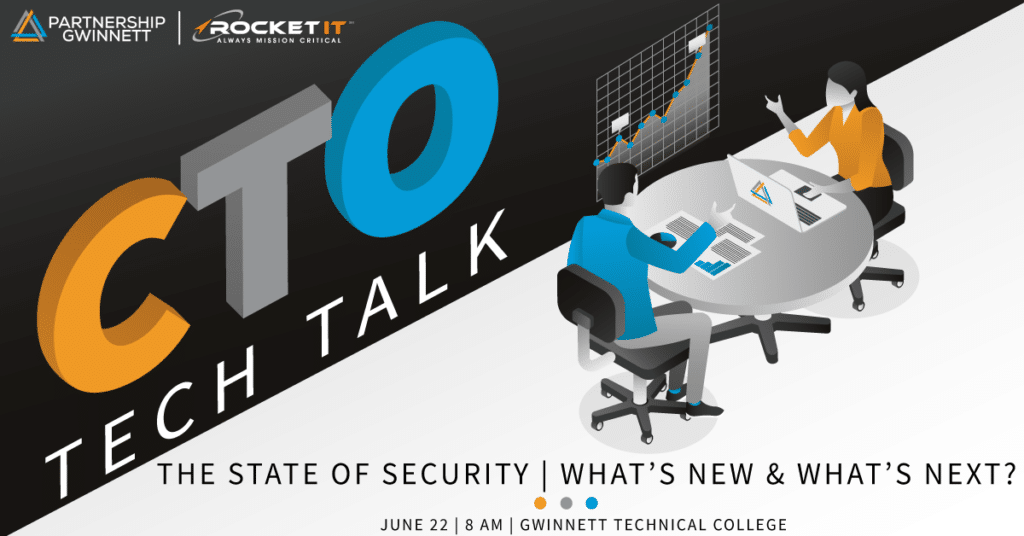 Rocket IT Joins Partnership Gwinnett for CTO Tech Talk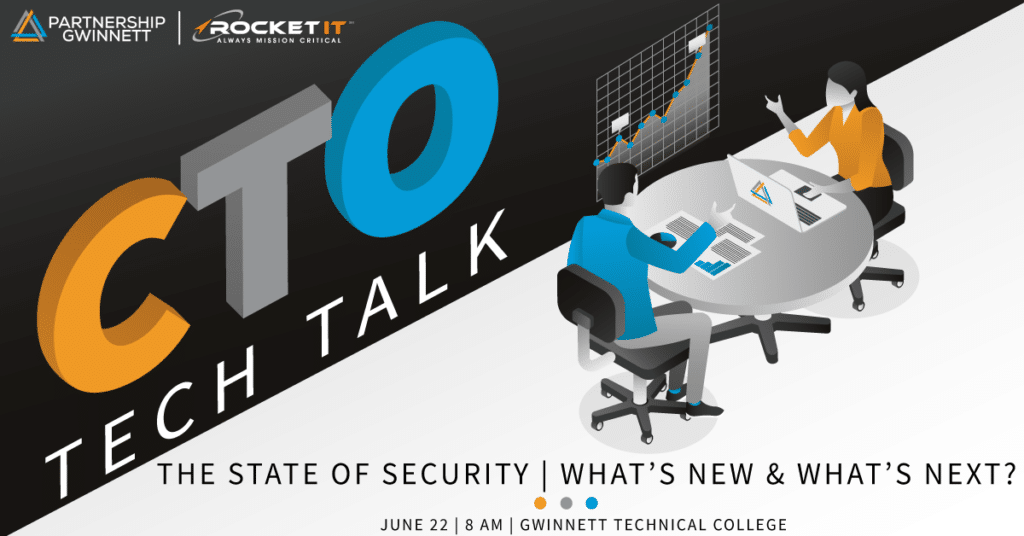 Gwinnett County (METRO ATLANTA) GA – When it comes to cybersecurity, 2020 was the year of adapting quickly to extinguish fires, but in 2021 the smoke has cleared, and business leaders are aiming to optimize their technical infrastructures.
On June 22, Partnership Gwinnett is bringing some of metro-Atlanta's top technology officers under one roof to address how business leaders can build technical strategies that mitigate current threats, anticipate innovations, and prepare for the future of cybersecurity.
"Early last year, many organizations made the shift to remote work overnight and quickly experienced a barrage of new security threats," said Rocket IT VP of Technology, Eric Henderson. "Now, as those businesses have begun settling into hybrid operations, it's critical that technical leaders compare notes to help one another address vulnerabilities while remaining focused on what's just over the horizon."
Along with moderation from Rocket IT's Eric Henderson, attendees to this open round-table discussion will be provided with an opportunity to compare strategic visions with peers, understand which innovations are helping like-minded organizations remain vigilant, and discover the adoption rate of new cybersecurity technologies.
Upon exiting this exclusive discussion with technology officers, attendees will leave with insight that is sure to help fine-tune current network environments and find a proper balance between accessibility and security for their teams.
Partnership Gwinnett's "The State of Security: What's New and What's Next" will take place at 8 AM at Gwinnett Technical College. While access to this roundtable event is invitation only, those interested in joining can submit their information by clicking here.
Rocket IT is the IT partner of choice for Gwinnett County organizations, providing the strategy, security, and support they need to thrive. By providing a client's leadership team with the strategic foresight necessary to align technology investment with business goals, they can work toward a shared vision, which increases efficiency, decreases risk, and increases revenue. Rocket IT is the recipient of multiple awards, such as Partnership Gwinnett's Innovation Award and a spot on the Inc 5000.
###
MEDIA CONTACT
Chris Swinson | 770.441.2520 ext. 732 | cswinson@rocketit.com
PROGRAM CONTACTS
Frankie Brasch | 678.672.2567 | fbrasch@partnershipgwinnett.com
Brian Dorelus | 678.584.2259 | bdorelus@partnershipgwinnett.com