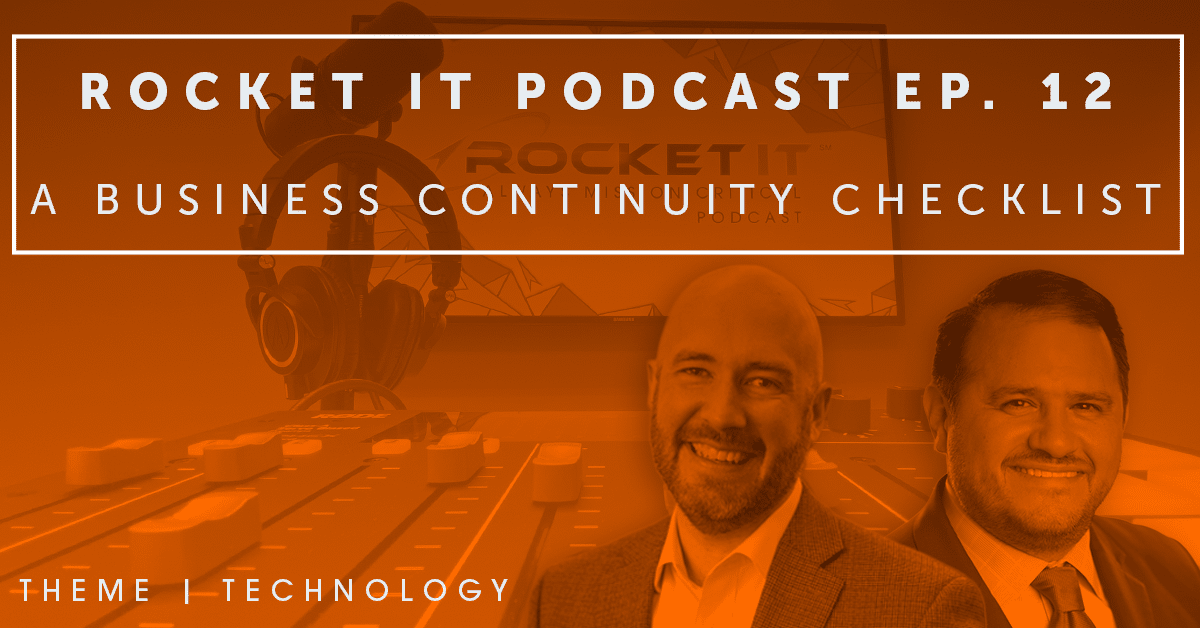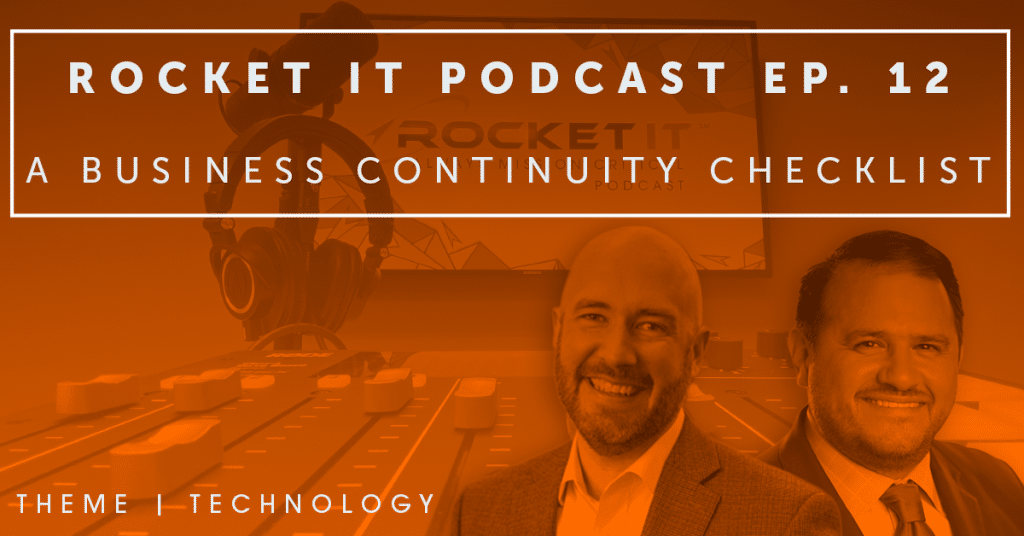 Rocket IT Business Podcast | Eric Henderson | A Business Continuity Checklist | Ep 12
As you read this, organizations around the world have already begun to adapt to a new normal of conducting business. But through this sudden and disruptive change, how can leaders ensure their organization are making wise technology decisions?
In this episode of the Rocket IT Podcast, the Gwinnett Chamber of Commerce hosts Eric Henderson, Rocket IT's VP of Technology, to help audience members ensure that technology remains a healthy part their operations.
From this insight, Eric provides audiences with a better understanding of where their next steps should lie, giving them confidence in their business' productivity and security through this rapid transition to remote working. After a review of what should have been considered in the short-term, Eric highlights areas of concern that should be addressed for long-term success in a remote working environment.
In This Episode, You'll Hear More About…
How to classify a business' model for telecommuting
The best physical devices for the job
How to establish reliable networks
What to do about incoming calls
How to keep collaboration and communication strong
The importance of engagement
How to boost cybersecurity
The steps to address long-term impacts of working from home
Contact Information
Rocket IT | marketing@rocketit.com | 770-441-2520
Gwinnett Chamber of Commerce | info@gwinnettchamber.org | 770-232-3000
Resources Mentioned
Like What Your Heard? Give Us Some Feedback!
Guest: Nick Masino
Guest: Eric Henderson
Show Transcript
Nick (00:16):
Good morning everybody. This is Nick Masino. I'm the president CEO of the Gwinnett Chamber, we're very excited for you to join us. We are hosting this call with our, our actual it vendor, which is Rocket IT. And before I introduce our speaker, I want to just real quickly let you know a couple of things. First of all, we're here and we're still operating the majority of our staff probably like you are operating remotely. We do have a crew between six and 10 people here at the chamber. Obviously we have been for weeks following all the CDC and who guidelines and I know that you all are as well and we want to thank a Rocket IT for their ongoing support. So without further ado, it is my great pleasure to introduce not only a trusted vendor, but also a friend of ours, Eric Henderson, VP of Technology at Rocket IT, who's been supporting us for probably over a decade. And so Eric, thank you for presenting this today.
Eric (01:16):
Thank you for having me. Thank you. Hello everyone. I'm not coming to you live from the Gwinnett chamber. I'm coming to you live from my guest bedroom in lovely Buford, Georgia rock and I T's been working from home for about two weeks now and we have been working very diligently long before that two week time period on the topic of business continuity. And so when we originally put this content together, our original focus was, okay, what is the technology people need to get up and running very quickly? Because there are many businesses that are essential that could be done from home, but they just don't have the stuff ready. And as the planning and evolution of this entire situation around the pandemic develop, we realized, okay, there's going to be more of a long-term thing. And so we're going to start out by talking a little bit about the context and framework for all this and then we'll go into some specific technology considerations and then we will talk about some more long-term things.
Eric (02:14):
So, okay, so what is the goal? The goal is what is the right balance of being able to work and not putting my employees at any sort of risk. And so we're going to talk a lot about information work and physical work. I think this is a fairly easily understood concept. Basically information work is anything that does not require you to physically operate a piece of machinery, interact with a customer, interact with a vendor, put something together that you've shipped, any sort of logistics work like that. So as an example, I can give you how this looks at rock and it. So Rocket IT is an IT services firm. That means the vast majority of work, we involves a person sitting in a computer manipulating that computer in some way. So they might be remotely working with a client, they might be working with a computer that is their own personal computer.
Eric (03:10):
They might be connecting to some sort of cloud technology and, and modifying it there. So you might say, Oh, no big deal, Rocket IT can just work from home. No big problem. But the issue is that we do actually have physical work to our to what we do. As an example, we deploy desktops, laptops, printers, servers, ups is networking equipment. And so it's a pretty big issue. If our office isn't open and our client's offices aren't open because our clients have critical needs for that. And so the way I want you to think about this is in my organization, how much work is information? How much work is physical? Is there any physical work that I've been that I can do without, or is there any physical work that I could do once a week or once a month or every other week?
Eric (03:59):
That sort of thing. So in practice, there are three types of businesses. Every business has to fit into one of these categories. There are some businesses that are 100% informational. The businesses that fit in this category and generally would be something like an engineering firm. The best way I've ever heard it described is that there is a large class of people that all they do is sell PDFs. So lawyers sell PDFs, engineers sell PDFs other types of professional services firms. Often all they're really doing is taking their expertise and their knowledge and their systems and their best practices, putting it into written language. And then sending a PDF. And that PDF could be worth many thousands of dollars depending on what's included. And then you have businesses that are physical only. So restaurants are physical, warehouses are physical, most manufacturing facilities are entirely physical. And then I think the most businesses fall somewhere in between, as I've already explained with Rocket IT, Rocket IT is hybrid, we're probably 90% informational, 10% physical.
Eric (05:02):
Some of our manufacturing clients are probably 90% physical and 10% informational. They do have some employees that do drafting work, estimating, engineering, sales planning, that sort of work. And that work can all be done from home. And so they've made accommodations to, to to handle that. That's the introductory statement. Let's talk about the short term considerations for working from home. So as Nick mentioned, Gwinnett County and the 16 cities are gonna issued a shelter at home order and it made specific provisions for classifying what a business is to be declared essential or not essential. Even within that order, even if you are essential, I'm sure if you work for a business that's essential or you own a business that's essential, you still are having a lot of pressure for those employees to work from home just because socially and based on what Governor Kemp has said, that's really where you need to be.
Eric (06:01):
And so you may have to be thinking about what kind of technology do you need. So recognize he believes very strongly in a model of operational maturity. And so operational maturity is a measure how sophisticated and given technology or processes it's rated on a one to five scale. It was originally developed by the department of defense to evaluate the disaster preparedness of various government agencies. And so everything I'm about to describe here is being measured on a scale of one to five and operational maturity. So if somebody wants to work from home and they've never worked from home, there's rough four ways that they can do that. In terms of what physical device they use. One, they can use a work laptop. And if you have laptops and your employees already have laptops and they're ready to take them home. This is a non issue for you.
Eric (06:51):
Many of our clients, it didn't mean anything that they had to work from home because they already were already very worked from home friendly. And the reason this is the best case scenario is a control and consistency. So there's an incredible amount of disruption in the world right now. There's an incredible amount of chaos. And so if your employees don't have to think, Oh, what's my password to log into this computer? Or how do I power this computer on, or how do I connect to wireless on this computer? They don't have to think about any of those things. It's going to be easier for them to work. Also, from a security perspective, they have all the same suite of security systems installed on their work laptop that they would in the office. And so as we'll see on some of these other options down the line, that can be an issue down the line from there.
Eric (07:39):
And I was actually very surprised at the number of our clients that wanted to do this because work laptops is what every it guy across the entire earth was saying was the best option. The world's supply of business quality, laptops, laptops, they're in the 18 to $1,500 range, went to completely zero stock. So once there were no laptops available, employers were full of ingenuity and said, you know what, employees take your desktop call at home. And so we had an incredible number of employees that went to the office, got their desktop, their monitor, their speaker, their mouth, the computer, all the cables. They dragged into their house and they drag it to whichever room, had their wifi router in it and they plugged it all in and they got us to help them configure it so that it was on the network. Now this isn't good as a laptop?
Eric (08:30):
No, this, this was fairly disruptive. You probably looking at a three to five hour loss of productivity for each employee that's doing this. But if you couldn't get a laptop then, I mean, what else are you going to do? I guess that's the next best option. Okay. Third option would be a tablet. So when I say tablet here, I'm talking about a a Amazon fire tablet or a iPad. I'm not talking like a surface type device. Surface device would be more like a laptop, but for some employees, particularly employees that particularly spend most of their time in meetings or in phone calls, it is entirely possible to do their full workflow from an iPad or a Samsung tablet. The capabilities of the devices has merged very closely to what a laptop can do. And so really the core problem is just ergonomics and access to a keyboard.
Eric (09:22):
The first option, and this is the lowest operational maturity, would be to use a home computer. Now why am I being a buzzkill on home computers? The problem with home computers is that from a from the view of control and security, there is no way that you can ensure that a home computer is secure. There's no way you can ensure that the other members of your employee's household aren't downloading things. They shouldn't be on to that computer and causing a potential security breach. So best practice is you make every effort available to offer laptops, desktops, and tablets purchased by the employer instead of Home PCs. When you start using home PCs, you're basically introducing risk to the situation and you really don't want a global pandemic to be occurring and you'd have a major security breach at the same time. And by allowing home computers onto your network and by allowing employees to use those home computers to connect to your corporate data and download that data and sync up to that data and type in your passwords on that computer, you're exposing the organization to risk.
Eric (10:34):
Same idea with them. Operational maturity. Now that we have a piece of hardware at the employee's home, we need to make a provision for them to be able to connect remotely. So generally speaking, there's three different ways to do that. See these more as three different categories and not exactly specific solution named here. The first one, you've worked in a larger organization or an organization that has a traditional network, which means premise servers located in an office or a data center. It's almost always going to involve a VPN and then potentially a terminal server. So if you've ever used the program, remote desktop connection on your computer or reviews the Cisco VPN, a watch guard VPN and Affordanet VPN, Sonic wall VPN, this is the traditional way of doing it and for many, many, many users trying to connect it once it works great. The largest companies in the world still using some form of technology similar to this next option would be under a VPN situation.
Eric (11:37):
Your computer is at your house, you connect to the office, and then you connect up to that office and you do all the work from a terminal server. Now let's say, well, March 31st I don't have a terminal server, Eric, what am I going to do about that? Well, that really depends on what type of files you are accessing. So if you are a graphic designer, let's say, and your files are very large, so you're looking at large video files, large images, large audio files, it's not going to work real well for you to try and pull that file back and forth between your house and the office. One of the issues with using a VPN is that the download speed is often very slow and the reason it's slow is because your home internet connection and the office center connection are bottlenecks and all these security software involved in keeping that connection secure slows it all down.
Eric (12:30):
So if you've ever worked from home and thought, man, I wish this VPN was faster, it might be because of the types of files that you're accessing don't work very well over VPN. I'm probably the most classic example of this is QuickBooks. Do you try and use QuickBooks over VPN? You're guaranteed to have a terrible experience. It can take as long as 30 to 60 seconds per transaction to try and do that over a VPN. So that brings us to our second option here using either log me in or go to my PC. Under this model you would leave a computer in the office and then from a work computer at your house you would look at the desktop of that computer. And by doing that you're still doing all your work in the office. You're just viewing that from, from your home. And this is best as mentioned for graphic designers, engineers, anyone accessing large files.
Eric (13:20):
And then the third option, and this is honestly if you started a business in the last five years, it's very likely that your organization is entirely focused on this anyway, is using some sort of cloud applications. So what I'm talking about here is Dropbox, one drive, Google drive, box.net. Any sort of system like this where it sinks your files, iCloud would be an example as well. These solutions aren't using a server at your office. These solutions sync the file between your computer and then up to the cloud. And by doing that, it doesn't matter where you are, it doesn't matter if future office and at your house or anywhere else. I think everything I've shared so far, if you've been working from home for a week or two, you've probably already had to figure out and if you're starting to work from home now that you're in the process of figuring out.
Eric (14:09):
The next thing that usually comes up is how, what am I going to do about phone calls and depending on the type of organization you are, this could be a complete non issue or this could be absolutely critical to what you do. It really depends on how your organization processes phone calls. We have some clients that their phone system could go down and they wouldn't even notice because they only get one or two calls a day and we have other clients where their phone is literally what keeps them in business and if that stopped working then in the blind, so same concepts around operational maturity apply here. There are roughly three different ways to handle this. One. If you have a phone system where you don't really know how to get support for it, you don't know how to log into it, you know, anything like that, you can call your phone company and say, will you forward all calls that come to my business as main number to a specific cell phone?
Eric (15:02):
This would usually work well if you have very low call volume and that the nature of those calls all are going to one or two different people. You're going to run into some challenges when if that person is expected to act as an operator and routing calls from this person, this person, conferences person and none of that's really gonna work very well. You would just be forwarding this number and to make sure that you don't drop calls. I actually called a restaurant last week to see if they were open and imported to someone's cell phone and it went to like their personal cell phone message. Is this the most professional thing in the world? No, not exactly, but it will cover you in a pinch and if that's the only option you have, it will work. Second would be if you have a premise phone system, so similar to having premise servers, you could have a premise phone system and depending on the age and function of that system, it is possible to route specific extension to specific cell phones.
Eric (15:57):
And so you would keep your business on system operational and then if it needed to route when you dial and say my extension, it would ring directly to my cell phone. From the outside colors perspective, this is just as good as what you had before. And then a cloud phone system, very similar to the cloud file system. The cloud phone system doesn't care where you are in the world as long as you have internet. So all places are the same. So if you use three CX, RingCentral, grand central, grasshopper, Microsoft teams, all of these have builtin phone systems and they're not particularly worried about where you are to get calls. The next consideration. And I would say this, I reckon it were, we really felt this about one weekend. So before the pandemic, various team members at, Rocket IT would work from home for a day, a couple of days, like maybe work would be deep being done to their house or they'd have to stay home with a child or they might just be a little under the weather and they would say home for a day or two and it wouldn't be any big issue.
Eric (16:57):
But the issue is once you start working at home from home permanently it can be kind of a lonely experience. I've certainly experienced this myself, honestly, not being able to really go out anywhere because of the pandemic has made that worse. And so you want to make sure that your team members' morale stays up. And one way to do that, it's giving them the tools they need to be able to easily connect with each other. So when I say connect, I don't mean, Oh, let's have a scheduled meeting at 10:30 AM on Tuesday every week. I mean, Hey, can I just hop over and do a quick video chat with you and just check in and see how your kids are doing, see how your spouse is doing, see how you're holding up on the pandemics. If you need anything. Our CEO, Matt and many of you know him has done an excellent job with this.
Eric (17:43):
He'll sometimes just call over to me and check in, see how I'm doing. There's no, there's no meeting agenda, no action item or anything he really wants to chat about. So you got a couple options. These aren't necessarily listed in operational maturity other than using only email and phone is probably the lowest operational, operationally mature issue here. So if you have a team that is that likely to use video chat or just as already working in a fairly disjointed way, then you probably could get away with that. The rest of the world has standardized on these other three platforms and Microsoft teams. So this is part of the office three 65 now Microsoft 365 platform. Rocket IT uses this pretty substantially. I've already been on three teams call or three teams calls and video calls this morning. We do a huddle at 8:00 AM and then I've got a couple other meetings.
Eric (18:38):
The, we'll call it open source, more Google friendly alternative. It's called Slack. You may have heard of Slack. Slack is a collaboration platform started out just as chat, so you could do one to many chat. You could do one on one chat and you can have small teams in there, but they have expanded to include audio, video integrations with pretty much every major software platform. And then generally best serve for more formal meetings. I would say it has a little more overhead than using teams or Slack the teams or Slack, I can one click on a on a button and it will initiate a video call either with a whole team or an individual and it'll be off and running. Zoom has, it's like more like two to four clicks to get that done. But also, interestingly, the platform we're on right now and so it's well-served for something like a webinar where we want to do one dominion communication.
Eric (19:36):
We've talked through technology, we talked through hardware, remote access file systems, phone systems and collaboration tools. Now we want to kind of shift gears into long-term considerations and what are, what do I mean when I say long-term? So COVID-19 you know, began in late December and then gradually made its way into Italy and South Korea and Germany and the United Kingdom. And then early March became a very quickly rising concern in the United States. And a core question that people have been asking pretty much thanks to the minute stuff started shutting down is when is this going to be over? Like why can't somebody just tell me what day I get to go back to the office, what day do I get to go back to having concerts or going to Disney world or going to festivals or anything like that. And the answer is no one really knows.
Eric (20:33):
But I will say that I spent a lot of time considering this and have asked a lot of very well-informed people and I think most of the world is kind of settled in for all of April and all of may. So us onto a June 1st kind of get back into it. This was, this was kind of a hard fact for me. It, it occurred to me that I've been working from home two weeks and that there were 10 weeks to go, or I should say two weeks and then a total of eight more weeks, so a total of 10 weeks, which means arguably we're 20% into this. Am I qualified to say that it's exactly going to be June 1st? Not really. I don't think anyone has a great model that says exactly when it will be. I will say that the decisions of the businesses that I interact with seem to be leaning in this direction.
Eric (21:24):
Some of our clients, some of the organizations sending me promotions seem to lean towards June 1st is really when it's going to be, and so while what I've shared so far in this webinar will help you get the technology up and running to work from home. There are some other considerations that come up that the longer this goes on, the more important these things become. So let's talk about some of those. Let's talk about Phishing, Phishing with a P H. So a phishing with a P H in a it context. Basically means sending you a form of communication that relies on and prayers on your trust and tries to trick you into doing something that will harm you. Almost always. Some sort of financial transaction, some sort of download that will harm your computer and your corporate network or giving up your password to something so they can use it for further attacks.
Eric (22:18):
Phishing has been very popular in the last five to seven years. Many of the clients Rocket IT works with engage in testing. So what we do in these tests is we send a fake email that looks like a phishing email. It's actually harmless and we keep track of which employees click it and which employees don't. And if you click it, then you are reckoned as a clicker and you really, really don't want to be a clicker. Someone who clicks phishing emails is roughly the same type of security hazard as a security guard that leaves the door unlocked or leaves the alarm off in the building that you're asking them to secure the digital equivalent of that. Why am I bringing a phishing now? Well, I don't know. The organization we work with to do phishing testing, I had a call with them late last week and they said they made a fake phishing email that imitated the IRS sending out these stimulus checks associated with the stimulus bill that was passed last week and they, they just did a test and send it out to their clients and said, let's see how many of them click this.
Eric (23:22):
They had 80% of people clicking it. So essentially that means if an attacker is capable of getting a phishing email that looks like the IRS is government checks, noting that the IRS is not going to email you a check, then you have an incredibly high risk if your employees are not made aware of that. And so these people are criminals and they are very enterprising. They're very smart and they are not above whatsoever taking taking any barriers with people's fear and taking advantage of the chaos to get their attacks onto your computer. So if you hear nothing else looking into phishing testing, looking into these tests around either COVID-19 or the stimulus or something related to that is probably the biggest thing you could do to boost your security during this time. Secondly, regular patching, we want to make sure the computer stay up to date.
Eric (24:20):
One of the many thorns in the side of many it systems administrators is when computers are at home, it's very difficult for those it administrators to pass them because they don't have control into them. So you got to make sure that just because we're working from home doesn't mean we can let patching slide. And then third, this was me just harping on something I've already brought up. But home computers, we really got to keep them off of corporate networks. You have no controls in place whatsoever about either patching or phishing testing. So as the world's laptop supply improves a little bit strongly recommended to migrate users with home PCs to corporately on PCs. If you're in any sort of business where you sell and you do that via a meeting or a a written proposal, you probably have already had to figure out ways to do this.
Eric (25:13):
Right now, many organizations would have preferred or only done business via a face to face meeting. Our organization is, is one such that we wouldn't present a major proposal over email and we'd try not to do it over meeting. If we can help it, we would want to do that in person. But that's not how the world is right now. Even if you still prefer that right now, many of your clients are not going to be willing to meet with you. They're not going to even understand why you're asking, especially if their office is closed. So you really need to establish a framework for how to digitally generate proposals. We use a system called proposal fi fantastic. It's an expensive, I think we pay something like $100 per month for the entirety of Rocket IT to be able to generate proposals. Those proposals go out to clients, they look very professional and has these signature capabilities built into it, lets you know when the clients viewed the proposal works great.
Eric (26:07):
And then you need to establish a platform for your, all of your employees that are client facing to be able to do meetings and you want to keep it to one platform just to reduce confusion. I will say, and you should look at Zoom stock price for evidence of this, but the world seems to have pretty well standardized on to zoom. Certainly there are sections of employees that use WebEx, go to meeting Amazon, Chime, Google Hangouts, even in some cases Skype for business. But if you send somebody a zoom link, the vast majority of business employees already have it on their computer and they don't even really have to think about it. There's just something, it's not even a roadblocks or doing business. It's something that's very easily going to be understood and accepted and you're not going to have a lot of issues with audio because it might be the 50th zoom call they've had that week.
Eric (26:59):
Okay. Maintenance of networks. So if you have servers at your office and your office is closed, you sadly still have to maintain those servers, which means I see people probably still need to get access to those servers and they still need a way to access them. And so many of the problems we're describing and trying to mitigate here are things that could have happened anyway but are just a little more annoying or a little more troublesome if they happened during this pandemic Rocket IT, as an example, has severely limited how many engineers we're sending on site. For one, many of our client offices are closed and for two, our employees have a valid concern to say, Hey, if I don't need to go onsite, I don't see the need for me to go onsite at all. So we're only sending engineers on site generally after hours.
Eric (27:55):
And generally during times when our client's employees are not in high quantities and congregating in those offices. Second item here is if I am correct and this goes another eight weeks, I mean we already know that the president has extended the social distancing guidelines through April 30th so that's at least another four weeks, 30 days. It's probably worth checking in with your team members to see if they're getting their work done efficiently and it may be worth a reimbursing them to temporarily boost their internet speeds at their homes. So as you probably know, spectrum, xfinity, and AT&T offer a wide range of packages and it could be worth bouncing and employees that are not from say the $29 a month plan up to the $49 a month plan so that they can work efficiently, that extra $20 a month probably totally worth any extra work that they could accomplish.
Eric (28:55):
So home peripherals, so we've talked about employees taking their work, laptop home. The issue with a work laptop is that it's not really built for sitting in front of all day, usually a little too low. You have to bend your neck down like this to look down at the screen. And so most corporate monitors put the monitors up on the wall so that you can have your head in an even position and look directly at the monitor. So if your employees have multiple monitors, you should strongly consider whether they can add a time when it's just them go to the office, grab a monitor, grab a keyboard, grab a speaker, the way we're structuring this is we just ask them to email their supervisor, the model members of the equipment that they took, not because we think they're going to steal it, just to make sure that we keep track of all of our assets.
Eric (29:48):
And we also want to make sure that once this is all over that they bring, bring all that stuff back. And then secondly, and I mentioned this earlier about Matt, but you know, check in on, on, on your teammates. One of the core benefits of having an office is that you cannot, you can read the body language and facial expressions of the people around you. So if they're stressed or if they're angry or if they're having a hard time or they're despairing of whatever problem they're working on, and you can easily tell that that is not at all clear when you were working entirely remotely. You have to read tone into text messages. And sometimes getting on video with them might be the only way to to connect. Now that is all multiplied by the nature of where the news is right now as the number of cases worldwide in the United States continues to grow, it is generating a huge amount of anxiety and people both economically their health, they're just not knowing exactly what's going to happen.
Eric (30:45):
So strongly recommended. Just I think the way our CEO Matt high desert is, he's trying to connect with every employee feels like about twice a week. He either chats them, texts them or just does a quick video call. Just ask how they're doing, make sure that they, they need anything. He would've done this if we were in the office, he would have just walked around and said hello to everyone, see if there's anything on anyone's mind. But you have to be far more intentional about it when you are digitally connected because there's no, there's no easy way to do that inside of a chat program. You have to be very specific to go in there and do that. Finally engaging with people. So the case of rocket, it has been that in the last two weeks I've probably worked 60 or 70 hours. Each of the last two weeks.
Eric (31:34):
I'm among the most popular people on our client's contact list because there's a huge number consideration. Basically everything I just said for the last 20 or 30 minutes that every single one of our clients wanted to work out all at once. And so for us, at least at this point businesses booming so to speak. We're not doing a lot of capital projects, but we have an incredibly high demand on the services that we provide. I am fully aware of the fact that for some of you and for some of your clients and your vendors, that is not the case. So if you do business, obviously with restaurants or any sort of company that is primarily driven by events or conferences, they do not have that same demand on their services right now. And so I've seen it tremendously on social media already, but just consider how you might promote or help those sort of businesses.
Eric (32:28):
Like if you know that you're going to do business with vendor X after this is all over, consider trying to work out a contract with them that says, Hey, once this event is all over, one dependent mic has cooled off and everything's good. I want to do business with you. I want to go ahead and get a contract drafted. I want to have a proposal for those services. You know, take a look at doing that and then figure out if you can use social media to promote what they do as well. I've been incredibly impressed with how businesses wanting to connect community. As I mentioned, I live in Buford. Businesses in the Gwinneyy community have started adapting to deal with this. I mean the, the emails that I get from restaurants in terms of contact with are touchless delivery and curbside service and all this different sort of thing has been incredible.
Eric (33:19):
And if you care about these businesses, then you need to do something about it so that when this was all over, they're still there for you to enjoy them. Secondly community groups. So I think when a community, particularly the community foundation for Northeast Georgia has put together a website called Gwinnett cares, bought forward. It is a fantastic resource page Haven put that together and then promoting it on social media widely. Secondly, I personally created a Facebook group called Gwinnett/CoronavirusvirusCommunityAssistance. It's just a resource for people to connect. I've already seen some wonderful things that the people in that group have done for each other in terms of, Hey, my kid doesn't have a laptop and can't do digital learning through even that kind County public schools. Because you know, you need a laptop to be able to log into that. And then the group was able to source laptops for that person. And on third food finder.us. Okay. All right, let's see questions. So if you'd like to ask the question, I see several of you have already done that. You can email marketing@rocketit.com.
Colleen (34:27):
Hey Eric, it's Colleen.
Eric (34:30):
Hi Colleen.
Colleen (34:32):
So I did get a question in the Q&A box and he was asking do you have a preference between log me in and go to my PC.
Eric (34:42):
Sure. Preferences around, log me in and go to my PC? No, not really. I think functionality wise they are extraordinarily similar. This product is become commoditized over the last 10 years. So really it just comes down to the question of how many computers that you want to access from a link. Cause they have very strange pricing plans where it's like one to two computers is $20 but two to 10 computers is 60 and you know, 50 computers is like $600 or something like that. And some of them have monthly or annual commitments. So I would focus entirely on, on the economics and duration in which you intend to use this product, noting that even if the pandemic does only last an additional month, you may still want to use that product into the next couple of years. It could be something that you keep in your in your tool kit to make sure that you have remote even beyond the pandemic. Okay. if you do have any other further questions, you can submit them to marketing@rocketit.com.
Nick (35:46):
So that's all that I have. Nick, do you want to hop on to any parting words? Let me just say that this was incredibly helpful. Appreciate your sound advice. Thank you for being there for the Gwinnett community and I hope you and your family and coworkers stay healthy and safe. Thanks Eric.