July 29th, 2015 by Rocket IT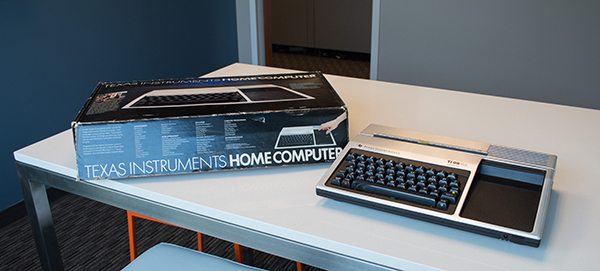 There are a lot of firsts you never forget. Your first love, your first job and, if you're like us, your first computer. We asked our team to tell us stories about their first computers.
Pictured above is the same model computer that Rocket IT CEO Matt Hyatt had as his first. "I had an uncle who had one like that, and I admired it. So I worked at my first job at 14 for the US Forest Service and saved up to buy it. As I recall, it was on sale at Circuit City for $99," said Hyatt. "I sold it later on for $20 and immediately regretted it. A few years ago, I searched for the same model on eBay and bought it again for $99."
Ryan Bonilla, Rocket IT Sales Associate, also loved his first computer. "I had a RadioShack Tandy in my own room in 1985. I played Cashman on that thing. Everyone thought it was cool. That got me into building computers."
Steve Hopkins remembers the first computer he ever worked on. A Kaypro "back when floppy disks were actually floppy." As a Rocket IT Inside Support Professional, the legacy starting with that Kaypro is still going strong.
Erica Lee, Rocket IT Assistant Service Manager, used a laptop as her first computer, but not the ones we'd recognize today. "My dad worked for Hewlett Packard, and he had a really big laptop from work in 1989. He let me play with it. We always had a home computer. Even my grandpa had one. That's when I learned to play tetris."
While the computers we use now are light-years away from our firsts in capability, we all remember the old goliaths pretty fondly. Setting up shop to work remotely in a Starbucks while you're traveling for business would definitely be a lot more difficult now, but these old computers were what got many of us interested in the technology support field. Do you remember your first computer? Do you remember what it is that first got you interested in the job you have today?
---
About the Author- 
Jacque McFadden is the marketing specialist at Rocket IT. She graduated from Oglethorpe University in Atlanta, and returned to Georgia after spending a year in Austin, TX.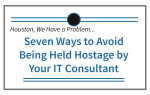 We've all heard stories of wayward IT consultants holding critical company information or other resources for ransom. This is one of the biggest concerns we hear from potential clients. There are several ways you can protect yourself and your business when you outsource your IT. Download our FREE infographic to learn the 7 Ways to Avoid Being Held Hostage by Your IT Consultant here.