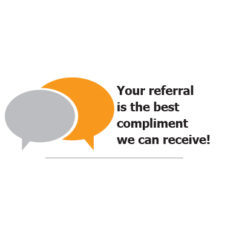 Finding the right support can be hard sometimes. If you have a friend, colleague or contact who might benefit from Rocket IT's services, we would greatly appreciate an introduction. For over 20 years, we've done the strategy and support needed to help businesses thrive. We will accurately assess their needs, thoroughly answer any questions they may have, and offer them valuable advice that will benefit them whether we choose to work together or not.
Do you know an organization that would benefit from our services? Simply fill out the form below, and a member of the Rocket IT team will get in touch with them. Your referral is the best compliment we can receive!
What make an organization an ideal fit for Rocket IT?
An ideal fit for Rocket IT is a company headquartered in Metro Atlanta (especially our neighbors in Gwinnett County) with about 25-250 employees that is going through significant growth or feeling pain with their current IT solution.