June 30th, 2015 by Rocket IT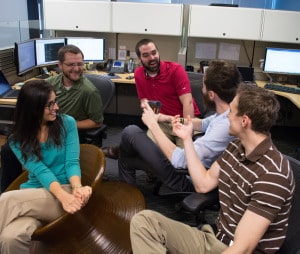 In a growing discussion of company culture and employee engagement, today's top talent is looking at benefits as clear differentiators.  Studies and news
articles alike are discussing the tight rope walk of work/life balance.  Mobile technology is creating a connectivity that extends beyond the walls of the office and blurring these lines.  Much of the work force is fighting to succeed and grow in their careers only to find that it is coming at a cost in their homes.
How do companies continue to be competitive, yet establish benefits that keep the workforce balanced and thriving?
The most extravagant versions of this include Google's onsite daycare for employees, free lunch and carwashes.  Netflix has done away with official work hours altogether, choosing to focus solely on productivity.  Zappos gives employees $50 to freely gift to other co-workers.  Boston Beer Co. has a monthly cake-and-beer party along with 2 free cases of beer to take home each month.  SendGrid goes a little further by having a fully stocked beer fridge in the break room to complement the unlimited free Chipotle for employees.  Southwest Airlines gives free unlimited flights to employees, spouses and partners, including 4 free "buddy" tickets per month.  The list goes on.
So how does this work for a company who doesn't have a 7 figure budget for employee benefits and perks?
You start with high impact, low cost benefits.  Almost every survey done in the past decade has shown that benefits and enjoying work have ranked as more important than income in choosing or staying at a job.  This means that if you are having a hard time attracting or keeping top talent, it likely has little to do with their direct financial compensation.  As long as you are paying industry standard pay, your benefits become the most important asset you have.
I want to take a deep dive into just one possible benefit that has high impact for everyone, one that we've mentioned before on this blog- working from home.  According to the Harvard Business Review article "To Raise Productivity, Let More Employees Work from Home" by Nicholas Bloom, working from home actually increases productivity.  According to Bloom's survey of Chinese travel website, Ctrip, "… we found that people working from home completed 13.5% more calls than the staff in the office did-meaning that Ctrip got almost an extra workday a week out of them."[i]  It goes on to talk about workplace distractions and employees working longer hours from home due to the lack of a commute.  A quick Google search of "employee productivity working from home" will reveal a barrage of articles citing different studies that support this practice's value.
What value does working from home have to the employee?  Let's say we have someone that works 20 miles from home, driving a car that gets 20 mpg at a gas price of $2.69 per gallon.  It's a true cost of $6.73 a day, $33.63 a week and $134.50 a month just to drive into work.  This doesn't include the wear and tear on the car.  Let's also look at the time-cost of traveling into work every day.  What if we started to look at an employee's time from when they stepped out of their house to the time they return home?  Someone who makes $40,000 a year, spends 35 minutes one way driving to work and works 40 hours a week, would take about a $5,000 pay cut.  Instead of making $19.23 an hour, the additional time in the car would decrease the hourly pay to $16.87.
While it's not time to empty the offices and cancel your lease, it is time to start small. As long as your team has the necessary technology to perform their duties at home, begin with employees that are meeting performance goals and have them take a work from home day once a week.  Dip your toe in and see how your team responds.  It could be one of many benefits employees seek that make them feel engaged and valued.
---
[i] https://hbr.org/2014/01/to-raise-productivity-let-more-employees-work-from-home
About the Author-
Peter Wyngaard is in New Business Development at Rocket IT. He also owns a photo booth company in Richmond, VA, and he typically participates in about 3 mud runs each year.